Ultra rich and chocolatey, this dark chocolate pumpkin cake recipe is the perfect Fall dessert for chocolate lovers!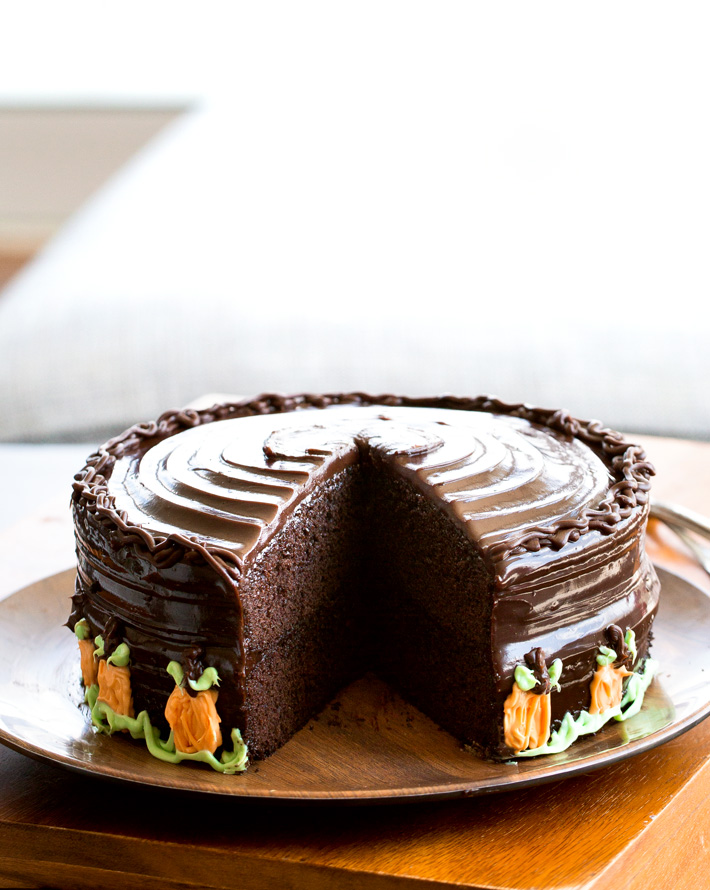 Easy chocolate pumpkin cake recipe
With just eight ingredients, this simple pumpkin dessert can be all yours.
One taste will make you completely forget about pumpkin pie.
After all, who needs pie when you can enjoy a velvety chocolate layer cake, spread with homemade thick chocolate or pumpkin cream cheese frosting?
Prep work takes about five minutes total. And it can be made in one bowl, meaning very little cleanup required.
The recipe is almost too easy!
Try serving it with a Pumpkin Spice Latte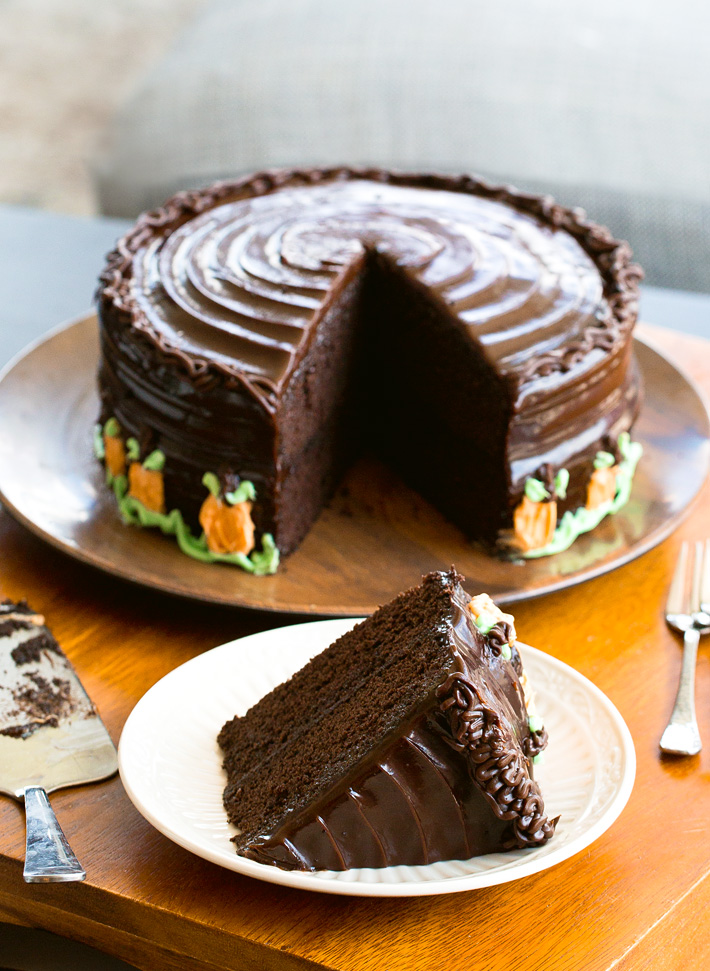 The best pumpkin chocolate dessert
Have you ever seen those recipes where you take a box of cake mix, add a can of pumpkin, and it magically turns into a fluffy chocolate cake?
This one bowl chocolate cake will remind you of that idea.
However the results of making your own cake instead of going with the box are markedly better.
The decadent homemade pumpkin cake will be much richer, with both a better texture and much more depth of flavor.
You will never go back to boxed cake mix again!
Step by step recipe video
Watch the pumpkin chocolate cake recipe video – above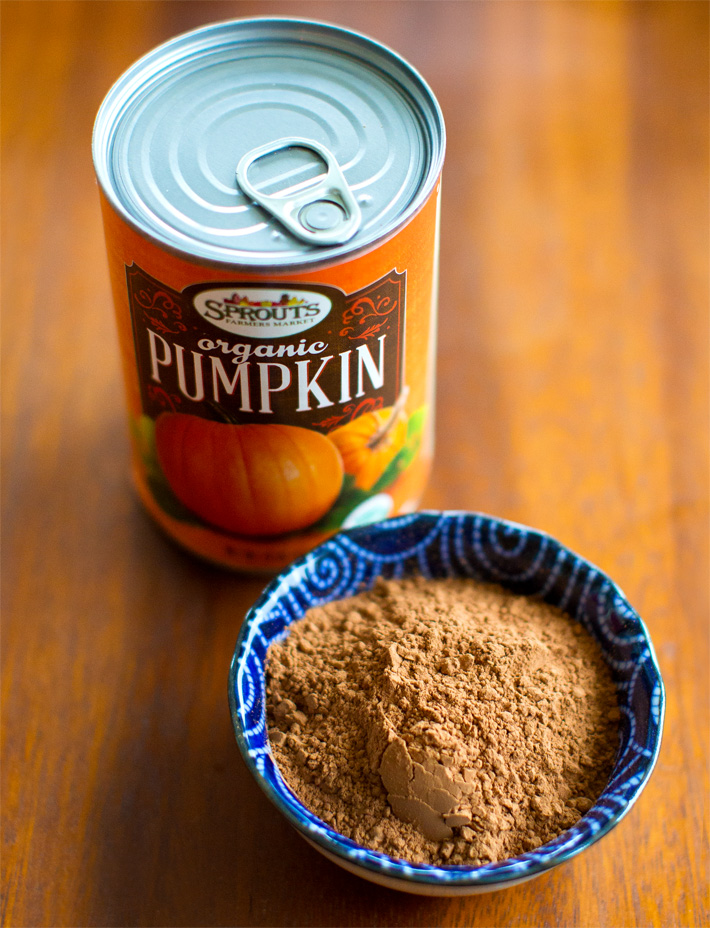 Pumpkin chocolate cake ingredients
To make the pumpkin layer cake, you will need the following ingredients.
Cocoa powder, flour, baking soda, salt, cinnamon, pure vanilla extract, water, granulated sweetener, oil or almond butter, fresh or canned pumpkin puree, and optional mini chocolate chips.
Unsweetened cocoa powder should be readily available at most regular grocery stores, as well as at places like Target or Trader Joe's.
I highly recommend using Dutch cocoa powder as well. It is a little harder to find but should still be sold at many food stores. Look for the words "processed with alkali" on the package to ensure that what you are buying is Dutch cocoa.
The cake works with spelt flour, white all purpose flour, and with some brands of all purpose gluten free flour.
If you prefer to use almond flour, I have included a flourless, sugar free, and keto option in the recipe below as well. (To turn the keto cake into a pumpkin cake, simply replace the water in the keto version with canned pumpkin.)
Canned pumpkin puree is the easy option. If you are adventurous, you can roast and puree a fresh pumpkin. Canned or roasted sweet potato puree also works here.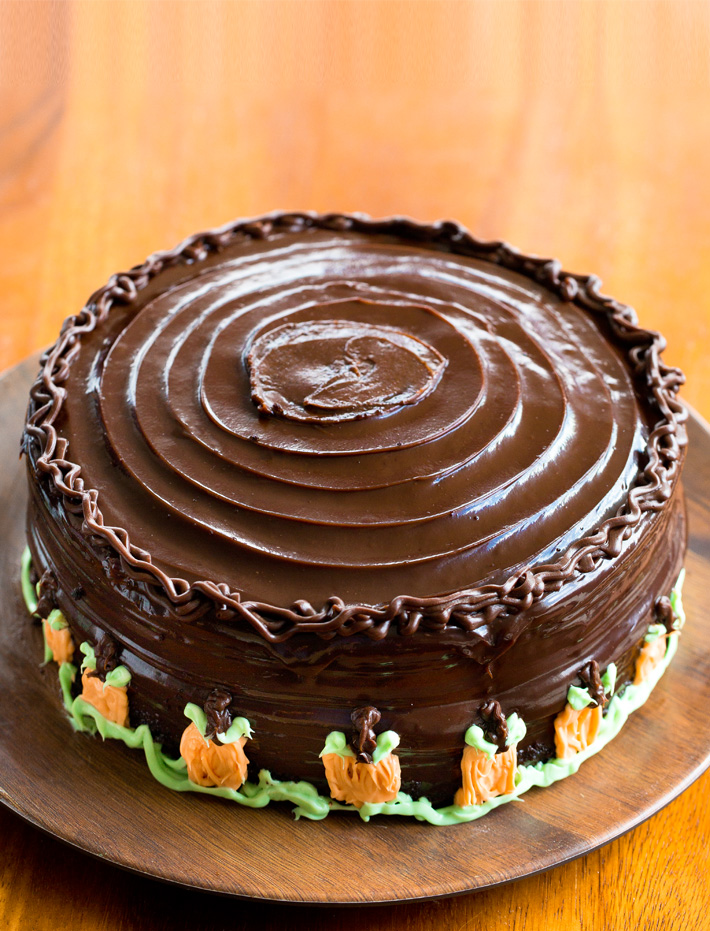 Chocolate pumpkin layer cake frosting
One of the best things about this cake is its versatility.
Spread it with homemade or canned frosting, dust with powdered sugar, or sprinkle chocolate chips all across the top of the cake.
If you are a pumpkin cheesecake fan, top the cake with Pumpkin Dip.
It is equally wonderful served with whipped cream and cherries, chocolate ganache or sprinkles, or chai frosting and roasted pecans. For a low fat and low calorie option, top with caramelized mashed banana and fresh blackberries.
I frosted the cake in the photos with my Chocolate Cream Cheese Frosting.
Then I used a small bag fitted with icing writing tips to draw on little pumpkins and decorate with leaves and vines.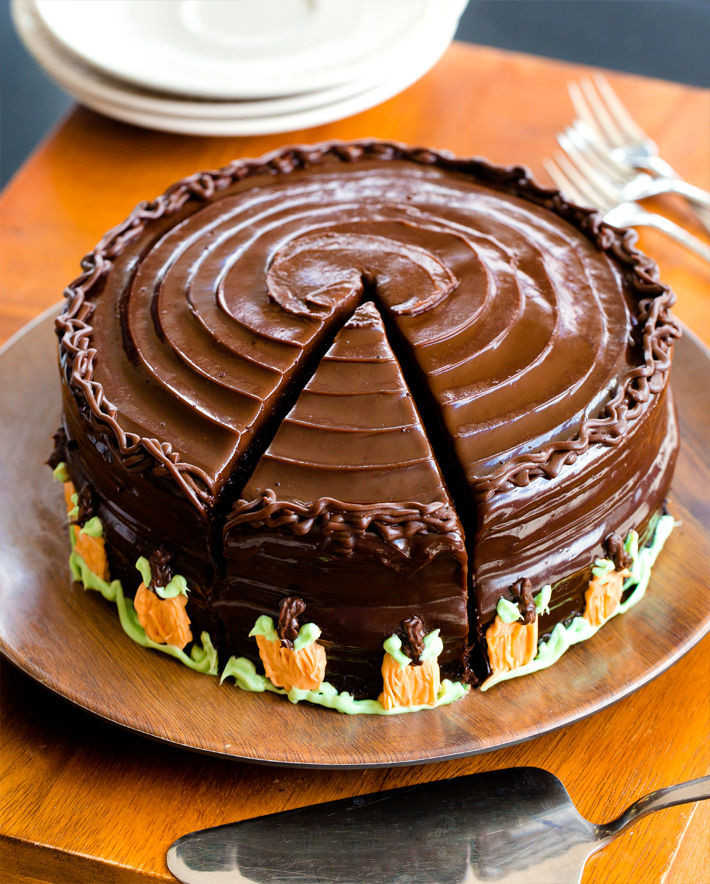 How to make a chocolate pumpkin cake
Gather all of your ingredients.
Line the bottom of two eight inch round pans or one nine by thirteen inch rectangular pan with parchment paper. Or skip the paper and simply grease the pans very well.
Preheat the oven to 350 degrees Fahrenheit.
In a large mixing bowl, combine all dry ingredients. Stir to break up any clumps of sugar, cocoa, or baking soda.
Whisk in the remaining ingredients, just until evenly mixed. It is important to not over mix the dough, which could result in a dense cake after baking.
Spread into the prepared baking pans, and sprinkle chocolate chips on top if desired.
Place the pans on the center rack of the oven. Bake for twenty five minutes.
Let the cakes cool completely. Once cool, cover very loosely with a towel overnight, either in the refrigerator or on the counter.
The cake tastes even better the next day!
Is this recipe vegan?
With no eggs, butter, or dairy, this is already a vegan chocolate pumpkin cake without needing any modifications whatsoever.
If you do add the optional chocolate chips and want to keep it vegan, just be sure to choose a dairy free brand of chocolate chips.
Aside from being plant based, the cake can also be soy free, nut free, oil free, refined sugar free, low calorie, and gluten free.
Also try my Vegan Pumpkin Pie and Vegan Pumpkin Bread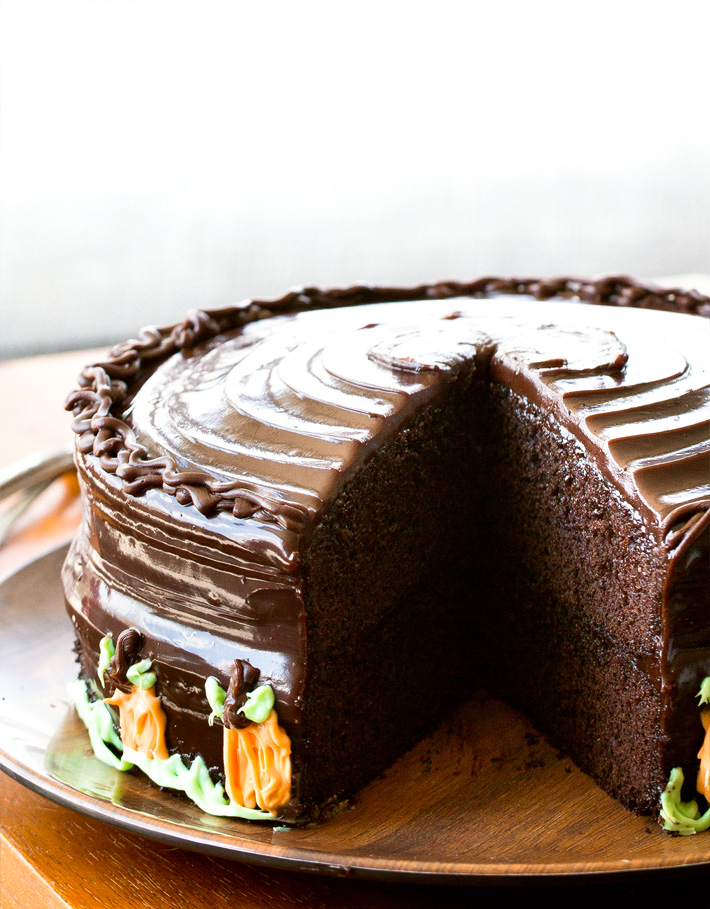 Serving suggestions
Serve this festive pumpkin pie cake at Halloween parties, autumn book club gatherings, costume parties, or birthday celebrations.
It is a lovely addition to any Thanksgiving dessert table and would be wonderful for eating after Christmas dinner as well.
Of course, you do not need an excuse to make a fancy chocolate cake.
Packed with vitamin A and fiber thanks to the pumpkin, the dessert is great for any average weekday or weekend where you find yourself craving chocolate cake!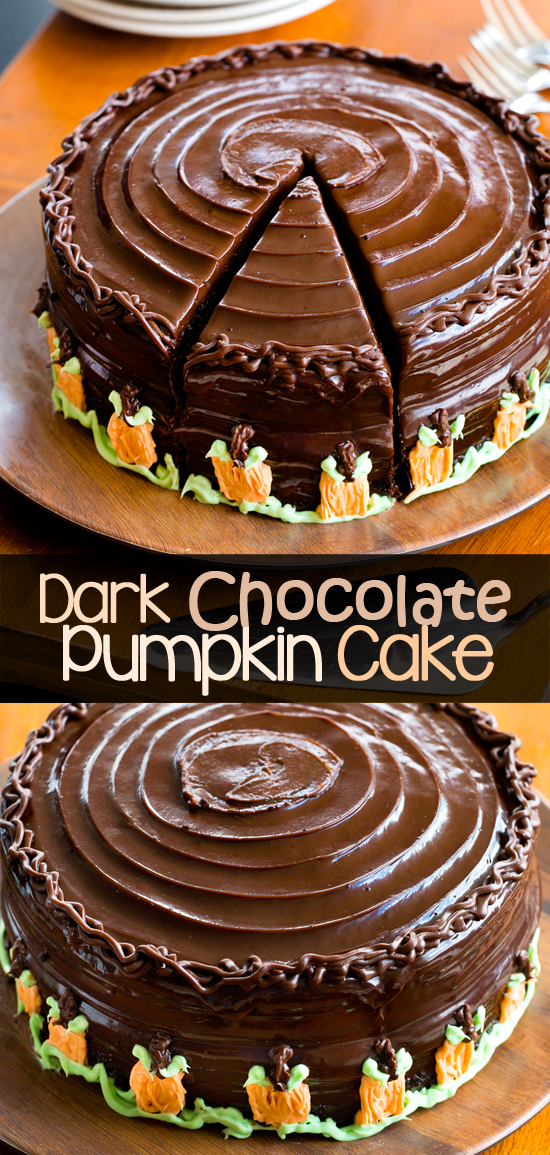 The recipe was adapted from this Vegan Chocolate Cake Recipe.
Chocolate Pumpkin Cake
Rich and chocolatey, this dark chocolate pumpkin cake recipe is a perfect Fall dessert for chocolate lovers.
Yield
1
double layer cake
Ingredients
2

cups

flour

(Or here is a Keto Chocolate Cake)

1/2

cup

unsweetened cocoa powder

1/4

tbsp

Dutch cocoa powder

or additional unsweetened cocoa

1

tsp

each: baking soda, salt, and optional cinnamon

1 1/3

cup

water

1 1/2

cup

sugar

(unrefined or xylitol if desired)

2/3

cup

pumpkin puree

(sweet potato puree also works)

1/2

cup

almond butter

or oil

1 1/2

tbsp

pure vanilla extract

3/4

cup

mini chocolate chips

(optional)
Instructions
*Frosting ideas are included earlier in the post. The recipe works with spelt, white all purpose, or some brands of gluten free all purpose flour. There is also a flourless version included above.

To make the chocolate pumpkin cake, line the bottom of two 8 inch pans (or one 9×13 inch pan) with parchment paper. Preheat oven to 350 F. Combine dry ingredients, and stir very well. Evenly stir in remaining ingredients. Pour into prepared pans. Sprinkle chips on top if desired. Bake on the center rack for 25 minutes. Let cool completely. Cover loosely with a towel overnight, either refrigerated or on the counter – it's best not to eat the cake until the next day, because taste and texture are much better!

View Nutrition Facts
More Healthy Fall Desserts