This easy roasted sesame brussels sprouts recipe proves one important fact.

Brussels sprouts really can be addictive.
Just try these sweet, savory, sticky sesame brussels sprouts, then try to get them out of your mind. It's completely impossible!
You will literally be dreaming about brussels sprouts. Both kids and adults love this delicious and healthy vegan side dish recipe.
Also try these Buffalo Cauliflower Wings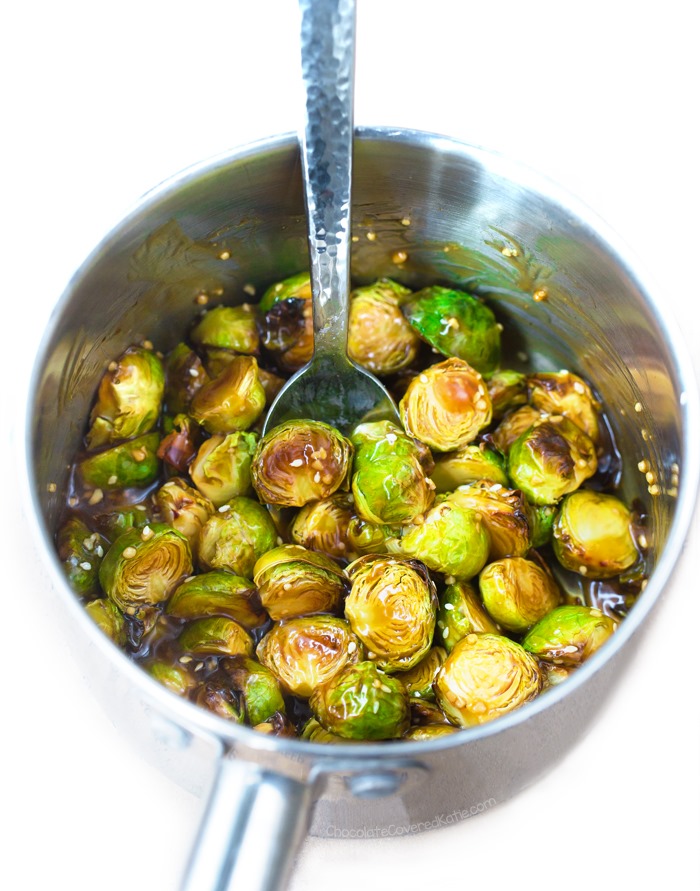 "Eat your brussels sprouts! They're good for you!"
Actually, I've always liked brussels sprouts.
When we were growing up, my mom called them "baby cabbages," which for some reason made me think they were super cute.
Plus I wanted to be a rebel, so as soon as I heard kids were supposed to hate the little green vegetables, it automatically made me love them even more.
I'm not sure where the whole kids-hate-brussels-sprouts thing originated anyway, or if there's any truth to it. Pretty much every single person I know loves brussels sprouts!
And when they're roasted in the oven and tossed with sticky-sweet sesame sauce, they are especially easy to love.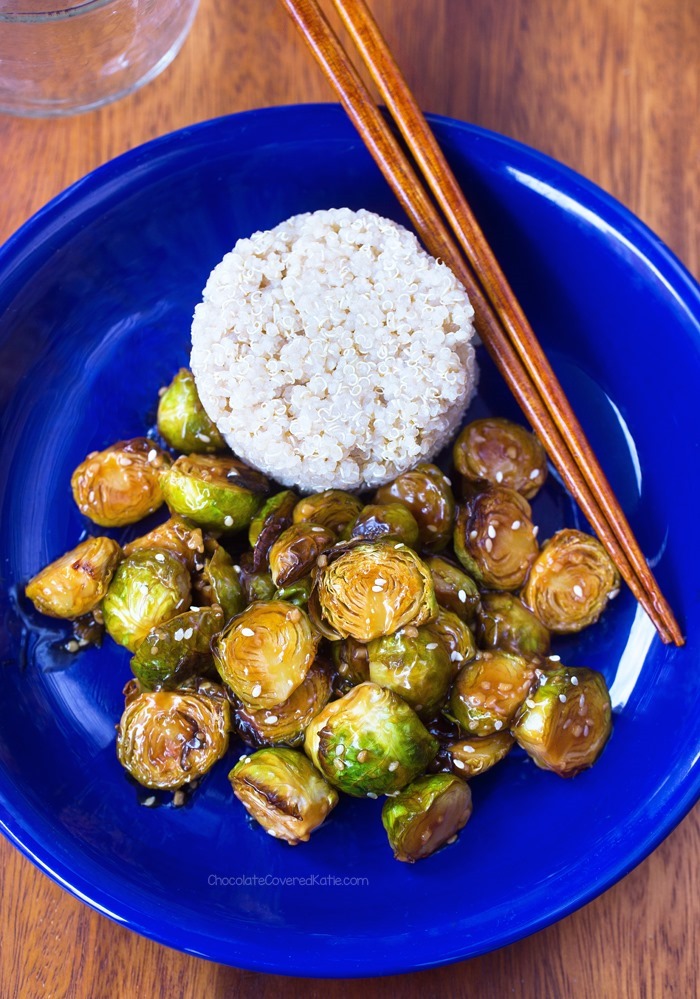 I served mine with quinoa (see How To Cook Quinoa) instead of rice.
We tried both the regular and soy-free versions of the recipe and loved both, so feel free to go with whichever you prefer.
The small amount of oil (just 1 1/2 tsp for the entire recipe) adds such a huge flavor boost that I recommend including it even if you're on a mostly oil-free diet – it doesn't add up to much per serving and makes a big difference in taste.
Be sure to look for toasted sesame oil, which has a stronger sesame flavor. I usually buy mine at Trader Joe's.


The recipe was adapted from my Sticky Sesame Cauliflower.
Sesame Brussels Sprouts
This addictive and healthy sesame Brussels sprouts recipe is a great vegan side dish for dinner.
Ingredients
8

cups

halved brussels sprouts

1/3

cup

low sodium soy sauce

or coconut aminos

1/4

cup

white or cider vinegar

1/4

cup

pure maple syrup,

honey, or agave

1

tbsp

minced garlic

1 1/2

tsp

toasted sesame oil

1/2

tsp

powdered ginger

1 1/2

tbsp

cornstarch or arrowroot

1/4

cup

water

sesame seeds,

optional for garnish
Instructions
Preheat oven to 450 F. Grease one or two baking pans, or line with parchment. Arrange Brussels sprouts in a single layer in the greased pan. Bake 20 minutes on the center rack. Meanwhile, whisk together the soy sauce, sweetener, vinegar, garlic, sesame oil, and ginger in a saucepan. Bring to a boil. While waiting, stir together the cornstarch and water until cornstarch dissolves fully. Whisk this into the saucepan as soon as it boils. Turn heat to medium and cook–stirring–until it begins to thicken. Flip sprouts and bake 20 additional minutes or until desired texture is reached. Mix sauce with sprouts. Sprinkle sesame seeds on top if you wish.

View Nutrition Facts
More Healthy Vegetable Sides