How to make stuffed squash at home – an easy holiday favorite recipe that vegetarians and meat eaters can all enjoy.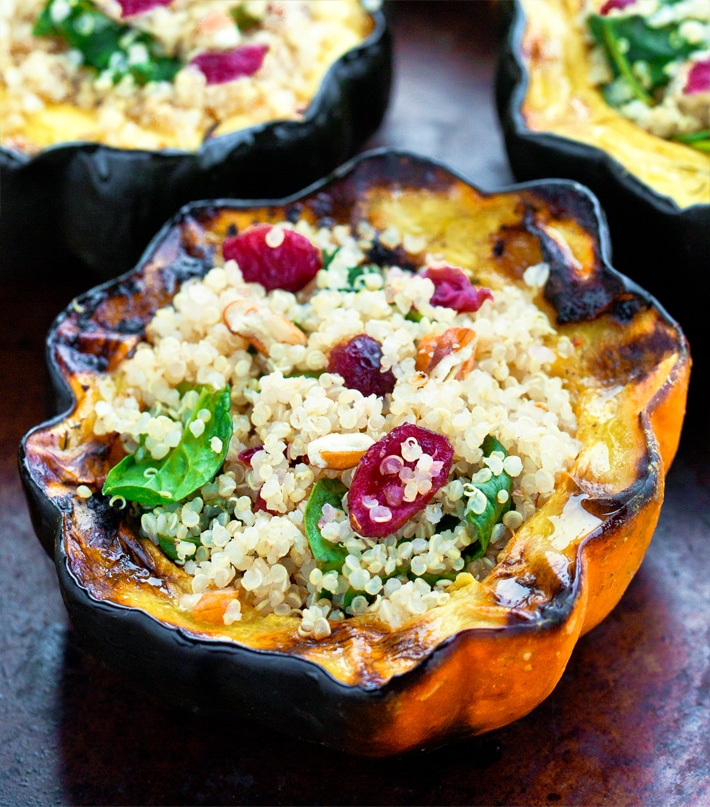 Savory
Healthy
Whole Grain
Vegan Friendly
The wholesome and flavorful autumn or winter stuffed squashes are the perfect choice as a side dish or main course for a fancy dinner party or a quiet family weekend dinner.
Also Try These Snowball Cookies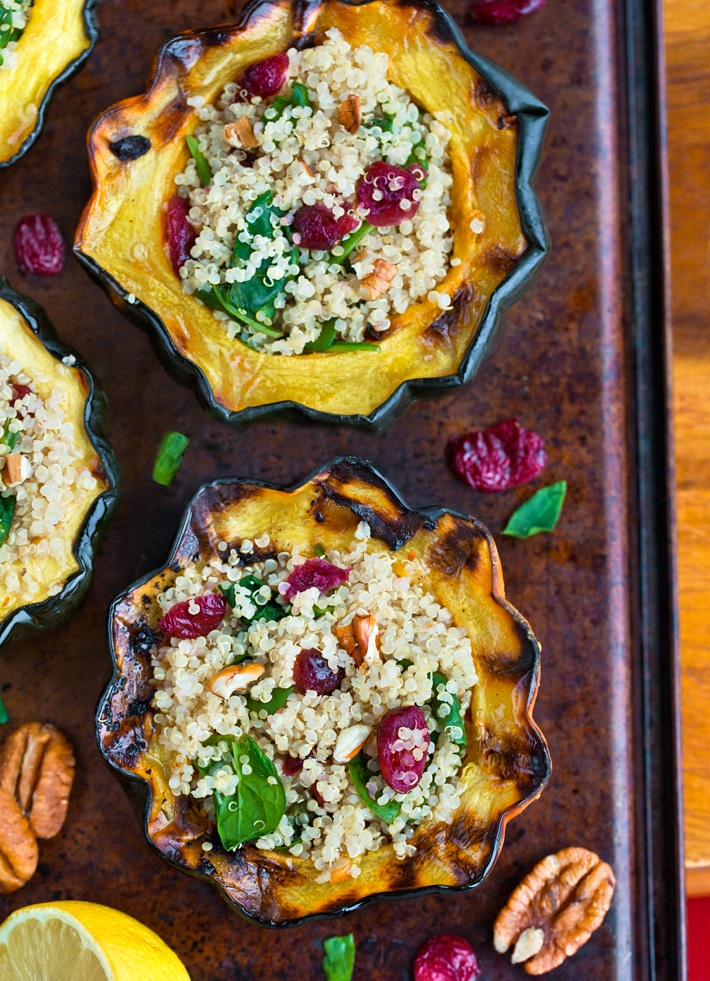 When I first gave up meat as a teenager, I had no idea what vegetarians were supposed to eat for Thanksgiving dinner instead of turkey.
Looking through cookbooks, I found a recipe for acorn stuffed squash with maple roasted vegetables, cinnamon, and pine nuts. While I'd never tasted acorn squash and didn't have much cooking experience, the other ingredients sounded so good that I decided to try it.
In the end, the stuffed winter squash was such a hit that my non-vegetarian family asked me to make it again for Christmas that year, and it's since become a staple at our holiday dinners, right along with the mashed potatoes, green beans, and cranberry sauce.
Trending Right Now: Easy Cinnamon Rolls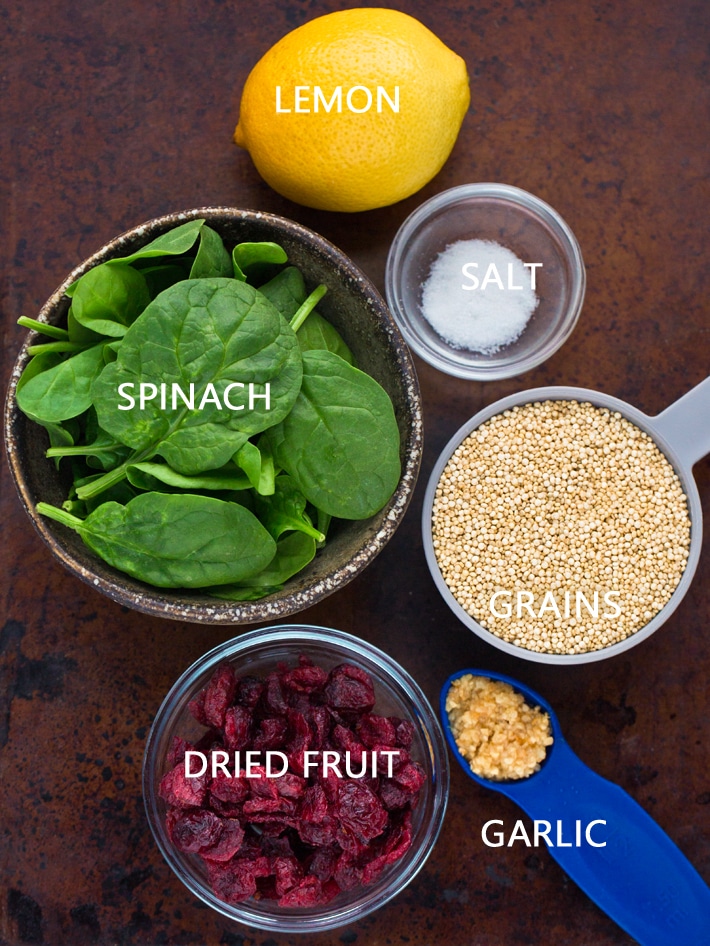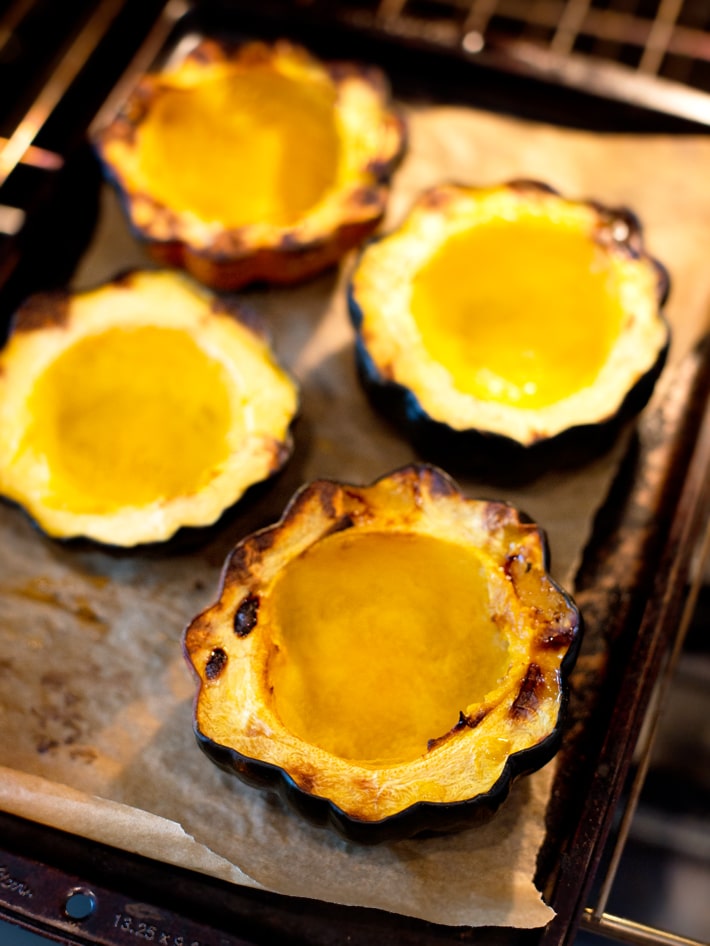 Stuffed Acorn Squash Ingredients
In this simple meatless recipe, roasted winter squash is filled with a hearty grain based pilaf. I usually make the savory dish with quinoa or brown rice, but barley, wild rice, farro, or cauliflower rice for a keto low carb or paleo stuffed squash also work.
Garlic, lemon juice, greens (such as spinach or kale), and diced fruit add flavor and texture. Feel free to change up the recipe by stirring in different types of fruit, including chopped dates, raisins, dried cranberries, or even fresh apples or cherries.
Can I use a different type of squash?
Yes, you can easily use the same filling for stuffed butternut squash, delicata squash, roasted pumpkin, spaghetti squash, or summer yellow squash. Or sub roasted sweet potatoes instead.
(Here's the best way how to cook sweet potatoes.)
Is the recipe vegan and gluten free?
While many people like to add ground beef, sausage, or cheese to their stuffed squash boats, this recipe as written is both vegetarian and vegan. It's also gluten free when made with rice or quinoa.
For a plant-based protein boost, you can add beans, chickpeas, tofu, or your favorite protein source. You can also change up the flavor of the pilaf by adding different Fall herbs or spices to the filling, such as rosemary, sage, or onion powder.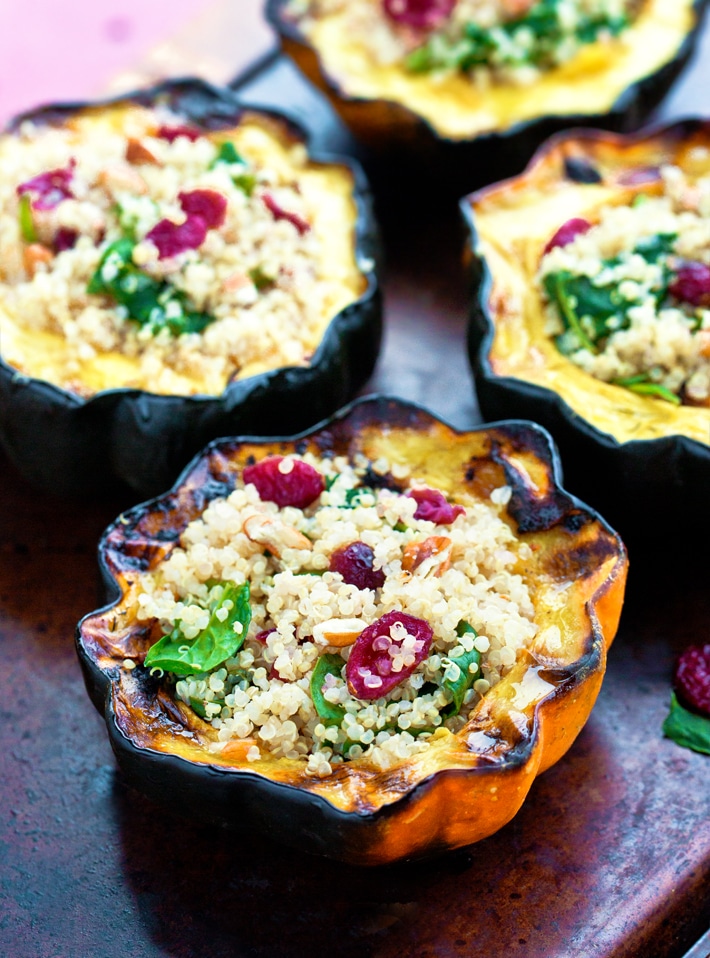 Recipe Instructions
Start by cutting the squash in half, lengthwise.
There's no need to peel the squash before cooking, and you can remove the seeds either before or after roasting. The skin is fine to consume if desired.
Place the winter squashes (cut-side up) on a baking sheet lined with parchment paper, and move the tray to the center rack of a non-preheated oven. Turn the heat to 450 degrees Fahrenheit, and roast for 30 minutes, then check on the gourds and continue cooking for another 20 minutes or until caramelized. Baking time will depend on the size of your squash.
Meanwhile, prepare the vegetarian stuffed squash filling by combining grains of choice, salt, and half cup of water. Bring to a boil, then cover and simmer until fluffy. Stir in remaining filling ingredients, then scoop about 1/3 cup of this mixture into each hollowed baked squash.
Serve alongside a tossed salad or with toast or Cauliflower Soup. Leftovers can be covered and refrigerated for up to 3-4 days.


How To Make Stuffed Squash
An easy vegetarian friendly holiday recipe for how to make stuffed squash at home.
Ingredients
2

acorn squash, or winter squash of choice

1/4

cup

uncooked quinoa or rice

1/8

tsp

salt

1

cup

spinach or chopped kale

1/4

cup

chopped dates, raisins, dried cranberries or cherries

1/2

tbsp

lemon juice

1

tsp

minced garlic

2 1/2 tsp pure maple syrup or sugar, or stevia to taste

optional 1 tbsp oil or butter

(can omit and add more seasonings as needed to make up the flavor)

optional 1/4 cup chopped pecans or nuts of choice
Instructions
Cut squash in half, lengthwise. Set on a parchment-lined baking sheet, cut-side up. Place on the oven's center rack, turn the heat to 450 F (no need to preheat), and bake 30 minutes. Check on the squash, then continue roasting another 20 minutes or until browned and caramelized. Scoop out the seeds. Meanwhile, bring quinoa or rice, salt, and 1/2 cup water to a boil in a small pot. Cover and simmer 20 minutes or until grains are fluffy. Stir in remaining ingredients until spinach wilts. Taste, and season with salt, pepper, and spices of choice as desired. (Some spice ideas are listed above in the post.) Scoop about 1/3 cup filling into each hollowed squash, and serve.

View Nutrition Facts
More Squash Stuffing Ideas: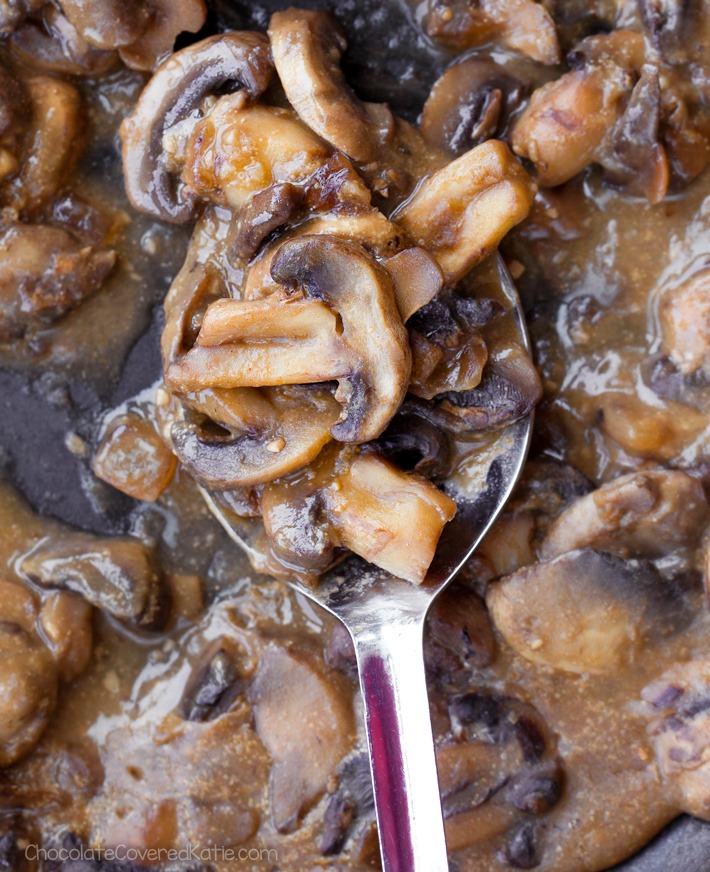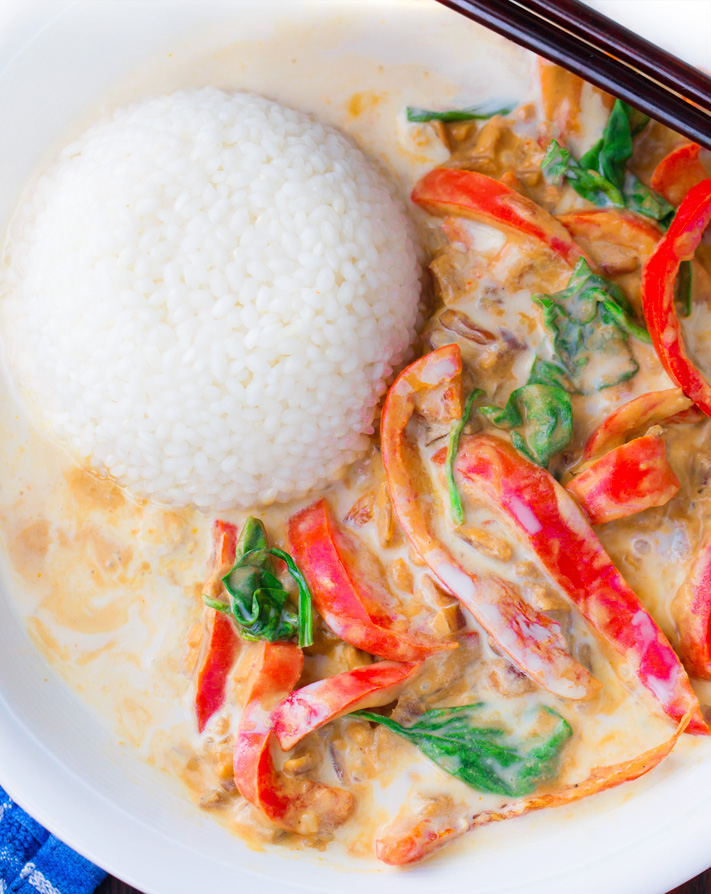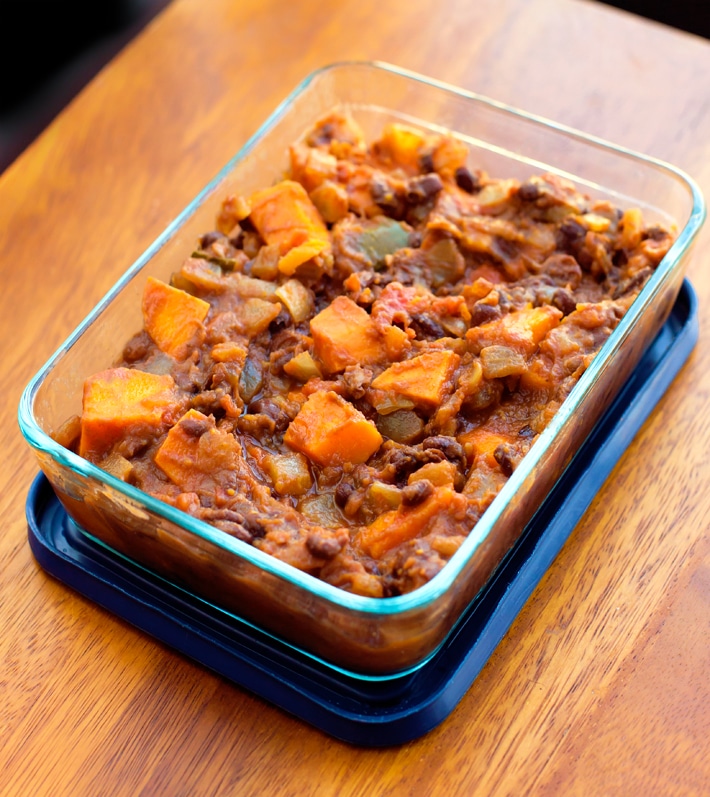 Or this Sweet Potato Salad