These addictive crispy baked buffalo cauliflower wings are a game day hit with both vegans and meat eaters. Everyone loves the recipe!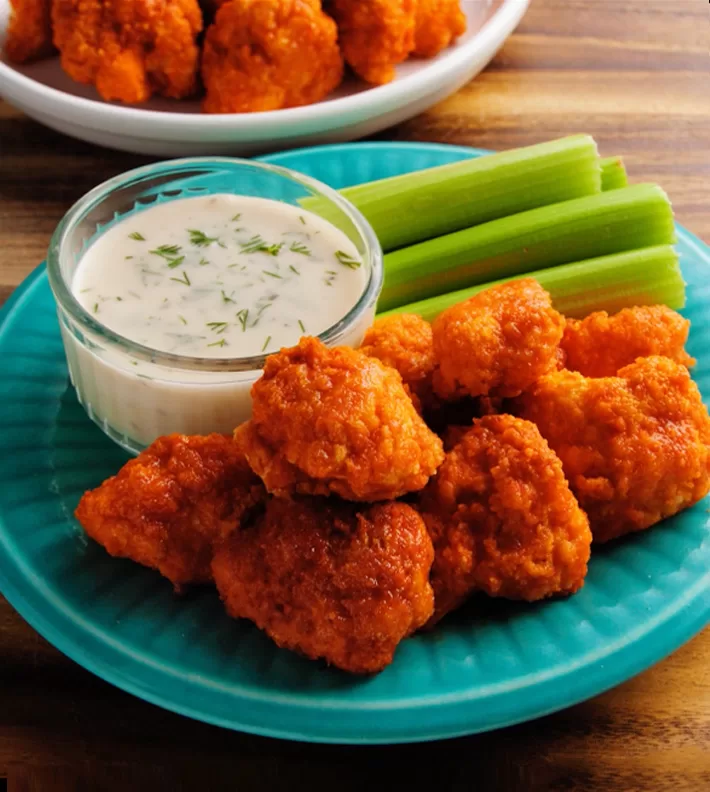 Easy cauliflower buffalo wings
The crispy, savory, spicy, and secretly healthy snack is impossible to resist!
With just 6 ingredients, these surprisingly delicious buffalo wings are perfect for game day, summer barbecue parties, potlucks, or family weeknight dinners.
Quickly make up a batch whenever you find yourself craving some serious comfort food that won't leave you feeling weighed down.
They are especially tasty dipped in ranch dressing!
Here are 25 easy Cauliflower Recipes
Watch the buffalo cauliflower wing recipe video, above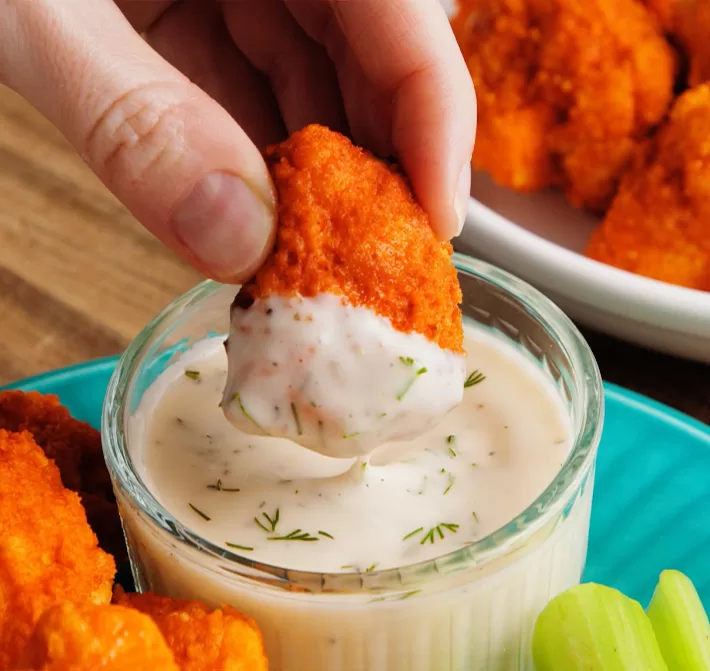 Reasons to make buffalo cauliflower wings
1. You will be surprised by how good they taste.
Buffalo cauliflower wings are popular for a reason. You would never expect the meatless wings to taste anywhere near as good as they do!
I've had so many meat eaters ask for the vegetarian recipe after trying the wings. One hardcore carnivore friend said he actually liked the cauliflower wings better than chicken wings.
His logic is that they are less greasy, you can eat way more of them, and the cauliflower buffalo bites don't weigh you down the same way chicken wings might.
2. The serving size is so much bigger.
The entire tray of wings is under 300 calories, and the cauliflower bites are also lower than buffalo chicken wings in fat, higher in fiber, and cholesterol free, with just two Weight Watchers points per serving.
I know parties are supposed to be all about comfort food indulgences and not having to worry about clean eating. But when I recently served these wings, people kept commenting that they really appreciated having a healthy option amidst all of the pizzas, cookies, potato chips, and beer.
3. It's a recipe that everyone can enjoy.
Vegan, gluten free, keto, paleo, Whole 30, low carb, Weight Watchers…
Chances are, you have at least one friend or family member on one of these diets, and these oven roasted healthy wings are a great appetizer you can bring to a party for everyone to enjoy.
Plus, there are no bones to worry about in this healthy snack, which is especially good if you have any four legged pets around.
Also try this 5 ingredient Keto Cheesecake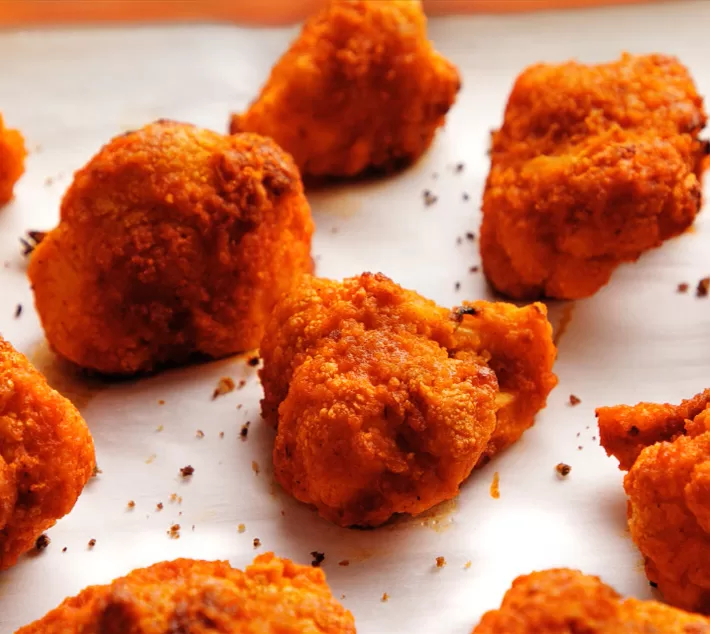 The best healthy baked buffalo cauliflower bites
The first time I tried these buffalo cauliflower bites was at a football watching party.
I set down the tray to test them out and gauge everyone's reactions.
Here's what happened:
Some people thought the idea was too crazy to even try, and one person who did try them said he didn't like them because they weren't meat. But everyone else at the party gobbled up the cauliflower wings recipe at lightning speed.
And no one in the group was even a vegetarian!
A large batch of the buffalo cauliflower bites was completely gone by the end of the night, with multiple requests for the recipe.
Leftover cauliflower? Make Cauliflower Alfredo Sauce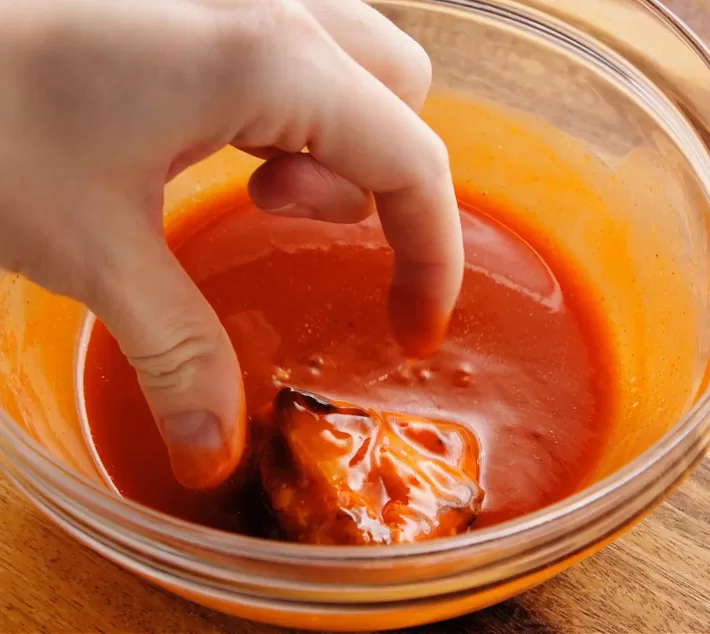 How to make healthy buffalo wings
Gather the ingredients: raw cauliflower, garlic powder, hot sauce or buffalo sauce, milk of choice, flour or almond flour, and oil or butter spread.
You can also add some panko breadcrumbs for an extra crunch if desired.
Preheat the oven to 425 degrees Fahrenheit, and line a large baking dish or cookie sheet with parchment paper.
Either toss the cauliflower florets with a little coconut or vegetable oil or spray them with oil spray for a low fat option.
Place the florets in a very large bowl or Ziploc bag, then toss with the flour and garlic powder until the cauliflower is evenly coated.
If using the breadcrumbs for an added crunchy texture, finely crush them. Add the milk of choice to the cauliflower, followed by the breadcrumbs. Toss to coat.
Arrange the florets in a single layer in the baking pan. For best results, do not overcrowd them. Bake on the oven's center rack for 25 minutes.
Meanwhile, combine the buffalo sauce and oil or melted butter in a dish. The fat will help the sauce adhere to the vegetables.
Dip each cauliflower floret in buffalo sauce. Place back in the baking pan, and bake an additional 15 minutes.
To achieve the crispiest texture, I recommend broiling for three to five minutes at this time, watching so the recipe does not burn.
Serve with blue cheese or ranch dressing and optional celery and carrot sticks.
The recipe was inspired by my Shake & Bake Cauliflower– you shake the ingredients together in a bag then bake in the oven until hot and crispy!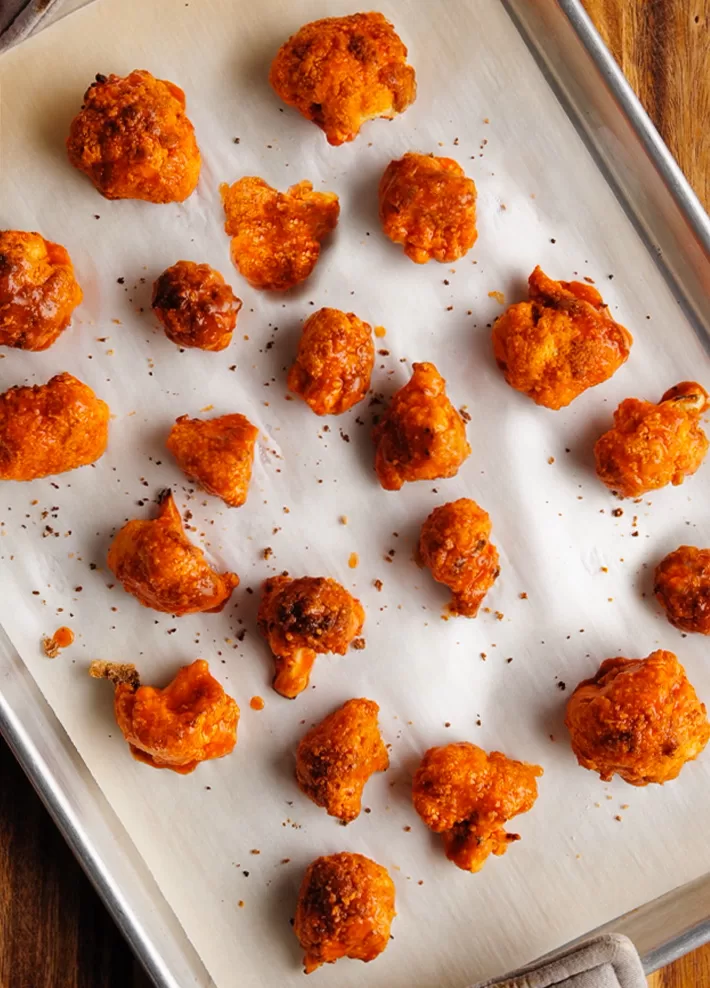 Vegan buffalo cauliflower wings
The recipe is naturally plant based and vegan as long as you use your favorite nondairy milk, such as almond milk, and either oil or a dairy free butter.
For gluten free buffalo wings, use almond flour or gluten free all purpose flour.
Low carb keto wings
To make keto buffalo wings, use the almond meal option in the recipe in place of flour.
The cauliflower bites are already sugar free, so they're a great paleo and keto appetizer that people who aren't big on calorie free sweeteners can also appreciate.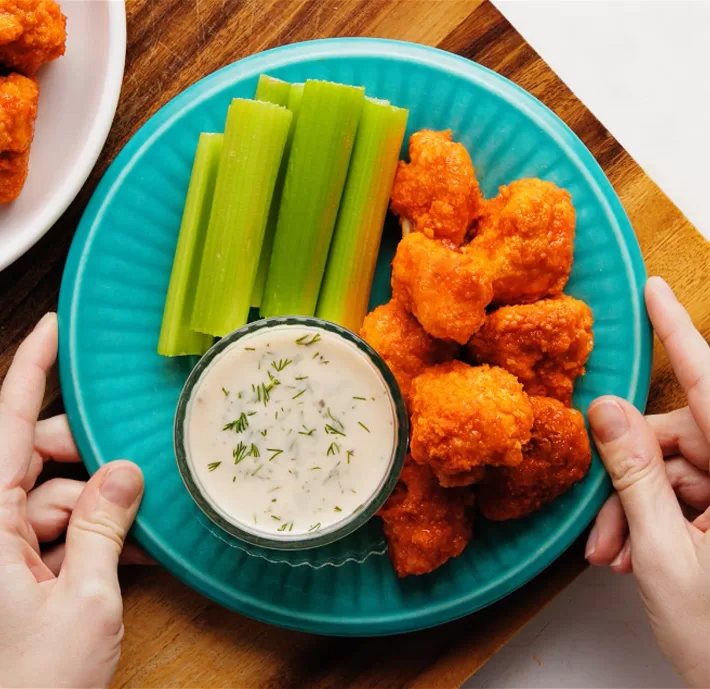 Cauliflower wings vs. chicken wings
To be clear, these cauliflower buffalo wings do not taste ohmigosh just like real buffalo wings. If you find any food blog or cookbook recipe that claims cauliflower is going to taste just like meat, run far away.
Cauliflower is not meat, cauliflower will never be meat, and buffalo cauliflower wings are never going to fool anyone into thinking they are chicken wings. End of story.
That being said, these baked cauliflower wings are delicious in their own right. There's no need to treat them as a substitute for the real thing, because they are the real thing.
The completely vegan buffalo wings make a great healthy game day snack, and they are especially good dipped in vegan ranch dressing.
Or you can use them to make buffalo Cauliflower Tacos.
I haven't tried frying them in an air fryer or cooking in an instant pot or on the grill, but some readers have reported success with these methods. Be sure to report back for others if you experiment.
These plant based wings are definitely worth a shot, even if for no other reason than to be able to say you've tried them. And it might really amaze you how good they are!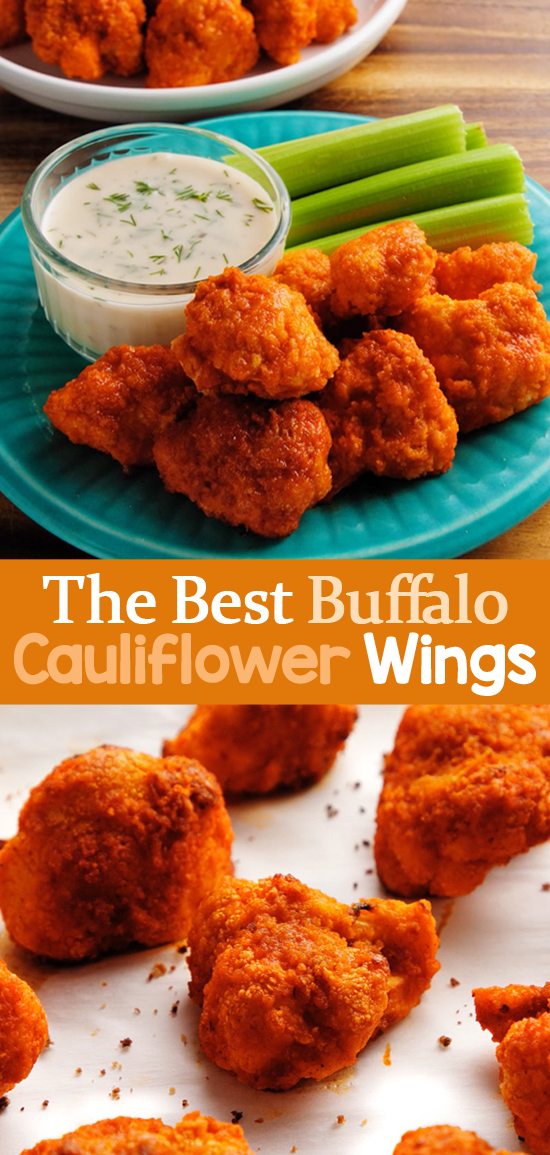 Buffalo Cauliflower Wings
This easy crispy baked buffalo cauliflower wings recipe is a hit with both vegans and meat eaters.
Ingredients
1/2

large head cauliflower,

cut into florets

oil spray or oil

1/4

cup

flour

or almond meal

1/4

tsp

garlic powder

3

tbsp

milk of choice

optional 1/2 cup breadcrumbs

1/2

cup

buffalo sauce or hot sauce

1

– 4 tsp

oil or butter
Instructions
Preheat the oven to 425 F. Line a large baking dish with parchment. Spray florets with oil spray or toss with a little oil. Place in either a very large bowl or a large Ziploc bag. Toss with the flour and garlic powder until evenly coated. If using the breadcrumbs for added crunch, finely crush them. Add the milk of choice and then the breadcrumbs to the cauliflower, and toss to coat. Arrange in one layer in the baking pan. Bake on the center rack 25 minutes. Combine the oil or melted butter spread with the buffalo sauce. The fat helps the sauce adhere to the cauliflower. Dip cauliflower in sauce. Bake another 15 minutes. After this time, I like to broil for up to 5 minutes, watching so it does not burn. Serve with ranch dressing. If you make the recipe, don't forget to rate it below!

View Nutrition Facts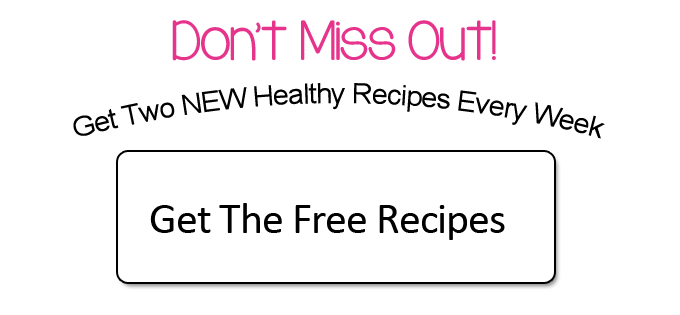 More Healthy Cauliflower Recipes