Cook just once, and this easy sweet potato meal prep recipe gives you a delicious healthy lunch or dinner for the entire week. Leftovers freeze well too!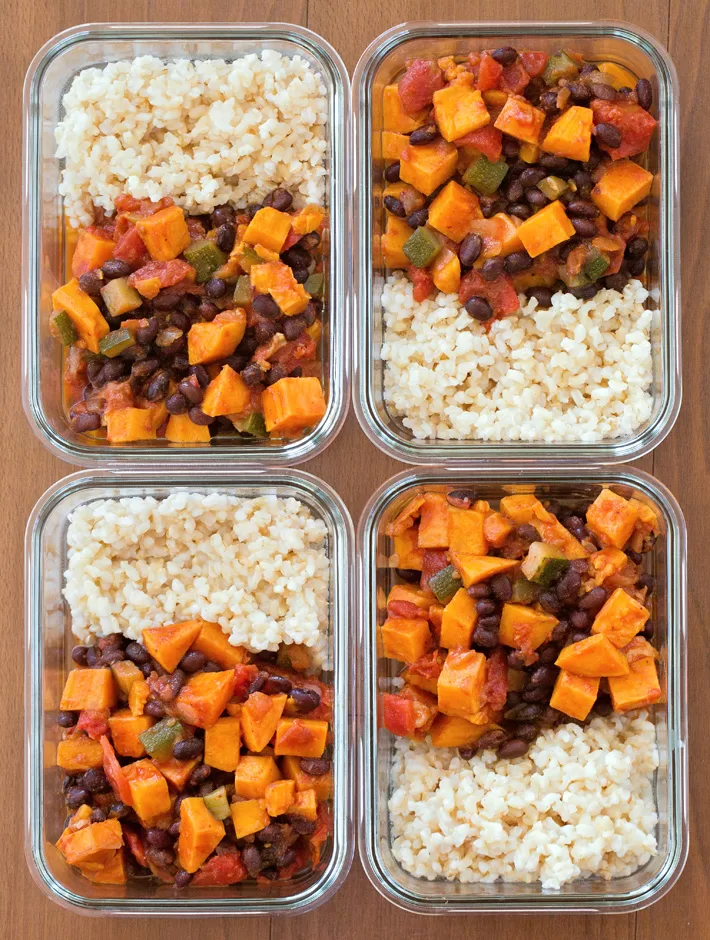 Looking for a simple, budget friendly, and healthy sweet potato recipe to meal prep on Sunday and enjoy all week long?
This high protein vegetarian sweet potato chili has been one of my favorite weekday lunches or dinner recipes for over a decade. Non vegans love it too!
The recipe can be dairy free, vegan, gluten free, soy free, Whole 30, paleo, and oil free.
Also be sure to try these Cauliflower Recipes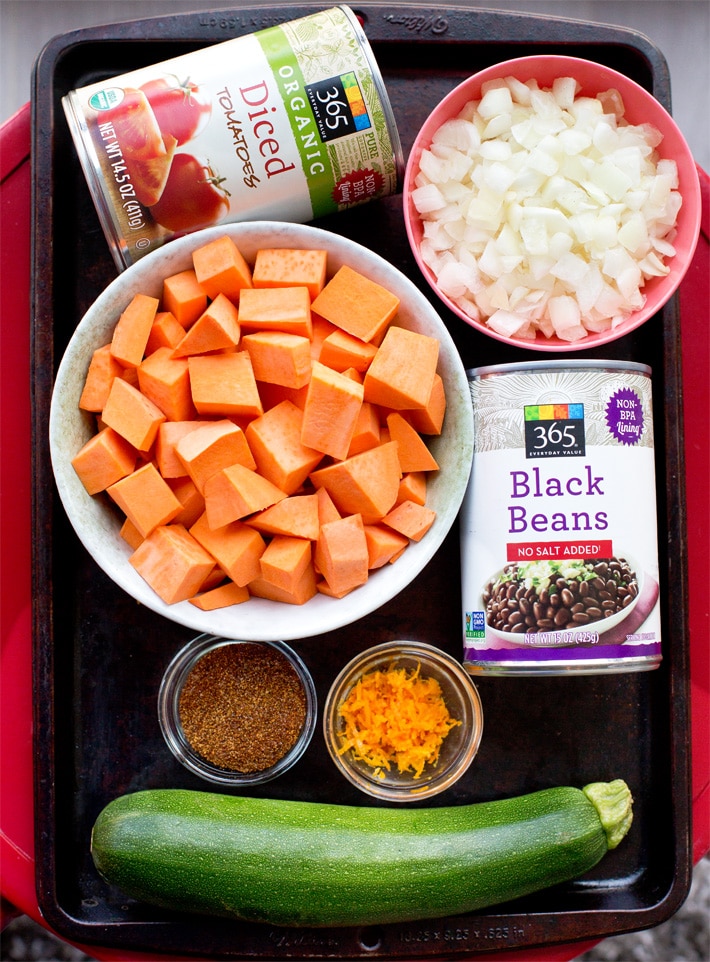 Sweet potato meal prep ingredients
Here's what you'll need for the recipe: black beans, tomatoes, onion, chili powder, orange zest, zucchini or carrots, salt, ground cumin, and a large sweet potato.
If you like spicy chili, feel free to add hot sauce or crushed red pepper to taste.
For quick and easy preparation, I use canned diced tomatoes. Fire roasted tomatoes are another great option. If using no salt added diced tomatoes, add a little extra salt.
The orange zest adds incredible flavor to the vegetarian meal prep recipe and should not be omitted. One small orange yields about a teaspoon of orange zest.
To make orange zest, first wash your orange. Use either a zester or a grater to shred the orange peel. Or peel the fruit with a vegetable peeler, then finely dice the skin with a sharp knife.
The sweet potato recipe already packs in close to seven grams of protein per cup, and you can make it even higher protein by including the optional protein of choice. While many people add grilled chicken, ground beef, or salmon to chili, I like to keep it vegan by adding a can of chickpeas, pinto beans, or baked tofu.
Leftover black beans? Make Black Bean Brownies
Above, watch the sweet potato meal prep recipe video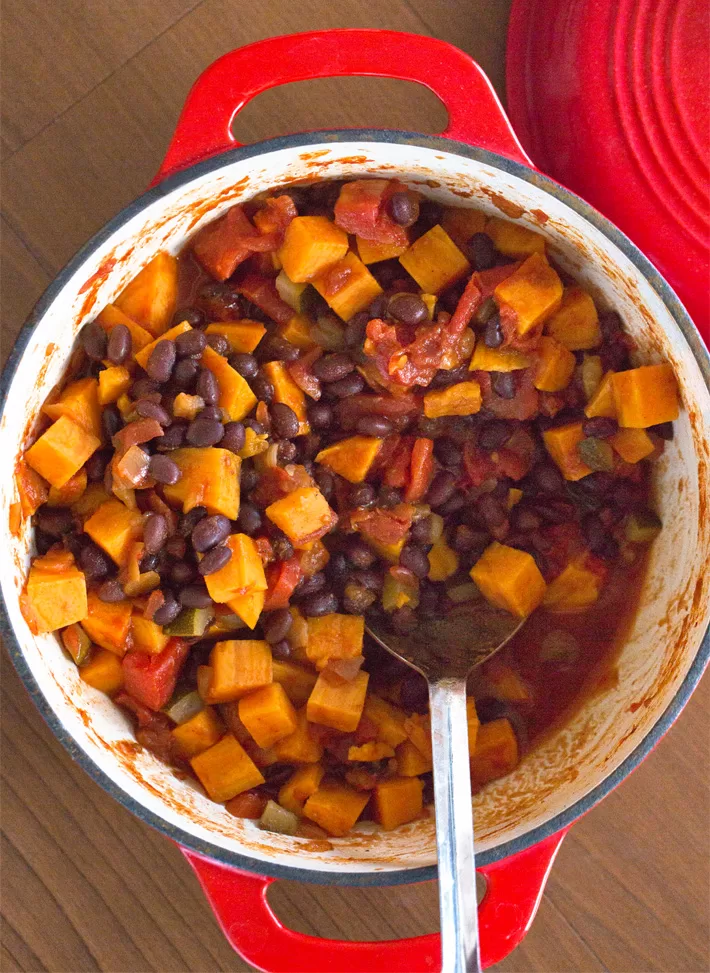 How to make the healthy sweet potato recipe
It is not required, but I like to roast the sweet potato first for heightened sweetness and the best flavor. Here's how to cook sweet potatoes.
Peel if desired, then chop or dice the raw or roasted sweet potato. Combine all ingredients in a medium pot, and bring to a boil.
Once boiling, turn the heat to medium low, and cook uncovered for around fifteen minutes. The sweet potato and zucchini or carrots should be soft.
Add salt and optional pepper to taste. Serve the sweet potato recipe immediately, or let it cool before dividing into meal prep containers.
This is a great recipe if you're a beginner to the concept of meal prepping or cooking in bulk. And it's a healthy, low calorie option that everyone can enjoy, whether or not you're on a bodybuilding, meatless, plant based, or weight loss diet.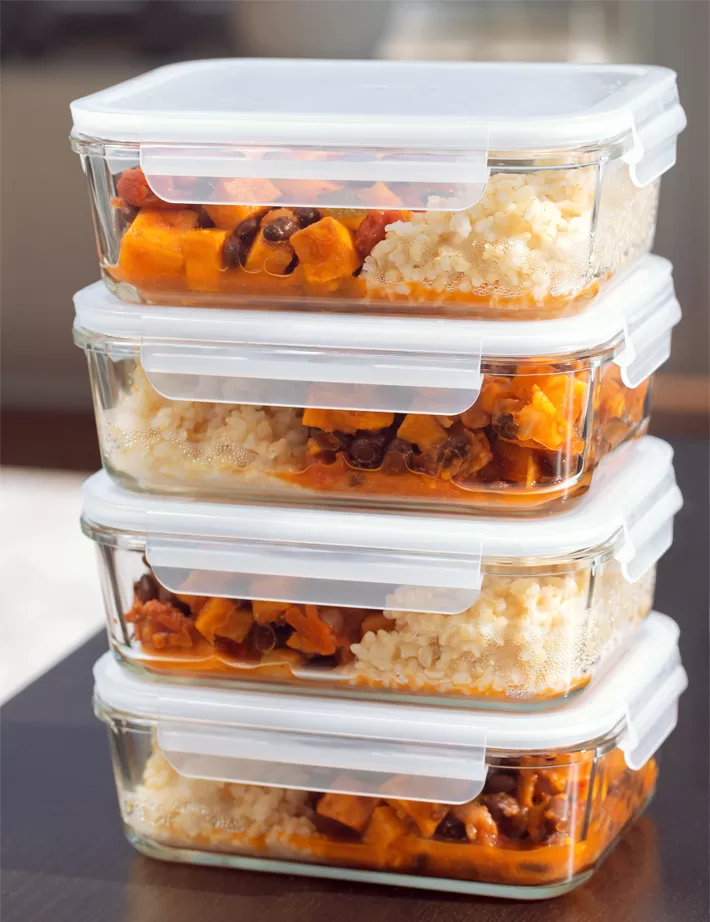 Sweet potato meal prep storage tips
After cooking, be sure to let the chili cool before dividing it evenly into either glass Pyrex or leak proof plastic BPA free containers. I like these meal prep containers.
You can store the sweet potato stew on its own. Or choose bigger containers and fill them halfway with mashed avocado, cooked brown rice, quinoa, low carb cauliflower rice, stuffed peppers, pasta, salad greens, or roasted broccoli. For added variety, fill the containers with different sides for each day of the week.
Stored in airtight meal prep bowls or containers, the recipe should be good for up to five days. Store additional containers in the freezer for an almost instant meal whenever you don't have time to cook.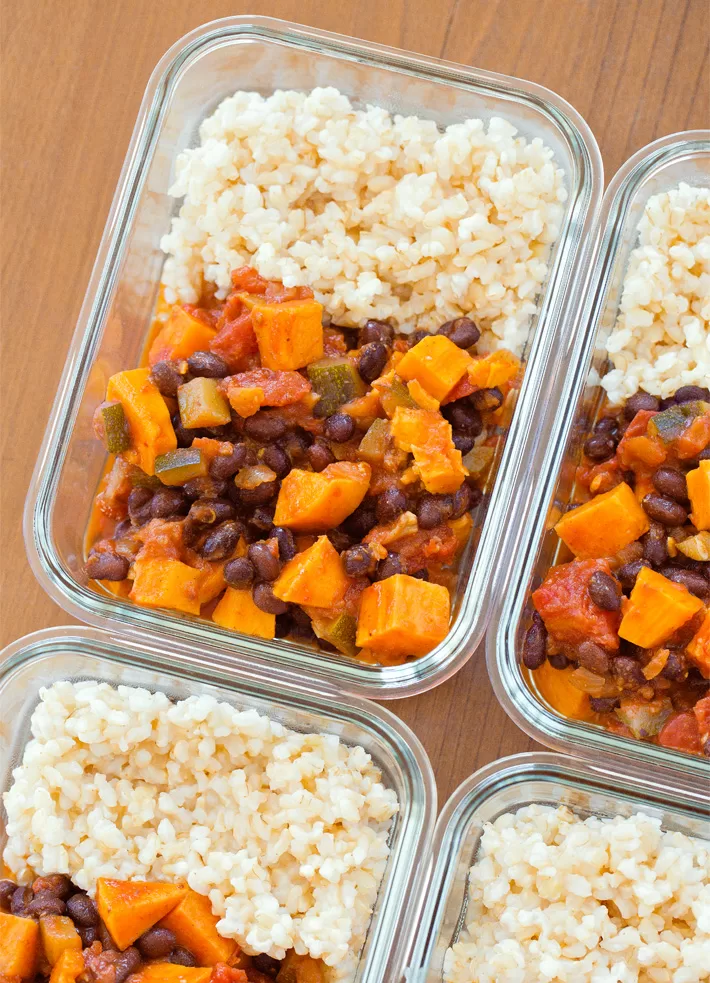 The recipe was inspired by Pinterest and adapted from my Sweet Potato Chili.
Sweet Potato Meal Prep
This easy sweet potato meal prep recipe gives you a healthy lunch for the entire week.
Ingredients
1

large

sweet potato

(10 oz)

1

cup

diced onion

1

can

black beans, or beans of choice

1

can

diced tomatoes

1

cup

water

3/4

cup

chopped zucchini or carrots

2

1/4 tsp

chili powder

1

tsp

orange zest

1/2

tsp

each: salt and ground cumin

optional 1 can chickpeas or cup cooked protein of choice
Instructions
I love roasting the sweet potato first, although it's not required. Peel the roasted or raw sweet potato, or skip this step if you like the skin. Chop or dice it to your desired size. Bring all ingredients to a boil. Then turn the heat to medium-low and cook uncovered until the sweet potato and zucchini or carrots are soft. It should take around 15 minutes. Add salt and pepper to taste. Serve right away. Or let cool, then divide evenly into airtight containers. (I like these meal prep containers.) Store in the refrigerator for up to five days, or freeze for up to two months.View Nutrition Facts
More Healthy Meal Prep Recipes