These soft and fluffy vegan peppermint cookies are completely irresistible! It's the perfect fun and festive recipe to serve at any holiday party.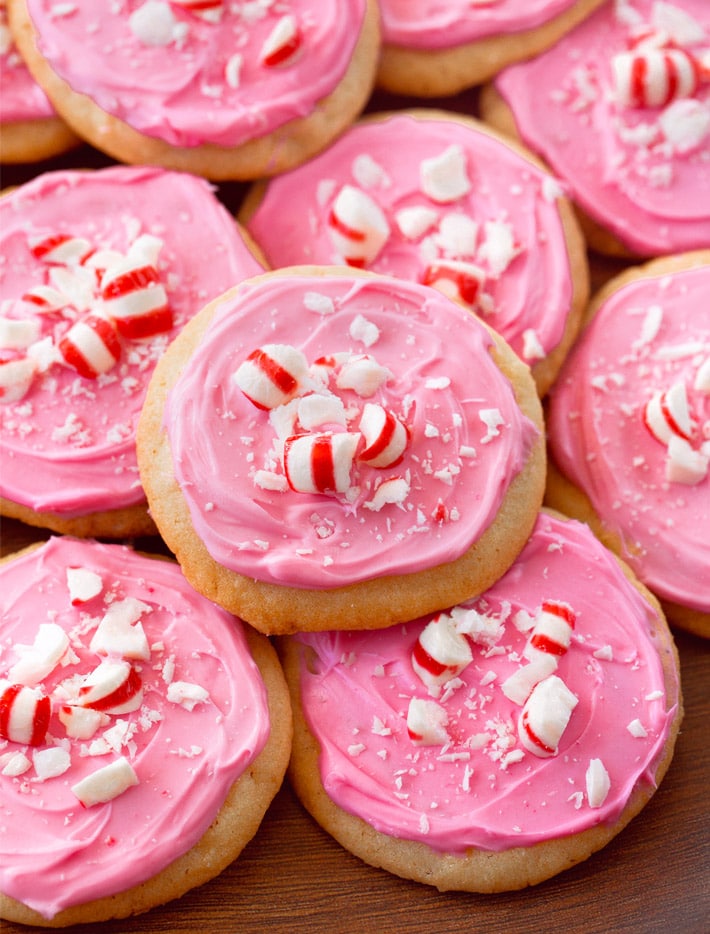 If you are a fan of those famous Lofthouse sugar cookies and also love holiday peppermint bark, this is definitely the cookie recipe for you.
The vegan peppermint cookies are naturally egg free, and they can also be soy free, gluten free, sugar free, nut free, and dairy free. Cut them in circles, hearts, snowflakes, Christmas trees, or any shape you wish!
Also be sure to try this Vegan Cheesecake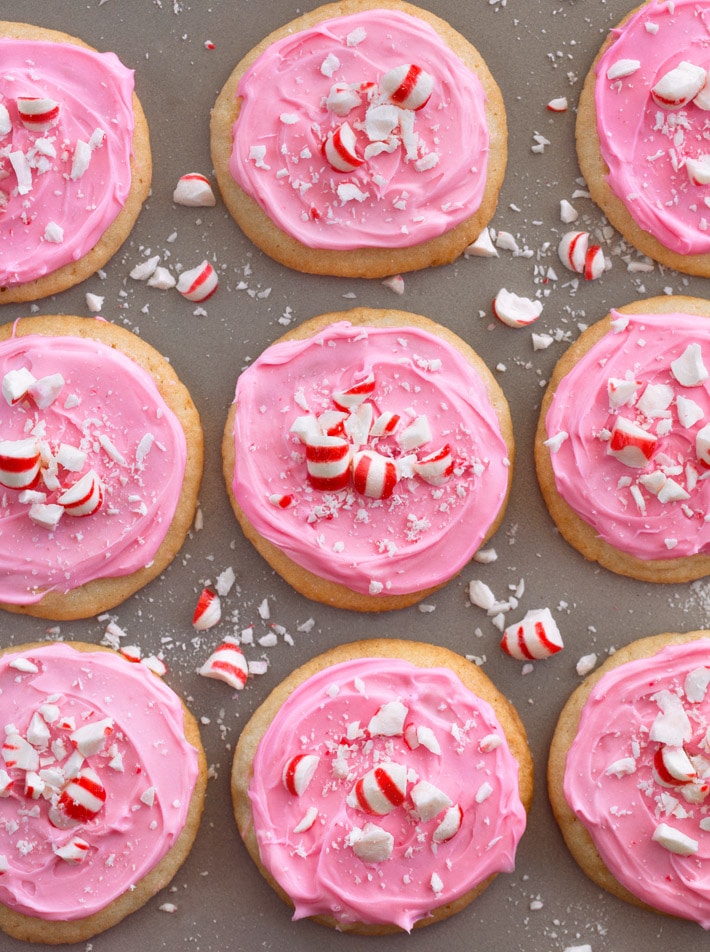 Vegan peppermint desserts
Along with the likes of cinnamon, eggnog, and gingerbread, peppermint is one of those quintessential winter holiday flavors.
A few of my other favorite vegan peppermint recipes include Vegan Peppermint Patties, Healthy Shamrock Shakes, Vegan Peppermint Bark, and Vegan Hot Chocolate.
If you have any favorite peppermint desserts that you think I should try, please feel free to leave a comment and let me know. I am always looking for baking inspiration.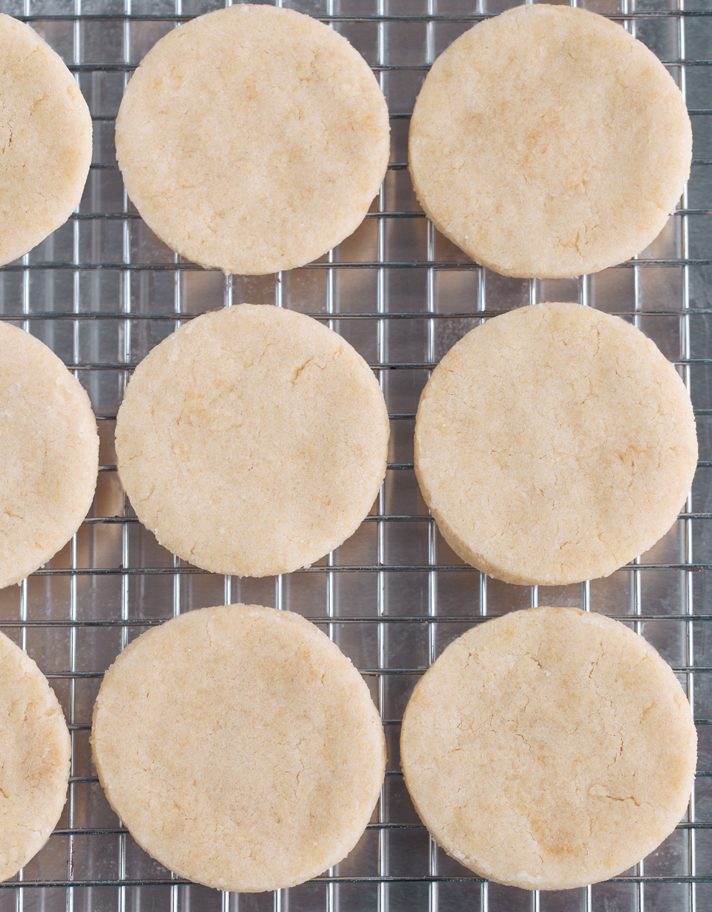 Peppermint cookie ingredients
You will need: flour, baking soda and powder, sugar, oil or vegan butter, nondairy milk, salt, pure vanilla extract, and pure peppermint extract. No flax eggs required.
The peppermint – be sure to use pure peppermint extract. Do not sub mint, imitation, or peppermint flavor extract, as these are not the same thing.
For the flour – the cookies can be made with regular white all purpose flour, whole grain spelt flour, or oat flour. There's also a low carb option listed in the recipe below.
The butter or oil – to make the cookies vegan, look for a vegan butter such as Melt Organic, Earth Balance, or Miyokos. Or try vegetable, sunflower, or melted coconut oil.
Sweetener options – use regular sugar or blonde coconut sugar, or xylitol works for sugar free peppermint cookies. I would think granulated erythritol may also work, but I haven't tried it here.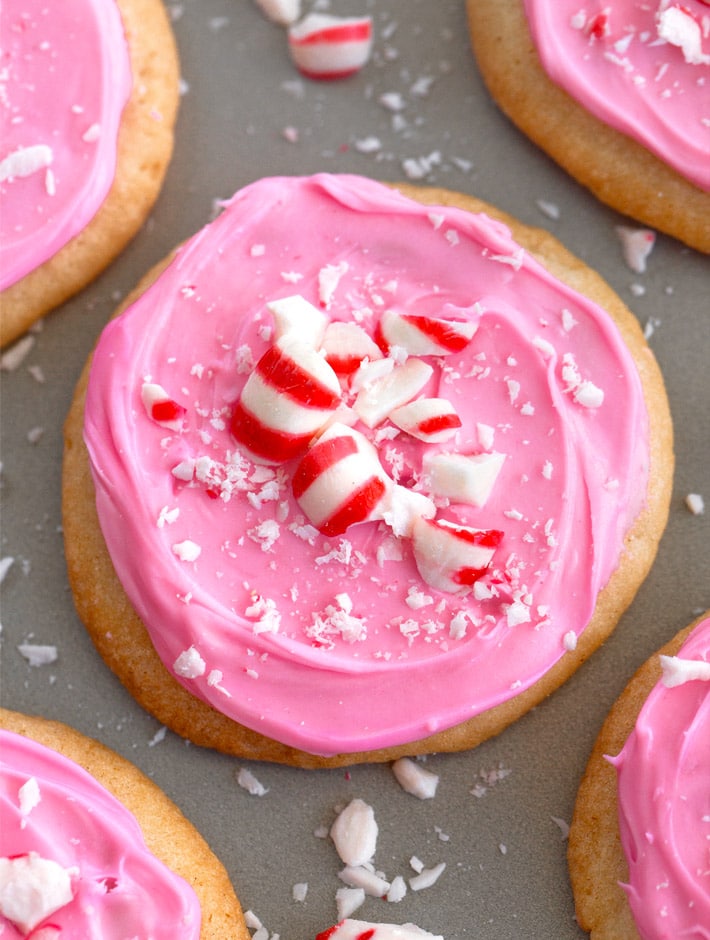 The frosting recipe
For the vegan Christmas cookies in the photos, I used the icing recipe directly below. Or the cookies can be served with melted coconut butter or your favorite frosting of choice. It's also fine to eat them plain!
To make the frosting in the pictures, beat room temperature 8 ounces of store-bought or homemade vegan cream cheese with 4 ounces of vegan butter, 2 cups of powdered sugar, and 1 teaspoon pure vanilla extract. Slowly add 1 to 3 teaspoons plant based milk of choice, as needed.
I added an optional few drops of natural food coloring (beet juice or freeze dried strawberry powder also work) and garnished with crushed starlight mints.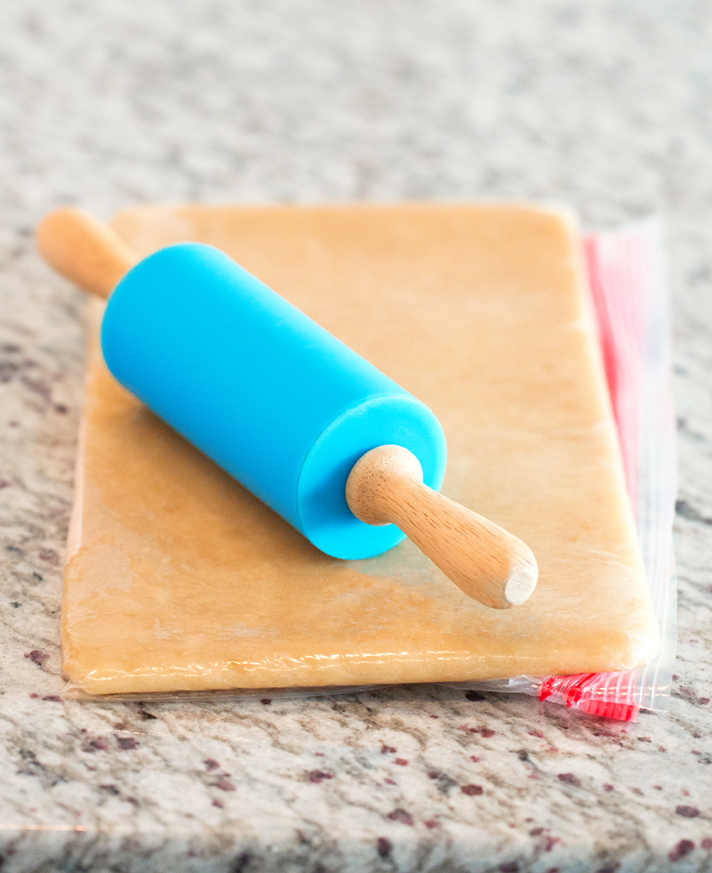 How to make vegan peppermint cookies
In a large mixing bowl, stir together all of the dry ingredients. Be sure to stir very well so you don't end up with an unstirred clump of baking soda or salt.
Add all of the liquid ingredients, and stir to form a cookie dough. It will look dry at first but will turn into dough after a minute or two of stirring. Do not add extra liquid.
I've found that the easiest way to roll out this dough is to transfer the contents of the mixing bowl to a gallon ziploc bag and smush the dough into a giant ball from inside the bag.
If you want to do the prep work ahead of time, feel free to refrigerate the bag overnight or even for a few days. Once ready to bake cookies, preheat the oven to 325 degrees Fahrenheit.
Fold the bag in half, and roll the dough out from inside the bag until it takes up the entirety of the half. Cut the bag open, and use either a cookie cutter or knife to make cookie shapes of your choice. I used a circle cookie cutter for the cookies in the photos.
Place the shapes on a baking sheet, and bake on the oven's center rack for 11 minutes. They should look underdone when time is up. Let them cool completely, during which time they will firm up.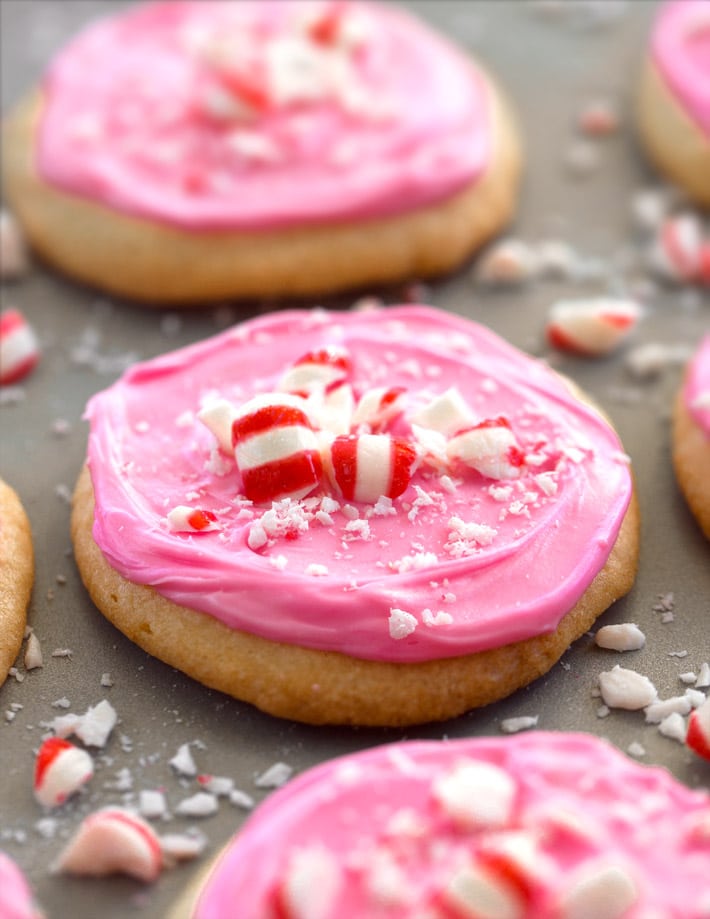 Christmas cookie baking tips
In general, it's usually a good idea to under-bake cookies, because most cookie recipes will continue to firm up as they cool.
If baking a cookie that calls for frosting, I recommend waiting until the cookies are no longer warm so that the frosting doesn't melt into the base.
Gather all ingredients and read through a recipe's instructions before beginning so you know ahead of time what you'll need. For this recipe, a basic cookie tray, mixing bowl, and a spoon to stir are the only non-food supplies required.
Above, watch the vegan peppermint cookie recipe video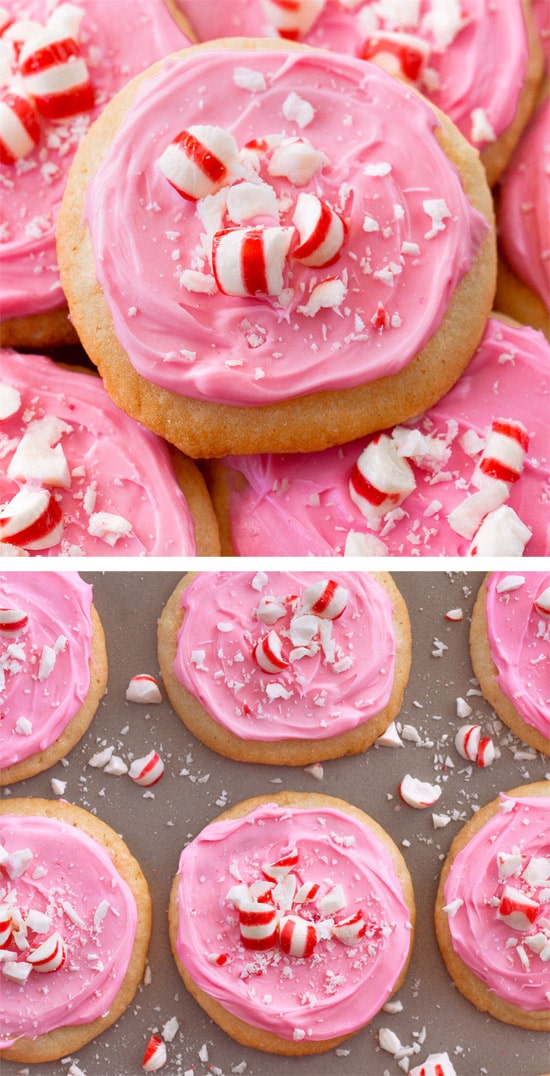 Vegan Peppermint Cookies
These vegan peppermint cookies are soft, fluffy, and the perfect recipe for the holidays.
Ingredients
1

1/2 cups

 white, spelt, or oat flour

(For low carb, try these Keto Cookies)

3/4

tsp

baking soda

1/2

tsp

each: baking powder and salt

1/2

cup

sugar,

unrefined if desired

6

tbsp

oil or melted vegan butter

1

1/2 tbsp

milk of choice

1

tsp

pure vanilla extract

1/4

tsp

pure peppermint extract
Instructions
*If you want to frost the peppermint cookies, feel free to either use your favorite icing or the recipe I've written out earlier in this post.

To make the cookies, stir all dry ingredients together. Add remaining ingredients to form a dough – it will be dry at first but should turn into cookie dough within a minute or two of stirring, no extra liquid needed. Transfer to a gallon-sized ziploc bag and smush into a ball from inside the bag. If desired, refrigerate overnight or for a few days. When ready to cook, preheat the oven to 325 F. Fold the ziploc in half and roll the dough out from inside the bag until it takes up the full half of the bag (as shown in the photo above). Cut open the bag and use a cookie cutter or knife to cut shapes of choice. Place on a baking tray, and cook 11 minutes – they will look underdone when time's up, so let them cool completely before handling, as they firm up as they cool. Once cool, frost if desired.     

View Nutrition Facts
Vegan holiday cookie recipes