This cheesy cauliflower casserole recipe is family friendly, absolutely delicious, and the ultimate creamy comfort food side dish. Everyone will be asking you for the recipe!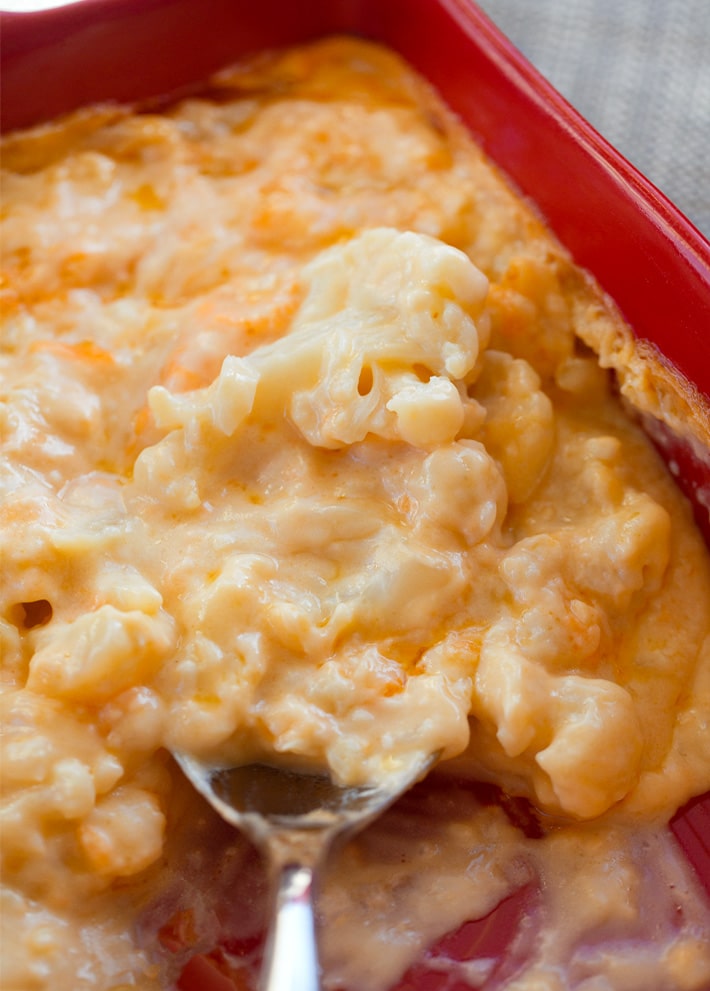 If you're looking for a popular crowd-pleasing recipe that both meat eaters and vegetarians can enjoy, definitely be sure to give this baked cauliflower casserole a try.
Many readers have written in to say how much they LOVE the recipe.
Its rich and creamy texture reminds them of homemade mac and cheese!
Packed with nutrition and flavor, the lightened up cauliflower dish can be keto, gluten free, low calorie, low carb, vegan, and sugar free, with no heavy cream, sour cream, condensed soup, or mayo required.
Also try these 25 favorite Cauliflower Recipes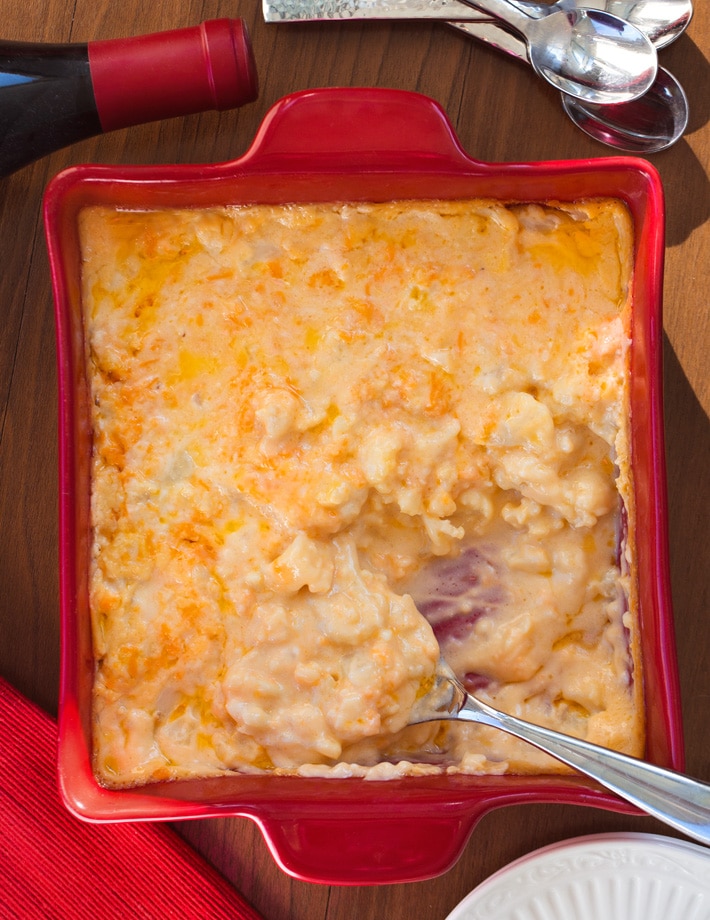 Easy baked cauliflower dish
This simple side is equally great to accompany any low key weeknight meal or fancy holiday feast. Many people say it tastes like mac and cheese!
My family serves it every year next to the sweet potatoes, green bean casserole, mushroom gravy, and cranberry sauce for Thanksgiving dinner, and it's perfect for Christmas or Easter too.
For a loaded baked cauliflower casserole, sprinkle with bacon bits (some brands are surprisingly vegetarian) and diced chives or green onions.
Or turn it into a main course by adding your favorite protein source before baking. Some people like chicken, sausage, or ground beef, but as a vegan I use chickpeas.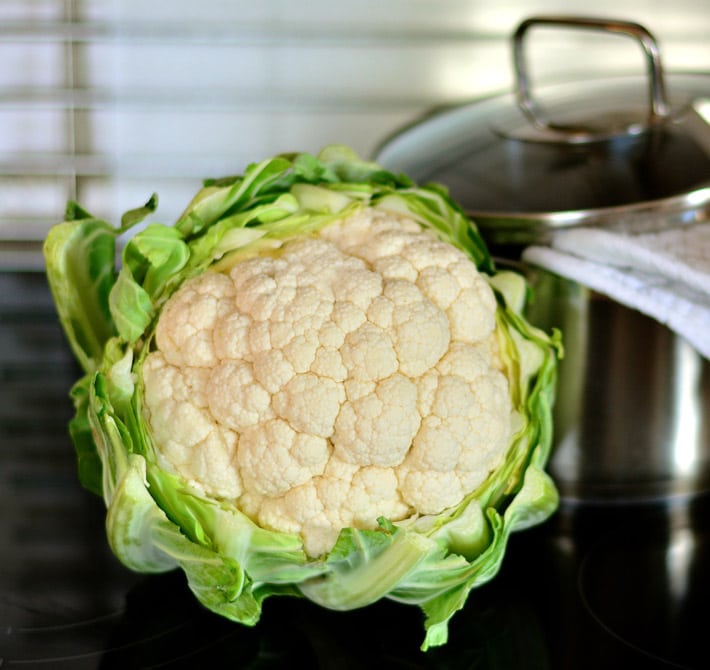 Healthy cauliflower casserole ingredients
The cauliflower: The dish calls for seven cups of chopped florets, which is about one medium to large head. I recommend buying a large cauliflower head to ensure it will yield enough. Or for a quick option, you can use frozen cauliflower florets if you prefer.
For the cheese: Cheddar, mozzarella, or a four cheese blend are all fine to use in the easy casserole recipe. Use vegan cheese shreds for a vegan casserole. I like Follow Your Heart brand, which melts like real cheese.
The milk: I used unsweetened almond milk. Feel free to go with whatever type of plain milk you have on hand. Because the dish is a savory recipe, it's best to not use flavored or vanilla milk or one with enough added sugar that it tastes sweet on its own.
Oil free options: If you use full-fat canned coconut milk, or if you go with the cream cheese option, the dish is rich enough on its own that you can omit the oil. Tahini can also be subbed as long as you don't mind the strong flavor. Or the oil can be left out completely; the healthy casserole flavor will just not be as rich and full-bodied.
Flour options: All purpose white flour, spelt flour, or whole wheat flour can be used. For a keto cauliflower casserole, use almond flour. I haven't tried the recipe with coconut flour or cornstarch, so be sure to report back with results if you experiment.
Trending dinner recipe: Sweet Potato Chili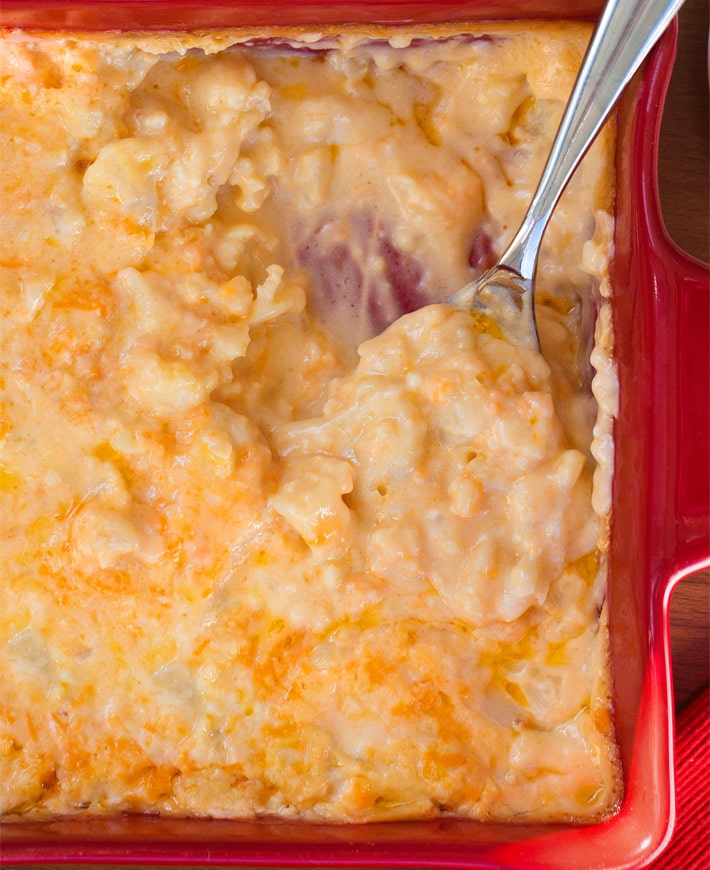 Keto cauliflower casserole
If you want to make a keto casserole, or even if you're not on a low carb diet and simply want a cauliflower casserole with cream cheese, substitute one third cup of cream cheese (or vegan cream cheese) for the flour.
Use a dairy free and sugar free milk option, such as unsweetened almond milk or cashew milk, macadamia nut milk, or full fat coconut milk.
The keto version of the recipe will have just 1 gram of net carbs per serving.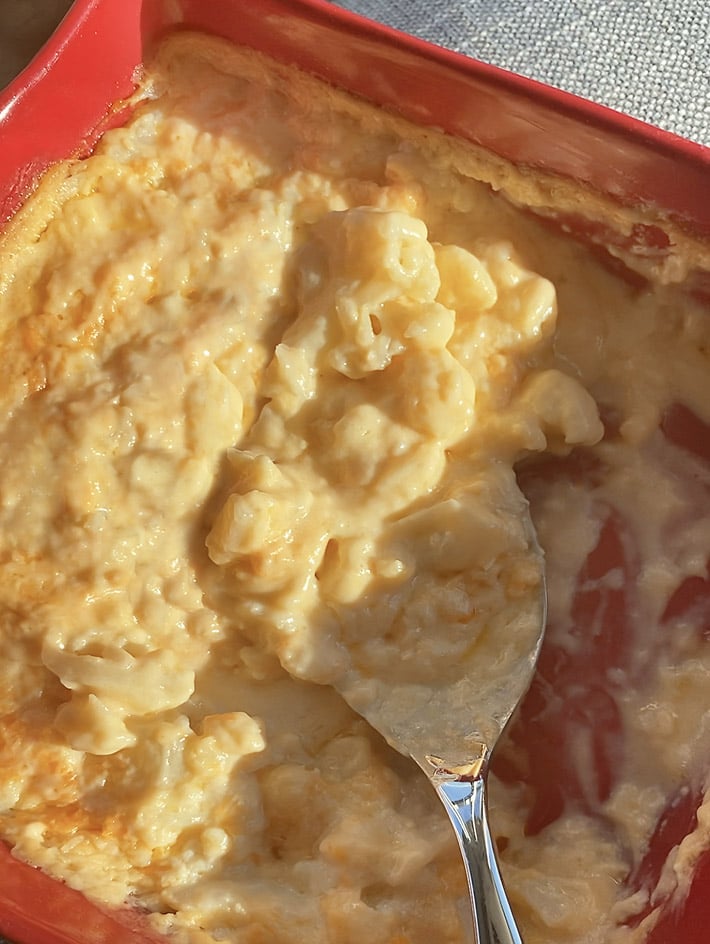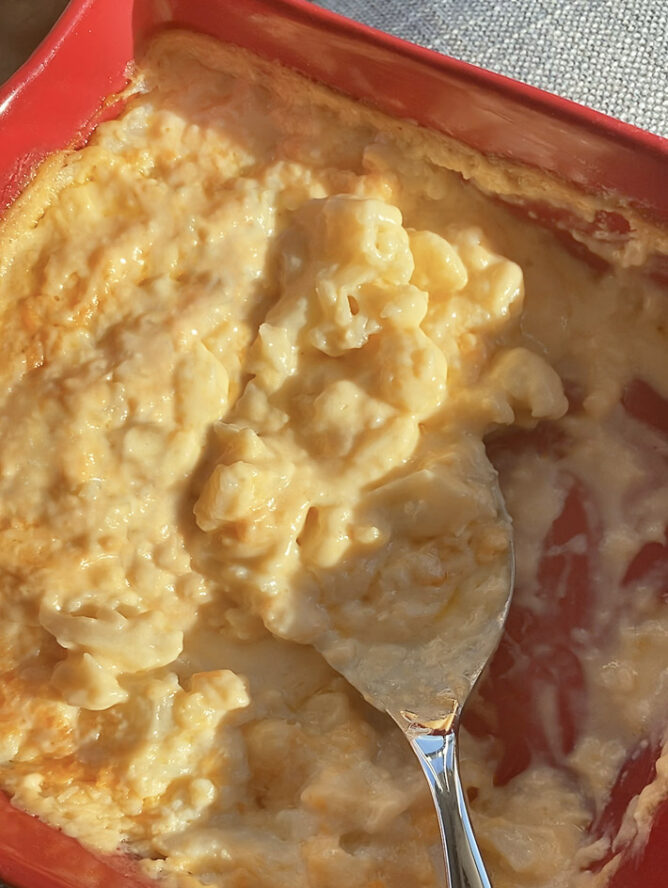 How to make a cauliflower cheese casserole
If using frozen cauliflower florets, be sure to defrost and fully thaw them first. Pat dry, discarding the extra water.
Optional cream cheese should also be softened if using. Let it come to room temperature so that it's smooth and easily stir-able.
Only if using raw fresh cauliflower, boil a pot of water. Once boiling, throw in the florets and cook, covered, for 5 minutes or until just tender. Drain.
Spread the cauliflower into an 8×8 baking dish, and set aside. Preheat the oven to 425 degrees Fahrenheit.
For the cauliflower cheese sauce, start by sautéing the garlic in the butter or oil for about a minute. Stir in the milk and salt.
Add the flour or the softened cream cheese, stirring constantly until it thickens and no lumps remain. Remove from the heat.
Add one cup of the shredded cheese to the mixture, reserving the second cup. Stir until it smoothly melts into the sauce.
Pour over the casserole pan, and stir to evenly coat the cauliflower. Sprinkle the remaining cheese on top.
Bake on the oven's center rack for 30 minutes or until hot and bubbly. Serve and enjoy.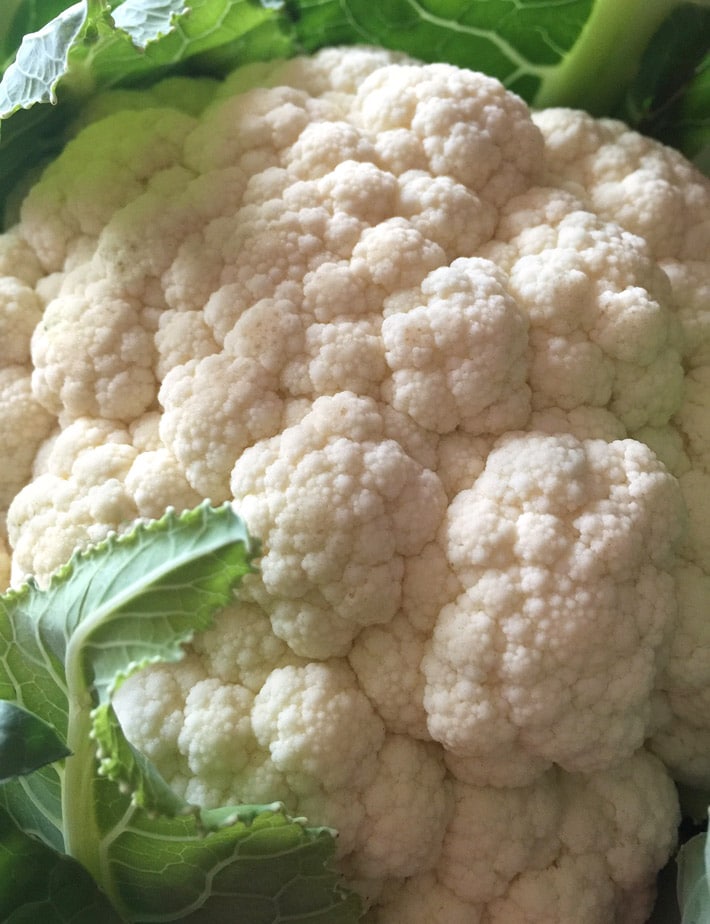 Make ahead and storage tips
Keep leftovers in a covered container in the fridge for 3-4 days. They can be reheated in the microwave or oven.
If you're bringing the recipe to a party, it can be made ahead of time and stored in the refrigerator overnight, covered. Reheat in the oven once you arrive at the event.
To reheat in an oven: Preheat to 350 degrees Fahrenheit. Cover with tin foil to prevent moisture loss. Bake the casserole 20 minutes or until hot all the way through.
While you technically can freeze this cauliflower dish, the texture is much better if you don't, due to cauliflower's high water content and the creaminess of the vegetarian casserole sauce.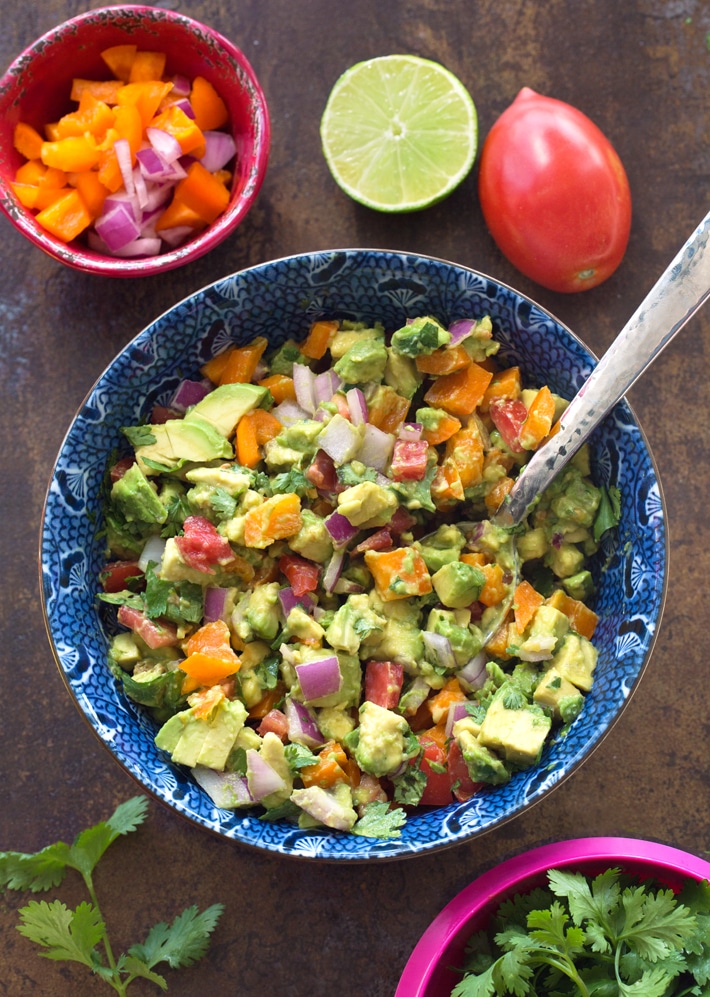 More healthy side dish recipes
Cauliflower health benefits
The cruciferous vegetable is a good source of numerous vitamins.
A single cup of chopped cauliflower contains fiber, potassium, magnesium, manganese, phosphorus, vitamin K, folate, and over 75% of the RDI for vitamin C.
Cauliflower is a keto friendly vegetable and is often used instead of carbs such as rice or pasta to lower the calories and carbohydrates of a recipe. It is considered a free food or zero points food on Weight Watchers.
One serving of this cauliflower casserole contains around 5 grams each of protein and fiber, with little saturated fat and no added sugar. It's also high in calcium.
Above, watch the step-by-step cauliflower casserole recipe video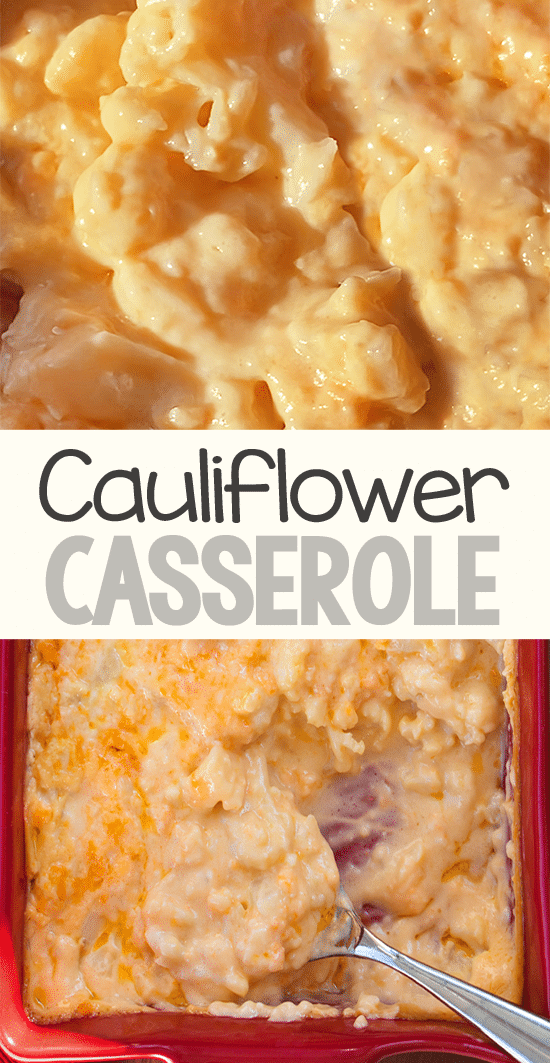 Cauliflower Casserole Recipe
This cheesy cauliflower casserole recipe is the ultimate creamy comfort food side dish.
Ingredients
7

cups

cauliflower florets

2

cups

milk of choice

1

1/2 tbsp

minced garlic

1

tsp

salt

2

tbsp

butter or coconut oil

(or oil free options listed above)

2

cups

shredded cheese, vegan if desired

1/4

cup

flour OR 1/3 cup cream cheese,

softened
Instructions
If using frozen cauliflower, thaw and pat dry. Or if using fresh cauliflower, boil a pot of water. Once boiling, throw in the cauliflower and cook, covered, for 5 minutes. Drain fully. Transfer cauliflower to an 8-inch baking dish. Preheat the oven to 425 F. To make the cauliflower casserole sauce, sauté the garlic in the oil or butter for about a minute, then stir in the milk and salt. Add the flour or softened cream cheese, and stir until sauce gets thick and no lumps remain. Turn off the heat. Stir in half of the cheese until it melts. Pour sauce over cauliflower, and stir to evenly disperse. Sprinkle remaining cup of cheese on top. Bake in the preheated oven on the center rack for 30 minutes. Serve hot. Leftovers can be stored in an airtight covered container for 3-4 days.

View Nutrition Facts
Healthy Cauliflower Recipes