These secretly-good-for-you chocolate workout brownies are high in protein, gluten-free, oil-free, vegan, and they can even have NO added sugar.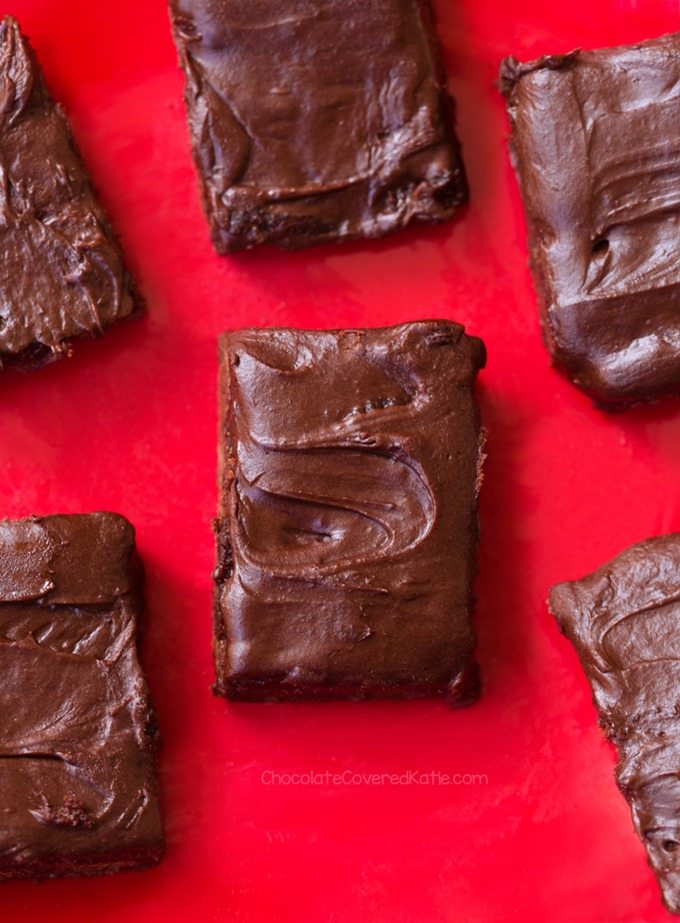 If you are one of those people who love healthy desserts and how amazing they make you feel, be sure to put these brownies on your "must try" list.
Made up of just six plant-based ingredients, without any refined sugars or flour, the clean eating protein brownies are super quick and easy to prepare.
Also Try These Keto Muffins – Just 6 Ingredients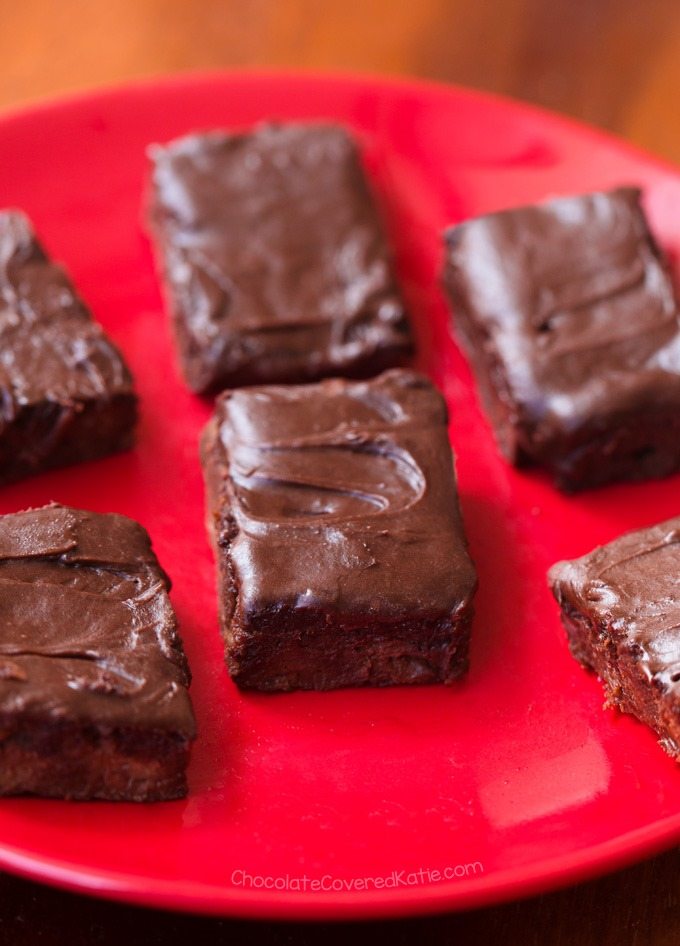 If you're bored of energy bars, this could be your new favorite workout recipe.
They are great for:
Runners
Dancers
Weight Lifters
Yogis
Cyclists
Swimmers
Sports Players
And basically everyone else who loves chocolate and wants to incorporate it into a healthy, on-the-go snack.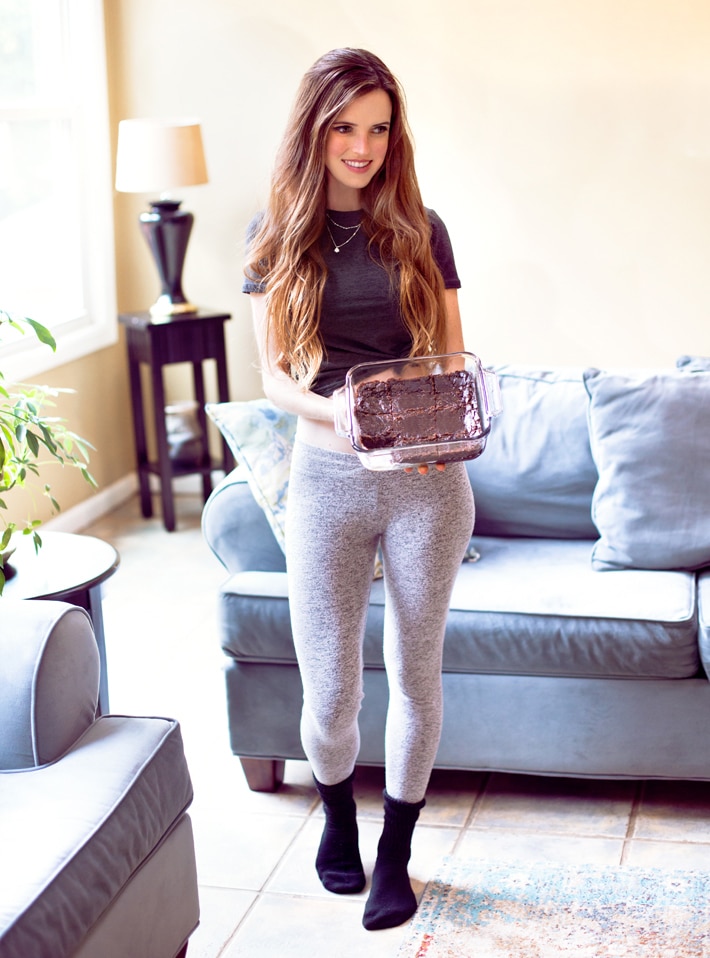 Brownies with superpowers.
It's like grabbing a post-workout energy bar, but with cleaner ingredients than most packaged energy bars – no soy protein isolate, sucralose, or high fructose corn syrup.
I know it's completely frustrating when a healthy-tasting recipe claims to taste exactly like a real hot fudge brownie… so I will tell you right now:
These are not supposed to be like a decadent dessert. Just as you wouldn't serve a tray of Luna Bars at a fancy dinner party or bake sale, I wouldn't recommend the workout brownies for a party either.
They are definitely more of a healthy snack or dessert meant for people who enjoy the wholesome taste and nutrition of healthy desserts.
If you are one of those people, hopefully you will love this recipe as much as I do!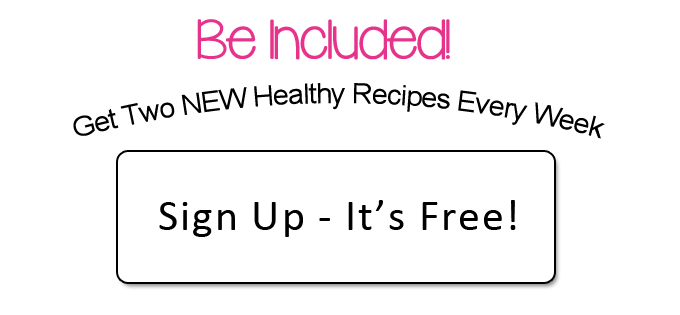 Here are the ingredients you'll need: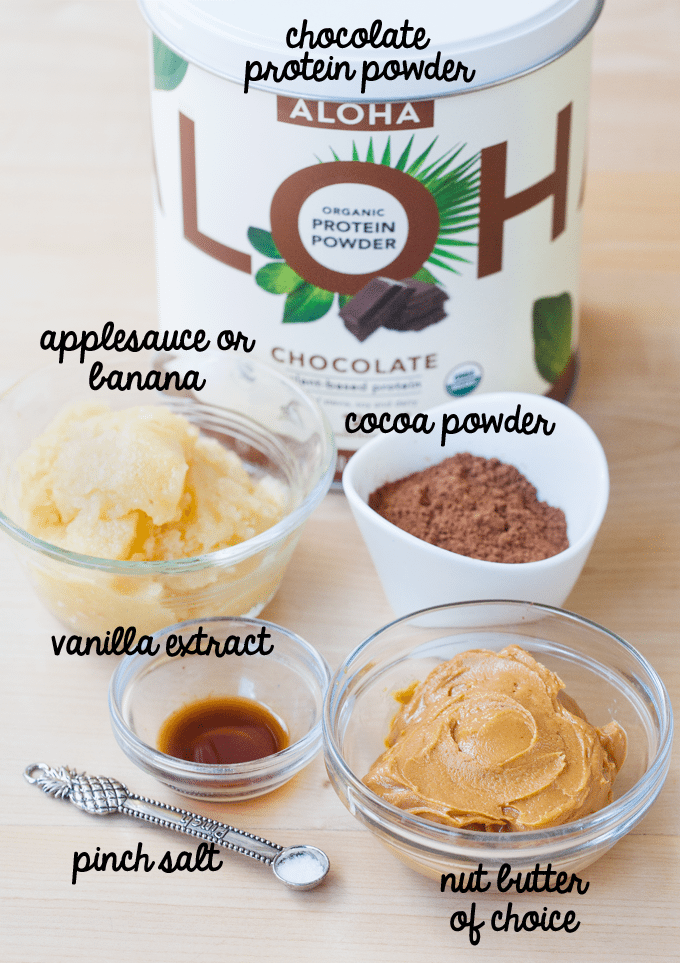 If you want a good protein powder recommendation to use in the recipe, I really like the plant-based protein by ALOHA.
All of their products are organic and free of soy, gluten, dairy, and artificial ingredients, and they use a combination of pumpkin seed, hemp seed, and pea protein, with 18g protein per serving. I was also happy to see the protein powder doesn't contain stevia, so you don't get that weird aftertaste many other chocolate protein powders seem to have.
**Note: The link to their website is not an affiliate code. I don't make any commission on sales of their products. I love both the taste and the company's philosophy, and this was the brand of protein powder I used for the workout brownies.
So if you want to make the recipe exactly like I did, I know using ALOHA protein powder yields good results.
(Watch The Recipe Video Above)

Brownie Frosting Options:
Basic Chocolate Cream Cheese Frosting
Or, if you want to keep these brownies super healthy like I did, you can make your own chocolate "frosting" by simply combining cocoa powder with an avocado and a little sweetener of choice – here's how to make avocado chocolate frosting.

You can also top them with Coconut Ice Cream and fresh berries, for a healthy post-workout fudge brownie sundae!

Chocolate Workout Brownies
These secretly-good-for-you chocolate workout brownies are high in protein, oil-free, and vegan!
Ingredients
1

cup

overripe mashed banana or applesauce

(for low carb, try these Keto Brownies)

2/3

cup

nut butter of choice,

or allergy-friendly sub

1/3

cup

cocoa powder

3

tbsp

chocolate protein powder

(such as this one), OR sub additional cocoa powder

1

tsp

pure vanilla extract

1/4

tsp

salt

1/4

cup

pure maple syrup,

honey, or agave, OR additional banana

optional mini chocolate chips,

crushed walnuts, etc.
Instructions
Notes: If using applesauce or unsweetened protein powder, or if planning to eat the brownies unfrosted, I recommend including the sweetener of choice. Using peanut butter gives a peanut-butter flavor, while almond or cashew butter taste more neutral. Sunbutter or pumpkin seed butter can be used for allergy-friendly brownies. You can use regular unsweetened cocoa or a combination of regular and dutch.

Preheat oven to 325 F. Line an 8×8 pan with parchment paper. If using natural nut butter, gently warm it until it is easily stir-able. Combine all ingredients in a bowl, stir until completely smooth, and spread into the prepared pan (see video). Bake on the center rack 20-25 minutes (20 for super fudgy brownies) – they will be undercooked when you take them out. Let cool, then loosely cover with a paper towel and place in the fridge overnight, during which time they will firm up without losing their fudginess. They are also much sweeter the next day! Frosting options are listed earlier in this post, and you need about 1/2 cup total. Once cut, the brownies can either be stored in the fridge for 2-3 days or in the freezer for up to a month. You can even eat them straight out of the freezer if you wish! As mentioned, they are more of a healthy snack than a decadent dessert – if you enjoy healthy desserts and snacks, hopefully you will love these!

View Nutrition Facts
Trending Right Now: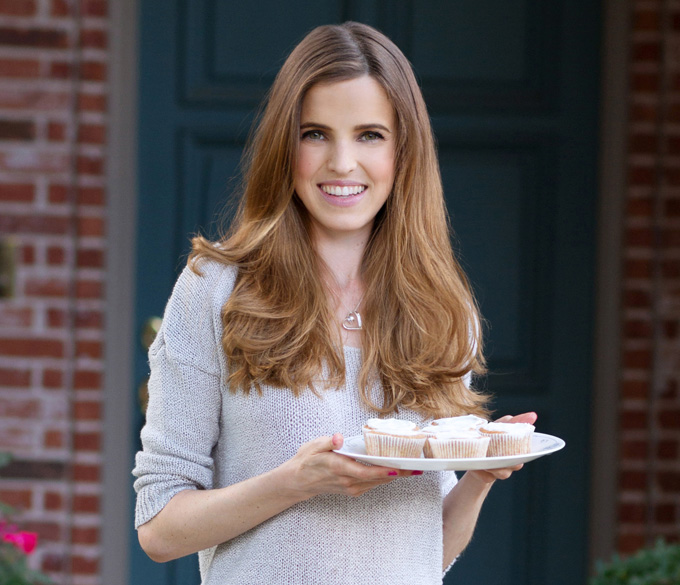 More Healthy Brownie Recipes: