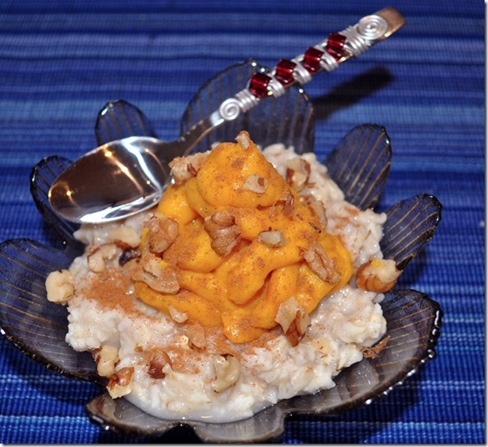 Did you go to Sunday School when you were a kid?
I only went twice, as I missed my mom and cried the whole time. Hey, I was only in pre-school! Later, I did attend CCD classes. But the following is a Sundae School I probably would have loved:
The "Breakfast Sundae" School!

The way I see it, a good ice cream sundae has three things: whipped cream (especially good with the whipped cream trick!), sprinkles, and chocolate sauce. So, naturally, the same rule should follow for an oatmeal "breakfast sundae."
Breakfast Sundae Components
Whipped Cream:
pumpkin pie mousse
homemade vegan whipped cream
mashed sweet potato or squash
coconut butter
Sprinkles
slivered almonds
raisins
actual sprinkes
shredded coconut
cinnamon or cocoa dust
raw oats
Optional add-ins:
banana (for banana split)
high-protein

chocolate brownie

berries
crumbled fudge babies
And don't forget the chocolate syrup! (Melted PMS chocolate)