Soft, moist, and bursting with sweet cranberries, this holiday cranberry orange bread recipe will instantly brighten your breakfast table!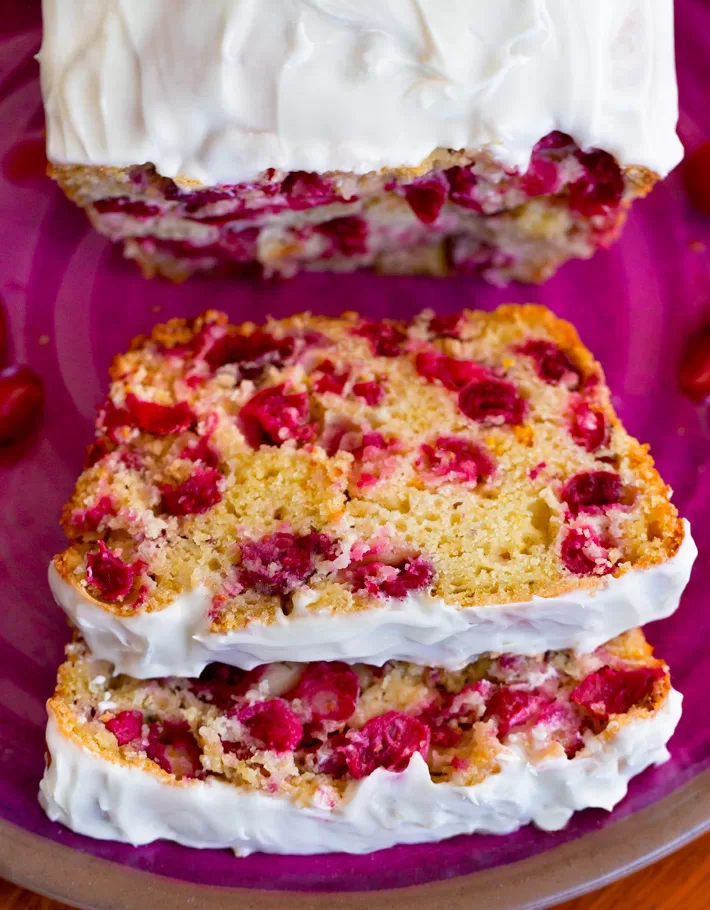 The best cranberry orange bread recipe
If you're looking for a delicious recipe to serve guests during the holidays, this delicately sweet and juicy cranberry bread is the perfect festive choice.
It's also wonderful for Thanksgiving or Christmas morning.
The incredible recipe packs in a full TWO CUPS of fresh cranberries, which is almost double what's called for in most classic cranberry orange bread recipes!
Frosted with a simple orange glaze, it tastes like eating cranberry pound cake for breakfast and is pretty much impossible to resist.
Guests also love this Crustless Pumpkin Pie
Watch the cranberry orange bread recipe video, above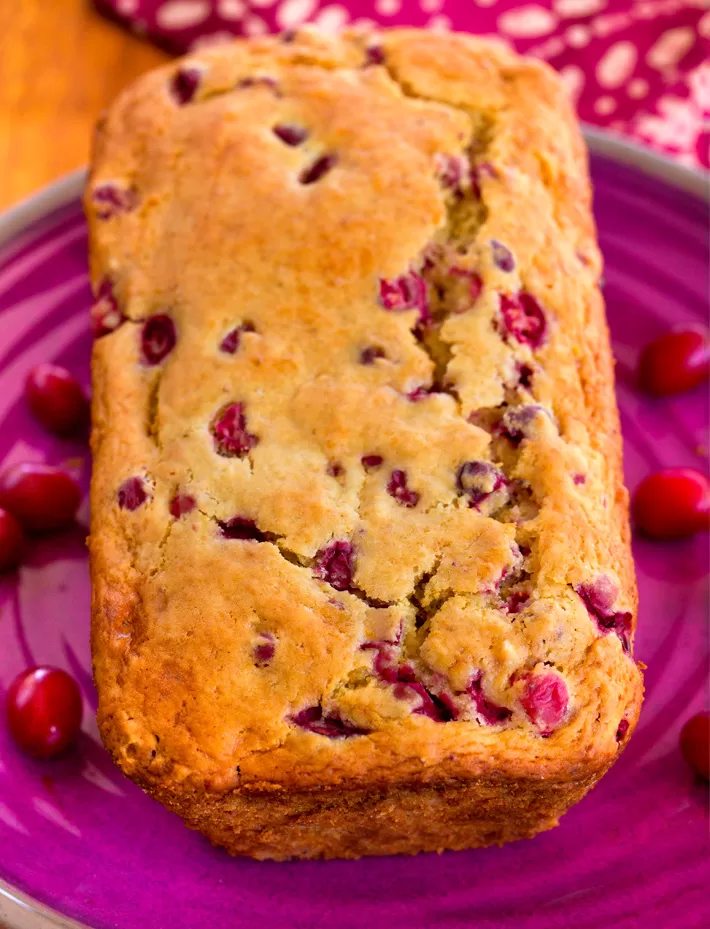 Healthy cranberry orange cake loaf
The cranberry loaf can absolutely hold its own against any traditional cranberry orange cake recipes with twice the amount of fat and sugar.
In a blind taste test, five out of six of my friends chose this version as their favorite, without having any idea it was healthier and vegan.
I sent the recipe to my mom over the weekend so she could make it for a winter party. She reported back that all her guests were asking for the recipe!
If you are a fan of the Krusteaz cranberry orange quick bread, or if you always get excited about the cranberry sauce at Thanksgiving dinner, you will absolutely fall in love with this homemade cranberry orange bread.
Also make this Chocolate Banana Bread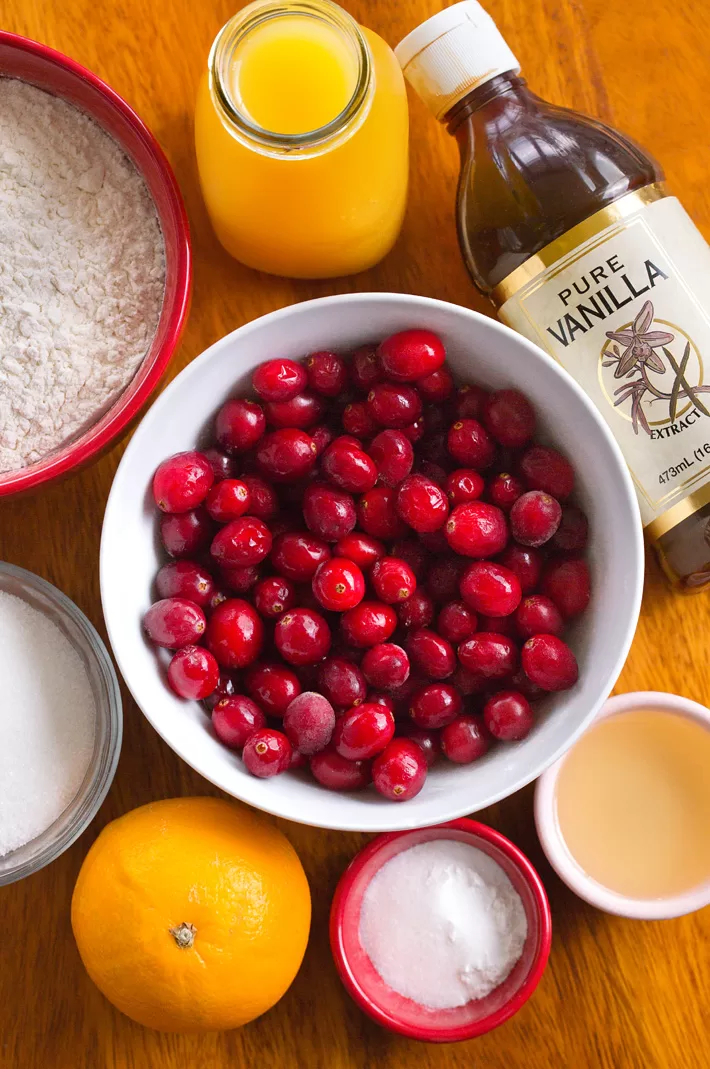 Cranberry orange bread ingredients
Here's what you need: cranberries, orange juice, orange zest, flour, sugar, baking powder, baking soda, pure vanilla extract, salt, oil, and optional nuts.
There's no yeast, no sour cream or sourdough, and no cranberry juice or honey.
The recipe works with white all purpose flour, whole grain spelt flour, or oat flour. I have not tried whole wheat flour, almond flour, or pastry flour. Feel free to experiment with other flours, and be sure to report back if you do.
I do not recommend using coconut flour, because your loaf will turn out dry and crumbly due to the absorbent nature of coconut flour.
Unsweetened cranberries have a tartness that perfectly compliments the sweet orange in this bread. And including orange juice enables you to lower the oil and added sugar considerably, while adding extra flavor and moisture at the same time.
For a lovely cranberry nut bread, I often stir a handful of finely chopped walnuts or pecans into the batter before baking.
Be sure to include the orange zest! It adds so much flavor to the recipe.
While I cannot personally vouch for the taste and texture of the cranberry dessert if subbing mashed banana or applesauce for oil, multiple readers have written in to say they tried substituting applesauce for the fat and liked the results.
Popular this week: Applesauce Muffins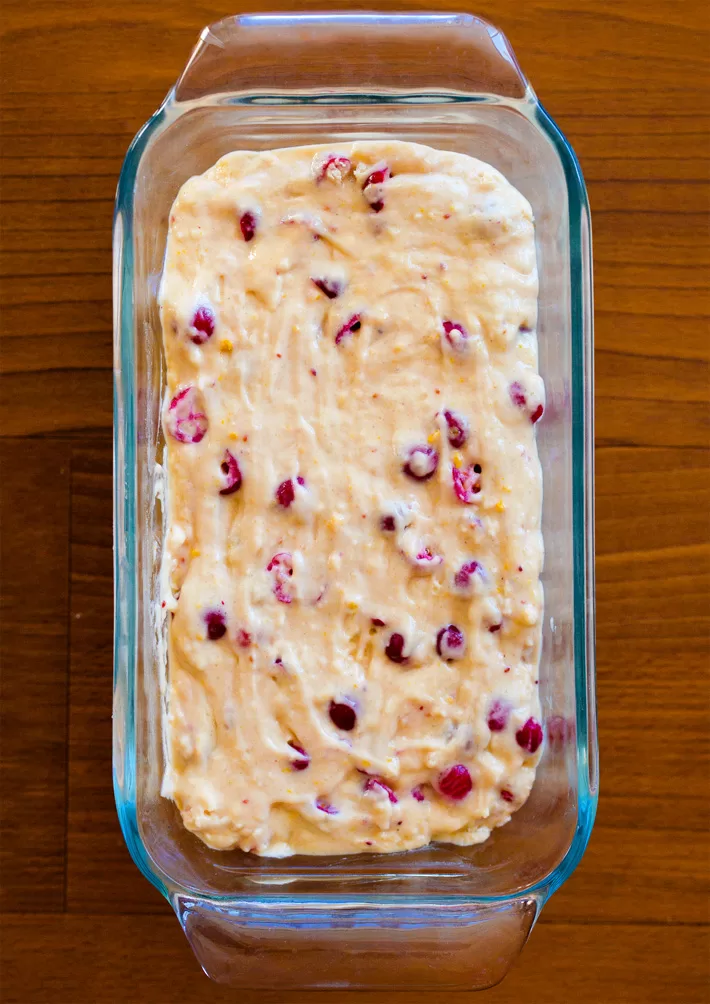 Fresh, dried, or frozen cranberries?
The recipe works with either frozen or fresh cranberries.
Costco, Target, Safeway, Wegmans, and Whole foods all sell cranberries. For the healthiest option, look for cranberries without any sugar listed in the ingredients. Good brands include Cape Cod Select, Trader Joes, Dole, and Ocean Spray.
You can use dried cranberries if other varieties are not available. The cranberry loaf will just not be as dark pink and colorful. Add a little extra orange juice if needed to make up for the difference in moisture.
Another option if you can't find cranberries to buy at the grocery store is to substitute chopped fresh or frozen cherries or even blueberries to make blueberry orange bread.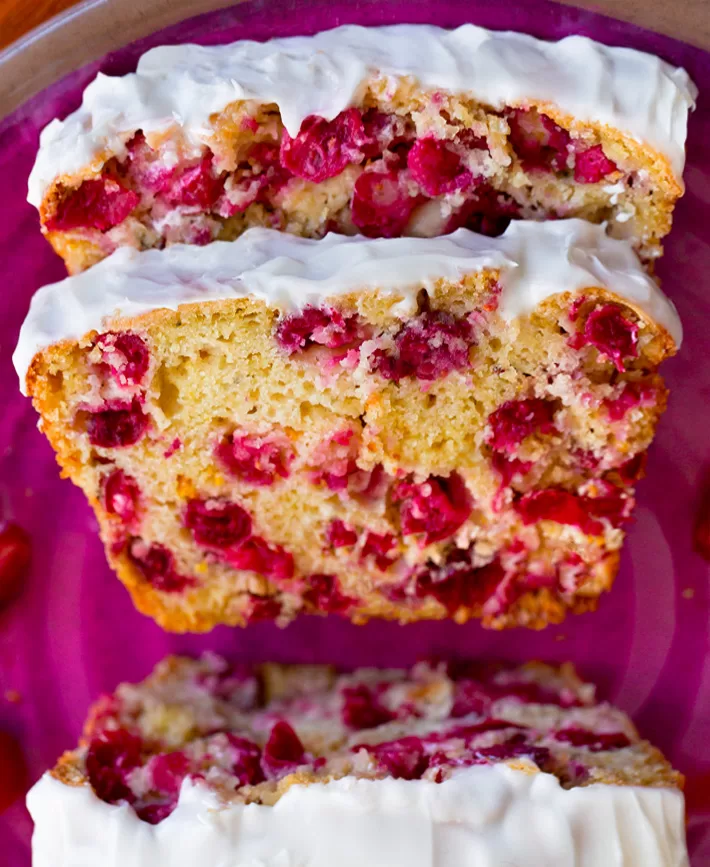 Is the recipe gluten free, keto, or vegan?
For vegan cranberry bread with no eggs, simply omit the optional egg or use flax egg. Choose oil or a plant based butter. The recipe is already naturally dairy free.
You can use certified gluten free oat flour for a gluten free cranberry orange bread. Some all purpose gluten free flours may also work if you wish to experiment.
To make a keto cranberry loaf, follow this recipe for Keto Lemon Bread. Substitute orange juice and orange zest for the lemon, and add a handful of chopped cranberries.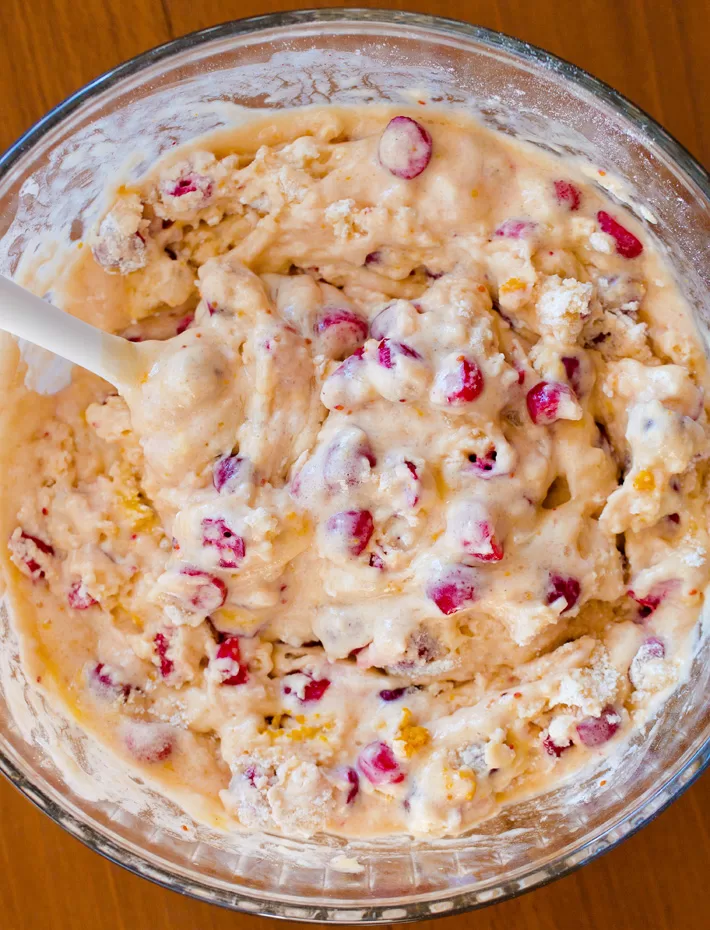 How to make cranberry orange bread
Gather your ingredients, and preheat the oven to 350 degrees Fahrenheit.
Grease a 9×5 inch loaf pan, and line the bottom of the pan with parchment paper, which will enable you to easily remove the finished loaf later.
Stir the flour, sugar, baking powder, salt, and baking soda in a large mixing bowl. Add all remaining ingredients except the cranberries, and stir to form a batter.
Gently stir in the cranberries, then smooth the mixture into the prepared loaf pan. Place the baking pan on the oven's center rack. Bake for 50-55 minutes or until the bread has risen and a toothpick inserted into the center comes out mostly clean.
Let cool, then frost if desired. If waiting is an option, the taste and texture of this easy cranberry orange bread are even better the next day!
*You can also turn this loaf into cranberry orange mini loaves or muffins. Baked at 350 degrees for 20-25 minutes, the recipe will yield a dozen cranberry orange muffins.
Making cranberry bread using gram measurements
If you prefer to use a food scale instead of measuring cups, for better accuracy and easy clean up, use the measurements below.
You will need 240 grams each of flour, orange juice, and of cranberries, 150 grams of sugar, 10 grams each of orange zest and vanilla extract, and 36 grams of oil or butter.
Also be sure to add the other ingredients not measured in cups or grams.
Still craving cranberries? Make Vegan Cranberry Bliss Bars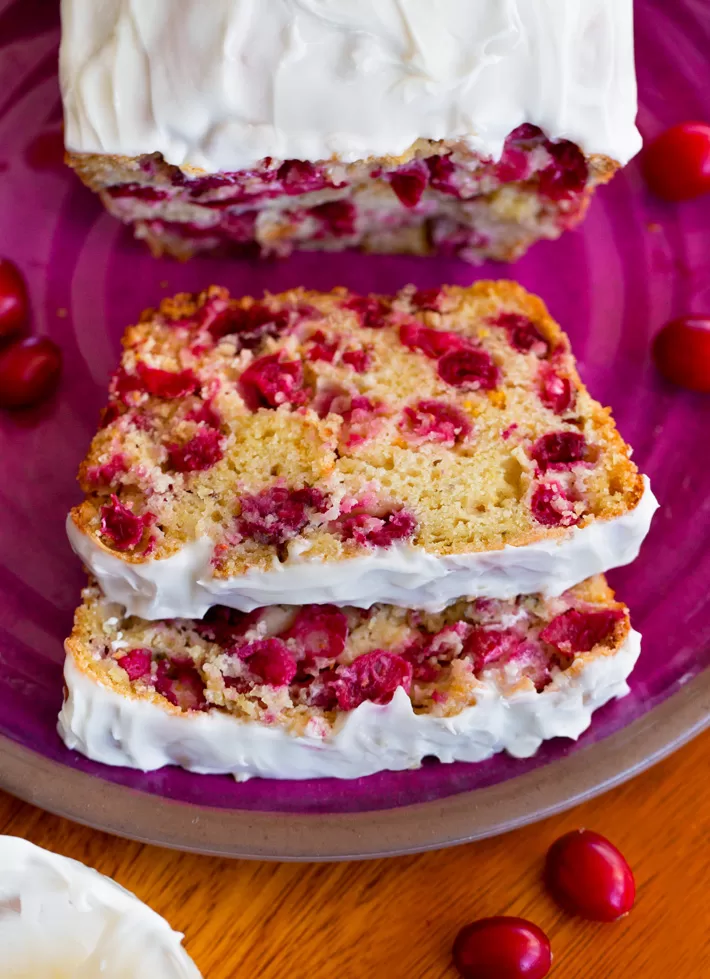 Tips for storing leftovers
The cranberry orange loaf can be left out on the counter overnight, loosely covered with a cloth or paper towels. This allows excess moisture to escape so the bread does not become gummy.
After a day, I like to store leftovers in the refrigerator in a covered container (leaving a tiny opening at the top), for optimal freshness. The bread will last for four to five days.
Or slice leftover cranberry orange bread and freeze in an airtight container for up to three months. Sandwich a layer of parchment or wax paper in between each slice so they do not stick together in the freezer.
Thaw frozen slices in the fridge overnight or in a microwave, oven, or toaster oven. Enjoy on a morning when you need a quick breakfast that encompasses the best flavors of the holiday season.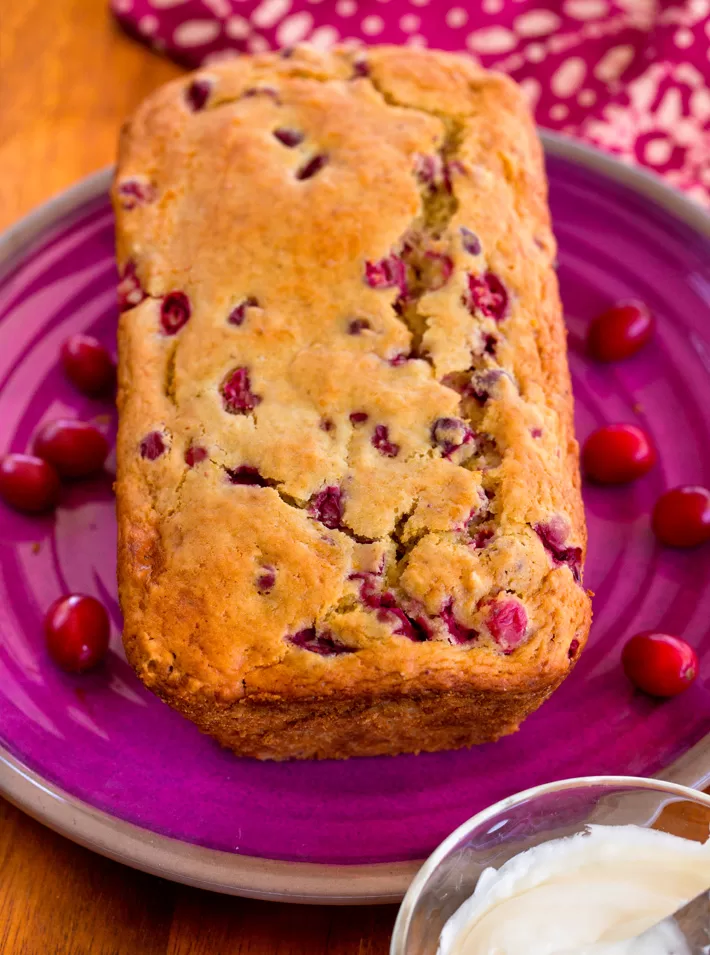 Orange glaze icing options
You can make a simple orange glaze icing by combining 1/4 cup of powdered sugar with 1 teaspoon of orange juice and an optional sprinkle of orange zest.
Or frost the cranberry orange cake with melted coconut butter or your favorite store bought or homemade cream cheese frosting. A little orange zest can be stirred into these two frosting options as well, with no need to measure.
It is also fine to skip the icing completely. Try spreading butter, jam, coconut butter, or almond butter on individual cranberry orange bread slices.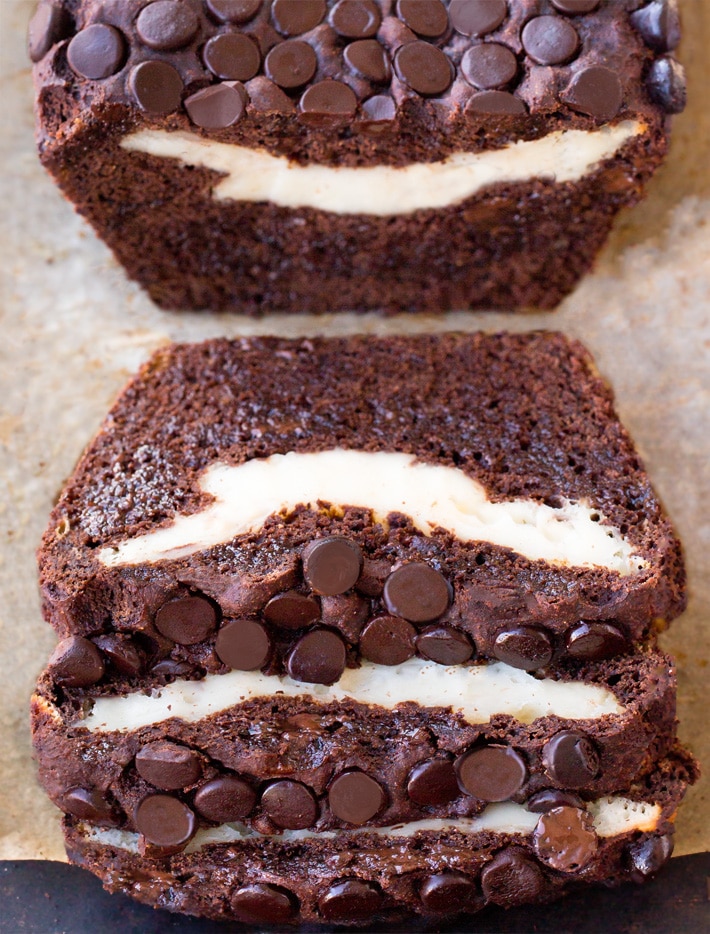 More Easy Quick Bread Recipes

Cranberry Orange Bread
This classic cranberry orange bread recipe will brighten your holiday breakfast table.
Ingredients
2

cups

spelt

or all purpose flour (gluten free and keto options are listed above)

3/4

cup

sugar,

unrefined if desired

2

tsp

baking powder

3/4

tsp

salt

1/2

tsp

baking soda

2

cups

fresh or frozen cranberries,

chopped

1

cup

orange juice

3

tbsp

oil, butter, or almond butter

(see note below about fat free option)

2

tsp

pure vanilla extract

1

tbsp

orange zest

(zest of 2 small oranges)

1

egg or flax egg,

or 2 tbsp additional orange juice

optional handful chopped walnuts or pecans
Instructions
Preheat oven to 350 F. Grease a 9×5 loaf pan, and line the bottom with parchment. In a large bowl, stir first five ingredients. Stir in all remaining to form a batter. Pour into the loaf pan. Bake on the oven center rack 50-55 minutes, or until bread has risen and a toothpick comes out mostly clean. Let cool completely. If you can wait, the taste and texture are so much better the next day! Leftovers can be sliced and frozen if desired. My favorite way to eat this bread is glazed with coconut butter. The glaze in the photos is 1/4 cup powdered sugar mixed with 1 tsp orange juice, which is also delicious.

*The orange zest is important for best flavor. I can't vouch for the taste if subbing applesauce for oil, but multiple readers have said they liked the results of subbing applesauce for the oil, so feel free to experiment.

View Nutrition Facts
Homemade Holiday Recipes