A small McDonalds shamrock shake will set you back 530 calories and 73 grams of sugar! Do your health a favor, and make your own delicious and healthy Shamrock Shakes at home.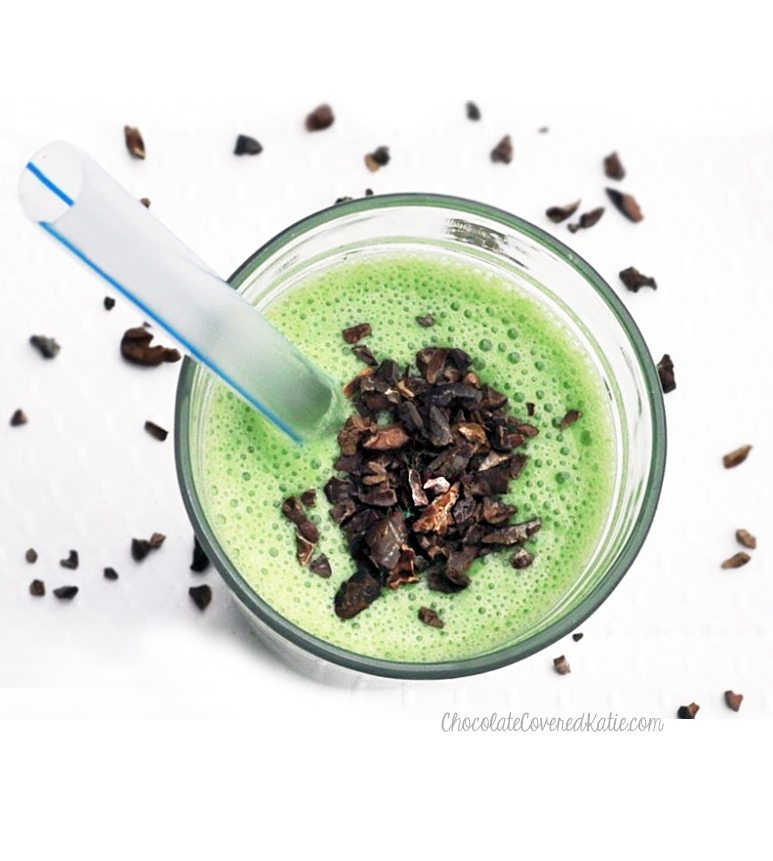 What's your favorite milkshake flavor?
Mine's always been mint chocolate chip… although the last time I drank a real milkshake, it was chocolate. To be honest, the vibrant green color enthralls me more than anything else. (Have you seen the Shamrock Shakes from McDonalds or the mint chocolate chip milkshakes from Baskin Robbins?) It goes back to when I was three years old and loved anything blue. Since our local Baskin Robbins didn't make blue ice cream at the time, mint chocolate chip was the next best choice.
Yesterday afternoon, feeling nostalgic, I decided to recreate the milkshakes of my childhood… well, if those shakes had been healthy Shamrock Shakes or mint chocolate chip milkshakes.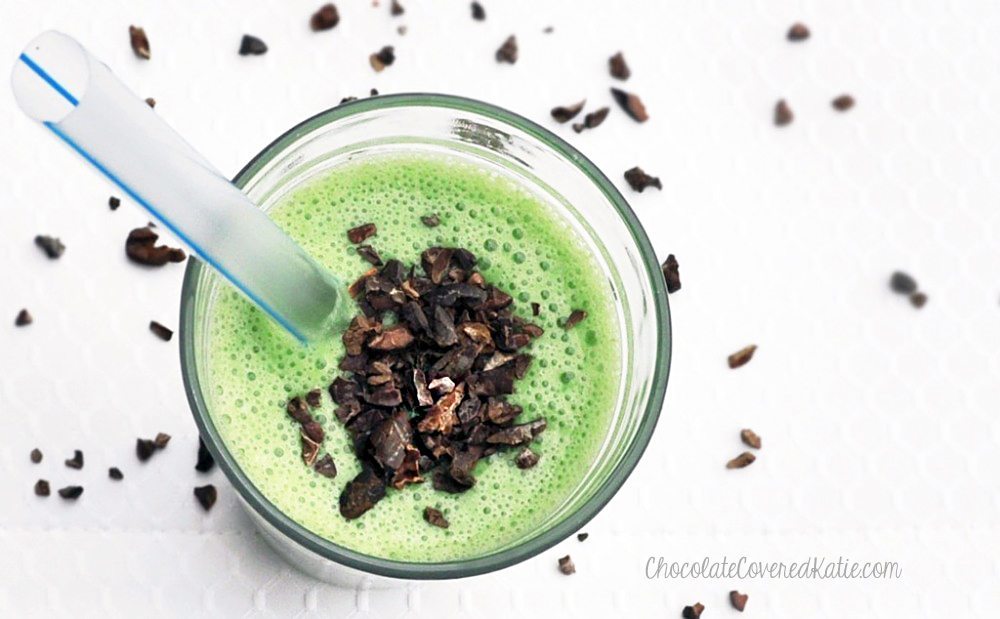 The popular McDonalds Shamrock Shakes, besides being full of empty calories and sugar, are also filled with chemical ingredients, additives, and potentially-dangerous food dyes. Making your own healthy shamrock shakes at home is a MUCH better option – It takes under five minutes to make, uses natural ingredients to get that beautiful bright green hue, and it has NO refined sugar whatsoever.
This healthy Shamrock Shake recipe is also way under 500 calories!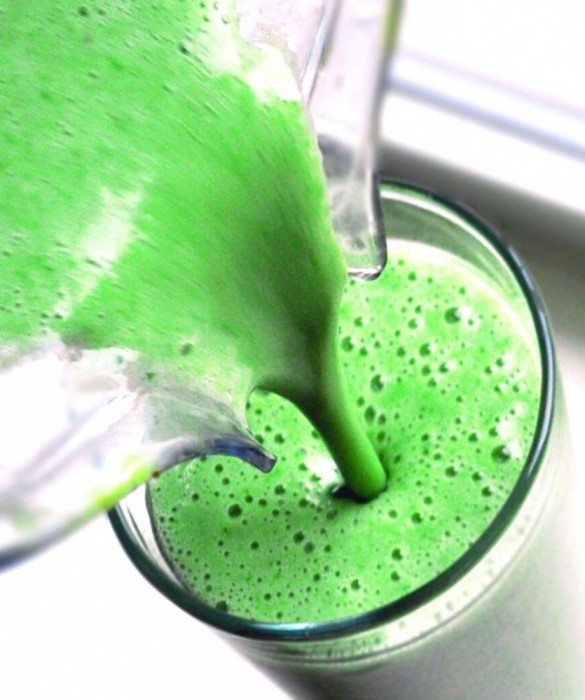 Healthy Shamrock Shakes
1 frozen large banana, over-ripe
cacao nibs or chocolate chips
1/8 tsp to 1/4 tsp pure peppermint extract (I like 1/4 tsp)
2/3 cup to 1 cup milk of choice (For a super-rich shake, try full-fat canned coconut milk)
optional: 1/4 cup frozen spinach (If you can't get on board with the greens-in-smoothies thing, you can opt for green food coloring or just drink a white mint shake. Or add a pinch of spirulina!)
Blend all ingredients in a blender until completely smooth. Make sure the banana you use is at least somewhat brown, so you don't get that unripe earthy banana flavor in your mint chocolate shake! You can add the chocolate either before or after blending.
Link Of The Day: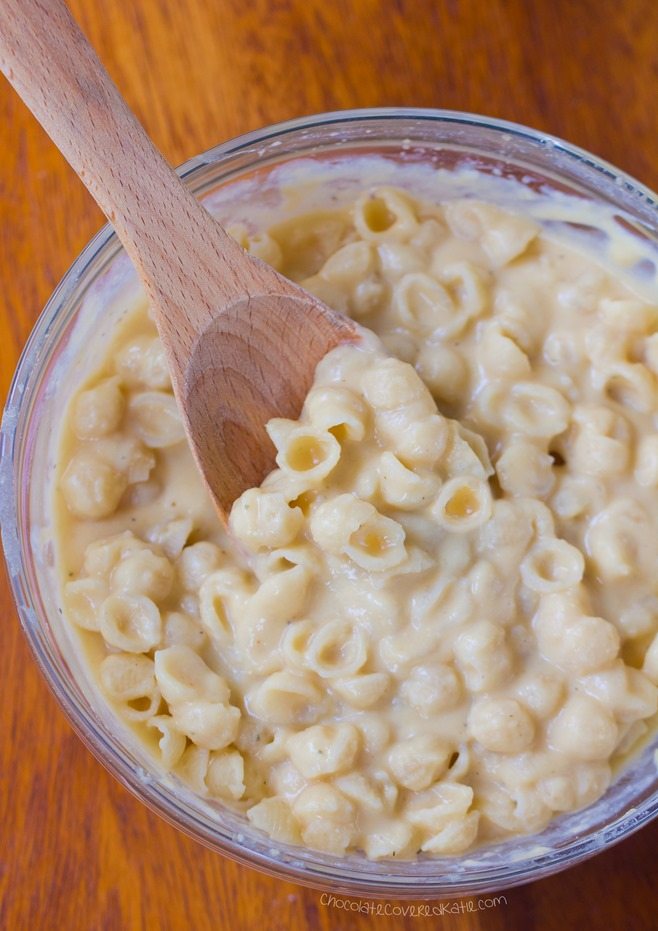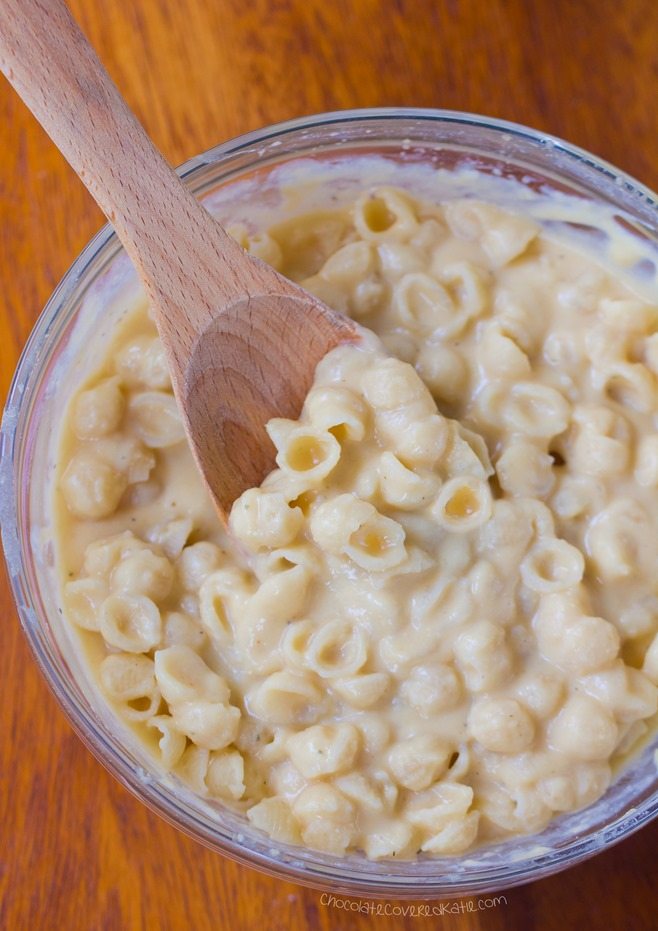 The Ultimate Vegan Cheese Sauce
No ratings yet.