Homemade coconut bounty bars have a rich dark chocolate shell and sweet coconut filling. These easy vegan coconut bars taste just like a real Bounty bar!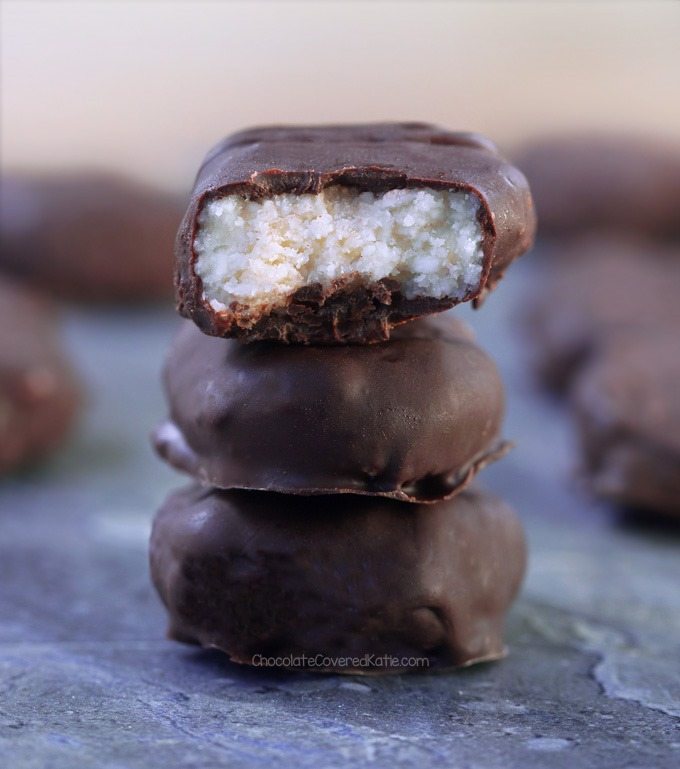 Homemade chocolate coconut bars
I am constantly making new recipes, because blogging is my full-time job.
One of the best parts of the job is always having delicious food to eat.
But even with my love of dessert, there's just no way to consume it all by myself. So I try to take full advantage if I'm going out by bringing at least one recipe—and usually two or three—to share.
On Saturday night, wanting to make something different from the usual party fare of brownies, cookies, chips, and dip, I brought these homemade coconut bounty bars to a house party.
The bars were ridiculously easy to make and carry with me, and the entire batch was demolished pretty quickly… because who doesn't love chocolate and coconut?!
You May Also Like: Keto Cheesecake – Just 5 Ingredients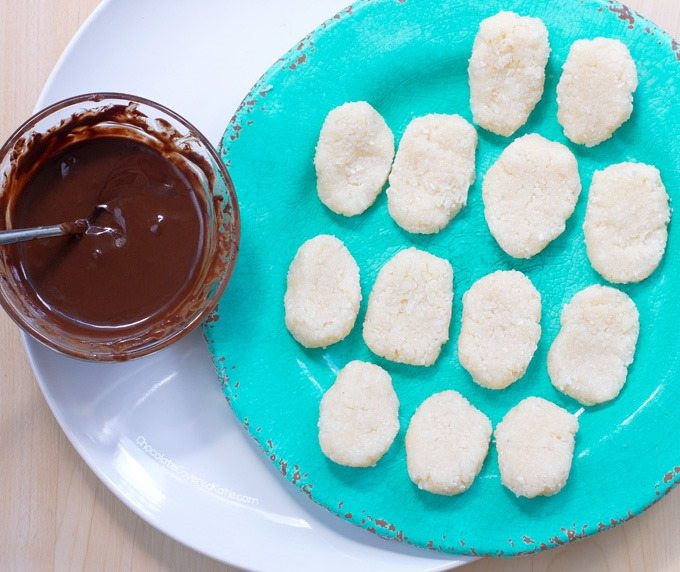 These homemade bounty bars can be all of the following:
Vegan
Gluten Free
Soy Free
Refined Sugar Free
Raw
Paleo
Trending Right Now: Sweet Potato Brownies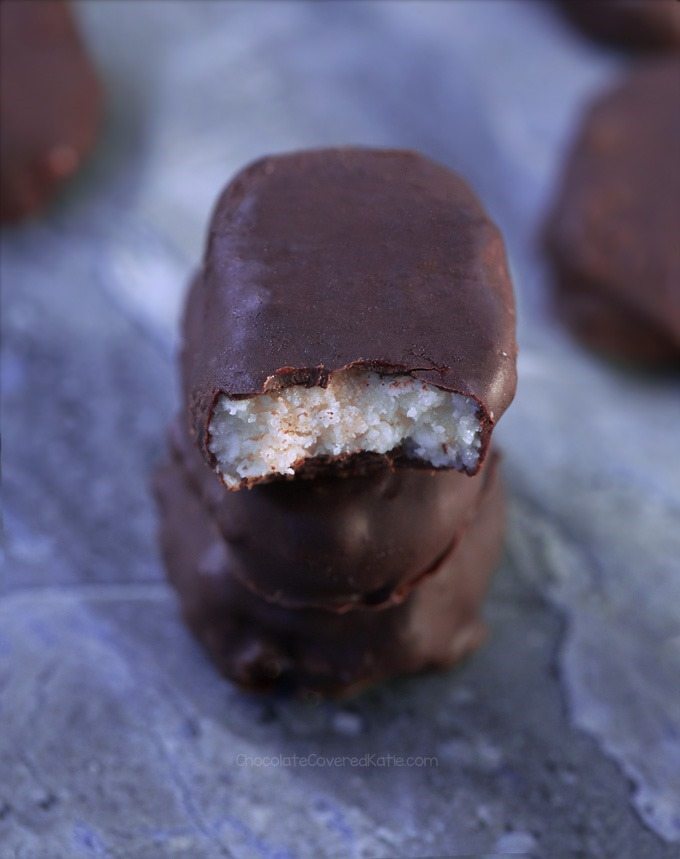 Bounty Bar or Mounds Bar
So what exactly is a bounty bar anyway?
Sold internationally, they are pretty similar to Mounds bars – sweet coconut patties engulfed in a rich dark chocolate coating.
Also, you can discover some fascinating facts on Wikipedia. For example, they sell cherry bounty bars in Australia and mango and pineapple bounty bars in Europe.
Cherry chocolate coconut bars sound completely amazing.
Honestly not sure about the mango though…


The recipe is based on one for healthy Mounds bars that I posted a few years ago and then completely forgot about until just recently when a display of real Mounds bars caught my eye in the checkout line at the grocery store.
I looked up the recipe again as soon as I got home and made a new batch, changing a few things as I went along and simplifying the process (no mini muffin tin this time!).
Rather than just updating an old post that no one would see, I thought it would be much more fun to take some new photos and make a step-by-step video of the process.
And then I had to make a second batch, because by the time we were done eating them, there weren't enough left for the party!
(Above – Watch the video of how to make the bars)

No Bake Coconut Bounty Bars
These homemade coconut bounty bars have a rich chocolate shell and taste just like a Bounty bar!
Ingredients
3 1/2

tbsp

pure maple syrup,

honey, or agave

2

tbsp

virgin coconut oil

1/2

tsp

pure vanilla extract

1/8

tsp

salt

3

oz

chocolate chips

(see substitution below)

1

tsp

oil,

optional
Instructions
Process the first five ingredients in a food processor or blender. (While you can technically stir by hand instead, the patties will be less firm.) Line a plate with wax or parchment paper. Form the blended mixture into patties with your hands, then freeze until firm. (If the mixture is too sticky to make patties, put it in a bowl and freeze for only a few minutes, until it's firm enough to shape). Carefully melt the chocolate chips. I like to stir in the optional 1 tsp vegetable or coconut oil before melting because it makes a much smoother chocolate sauce that more easily coats the patties and enables you to use less sauce overall. Dip patties into the sauce (see the step-by-step video in this post), then re-freeze until firm. Leftovers are best kept cold, but they can definitely be left out for a few hours on a not-too-hot day. I've brought these to parties before and they've always been fine sitting out on the counter during the party. Note: be sure to use virgin coconut oil and regular unsweetened shredded coconut, not sweetened or low-fat.

*For a raw version, omit the chocolate chips, and mix together the following as a coating instead: 1/4 cup each cacao powder, virgin coconut oil, and raw agave or honey. (You could also sub the sweetener for additional coconut oil and sweeten with stevia instead.)

View Nutrition Facts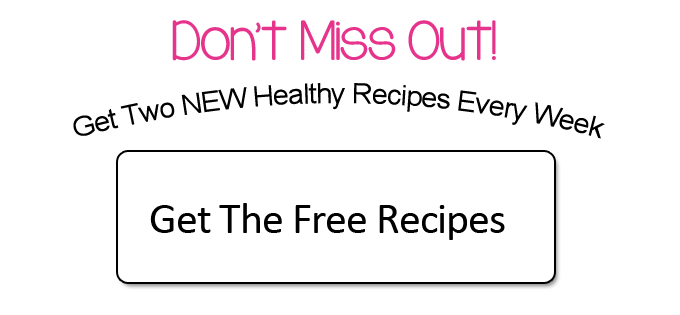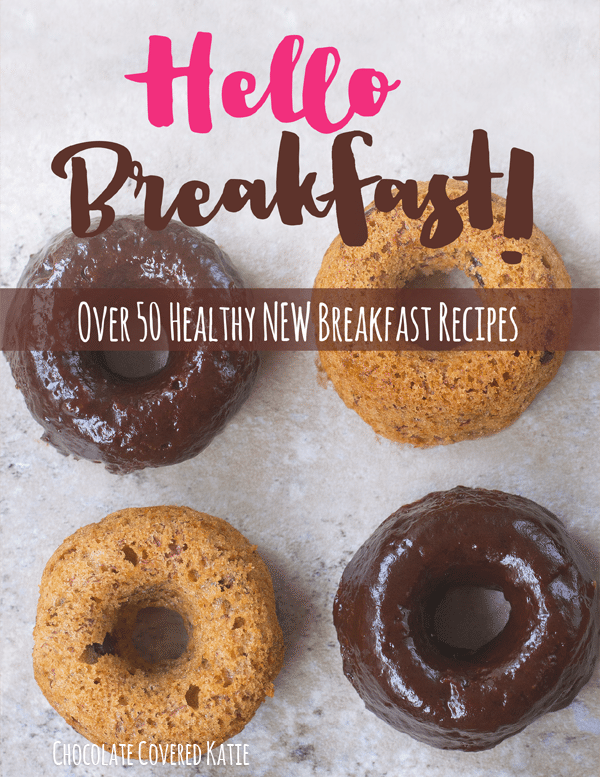 More Popular Healthy Recipes: