Move over, powdered jelly doughnuts… These sweet banana bread doughnuts resemble a thick slice of gooey banana bread, hot from the oven: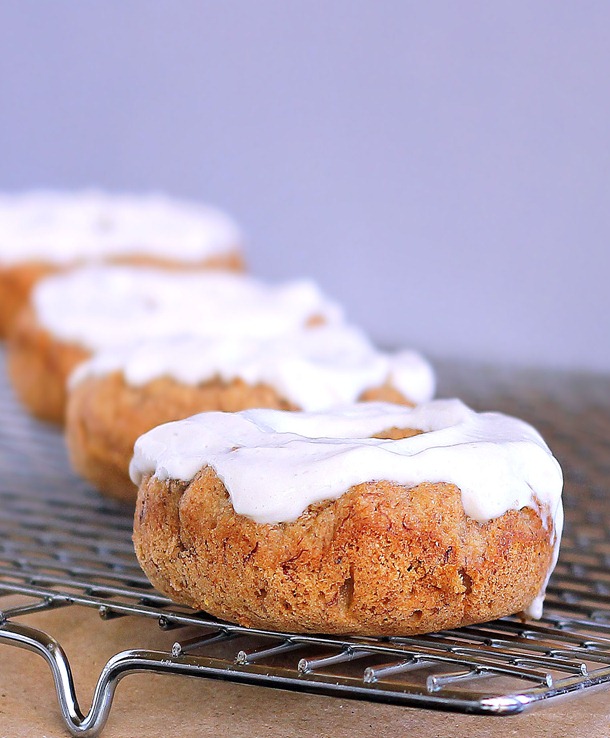 Doughnuts for breakfast!
Do you remember my recipe for Cake Batter Doughnuts?
After that recipe, I 'd planned to go on a doughnut-making roll. So many possibilities swirled in my head: peanut butter & jelly doughnuts, chocolate brownie doughnuts, blueberry muffin doughnuts… But I never ended up making any of them.
That's the problem with an idea; you have to actually do something with it, or it'll stay an idea forever! Thankfully, the idea for banana bread doughnuts is no longer just an idea: it's an absolutely delicious breakfast treat, coming soon to a Dunkin' Donuts near you.
Maybe.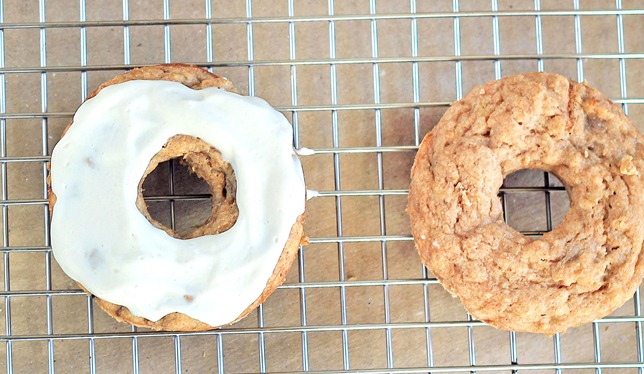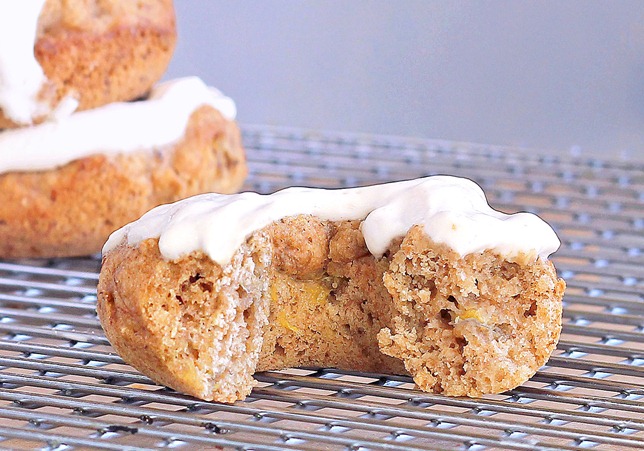 I recommend this frosting recipe: Healthy Vanilla Fudge Frosting.
But you can also opt to top the doughnuts with coconut butter, peanut butter, a powdered-sugar glaze, vegan cream cheese frosting, jam, or whatever else you like to put on banana bread.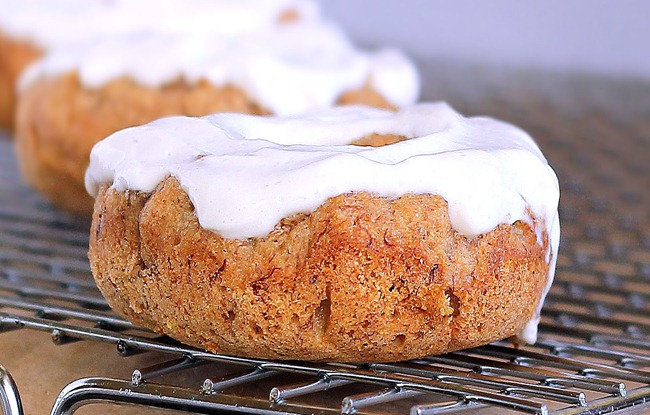 Banana Bread Breakfast Doughnuts
2 cups spelt flour (or white, or Arrowhead Mills gf)
1 tsp baking soda
1/2 tsp cinnamon
3/4 tsp baking powder
3/4 tsp salt
1/4 cup oil, plus 2 tbsp milk of choice (If you prefer fat-free doughnuts, omit oil and increase milk to 1/3 cup.)
1 and 1/2 tsp pure vanilla extract
1/2 cup agave or pure maple syrup (or honey for non-vegans)
1 and 1/2 tbsp lemon juice
1 stevia packet OR 1 tbsp more maple syrup
2 cups tightly-packed, mashed banana, measured after mashing
optional: chocolate chips, walnuts, or shredded coconut
Preheat oven to 350 F. Combine dry ingredients, and mix well. In a separate bowl, combine wet ingredients and mix into dry. (Mix by hand, and don't overmix.) If you have a doughnut pan, grease and pour in batter. If you don't have a doughnut pan, you can make this recipe into muffins by using a muffin pan. Cook 30-35 minutes, or less if using a mini doughnut pan. I think the recipe yields about 14 doughnuts. I made 6 big doughnuts, two muffins, and quite a few mini doughnuts, because my doughnut pan wasn't big enough for all the batter! And yes, these doughnuts can be frozen.
View Banana Donuts Nutrition Facts
Link Of The Day: