I really like brownie batter.
I even once posted a recipe for Brownie Batter Oatmeal.
And now I'm at it again—in pancake form! Normally, I shy away from powdered supplements because I have no problem getting more than enough servings of fruits, veggies, and leafy greens into my daily diet.  However, when the Amazing Grass Company offered to send me a care package (more on that later)… well, I'm definitely not one to turn down free stuff!  Right away, I wanted to experiment with the Chocolate Super Food packets.  The resulting experiment speaks for itself.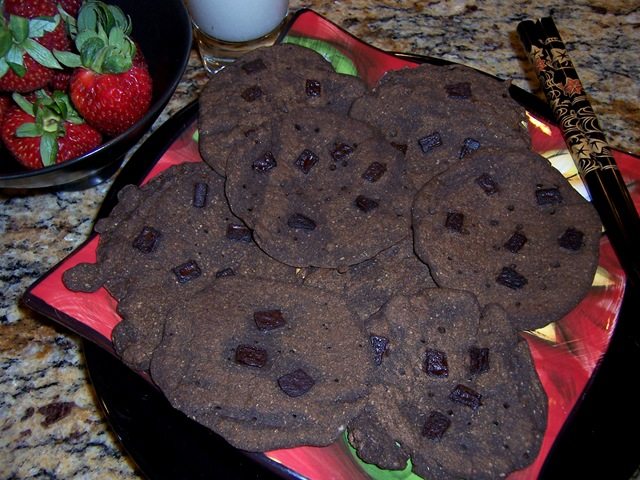 Chocolate Spinach Pancakes
(serves 2)
(According to the Amazing Grass Company, each pancake serving contains about 3 servings of fruits and veggies!)
60 grams buckwheat flour (I used Hodgson Mill buckwheat pancake mix)
3 packages (the 8-gram packets) Amazing Grass Chocolate Green SuperFood (If you don't like Amazing Grass, try subbing chocolate protein powder. Or perhaps sub cocoa powder for the AG?)
35 grams unsweetened applesauce, which is about 2T (you can sub mashed banana for the applesauce)
1/2 tsp Ener-G egg replacer (or baking powder)
1/8 tsp salt
1/3 cup water or non-dairy milk (use less for thicker pancakes)
Chocolate chips (I threw in a few Whole Foods Brand extra-dark chocolate mini chunks) (For an even richer batter, you can melt the chips before adding them to the mix.)
Sweetener of choice
Mix the dry ingredients (flour, powder, sweetener, egg replacer, salt, and chips), then turn on the heat on your pancake pan. Now add the milk/water and applesauce/banana (and extract, if using). Mix.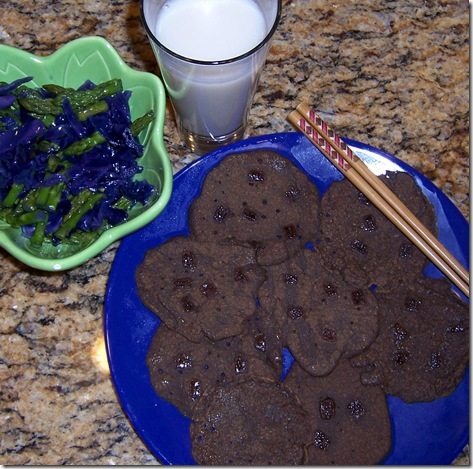 Options:
Drizzle with, or dunk into, a tall glass of non-dairy milk—it's like eating warm, gooey brownies for breakfast!
Top with hot maple syrup, dust with powdered sugar, or spread on some coconut butter for Mounds Bar Brownie Pancakes.
Add vanilla, almond, or even mint extract.
Throw some cocoa powder into the mix, to make them extra chocolate-y!
Or, for chocolate-cheesecake pancakes, top with Cheesecake Sauce.