Rich, moist, soft, gooey, and ultra fudgy chocolate zucchini bread, perfect for a healthy breakfast or dessert!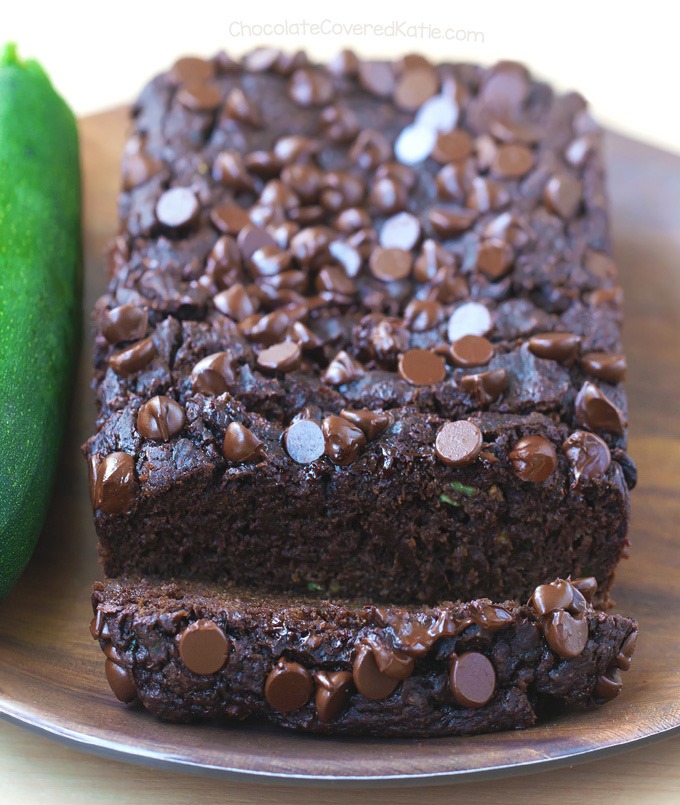 Healthy Chocolate Zucchini Bread
This super delicious and easy chocolate zucchini loaf packs in a full cup of zucchini!
Sneaking the nutrition-packed zucchini into the recipe adds so much softness and moisture, without all the extra fat and calories.
It can be whole grain, vegan, gluten free and egg free, with an out-of-this-world chocolate flavor!
You Might Also Like: Healthy Banana Bread – OIL FREE option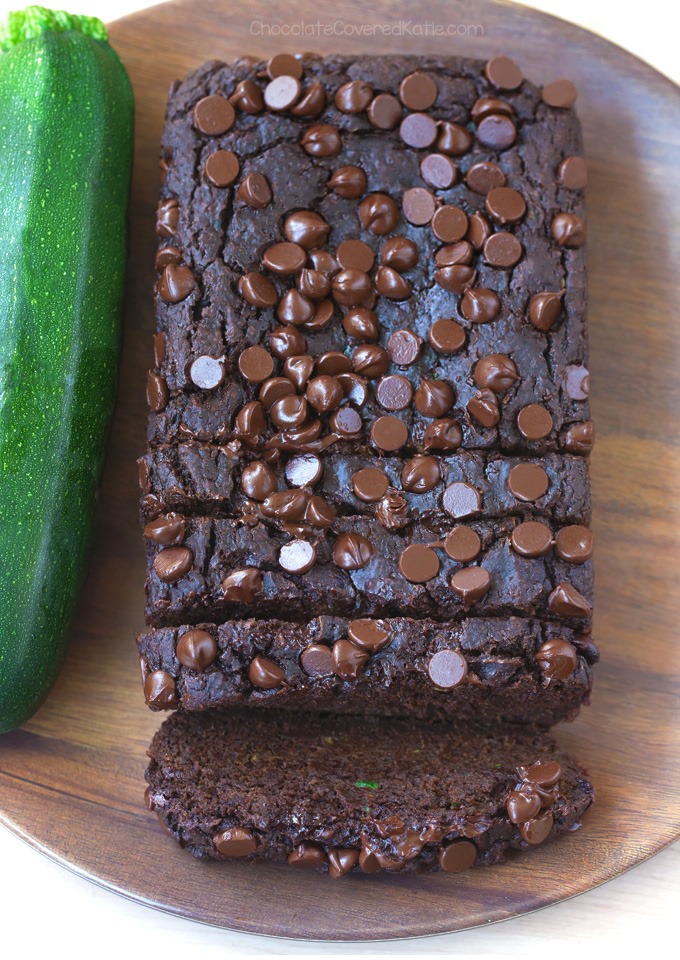 Add In Ideas:
Crushed Walnuts
Toasted Hazelnuts
Shredded Coconut
Roasted Pecans
Chopped Dates
Chocolate Chips
Death By Chocolate Zucchini Cake
This is a really great way to use up extra zucchini.
The chocolate zucchini quick bread is so rich and decadent that it makes an amazing dessert—perhaps topped with Keto Ice Cream, or Coconut Ice Cream, or even Banana Ice Cream?!
But it's also healthy enough for a filling breakfast packed with wholesome nutrition.
The best part is that it honestly tastes like actual chocolate cake!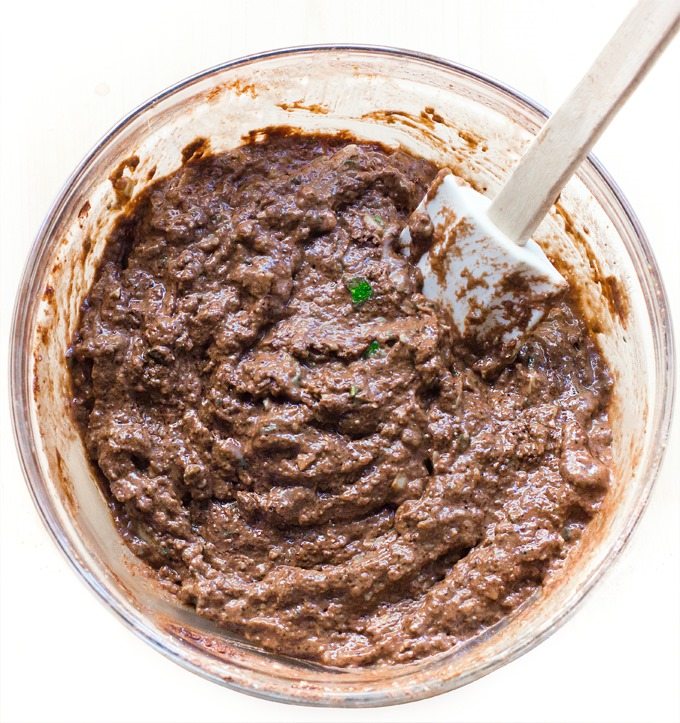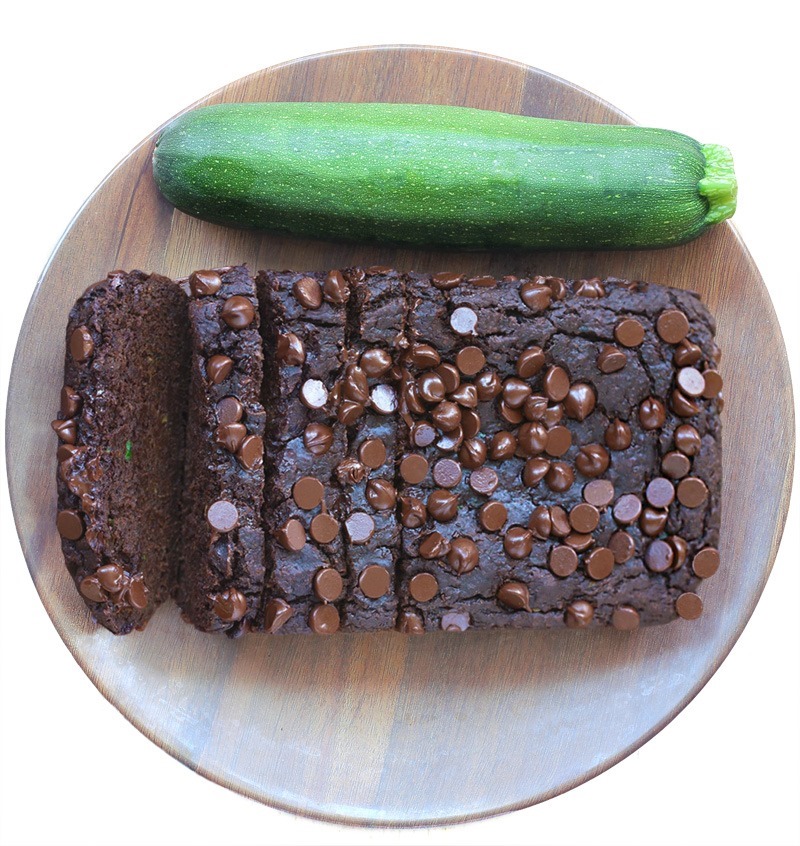 More Easy Zucchini Recipes:
Healthy Crispy Baked Zucchini Fries
Chocolate Chip Zucchini Muffins
How To Make Zucchini Bread
The recipe for this moist chocolate zucchini bread is super simple: Combine the ingredients in a large bowl, and pour the batter into a pan.
Sprinkle some chocolate chips (or even white chocolate chips or peanut butter chips!) on top if you wish.
Place it in a preheated oven on the center rack, sit back and wait.
Leftovers can also be sliced and frozen, to have on hand for a quick and healthy breakfast or chocolatey snack.
Vegan Chocolate Zucchini Bread
To keep the recipe vegan, I often use coconutmilk yogurt, but other nondairy yogurts such as almond or soy yogurt work as well.
You can make the recipe gluten free by using oat flour or certified-gluten-free oat flour. There's also an oil free option for those who prefer a version without oil.
What Can I Use For The Yogurt?
If you don't have any yogurt on hand, it also works to sub an equal amount of sour cream or coconut cream. If using coconut cream, feel free to replace the oil in the recipe with milk of choice or additional coconut cream.
I'd think mashed banana would also work as a yogurt alternative in the zucchini loaf, but I haven't tried it yet. If you try before I do, definitely let me know how it goes!
(Above: Watch the zucchini bread recipe video)

Every time I make a recipe with chocolate and zucchini, it reminds me of babysitting back in middle school and watching this one particular episode of Veggie Tales cartoons, where an evil zucchini tries to force everyone to worship a giant chocolate bunny.
There's even a song about it, called "The Bunny Song."
The song gets stuck in your head really quickly.
Anyways…
If you try the chocolate zucchini bread, be sure to rate this recipe in the comments, or tag me on Instagram – ChocolateCoveredKatie so I can see and like your pictures!
Today also happens to be National Zucchini Day.
Just in case you needed an extra excuse to go make this chocolate zucchini bread!


Chocolate Zucchini Bread
Adapted from these Vegan Brownies
Chocolate Zucchini Bread Recipe
Print This Recipe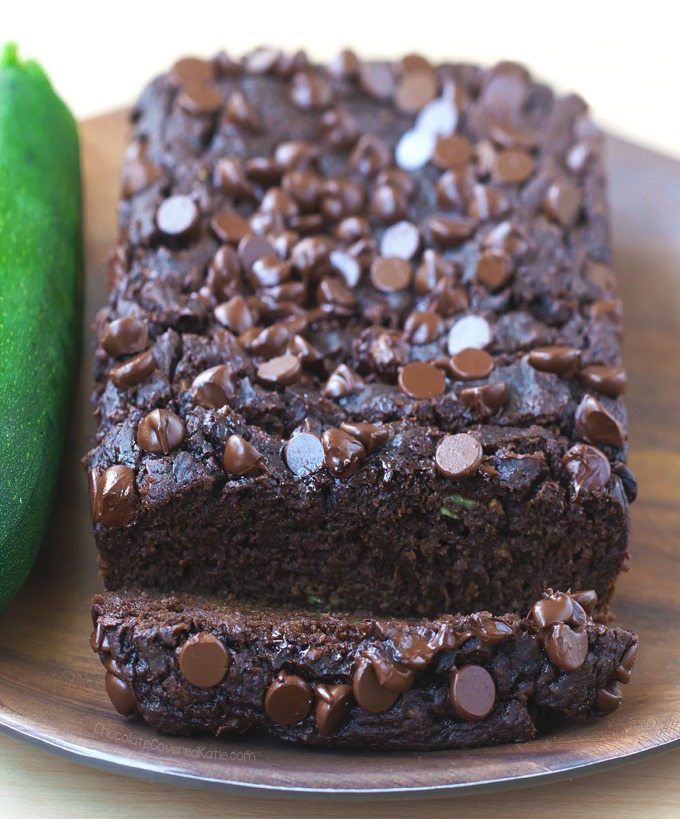 Ingredients
1 1/4 cup spelt, white, or oat flour
1/4 cup cocoa powder
2 tbsp dutch or additional regular cocoa powder
3/4 tsp baking powder
1/2 tsp baking soda
1/4 tsp + 1/8 tsp salt
2/3 cup sugar (unrefined or xylitol if desired)
1 packed cup finely grated zucchini (220g)
3/4 cup plain yogurt, or see substitution options listed above (I like coconutmilk yogurt)
1/4 cup oil, or additional yogurt for oil-free
1 tbsp pure vanilla extract
1/3 cup mini or regular chocolate chips, optional
Instructions
*I find it easiest to grate the zucchini by pulsing it in the food processor. While I much prefer the oil version, so many readers commented to say they omitted the oil and still loved the results that I added that in as an option you can try at your own risk. I also once replaced the oil with 1/3 cup softened almond butter, and that was good too. So you have options!
For the recipe: preheat the oven to 350 F. Grease a 9×5 loaf pan. Stir together all dry ingredients in a large mixing bowl. Add remaining ingredients, and stir to form a batter. Smooth into the loaf pan. Press some extra chocolate chips into the top if desired. Bake on the center rack 35 minutes, then (without opening the oven door) leave in the closed-but-turned-off oven for another 5 minutes. Let cool completely, then very loosely cover and refrigerate. If at all possible, I highly recommend not even tasting this until the next day, as the flavor and texture are both so much better. If you try the recipe, don't forget to leave a comment or rate it below!
More Easy Chocolate Desserts