Brownie Batter > Brownies
Just in case we didn't make that clear with the Chocolate Brownie Batter Dip.
Now, another brownie recipe. What can I say? I like brownie batter!

That is a photo worthy of a chocolate-covered blog.
For the past few days, one of my friends has been staying with me while she waits to move into a new apartment. So basically, it's been an ongoing slumber party. Thankfully, we both like to go to bed early now…when I'd have slumber parties in high school, no one ever went to bed! We've had movie nights, spa nights, gossip nights, and every night is chocolate night.
On the menu last night: Peanut Butter Frozen Hot Chocolate.
Yet both of us woke up craving chocolate again this morning. The only way to remedy this was to make a chocolate pancake feast.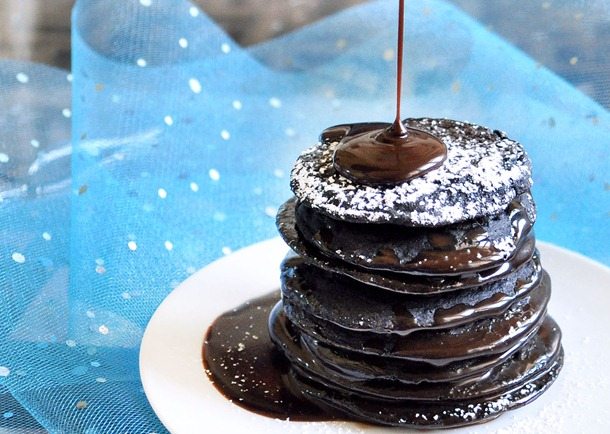 Brownie Batter Pancakes
(Makes 6-8 silver-dollar pancakes)
1/4 cup spelt, white, or ap gf flour
1/4 tsp baking powder
1 tbsp dutch cocoa (You can sub regular cocoa, but I haven't tried it in this recipe and therefore can't personally vouch for the taste)
1 1/2 tbsp sweetener of choice
1/16 tsp salt
1 1/2 tbsp applesauce or oil (I use 1 tbsp oil and 1/2 tbsp applesauce, as I don't like the taste of fat-free pancakes)
1 tsp pure vanilla extract
4-5 tbsp milk of choice
Mix dry ingredients very well, then add wet. Make pancakes!
Click for: Brownie Batter Pancake Nutrition Facts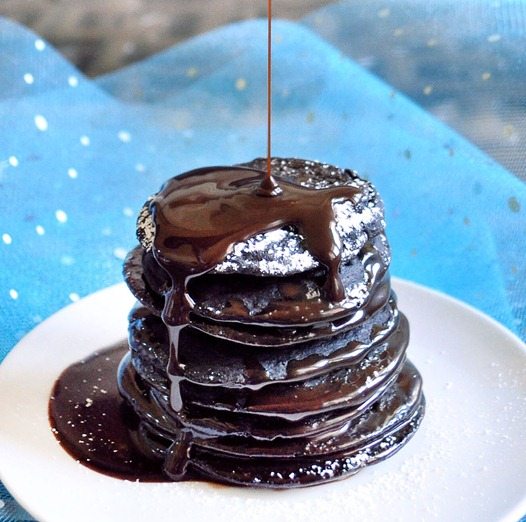 Spinach pancakes???
For myself, I made Chocolate Spinach Pancakes.
But my friend told me she wouldn't eat spinach for breakfast even for a hundred dollars, which is why I created the above "brownie batter" pancakes for her.  I was so tempted to sneak some of my chocolate-green powder into her pancakes and see if she'd notice. I'm a good friend, though, and so I refrained.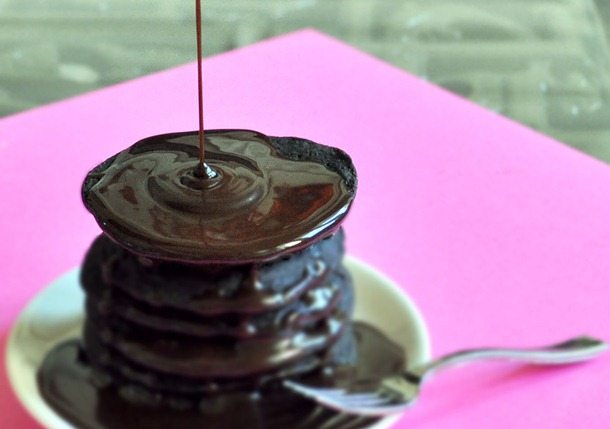 What were your favorite things to do at sleepovers?
I really miss the sleepovers I'd have in middle and high school! We'd stay up almost all night watching movies, doing makeovers, telling scary stories, and playing Truth or Dare. And we always ate junk food, like raw cookie dough. Too bad we didn't know about Healthy Cookie Dough Dip.