20 delicious & surprisingly wholesome chocolate breakfast recipes – because sometimes, you just wake up craving chocolate!
If you're a chocoholic like me, you'll probably understand what I'm about to write…
No matter how early it is in the morning, in my mind chocolate always sounds like a good idea. If you run into me at 9 am, I've probably already eaten chocolate in some form that day. Thankfully, eating chocolate for breakfast doesn't have to be a diet derailer or unhealthy indulgence. As the following 20 chocolate breakfast recipes prove, you absolutely can satisfy your inner chocoholic in a healthy way!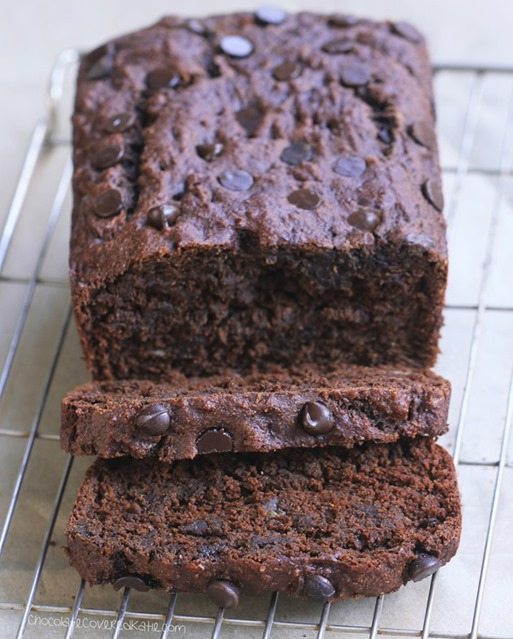 To make this moist coconut chocolate banana bread, mash four ripe bananas in a large bowl, then stir in 1/2 cup cocoa powder, 1/2 cup coconut milk, baking powder, flour, salt, and a splash of vanilla. Bake at 350 degrees until a toothpick comes out clean.
Here's the recipe: Chocolate Coconut Banana Bread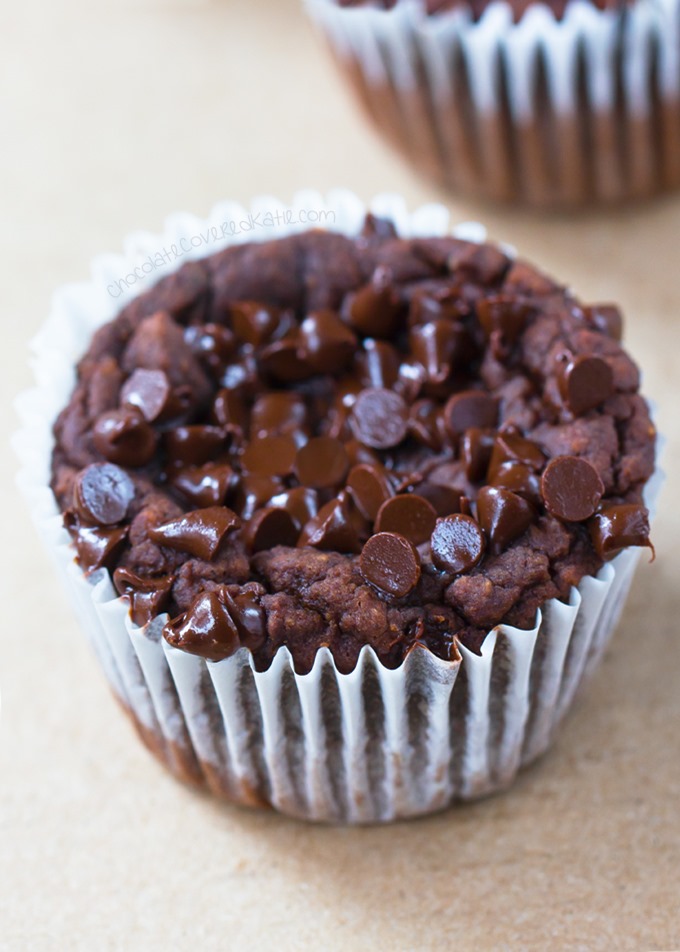 These super healthy blender muffins are AMAZING! Their fudgy texture makes them taste like eating chocolate cookie dough in the form of a muffin!
Here's the recipe: Flourless Nutella Blender Muffins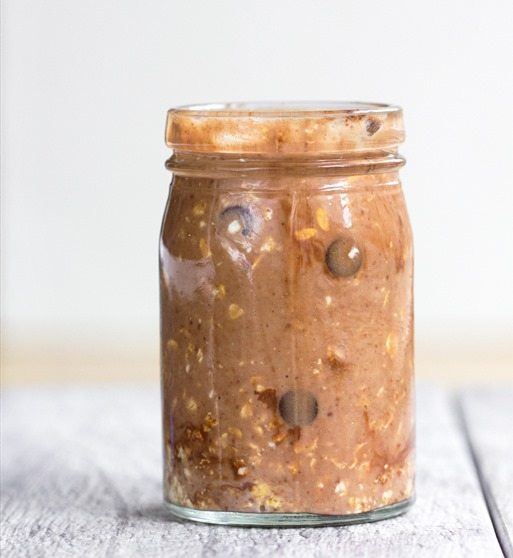 For this healthy brownie batter overnight oatmeal, mix rolled oats with a few pantry staple ingredients in a small container or mason jar the night before. The next morning, just stir everything together for a "no fuss" breakfast that will keep you full for hours.
Here's the recipe:  Brownie Batter Chocolate Overnight Oats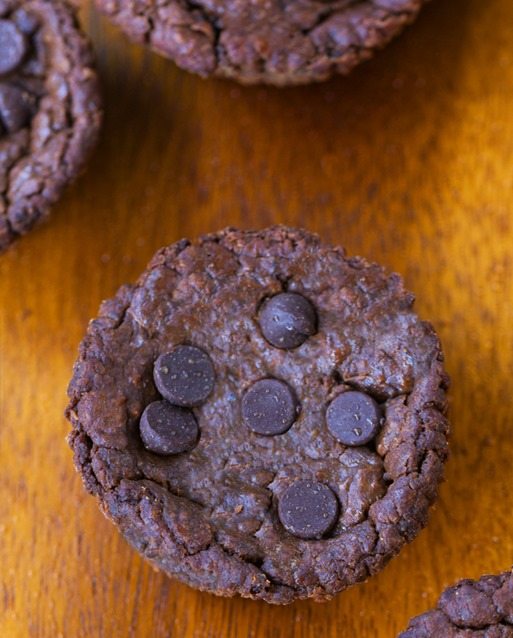 Make up a batch of flourless chocolate muffins for a healthy breakfast or snack: Throw a can of black beans into the blender, add some cocoa powder, mashed banana or applesauce, baking soda, baking powder, and vanilla, and blend. Portion the batter into muffin tins, bake at 350, and enjoy!
Here's the recipe: Flourless Chocolate Muffins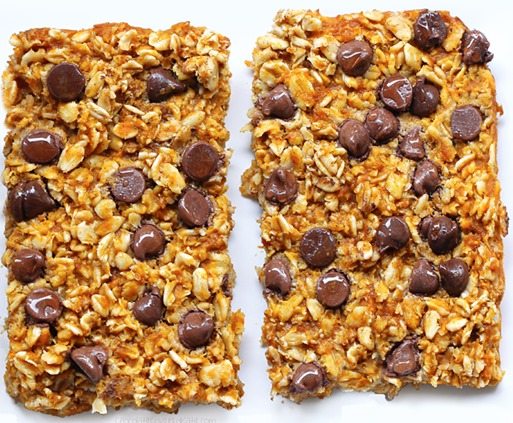 With Fall just around the corner (yes, it is almost Pumpkin season again), now is the perfect time to bake up a large batch of this melty, gooey chocolate chip pumpkin baked oatmeal. Your entire home will smell like pumpkin pie!
Here's the recipe: Chocolate Chip Pumpkin Baked Oatmeal
To make these chocolate breakfast bars, add maple syrup, rolled oats, cocoa powder, salt, & vanilla to a food processor. Press into a pan, freeze 1 hour, then slice into bars.
Here's the recipe: Chocolate Brownie Breakfast Bars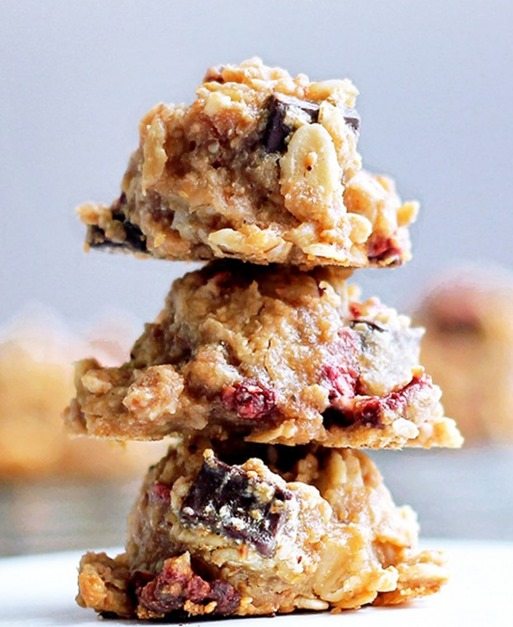 For these wholesome chocolate chip breakfast cookies, stir together a handful of mini chocolate chips, applesauce or banana, and whatever nut butter you want to use. Then add all other ingredients and stir. Shape into cookies, and bake 15 minutes.
Here's the recipe: Chocolate Chip Breakfast Cookies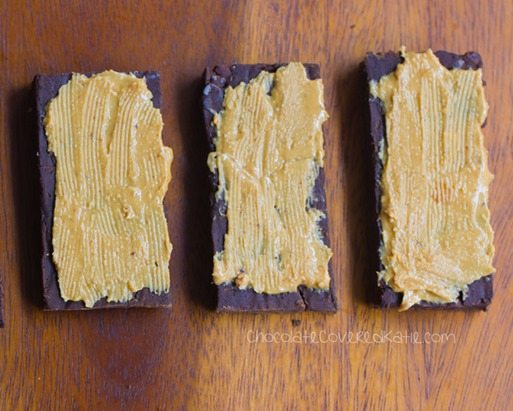 If you like the idea of protein powder but never really know quite what to do with it, making a batch of chocolate peanut butter protein bars is the perfect way to use up some of that protein powder hanging out in the back of your kitchen cabinet.
Here's the recipe: Chocolate Peanut Butter Protein Bars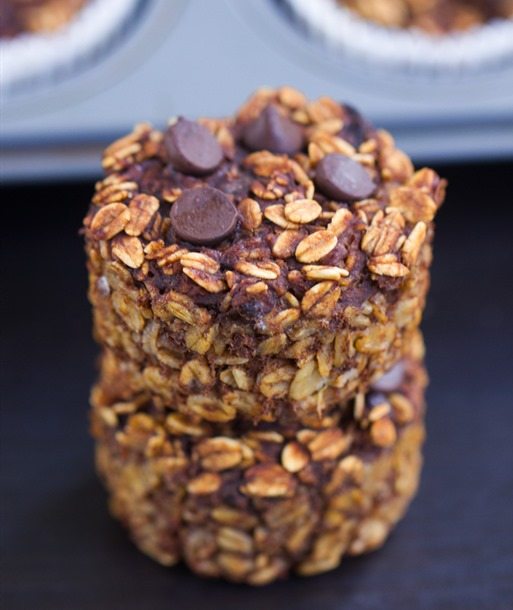 Breakfast oatmeal cupcakes are one of the easiest chocolate breakfast recipes you could possibly make – Leftovers can be portioned out and frozen for up to two months, and you just pop one in the oven or microwave and can take it with you on the go.
Here's the recipe: Breakfast Chocolate Oatmeal Cupcakes – To Go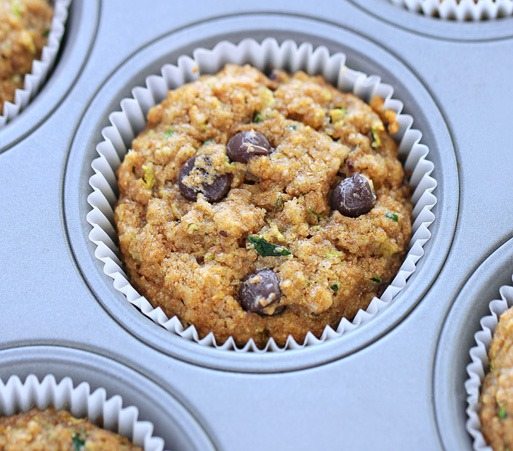 Any time you find yourself with extra zucchini to use up, simply shred it and add it to your favorite muffin batter, for a sneaky breakfast health boost.
Here's the recipe: Chocolate Chip Zucchini Muffins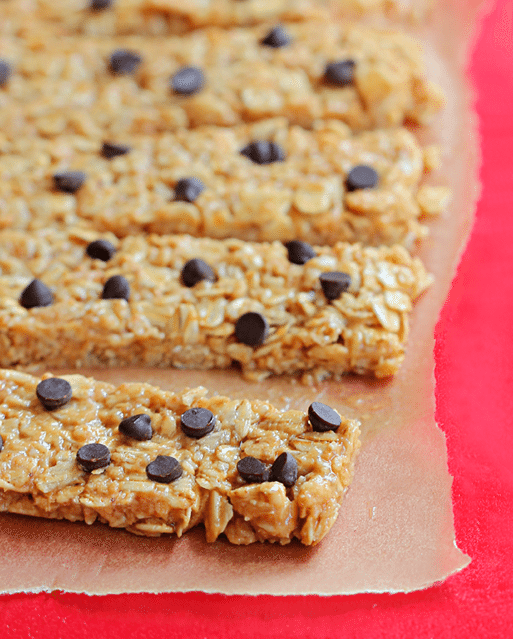 Combine rolled oats, peanut butter, and protein powder to make super-easy & healthy granola bars.
Here's the recipe:  3 Minute Protein Granola Bars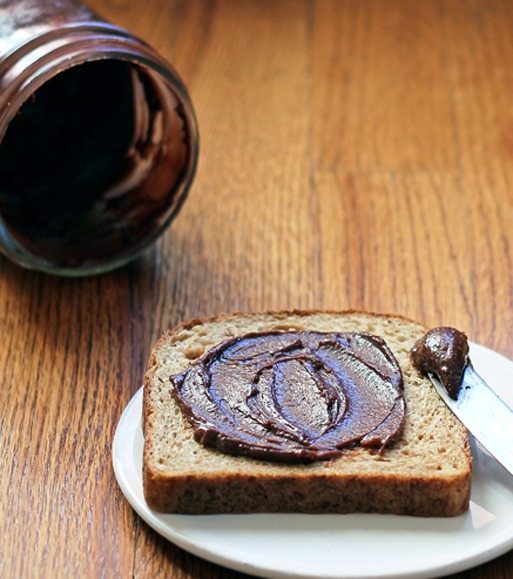 Roast hazelnuts in the oven, then blend with cocoa powder, vanilla, and almond extract for a smooth chocolatey spread that tastes exactly like Nutella, without all the sugar and processed ingredients.
Here's the recipe: Healthy Nutella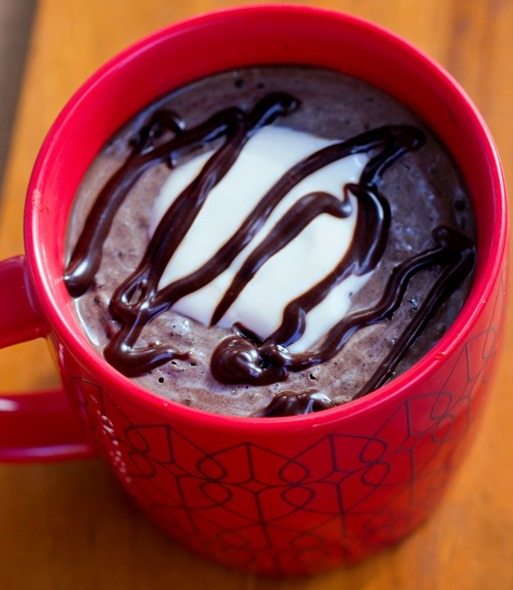 True Italian hot chocolate is so thick and smooth, it's almost like drinking a liquid chocolate bar. If you think Swiss Miss is real hot chocolate, drop whatever it is you are doing right now and make this recipe immediately. It will change everything you thought you knew about hot chocolate.
Here's the recipe: Italian Hot Chocolate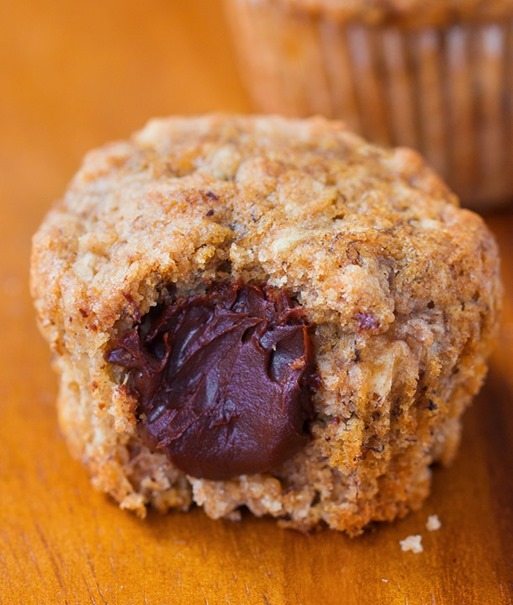 I could eat a hundred of these soft and homemade banana bread muffins, hot from the oven and stuffed with gooey homemade Nutella filling.
Here's the recipe: Banana Bread Nutella Muffins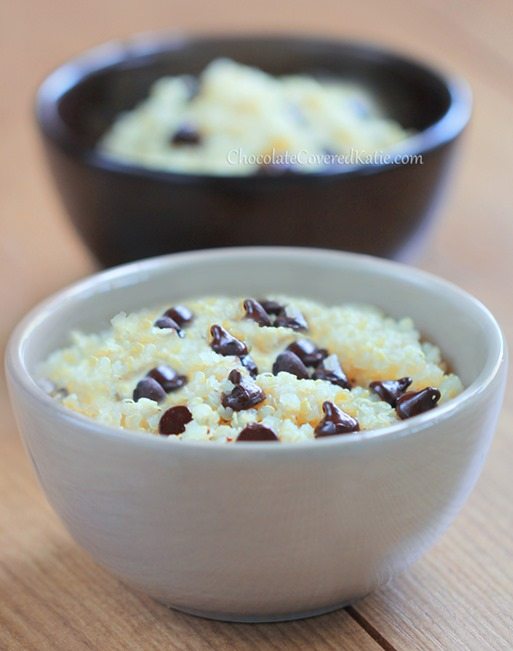 Quinoa is the perfect bored-of-oatmeal breakfast, and you can make multiple servings at once and save the leftovers for three or four days. I like to add chocolate chips to mine whenever I make this.
Here's a recipe: Breakfast Quinoa Bowls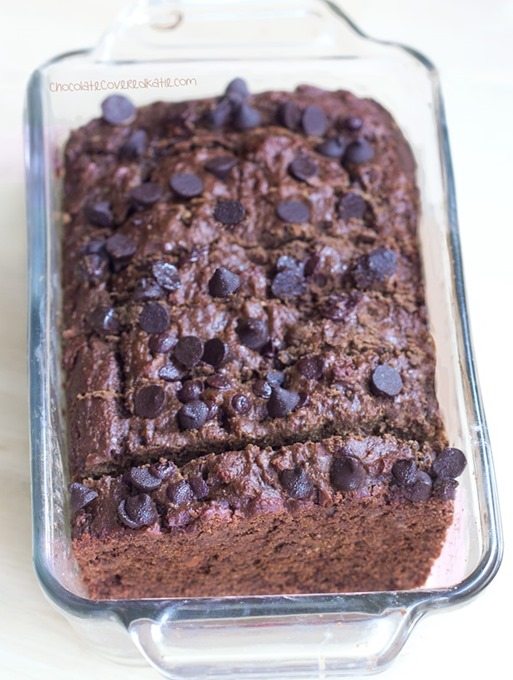 To cut back on fat without sacrificing moisture, this recipe packs a full two cups of mashed banana into the batter. The result is a chocolate banana bread so rich and sweet that you'd swear it must be full of fat and sugar.
Here's the recipe: Chocolate Banana Bread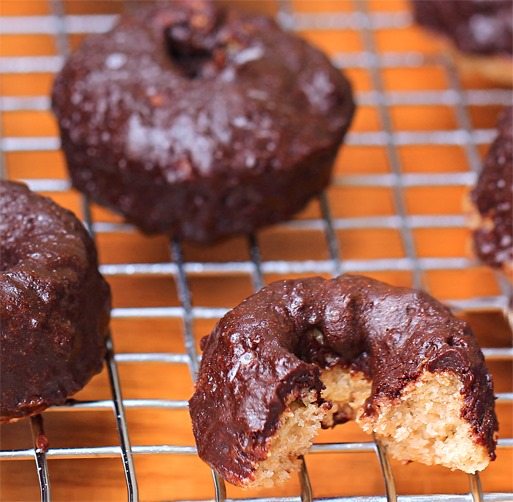 These homemade Entenmann's chocolate mini donuts have half the calories and twice the protein and fiber as the originals. It's impossible to stop at one!
Here's the recipe: Homemade Entenmann's Mini Chocolate Donuts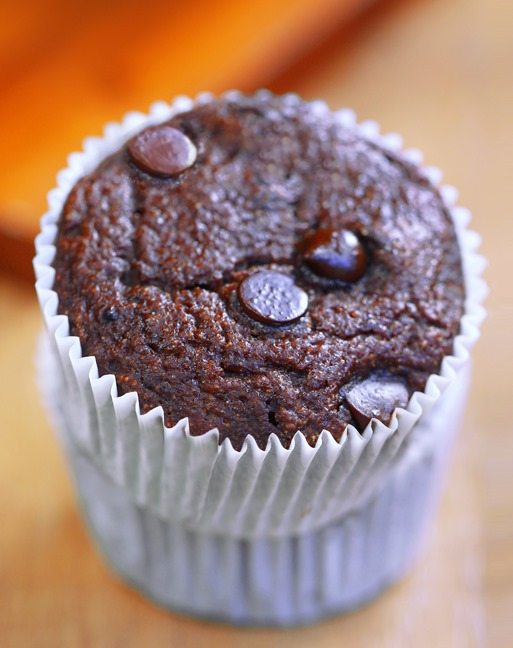 These low-fat chocolate muffins call for yogurt instead of oil, adding moisture and softness without all the added fat. They are surprisingly rich and chocolatey!
Here's the recipe: Low Fat Chocolate Muffins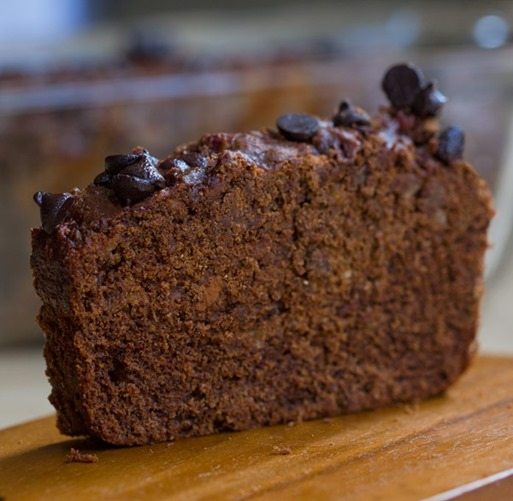 If you are a chocolate lover and a peanut butter lover, this chocolate peanut butter bread is the best of both worlds. Deep, dark chocolate combines with smooth peanut butter for what might just be the most delicious healthy breakfast bread you've ever tried.
Here's the recipe: Chocolate Peanut Butter Bread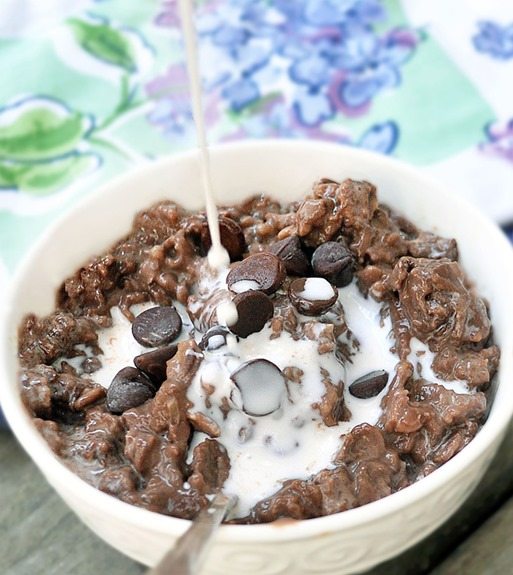 One of my favorite things to make for breakfast when I'm craving chocolate is 5 minute chocolate oatmeal. It's healthy, filling, and it tastes like eating dessert for breakfast.
Here's the recipe: 5 Minute Chocolate Oatmeal

What are your favorite chocolate breakfast recipes??? Feel free to leave a link in the comments!