These melt-in-your-mouth chocolate snowball cookies are one of the most popular reader requested recipes I've ever received!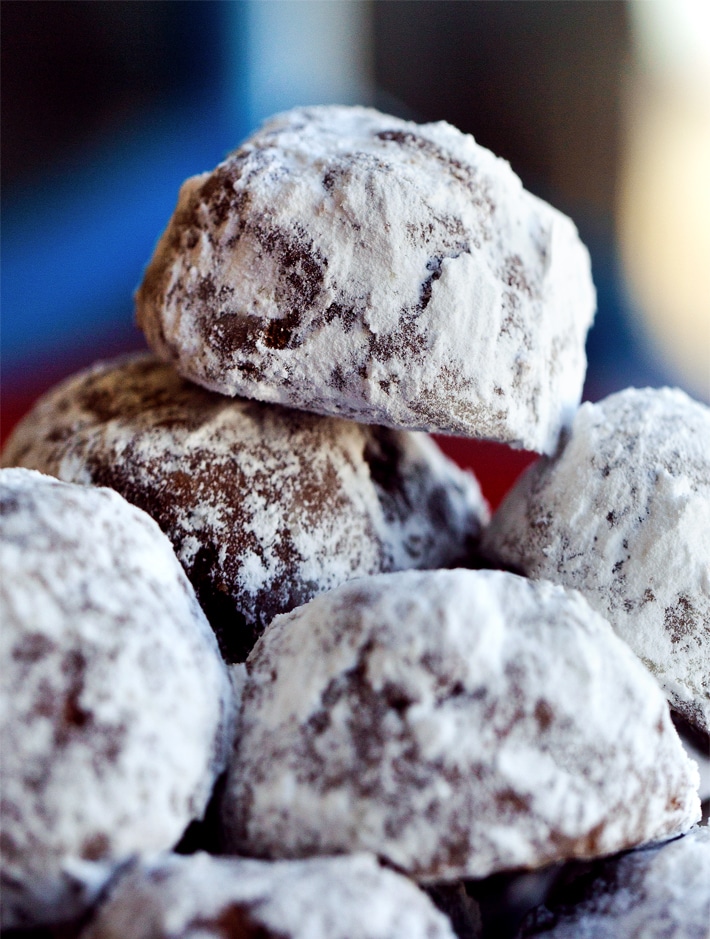 I honestly don't know what took me so long to make a chocolate version.
The soft and melty chocolate cookies are quick to prepare, and they taste impossible-to-stop-eating good.
Seriously though.
Someone, please take the tray away from me, before I eat them all.
You may also like: Peanut Butter No Bake Cookies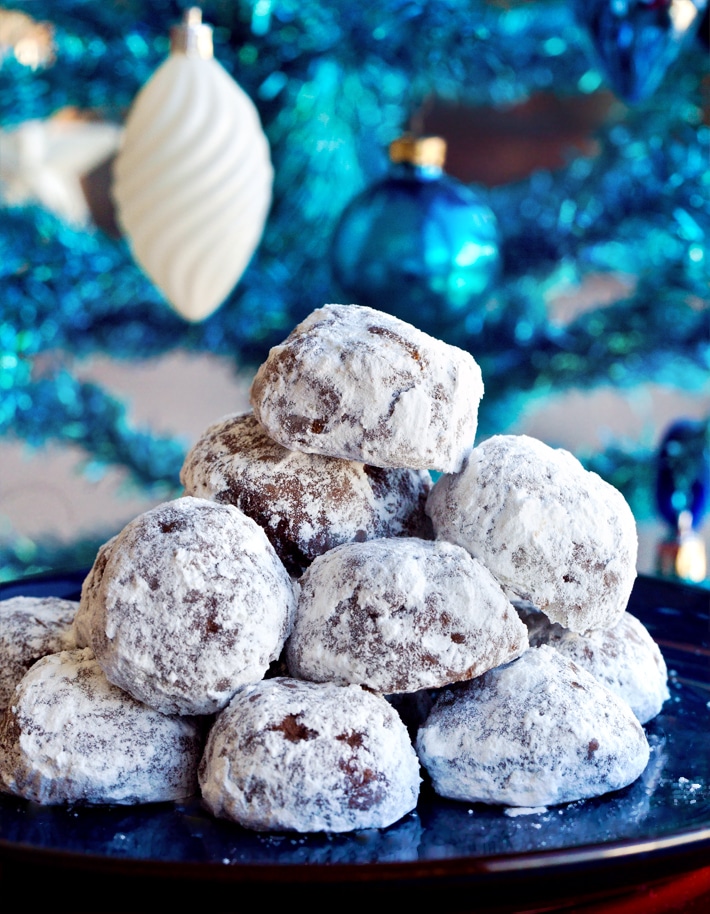 The recipe is based on a classic Christmas cookie, and unlike with many of the other desserts on my blog, I didn't cut back on the fat or sugar (although they're still only 63 calories, with just 2 grams of sugar per cookie).
The cookies can be healthier if you use one of the whole grain flour options or if you use sugar free powdered sugar.
(For refined-sugar-free powdered sugar, simply blend your favorite granulated natural sugar–such as date sugar, coconut sugar, or evaporated cane juice–until it resembles powdered sugar.)
Or for a healthy chocolate ball recipe, try these date-sweetened Fudge Babies.
The recipe can be vegan if you use a nondairy butter or the coconut oil option. They are already naturally egg-free, no substitutions required.
A low carb version –> Keto Chocolate Cookies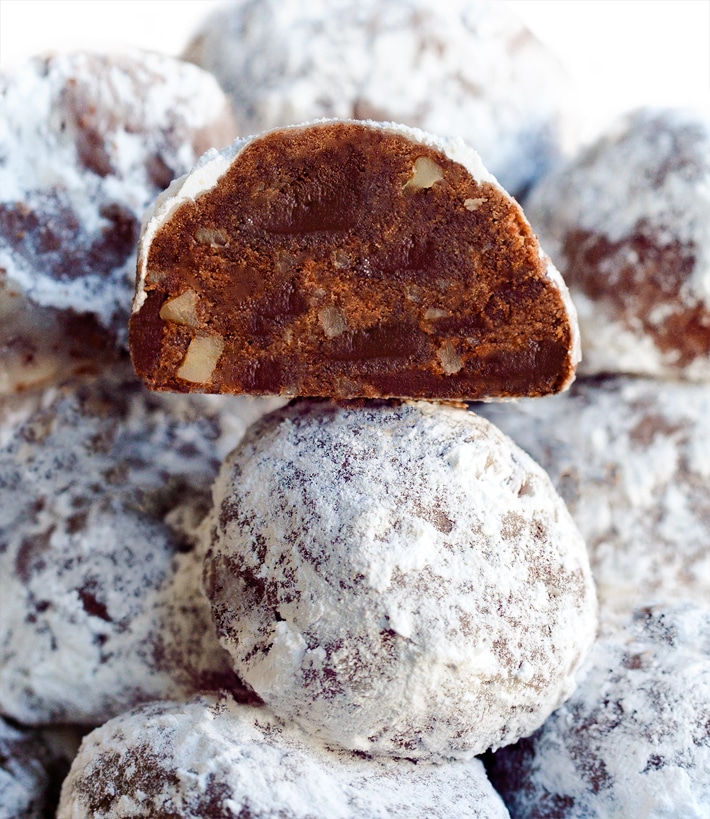 For Peppermint Chocolate Snowball Cookies:
Add a few drops of pure peppermint extract (not mint extract or imitation peppermint) before stirring all of the ingredients together.
For Chocolate Orange Snowball Cookies:
Add 1 1/2 tsp orange zest to the dough before mixing. To make orange zest, either use a zester or peel off pieces with a vegetable peeler and then chop finely into zest.
Other Variations:
Try adding a little coconut extract, almond extract, instant coffee, or pure vanilla extract. Just remember that extracts are strong, so a little goes a long way. I haven't tried replacing the oil with peanut butter in the recipe but would love to know if anyone does!
Also try this Brownie In A Mug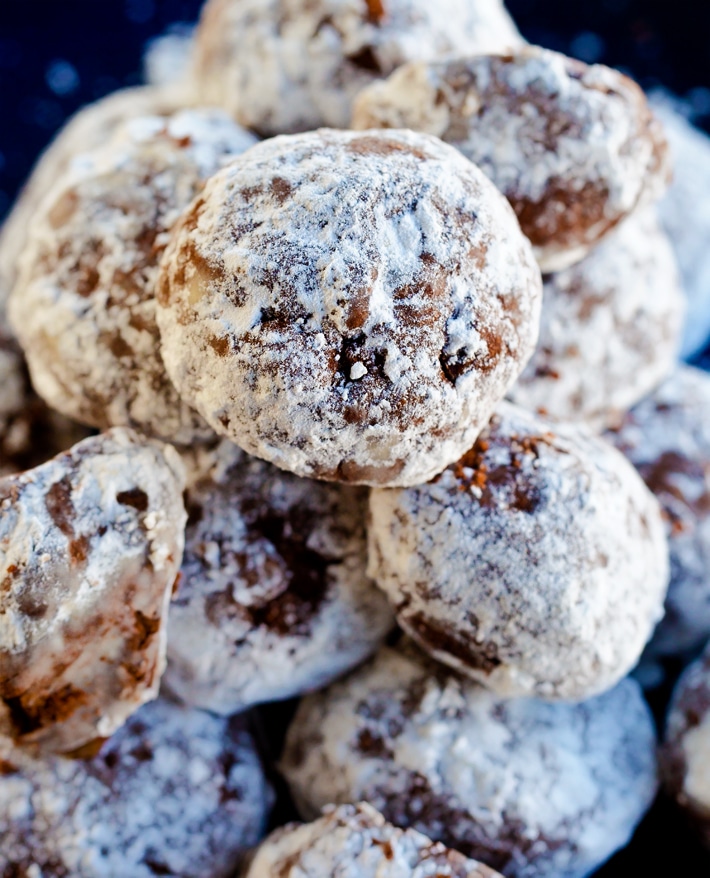 Just as with my non-chocolate snowball cookies, the dough can be made a few days in advance, covered, and refrigerated.
Or if you'd prefer, you can roll the cookie dough into balls and then freeze them to bake any time you're expecting guests or craving chocolate cookies.
Once baked, the snowball chocolate cookies can be stored the same way as other traditional holiday or Christmas cookies, on the counter in an airtight container with parchment between each layer of cookies.
Above, watch the video of how to make chocolate snowball cookies


Chocolate Snowball Cookies
These homemade chocolate snowball cookies are a holiday classic recipe.
Ingredients
3/4

cup

white, spelt, or oat flour

(a keto version is linked above)

1/4

cup

unsweetened cocoa powder

1/4

cup

finely chopped walnuts or pecans

(for nut-free: Chocolate Brownie Cookies)

1/2

cup

butter or coconut oil

1/4

cup

powdered sugar

(a date-sweetened version is also linked above)

1/4

cup

mini chocolate chips

or finely chopped chocolate

optional additional powdered sugar for rolling
Instructions
Start with softened but not melted butter or oil. Preheat the oven to 325 F. Beat the butter or oil with powdered sugar in a bowl or stand mixer, then stir in remaining ingredients to form a cookie dough. Roll dough into balls and place on a cookie sheet. Bake 15 minutes on the oven center rack. Let cool 10 minutes before handling, as they will firm up while they cool. Roll in powdered sugar if desired. (I haven't tried omitting the chocolate chips and am not sure they'd be sweet enough, but feel free to experiment.)

View Nutrition Facts
More Easy Chocolate Recipes: