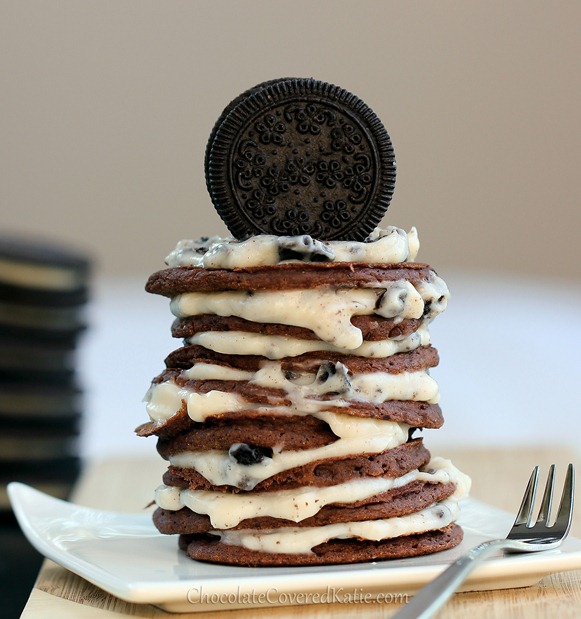 Oreo Cookie Pancakes
With a simple cookies 'n cream filling sandwiched between each fluffy chocolate layer. It's enough to make Michelle Obama call a state of emergency for the breakfast table!
But the First Lady needn't worry, as these decadent Oreo pancakes pose no threat whatsoever to her Let's Move campaign for healthier kids. They are secretly filled with fiber, protein, calcium, magnesium, probiotics, and the most important healthy ingredient of all: chocolate.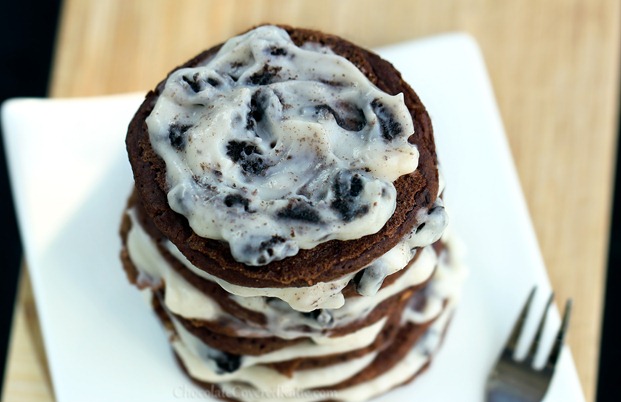 This weekend I had fun playing host to a friend from middle school and her daughter, Kristin (whom I've mentioned before on the blog).
I told Kristin I would make her anything she wanted for breakfast, and she got a mischievous look in her eye and said, "Oreo cookies!"
So I asked her, "What about Oreo pancakes?" and she decided that was an even better idea than cookies.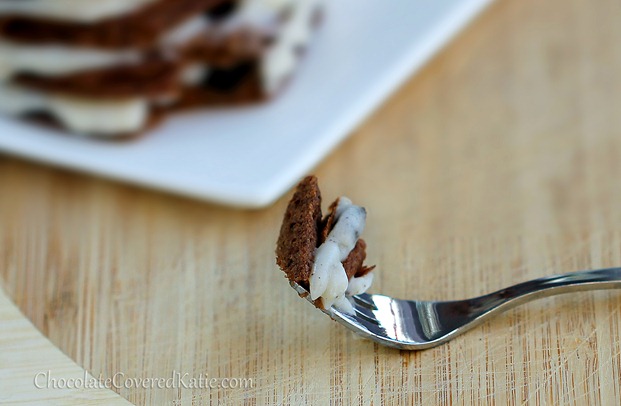 If it were up to me, I would've made a frosting with coconut butter. I am so predictable.
But Kristin doesn't like coconut butter. In her words, it is "yucky." So we went vanilla yogurt instead.
The pancakes themselves are actually not based on my Brownie Batter Pancakes.
I wanted to try something new this time: Lately I've been having a lot of fun experimenting with vinegar—it adds a lightness to baked goods, which can be enormously beneficial when using whole-grain flours. The pancakes turned out light and fluffy without the need for any eggs.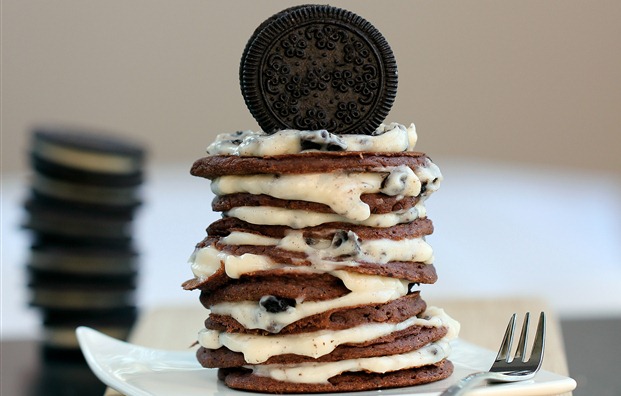 Tomorrow is Fat Tuesday and National Pancake Day!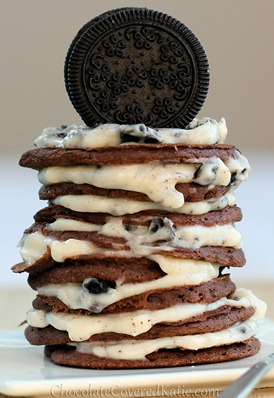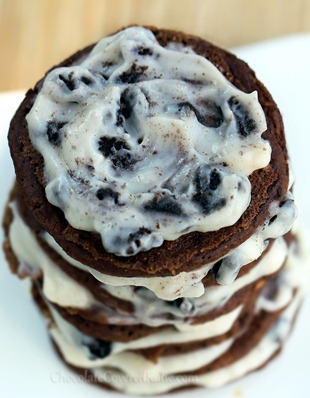 Oreo Cookie Pancakes
(serves 1)
1/2 tsp white or apple cider vinegar (2g)
5 tbsp milk of choice (75g)
1 tsp pure vanilla extract (4g)
1 tbsp coconut or veg oil (sub applesauce only if you like the taste of fat-free pancakes.) (10g)
1/4 cup spelt flour (or all-purpose or gluten-free all-purpose) (34g)
3/4 tsp baking powder
1/8 tsp salt
1 1/2 tbsp cocoa powder (7g)
1 stevia packet or 1 tbsp sugar (or 1 tbsp agave and decrease milk by that amount)
1-2 crushed Oreo-style cookies or Healthy Oreos
1/2 container vanilla yogurt of choice (I used SoDelicious coconut) (80g)
In a small measuring glass, combine first four ingredients and whisk. Set aside. Combine next 5 ingredients in a bowl and stir well. Place a non-stick pan, greased with either oil or oil spray, over medium heat. While it heats, turn your attention back to the food: pour wet into dry and stir until just mixed. (Don't over-mix.) Then cook your pancakes (I did mine in two batches), adjusting the heat a little lower if necessary. Flip when bubbles appear and the sides are just cooked enough to flip without breaking. Meanwhile, combine the final two ingredients, then spread on cooked pancakes. Recipe makes 7-8 silver dollar pancakes, as shown in the photos.