This thick chocolate protein pudding recipe is so silky, rich, creamy, and delicious, you'll never believe it could possibly be so healthy!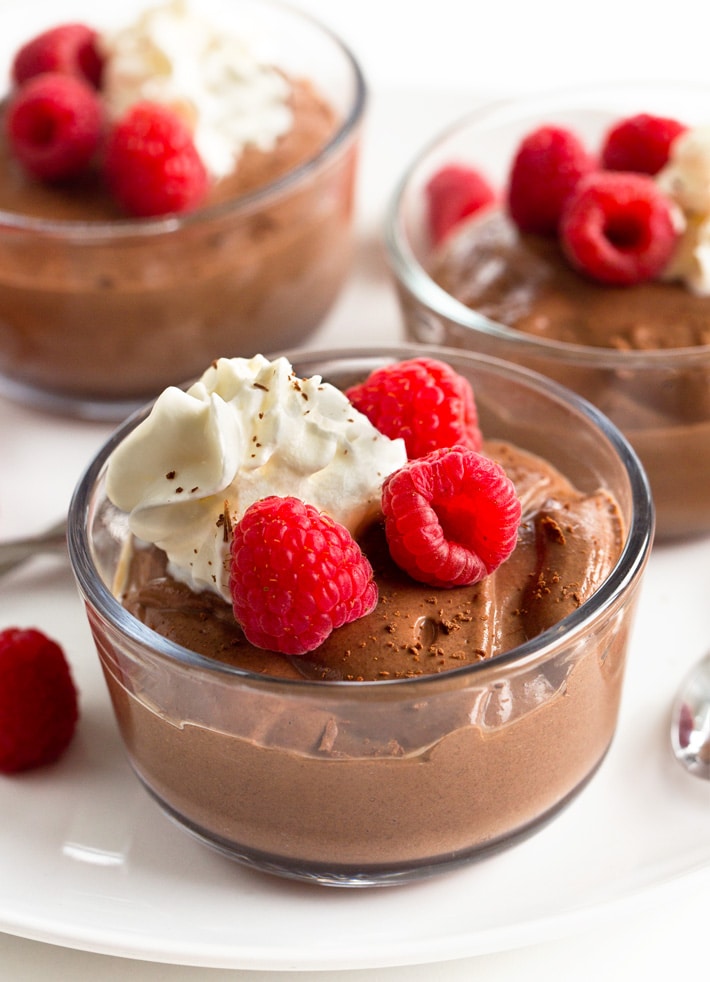 Whip the chocolate protein pudding up in just five minutes, for a healthy snack or fancy dessert with no baking required.
I've been making this ultra decadent and incredibly easy recipe for over a decade now, and it is still one of my absolute favorite snacks!
You simply throw everything into the blender. Whip it up until light, airy, and silky smooth, and portion the thick mousse-like chocolate pudding into bowls.
Or you can eat it straight out of the blender with a spoon.
Also be sure to try these Sweet Potato Brownies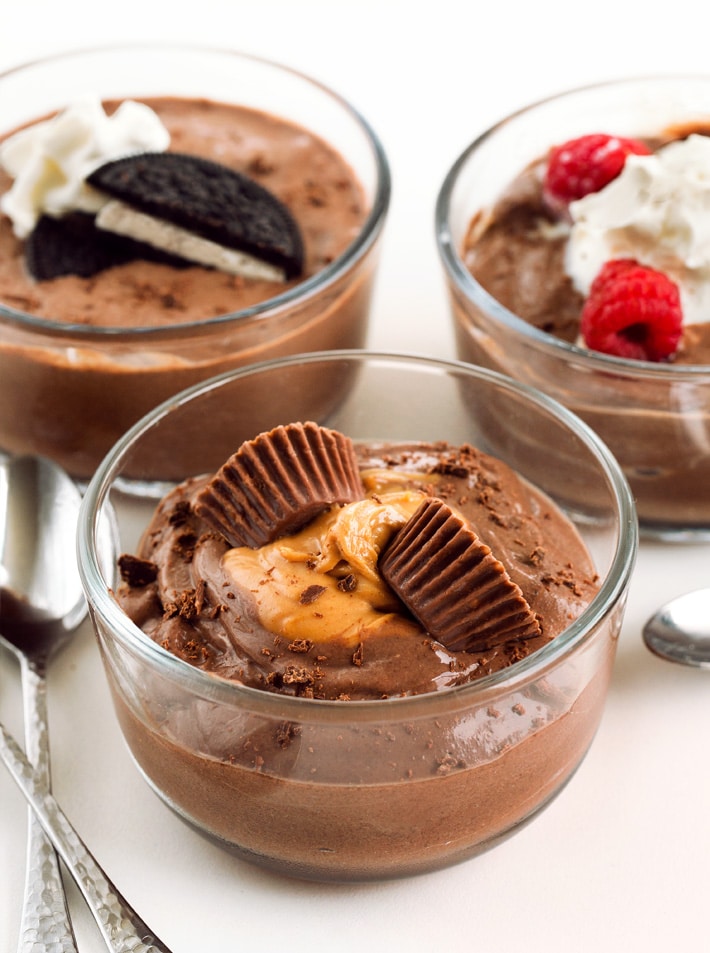 Protein Pudding Flavors
Chocolate Banana: Blend one ripe banana into the recipe below.
Peanut Butter: Add up to half a cup of peanut butter before blending. Or try almond butter, coconut butter, or cashew butter.
Mint Chocolate: Blend in one eighth teaspoon of pure peppermint extract, or one fourth teaspoon for a stronger flavor. Garnish with fresh mint leaves.
Mocha: Add a half teaspoon of instant coffee granules. Or add one tablespoon of brewed espresso.
Cookies and Cream: After blending the pudding, crush up a few homemade or store bought Oreo sandwich cookies and stir them into the chocolate pudding.
White Chocolate: Swap the chocolate chips in the recipe for melted white chocolate chips. Omit the cocoa powder. You can do the same thing with peanut butter chips.
Of course, these are only a few of the countless flavors you can make. Have fun experimenting with different add ins, extracts, and variations to make brownie batter, birthday cake, lemon, orange, caramel, cinnamon, vanilla protein pudding, or any other flavors you wish!
Above, watch the chocolate protein pudding recipe video
Soy Free Protein Pudding Recipes
All of the healthy dessert recipes above can be soy free. And you can easily add a scoop of peanut butter and substitute protein powder for some of the cocoa powder to make them super high in protein.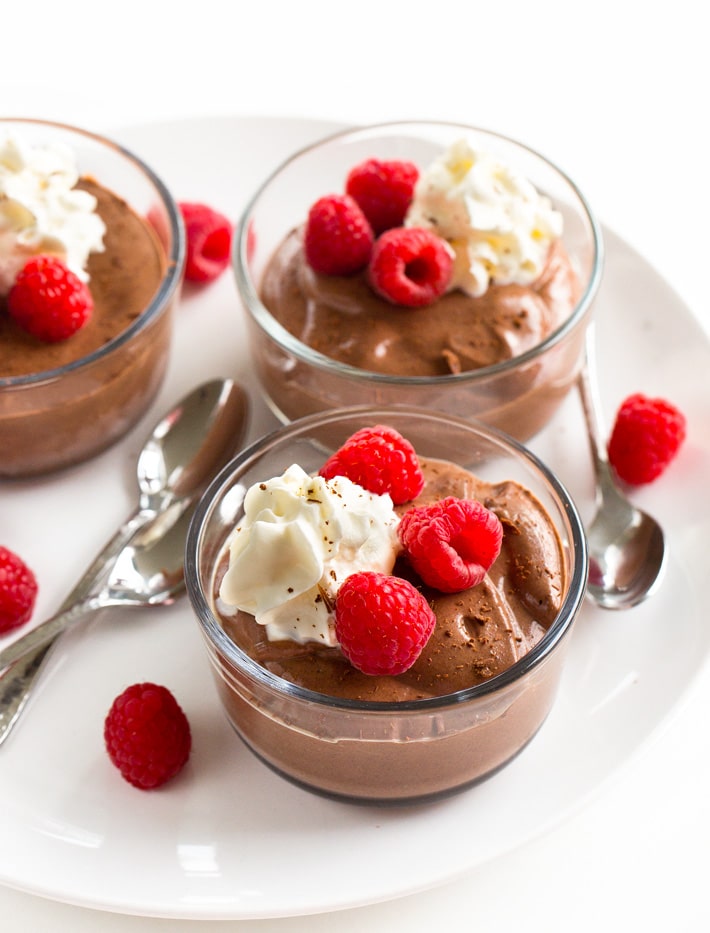 Is the recipe vegan, gluten free, and keto?
The protein pudding can be completely vegan if you use dairy free chocolate chips. It doesn't need any dairy or plant based milk like almond milk, soymilk, or coconut milk.
Without any flour or wheat products, it is also a naturally gluten free recipe.
For sugar free protein pudding, use chocolate chips with no sugar, like Lily's. Sweeten with a sugar free alternative that measures like sugar, such as erythritol or xylitol.
Tofu is low carb and high in protein, and many people on bodybuilding or keto diets say it is fine to include for these reasons. If you are on a strict diet that does not include legumes, go with this easy keto recipe instead: Keto Chocolate Mousse.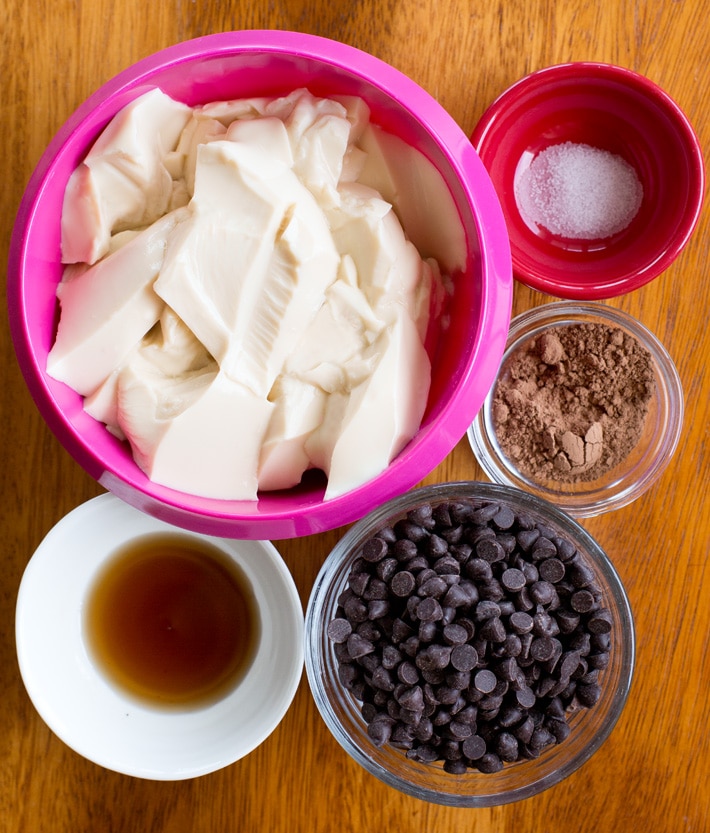 Tofu chocolate pudding ingredients
The recipe calls for cocoa powder, tofu, chocolate, sweetener, and a pinch of salt. You can add chocolate protein powder instead of cocoa if desired.
The chocolate can be either regular or mini chips. Or break up your favorite brand of chocolate bar into small pieces.
Want to skip the chocolate chips entirely? You can!
Add extra cocoa powder for more richness, and sweeten to taste. I also highly recommend including the peanut butter or another fat source if skipping the chocolate chips, because it will mask any tofu flavor.
Liquid and granulated sweeteners both work. Options include regular or unrefined sugar, pure maple syrup, honey, agave, date sugar, or erythritol or xylitol for sugar free.
Unlike many other protein pudding recipes, this one is made entirely without instant pudding mix, casein or whey protein powder, eggs, Greek yogurt, or egg whites.
This dark chocolate protein pudding was adapted from my Vegan Chocolate Pie.
What type of tofu?
I recommend using soft or silken tofu instead of firm or extra firm for the best consistency. It can be found in the refrigerated section of many regular grocery stores.
If you see Mori-Nu shelf stable tofu at your local Asian market or health food store, any of their varieties work well too.
This recipe gives you ten grams of plant based protein in just a half cup of pudding, even with no protein powder.
And no, it doesn't taste like tofu at all!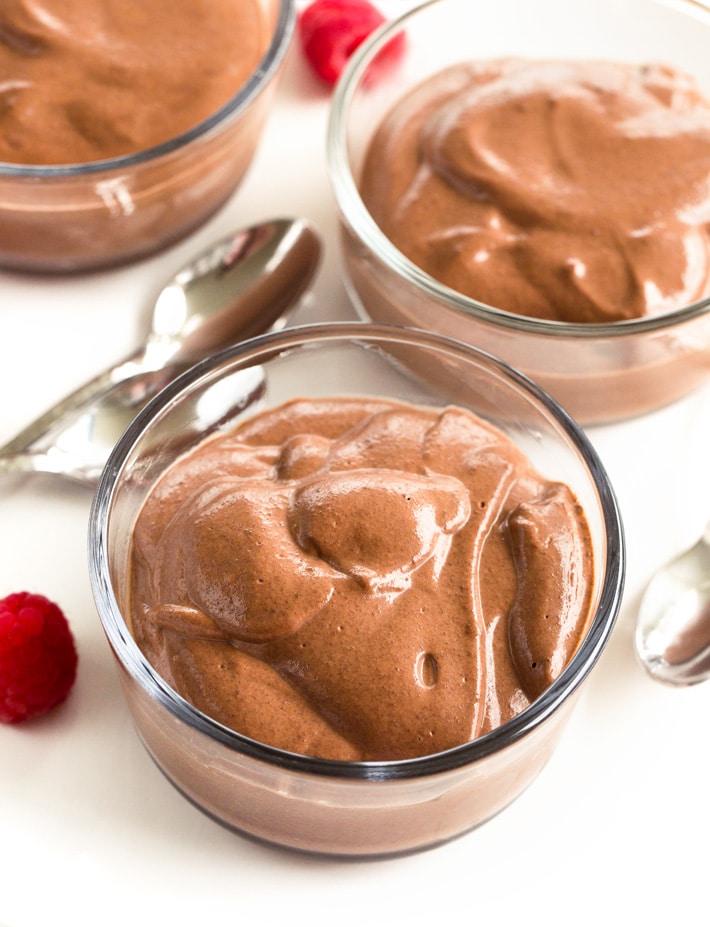 How to make chocolate protein pudding
This chocolate dessert is so fast to put together!
Start by very carefully melting the chocolate, either in the microwave or on the stovetop using the double boiler method.
Drain the tofu and let it come to room temperature. Then add all of the pudding ingredients to a blender or food processor. Blend until completely smooth.
Pour the thick vegan chocolate protein pudding into ramekins. For the best texture, I like to refrigerate until firm. You can choose to eat immediately if you prefer.
Garnish with raspberries or strawberries, Coconut Whipped Cream, shaved chocolate or mini chocolate chips, chopped toffee, marshmallows, crushed pecans or walnuts, etc.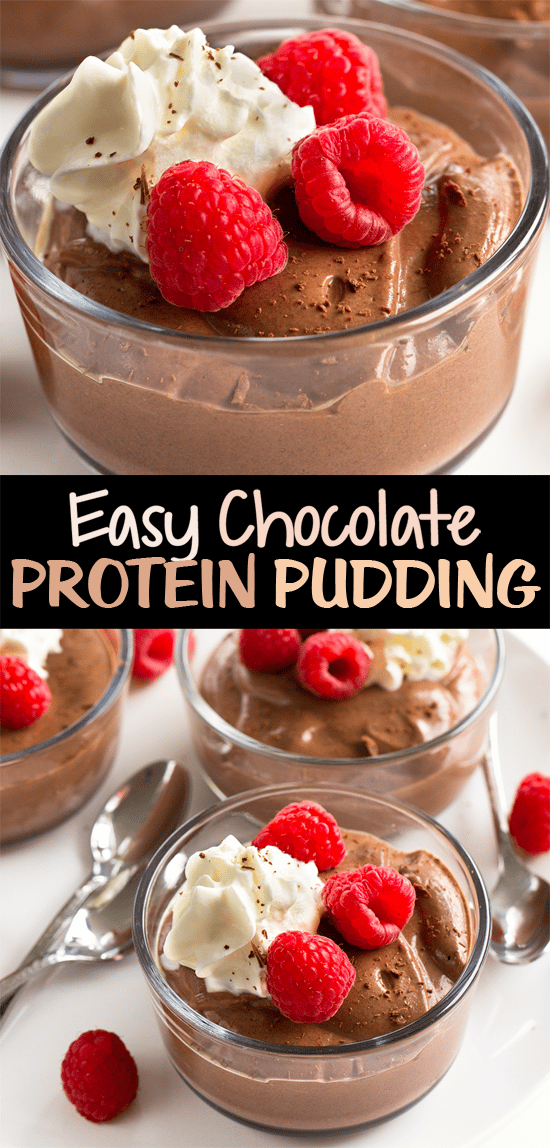 Protein Pudding
This thick chocolate protein pudding recipe is silky, rich, creamy, and delicious. You'll never taste the tofu!
Ingredients
Instructions
*For a sugar free pudding, use Sugar Free Chocolate Chips.To make the protein pudding, carefully melt the chocolate, either on the stovetop or in the microwave. Drain the tofu, and let it come to room temperature. Combine all ingredients in a blender or food processor (I like this food processor) until smooth. Pour into ramekins. Refrigerate until firm, and store leftovers in the refrigerator for up to five days.View Nutrition Facts
High Protein Snack Ideas