How to make the best vegan blueberry pie recipe at home in just a few minutes. It's an easy dairy free dessert, with sweet blueberries bursting in every delicious bite!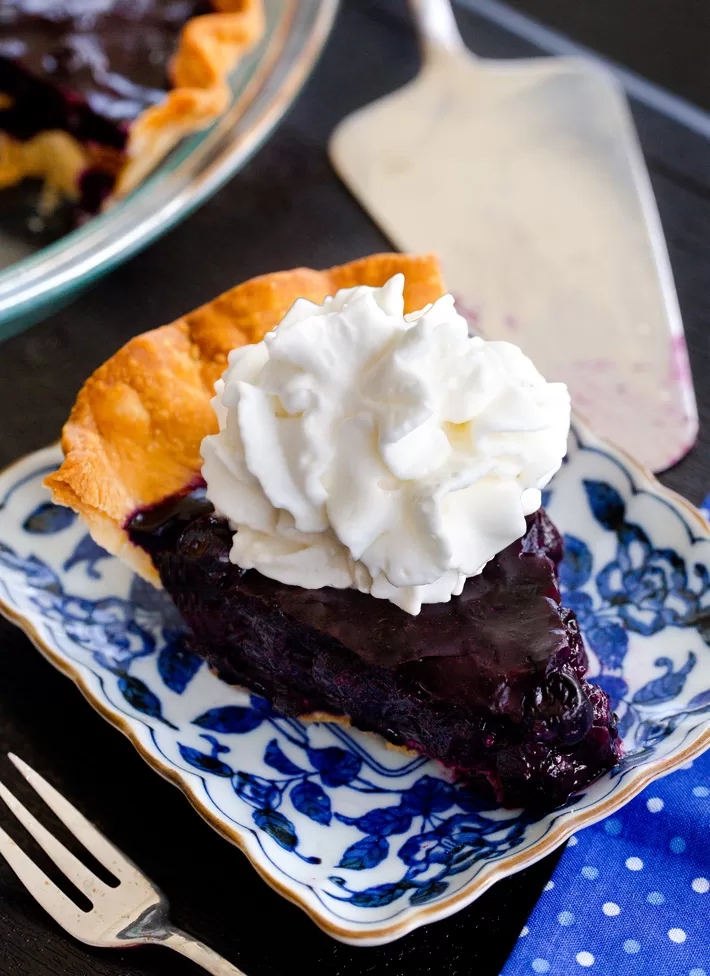 Plant based blueberry pie dessert
Are you looking for a homemade vegan blueberry pie recipe that even non vegans will love? This is absolutely the one you should try, and there's no top crust required.
It's honestly one of the easiest pie recipes you will ever make and tastes exactly like traditional blueberry pie. Plus, this recipe calls for less than half the sugar!
Perfect for Spring picnics, summer barbecues, lazy weekends at home, or Fourth of July parties, this classic blueberry pie will never let you down.
Also make this Crustless Pumpkin Pie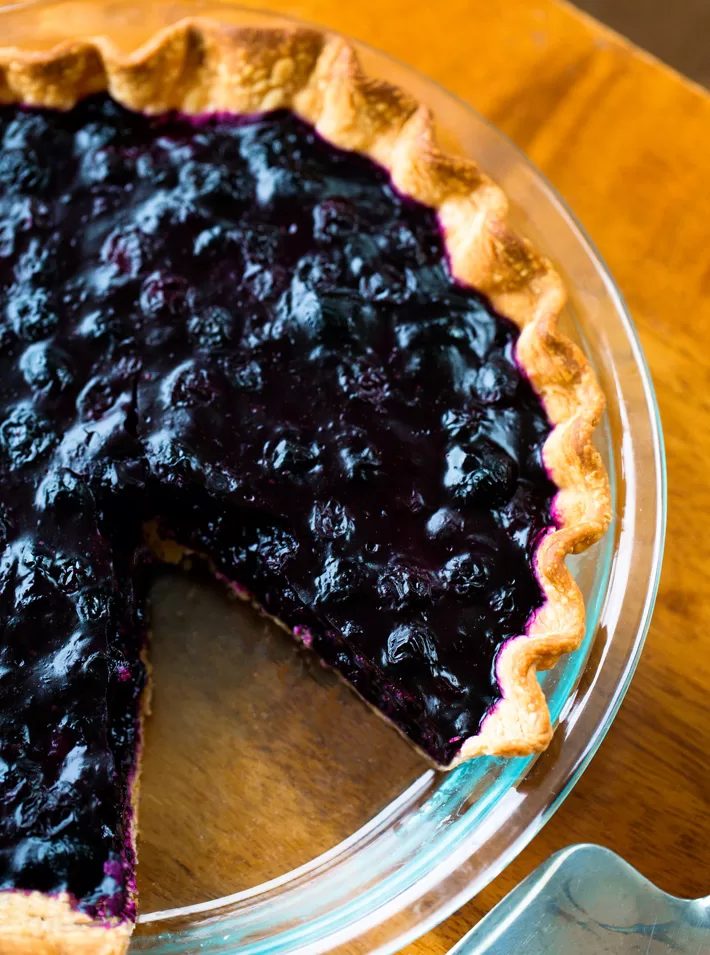 Ingredients for vegan blueberry pie
You will need blueberries, water, sugar or sweetener of choice, cornstarch or arrowroot, a pinch of salt, optional lemon zest, and a nine inch pie crust.
If you wish, you may also add a sprinkle of ground cardamom or ginger or a handful of shredded coconut. Or stir in up to a half teaspoon of ground cinnamon.
Top the healthy vegan blueberry pie with Coconut Ice Cream, Banana Ice Cream, or a thick layer of creamy homemade Coconut Whipped Cream.
I like to include the lemon zest for added flavor, but it is definitely not required.
There are no eggs, no butter, and no dairy required. The recipe can be gluten free if you choose a store bought or homemade gluten free crust.
For a keto friendly and added sugar free blueberry pie, use your favorite no sugar substitute, such as allulose or xylitol, and an almond flour crust.
The pie was adapted from my Cherry Pie Filling and Pineapple Pie
Watch the vegan blueberry pie recipe video, above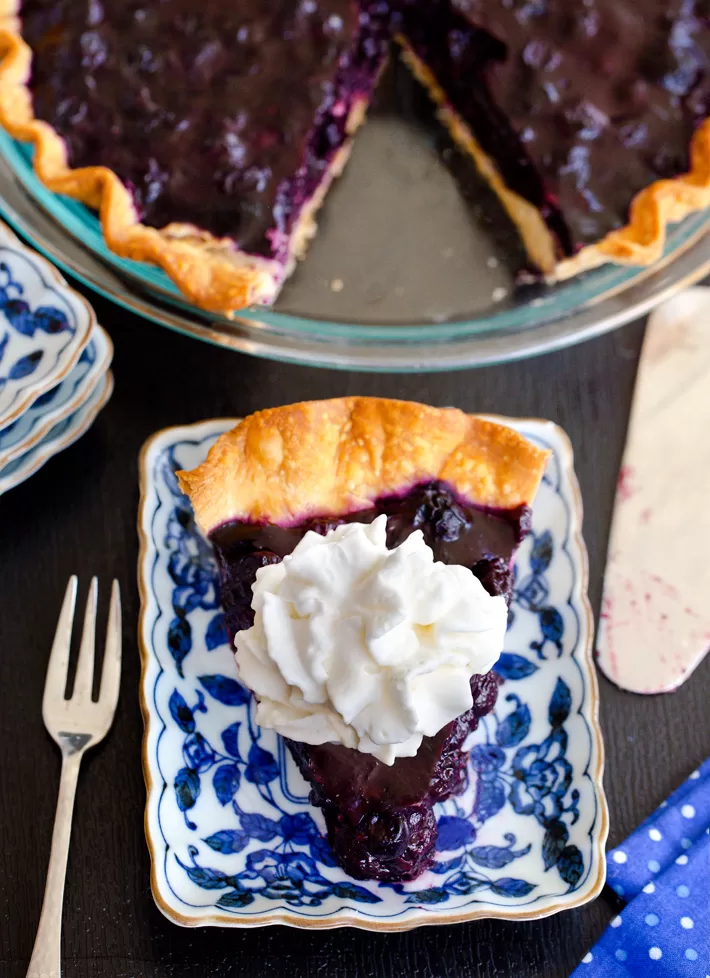 Fresh or frozen blueberries
Either will work for this recipe.
If you wish to use frozen instead of fresh blueberries, it is perfectly fine to measure them straight out of the bag. There is no need to thaw the blueberries first.
You can use regular or wild blueberries. And feel free to substitute some of the blueberries for cherries, blackberries, raspberries, dices strawberries, or another fruit of choice, turning it into a mixed berry pie.
Readers also like this Apple Bread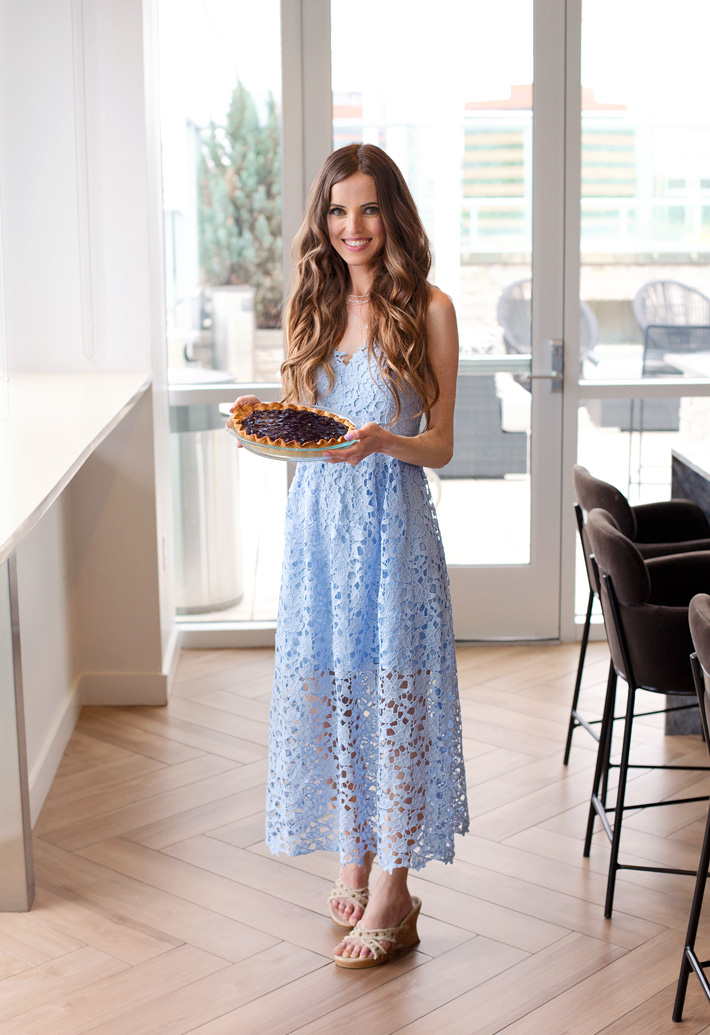 How to make vegan blueberry pie
Start by preparing your crust of choice. This can be a pastry crust, shortbread crust, or even a graham cracker pie crust.
Press the crust into a nine inch pie pan. Unless using a no bake pie crust, prebake the crust according to the instructions for your particular recipe. Set the pan aside.
Or omit the crust entirely and serve the homemade blueberry filling as a simple topping for Vegan Pancakes, Chia Pudding, Overnight Oats, or Keto Cheesecake.
Combine the blueberries, water, sweetener, salt, cornstarch, and optional lemon zest or cinnamon in a medium pot. Stir very well.
Bring to a boil, then lower the heat to a simmer. Stir frequently as the mixture thickens. Once it reaches the thickness of canned pie filling, remove from the heat.
Spread the vegan blueberry pie filling into the prepared crust. Chill uncovered in the refrigerator for a few hours or overnight. It will firm up during this time.
When ready to serve, cut the pie into slices with a knife. Use a cake or pie server to transfer each slice of blueberry pie onto a small plate.
Top with whipped cream, vanilla ice cream, or Homemade Frozen Yogurt if desired.
Due to the perishable nature of the blueberries, leftovers are best when refrigerated in a covered container for up to four days.
While you technically can freeze the pie, it will change the texture of the crust and blueberry filling. So we do not recommend it.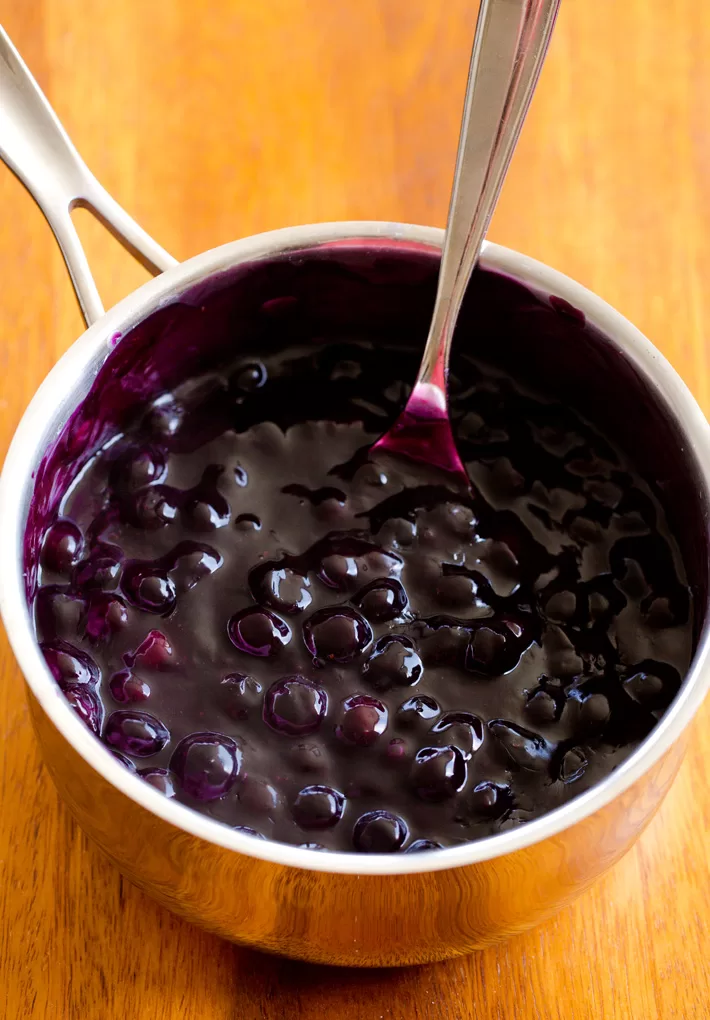 Converting the pie to gram measurements
Here are the amounts if you wish to use a food scale instead of the cup measurements listed below:
600 grams of blueberries, 120 grams of water, 65 grams of sugar, 30 grams of cornstarch, and optional 3 grams of lemon zest. Don't forget to also add the salt and optional cinnamon or cardamom.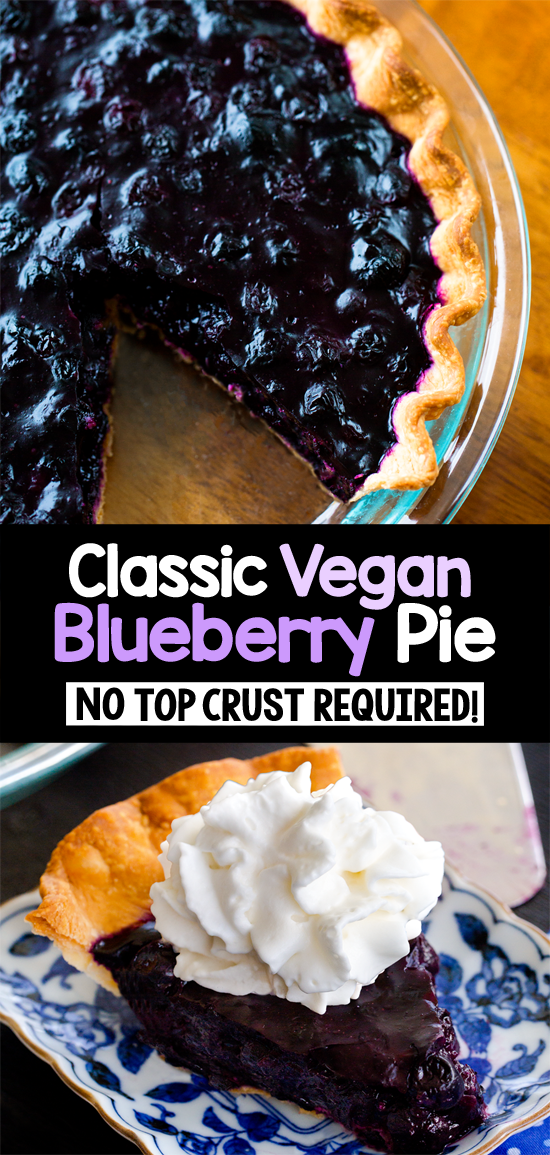 Vegan Blueberry Pie
How to make the best vegan blueberry pie recipe for dessert, with sweet blueberries in each bite.
Ingredients
5

cups

blueberries

1/2

cup

water

1/3

cup

sugar or granulated sweetener of choice

1/4

tsp

salt

3

tbsp

cornstarch or arrowroot

optional zest of one lemon

optional 1/4 tsp cinnamon

9

inch

pie crust of choice
Instructions
Prepare crust, and set aside. Combine all blueberry pie filling ingredients in a medium pot, stir very well, and bring to a boil. Once boiling, turn the heat to low and stir frequently until thick. Spread the filling into the prepared crust. Chill in the refrigerator until set. Slice, and enjoy. Refrigerate leftovers for optimal freshness.

View Nutrition Facts
Easy Vegan Pie Recipes