This indulgently rich chocolate pudding cake is like magic…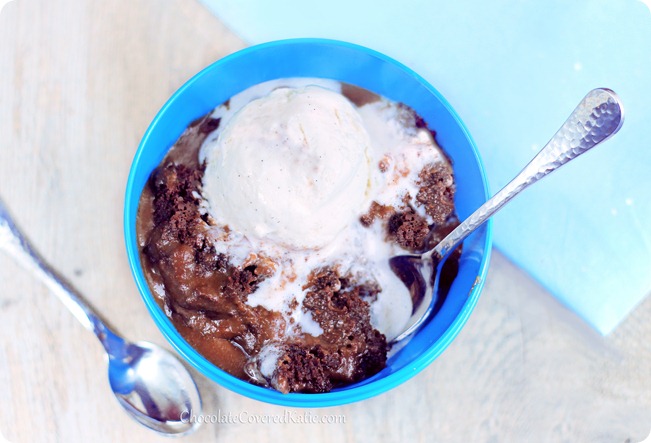 You get two desserts in one: A dark chocolate cake and gooey chocolate pudding all at the same time…
Immediately upon learning of the concept, I fell in love and knew I'd have to try it as soon as possible.
How could anyone not love a dessert that is both cake and pudding without having to choose one or the other? Life is already filled with so many times where you have to make decisions! And the weather is still so hot here that any recipe not requiring an oven is very much welcome.
Above, topped with my oft-referenced favorite egg-free healthy ice cream recipe.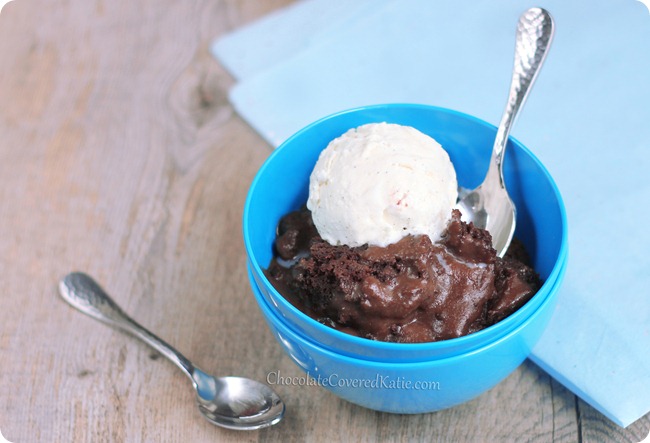 The only thing better than chocolate cake and chocolate pudding in the same bowl is chocolate cake, chocolate pudding, and ice cream in the same bowl!
Having never made any sort of pudding cake before, I looked to a pudding cake recipe in Taste of Home as a reference.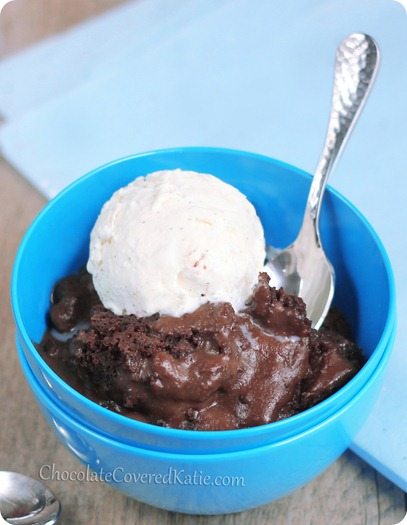 Then I changed it up completely, cutting way back on the sugar, omitting the butter and eggs, and adding some extra cocoa, salt, vanilla, and applesauce to achieve a crazy fudgy texture and rich chocolate taste without all the extra saturated fat and sugars.
If you are a chocolate lover, this recipe is for you!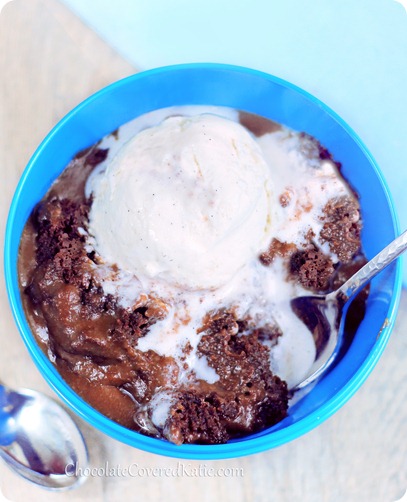 Hot Chocolate Pudding Cake
Chocolate Pudding Cake – For Chocolate Lovers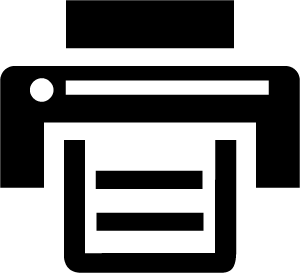 Print This Recipe
[mrp_rating_result show_count="false" show_rich_snippets="false"]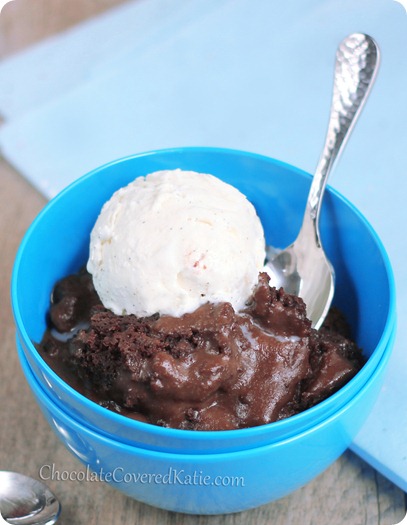 Ingredients
1 cup spelt, white, or gf ap flour (130g)
1 tsp salt
1 3/4 tsp baking powder
1/2 cup cocoa powder (40g)
3/4 cup sugar of choice or xylitol (145g)
1 tsp instant coffee powder, optional
1 1/2 cups milk of choice (360g)
2 tbsp oil (20g)
2 tbsp more oil OR applesauce (30g)
2 1/2 tsp pure vanilla extract (10g)
2 cups boiling water (480g)
pinch pure stevia, or 2 tbsp coconut or brown sugar
1/2 cup mini chocolate chips, optional
Instructions
Pudding Cake recipe: If using a crock pot, grease the bowl (mine is a 4-quart), then set aside. In a large mixing bowl, combine the first 6 ingredients and stir well. Only if using the stevia as opposed to the brown sugar, add that in here as well. In a separate bowl, whisk together the milk of choice (warmed if using coconut oil), vanilla, oil, and applesauce. Pour wet into dry, stir until just evenly combined, and pour into the crockpot. Now pour the boiling water over the top but DO NOT stir. Sprinkle the 2 tbsp brown sugar and chocolate chips on top, if using. Close the lid and cook on high for 1 1/2 hours. Then turn off and open the lid slightly. Let sit another hour, during which time the cake should thicken further. The dessert will be more like pudding the first day, but if you let it cool completely and then refrigerate overnight, it gets much thicker and creamier by the following day. If you don't have a slow cooker, I'm sure you can make this in a pan in the oven… but I've not yet tried it and therefore can't give specific times or pan measurements. Feel free to experiment!
And now I will leave you with an appropriate birthday gift I received from a friend: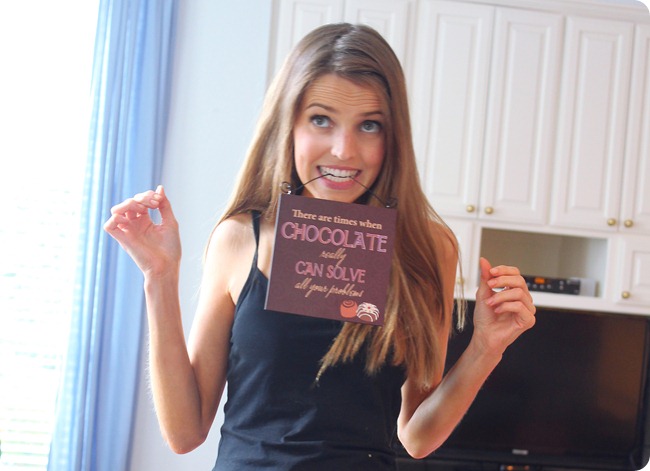 "There are times when chocolate can solve all your problems." Truer words were never spoken.
Link Of The Day: