This rich chocolate pudding cake recipe is the perfect dessert for chocolate lovers!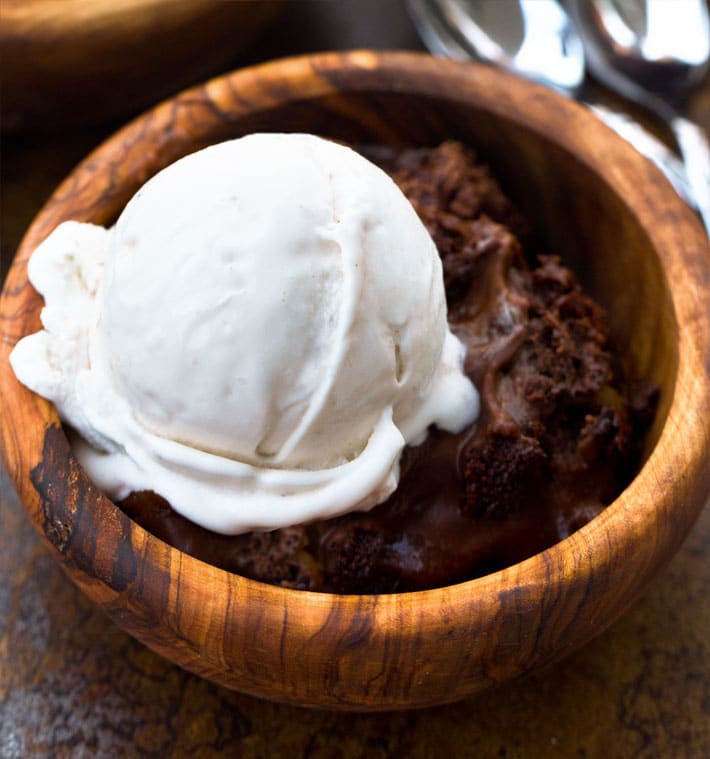 Old Fashioned Chocolate Pudding Cake
The homemade chocolate pudding cake might just be the best chocolate recipe ever, because you get two delicious chocolate desserts at the same time!
A layer of gooey dark chocolate cake hides thick and creamy chocolate pudding underneath. When I first learned about the extraordinary chocolate dessert, I knew that I needed to try it as soon as possible.
Who wouldn't fall in love with a recipe that is both cake and pudding, with no need to choose one over the other? Life is already filled with enough difficult decisions!
Try topping the cake with Coconut Milk Ice Cream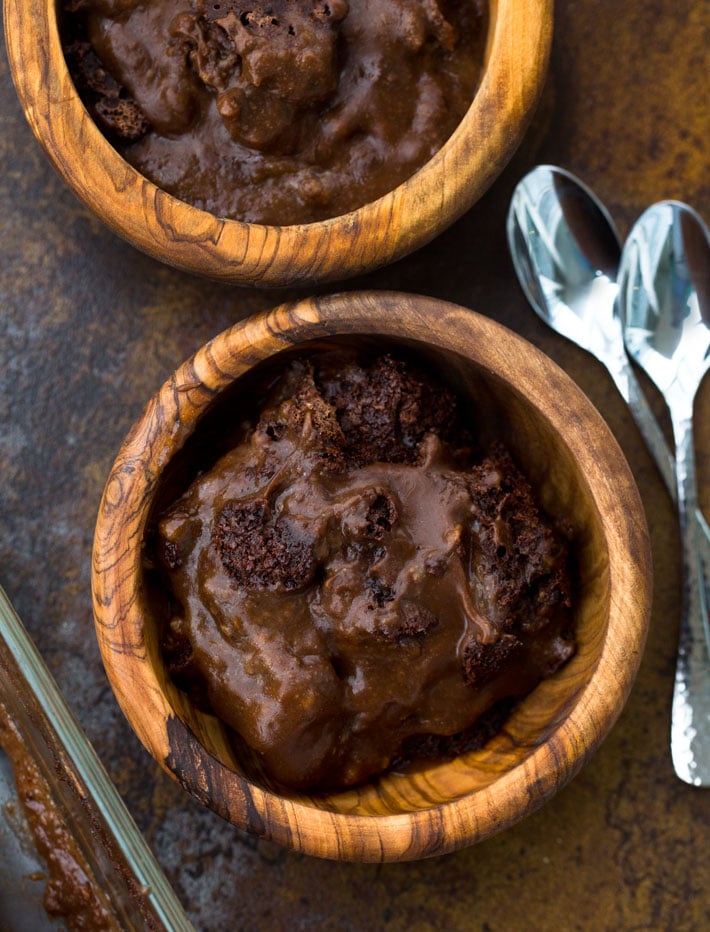 Chocolate Cake Ingredients
Having never made any sort of pudding cake before, I first looked to a chocolate pudding cake recipe in Taste of Home as a reference.
Never one to follow a recipe, I then changed it completely, cutting back on the sugar and adding extra cocoa powder, because more chocolate is always a good idea.
Adding pure vanilla extract heightens the recipe's flavor and sweetness.
I also made mine egg free and decreased the fat considerably. The original version called for butter, which can be substituted with vegetable or coconut oil, or peanut butter or almond butter if preferred.
To make a vegan pudding cake: To make this a plant based dessert, use your favorite nondairy milk for the liquid and vegan chocolate chips if you opt to add those. Just like with my Vegan Chocolate Cake, there are no eggs required for the pudding cake.
For a low carb or keto recipe: Try this reader favorite recipe for chocolate Keto Cake. Or if you want to experiment, I haven't tried the pudding cake recipe below with almond flour so be sure to report back with results if you do try it.
Gluten free pudding cake: The recipe works with all purpose gluten free flour. If you try any other gluten free or grain free flours – such as sorghum flour, coconut flour, or oat flour – with success, leave a comment below and I will update this post.
For sugar free pudding cake: Feel free to use granulated xylitol or erythritol instead of sugar, and use an unsweetened milk such as almondmilk. Omit the optional chocolate chips or use sugar free chocolate chips.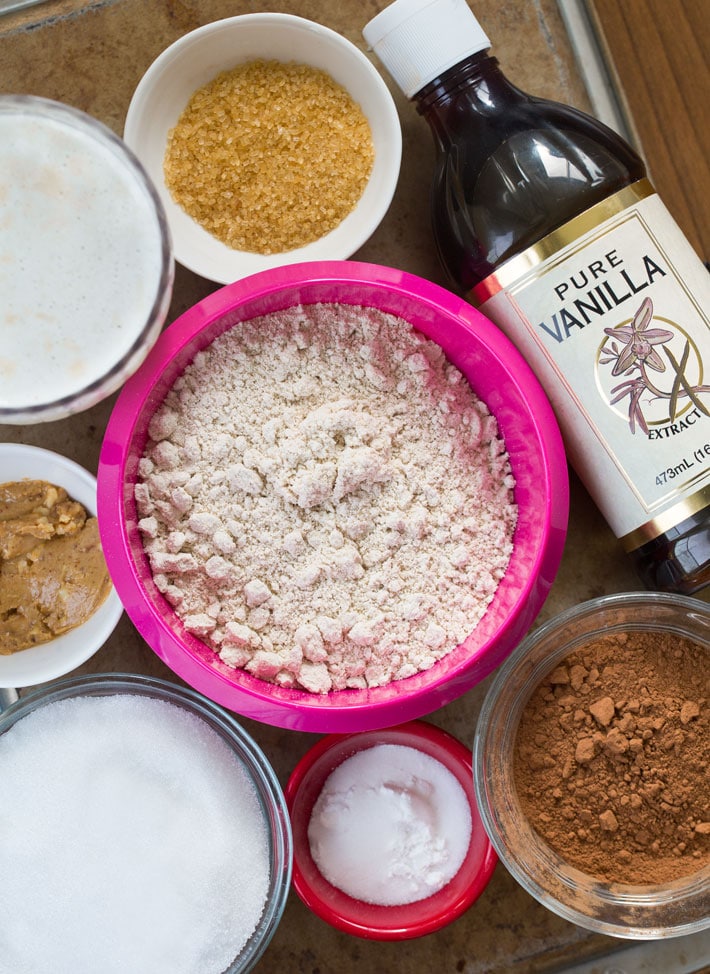 How to Make Pudding Cake for Dessert
To bake the chocolate pudding cake in an oven, first preheat the oven to 350 degrees Fahrenheit. Grease an 8-inch baking pan.
Stir together the flour, cocoa powder, baking powder, salt, granulated sugar, and optional instant coffee in a large mixing bowl.
Add in the milk, oil or nut butter, and pure vanilla extract. Stir until just evenly combined. (Over-mixing can cause baked goods to be overly chewy and tough.)
Pour the batter into the prepared pan.
Stir the remaining four tablespoons of brown sugar or sweetener into the boiling water. Then pour this water mixture on top of the cake batter in the baking pan, but do not stir it into the batter.
Place the pan in the middle rack of the oven, and bake for 35 minutes. It will look like a regular chocolate cake on top when you take it out.
If you reach your spoon into the chocolate cake, you will find a layer of rich chocolate pudding underneath!
Looking for a non chocolate recipe? Try this Applesauce Cake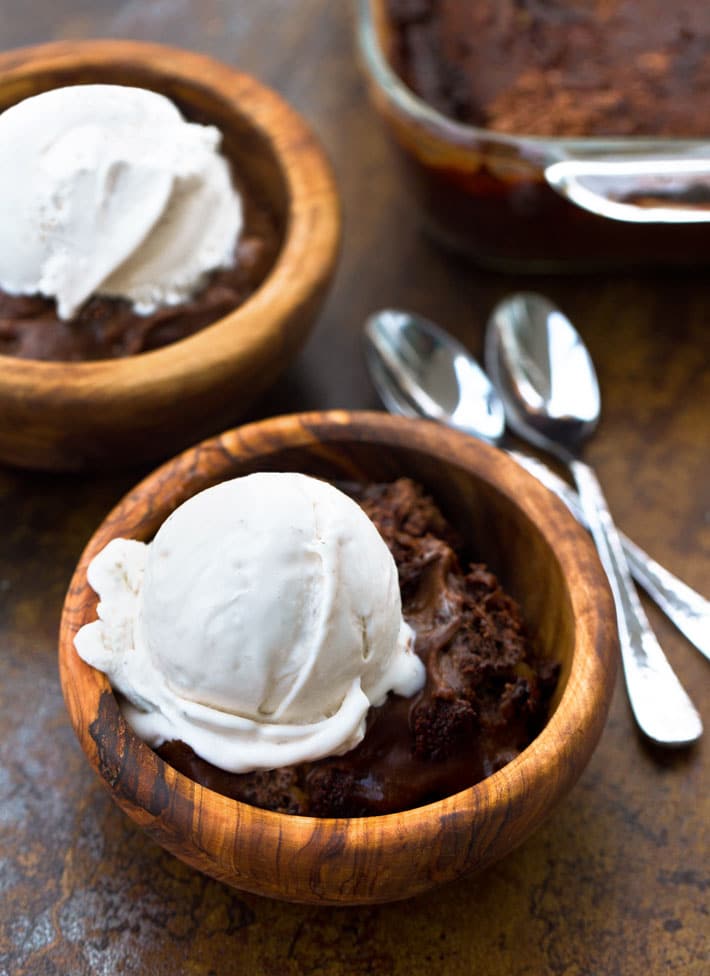 Chocolate Pudding Cake in a Crock Pot
Don't want to heat up the oven? No problem, just use a slow cooker or crock pot!
Start by greasing the bowl of your slow cooker. Set it aside. (Note: The recipe was tested in a 4-quart crockpot.)
Stir all of the ingredients except the four tablespoons additional sweetener and the boiling water in the machine, just until evenly combined. Do not over-mix.
Dissolve the brown sugar or sweetener in the water. Pour over the top of the batter in the crock pot, but do not stir at all.
Close the lid and cook on high for one and a half hours. Turn off the machine, and open the lid slightly. Let it sit another full hour with the lid opened just barely to let some of the steam escape. The cake and pudding will thicken during this time.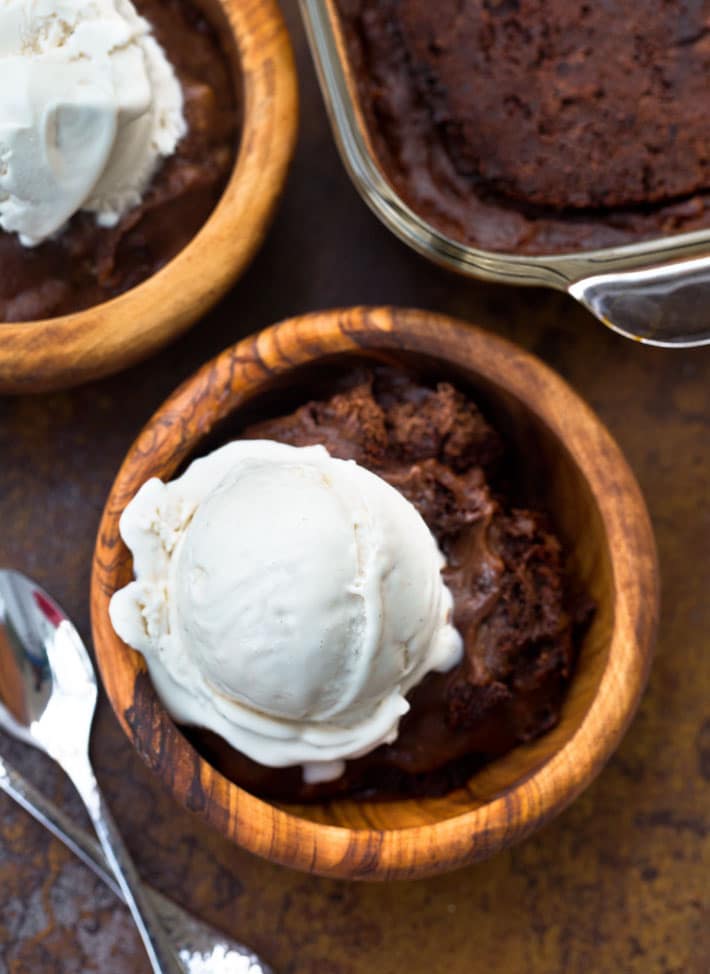 Baking and Storage Tips for Success
If you want to make changes to the recipe below, I highly recommend making it once according to directions and not omitting or cutting back on any ingredient. This way you'll know how the taste and texture are supposed to turn out and will have a baseline to compare the two versions.
For freshness, it's best to store leftovers in a covered container or covered crock pot in the refrigerator. It can be left out for a few hours if serving to guests.
The crock pot dessert will be more like pudding the first day, but if you let it cool completely and then refrigerate overnight, it gets much thicker and creamier by the following day.
Above, watch the chocolate pudding cake recipe video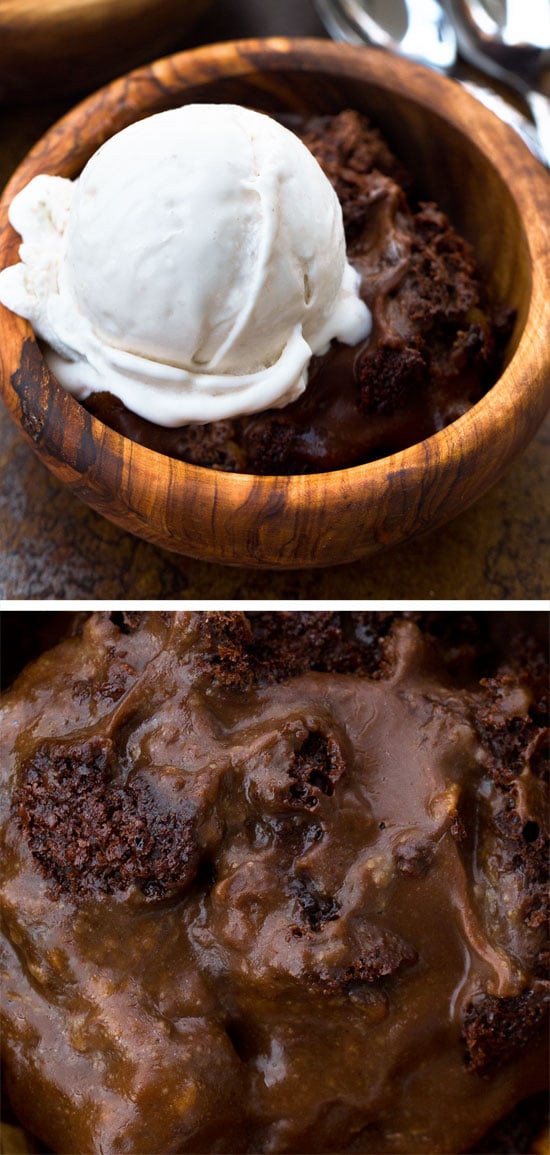 Chocolate Pudding Cake
This rich and gooey chocolate pudding cake recipe is the perfect dessert for chocolate lovers.
Ingredients
1

cup

spelt, white, oat, or gf all purpose flour

1/2

cup

cocoa powder

2

tsp

baking powder

1

tsp

salt

3/4

cup

granulated sweetener of choice

1

tsp

instant coffee powder,

optional

1 1/2

cups

milk of choice

1/4

cup

oil, butter, or nut butter

2 1/2

tsp

pure vanilla extract

2

cups

boiling water

1/4

cup

brown sugar or any granulated sweetener

1/2

cup

mini chocolate chips,

optional
Instructions
*If you prefer to make the recipe in a crock pot, see directions earlier in the post.

Pudding cake recipe: Preheat oven to 350 F. Grease an 8-inch baking pan. Stir all ingredients together except the water and 1/4 cup sweetener. Don't over-mix. Pour into the pan. Mix the 1/4 cup sweetener into the boiling water. Pour this over the batter in the pan, but do not stir it into the batter at all. Bake on the oven's center rack for 35 minutes. Let cool. The pudding layer underneath will get thicker as it sits. (I store leftovers in the fridge, and it thickens even more overnight.)

View Nutrition Facts
Easy Chocolate Desserts