An easy recipe for a batch of wholesome chocolate chip peanut butter muffins that can be completely oil free, dairy free, and vegan!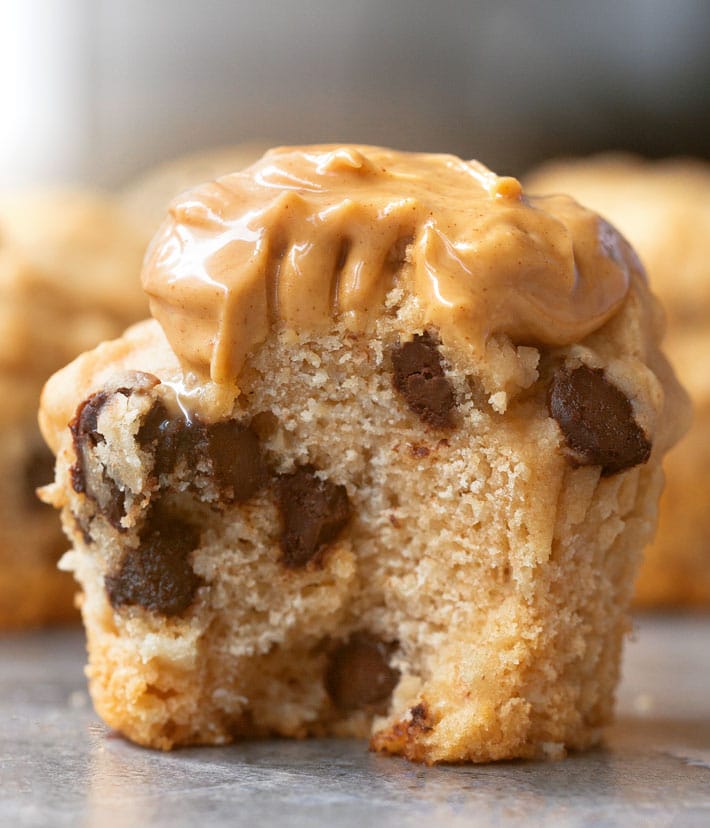 These delicious and secretly healthy peanut butter muffins are extra peanut buttery.
The best part? You probably already have every single one of the ingredients in your pantry needed to make them today!
The healthy muffin recipe is also great for meal prep. Whip up a batch on Sunday to eat throughout the week, or freeze leftover muffins to enjoy on a rainy day.
Trending now: Buffalo Cauliflower Wings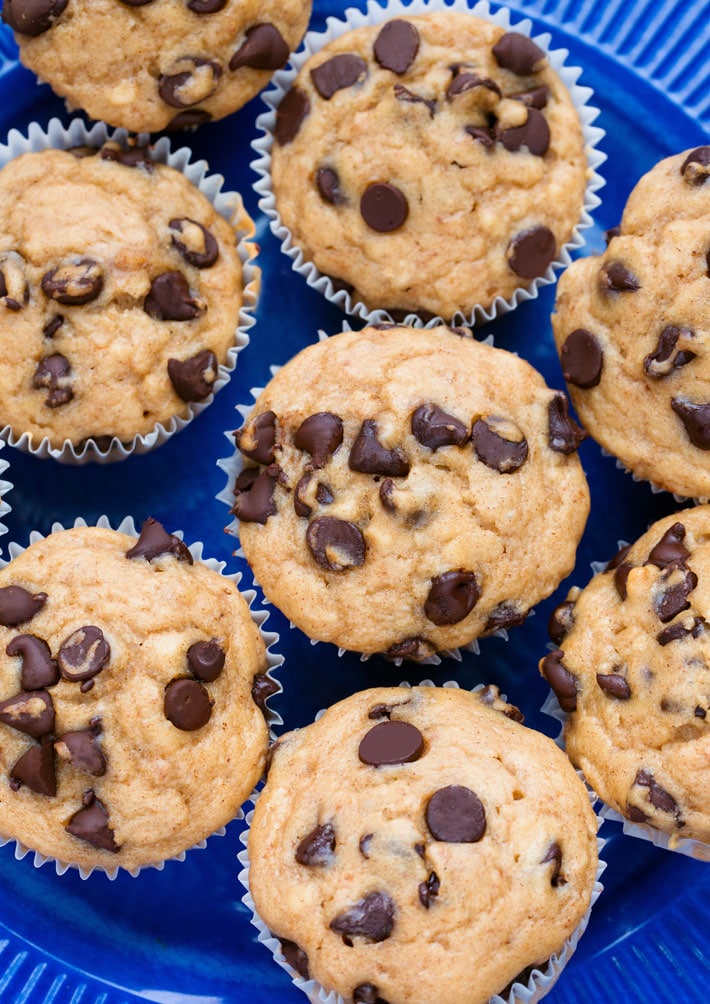 Chocolate Chip Peanut Butter Muffins
If you think you're not a breakfast person, just try to resist the charms of these delightfully fluffy peanut butter muffins.
The chocolate chips are optional, but I personally always add them.
Because, of course I do.
If you prefer, feel free to replace the chocolate with white chocolate chips, raisins or chopped dates, or even peanut butter chips. That last option is only for the most ardent of peanut butter lovers!
Also try these healthy Bran Muffins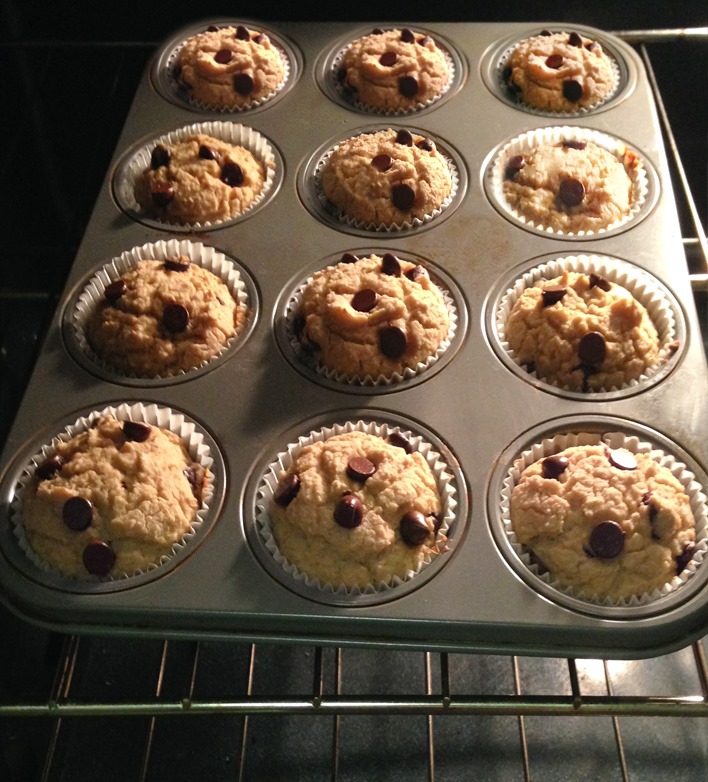 More Peanut Butter Recipes
Chocolate Chip Peanut Butter Bars
And then there's my personal favorite: Chocolate Peanut Butter Nice Cream.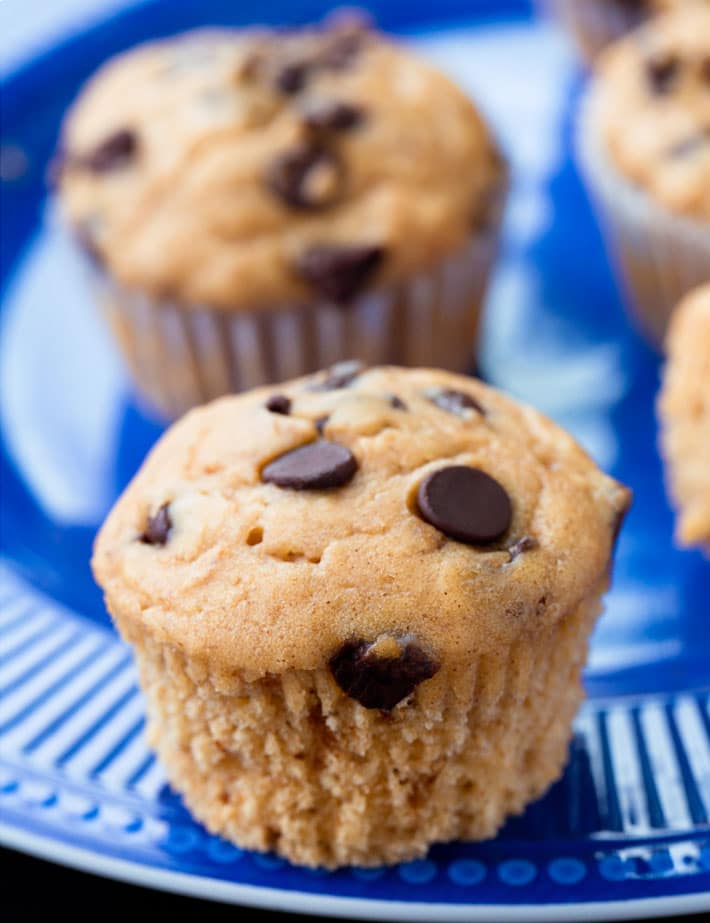 Peanut Butter Muffin Ingredients
Here's what you need to make the muffins: spelt, white, or oat flour, milk of choice, peanut butter, apple cider vinegar, pure vanilla extract, sweetener, baking powder, salt, and optional regular or mini chocolate chips.
The recipe is naturally egg free and can also be gluten free. For plant based and dairy free muffins, I use almond milk, soy milk, or coconut milk.
The muffins call for regular sugar or unrefined sugar. You can substitute xylitol or granulated erythritol for sugar free peanut butter muffins if you wish. I have not tried using a liquid sweetener such as honey or pure maple syrup, so be sure to report back if you experiment before I do.
Natural peanut butter or conventional (like Jif or Skippy) are both fine choices here and both yield a final product with a soft texture and rich flavor.
For peanut free or allergy free muffins, the recipe works with almond butter, cashew butter, regular butter (such as Melt vegan), or sunbutter too.
There's no banana required for these muffins. If you do want peanut butter muffins with banana, just use the following homemade Banana Muffins recipe instead of the banana free recipe below.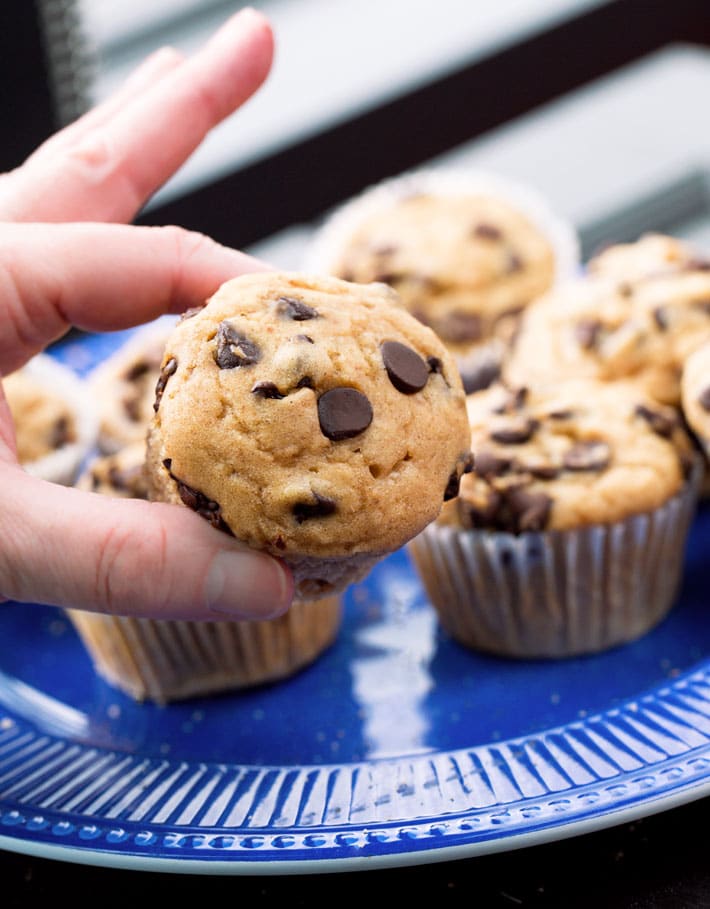 Baking & Storage Tips
If using natural peanut butter, or if your nut butter is not easily stir-able before beginning, gently heat it up in the microwave or on the stove until soft.
In the video, I added the peanut butter separately to show it going into the bowl. But it is easier to stir the nut butter into the liquid ingredients before adding to the dry.
If you can wait a day, I recommend very loosely covering the pastries once they are cool and letting them sit overnight. The taste and texture are better the next day, and the muffin liners will peel off much more easily.
Because some of the ingredients are perishable, it is best to store leftover muffins after a day or two in a covered container in the refrigerator for three or four days.
Or you can freeze leftovers for up to three months in an airtight container. I like to remove the paper liners before freezing, but it is not required. When ready to eat, simply reheat in the microwave or for a few minutes in a warm oven.
If you want muffins with no refined sugar, make these Flourless Blender Muffins.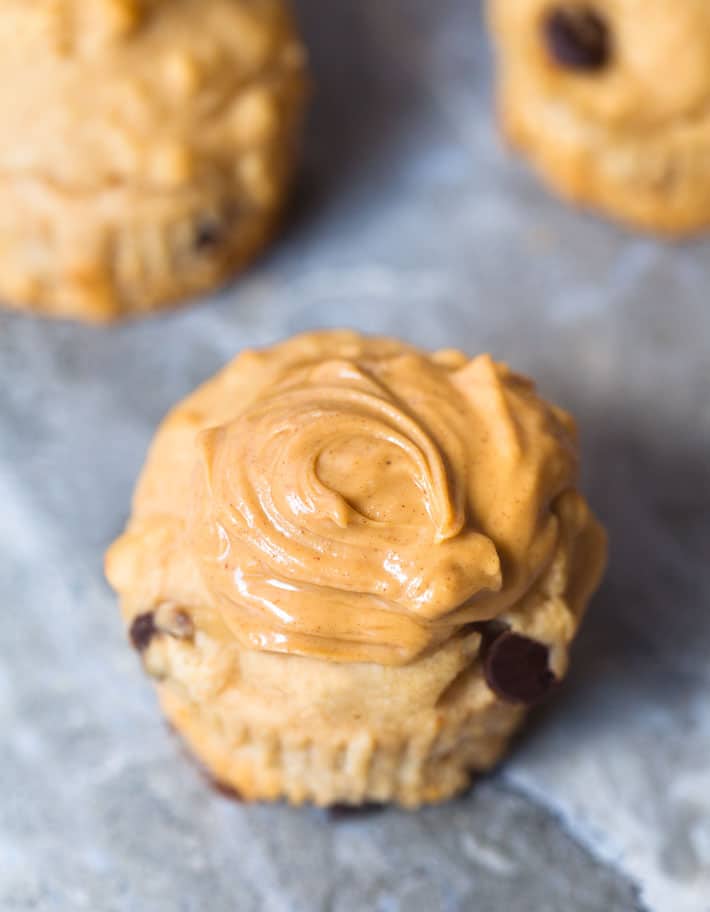 Muffin Calories & Nutrition Facts
If made with real sugar and full fat peanut butter, each regular sized muffin will have just 133 calories and 5 Weight Watchers points.
Low in saturated fat and cholesterol free, with protein, iron, and fiber, the muffins are great for a quick and easy snack or as part of a healthy breakfast.
For high protein muffins, you can even replace up to a third cup of the flour with your favorite protein powder or powdered peanut butter.
Full nutrition facts for the peanut butter muffins are included in the recipe box below.
Above – watch the video of how to make peanut butter chocolate chip muffins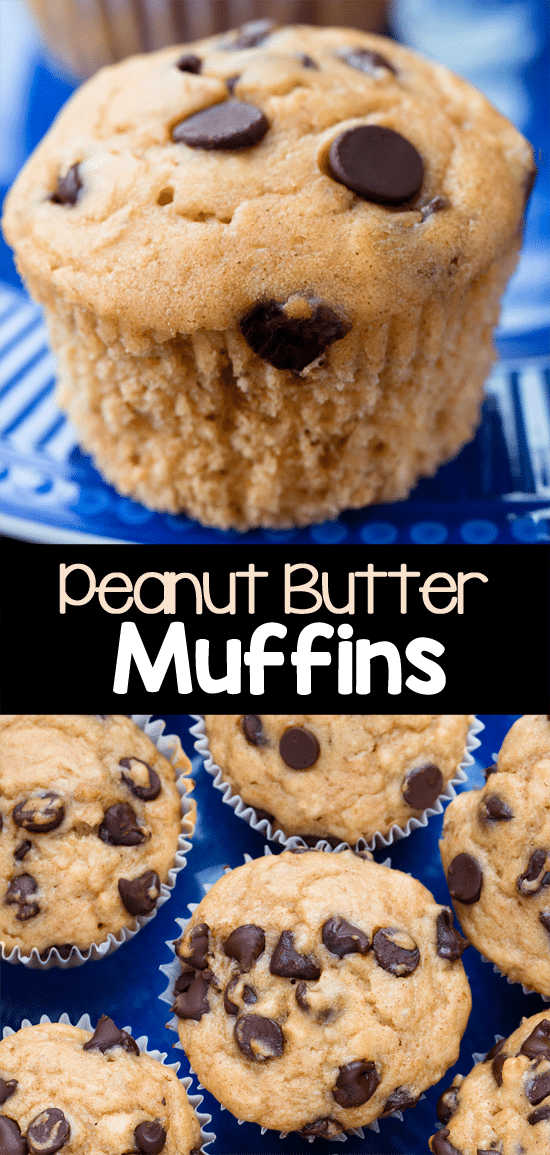 Peanut Butter Muffins
These soft and delicious homemade peanut butter muffins are great for a healthy snack.
Ingredients
1 1/2

cups

spelt, white, or oat flour

(for flourless, try these Keto Muffins)

3/4

cup

milk of choice

1/4

cup

peanut butter

(allergy-friendly substitutions are listed above)

3

tbsp

oil or additional milk of choice

(or 4 tbsp additional peanut butter)

1

tbsp

white or cider vinegar

1 1/2

tsp

pure vanilla extract

1/2

cup

sugar (or xylitol for sugar free)

1

tbsp

baking powder

3/4

tsp

salt

optional handful chocolate chips, chopped peanuts, etc.
Instructions
Preheat the oven to 350 F. If not already easily stir-able, gently heat nut butter. Combine all ingredients to form a batter, smooth into lined muffin tins, and bake on the center rack for 20 minutes. Let cool completely. If you can wait, very loosely cover and let them sit, because the muffins taste even better the next day and liners also peel off easily after a day.

View Nutrition Facts
More Easy Muffin Recipes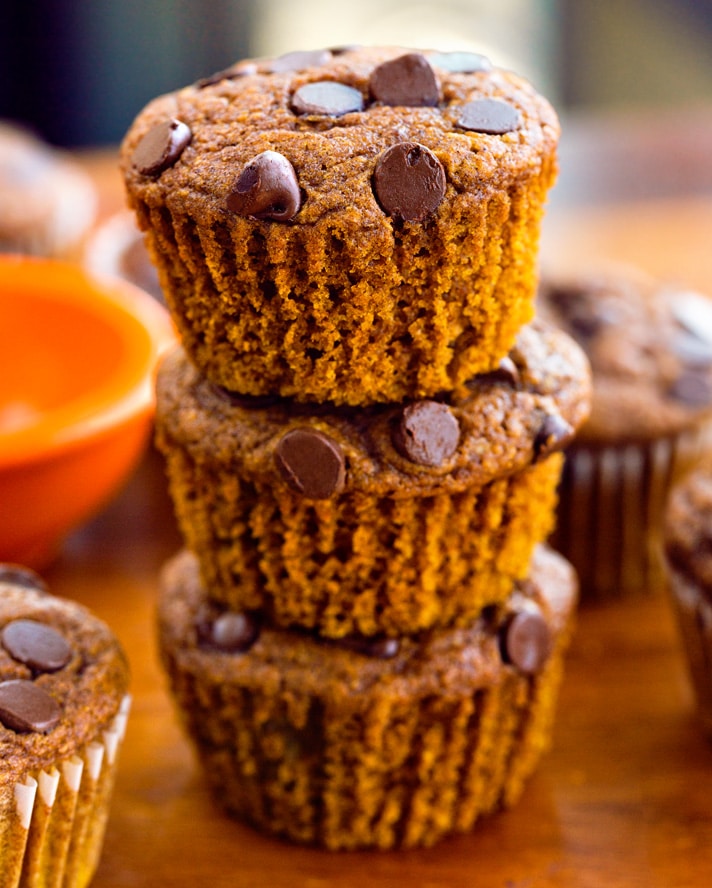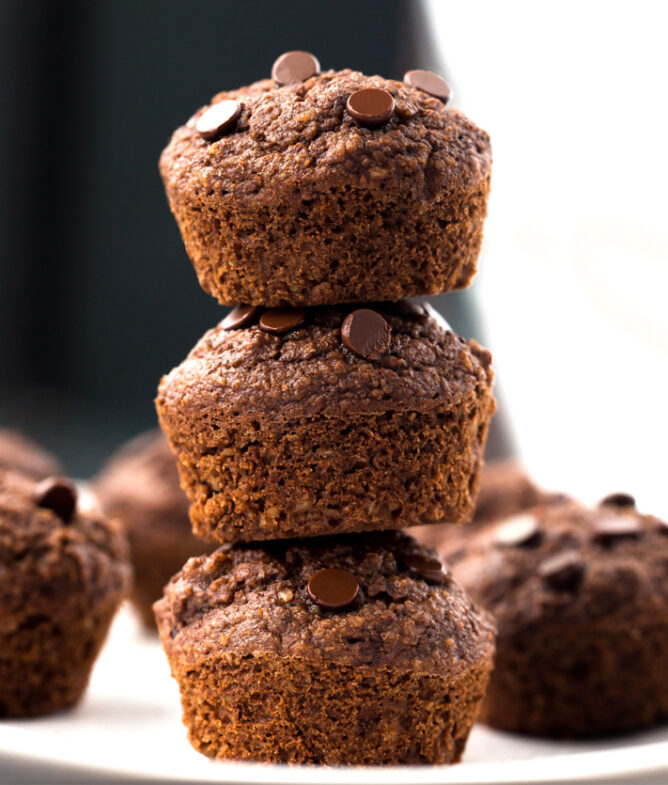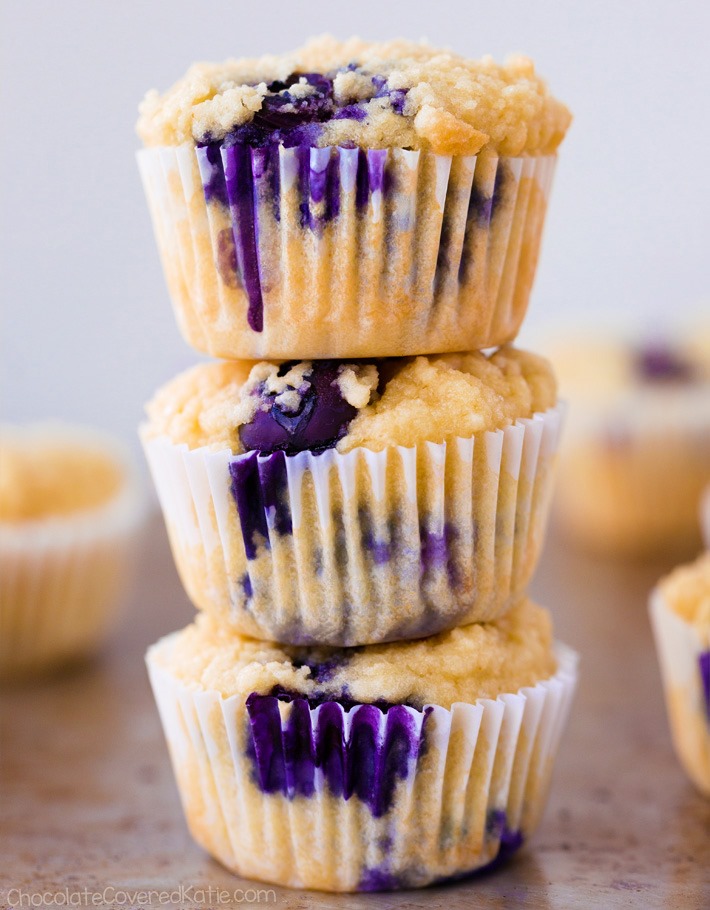 Or these Healthy Blueberry Muffins