Go read the title of this post again.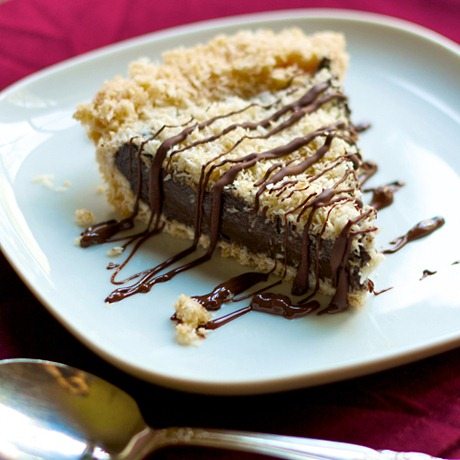 It's worth reading twice.
And if you're like me, you need to read it twice for the words to register: Samoas Girl Scout Cookie Pie.

Earlier this week, when I posted my Healthy Girl Scout Cookies – Peanut Butter Tagalongs, I hinted at having also made homemade Samoas and Thin Mints.
My Samoas recipe still needs some work, but I didn't want to leave you Samoa-less this week… so I sought help!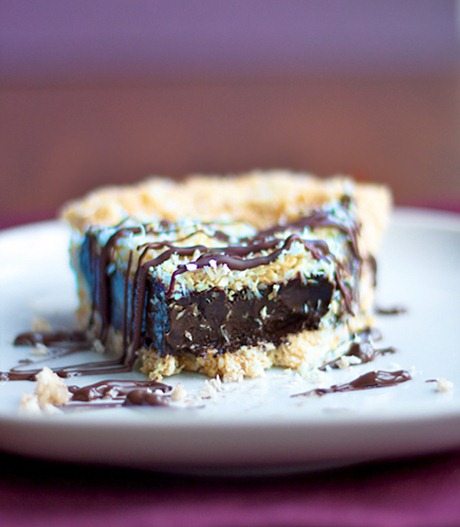 Enter Regan Jones, RD of The Professional Palate and Healthy Aperture. This lovely chocolate pie that you see is her creation, so if you enjoy the recipe, be sure to visit her site for more beautiful photos and recipes (many of which are vegan). I'm honored to have Regan as a guest on the blog today:
One of my first jobs after becoming a registered dietitian was as an Assistant Food Editor at Cooking Light Magazine. To say I considered myself lucky at the time would be a gross understatement. I've loved cooking since I was a little girl, and as a college student, I found that I loved nutrition & healthy eating even more. Being able to work at one of the country's largest magazines – devoted to healthy cooking – was a dream come true.

So when I sat in one of my first editorial planning meetings and suggested a story on healthy desserts that used "unfamiliar" ingredients (think tofu in custard, avocado as ice cream) and found myself on the receiving end of quite a few disapproving looks, I felt a little like my dreams had been shattered. Seriously… my Executive Editor looked at me as if I had 3 heads. I just "knew" that innovative desserts would be well received. At the time, my team wasn't so sure.
Fast forward to 2013 and the blog you're currently reading.
Chocolate Covered Katie is one of THE most popular blogs on the block – and for good reason. Katie's innovative way to make seemingly indulgent desserts out of healthy ingredients makes millions of people – including me – drool at our computer screens daily.
It's been years since I sat in an editorial planning meeting at a magazine. My planning meetings now consistent of myself, my Mac and a good cup of coffee, enjoyed in my kitchen in the early hours of the morning. It's in that kitchen that this was born…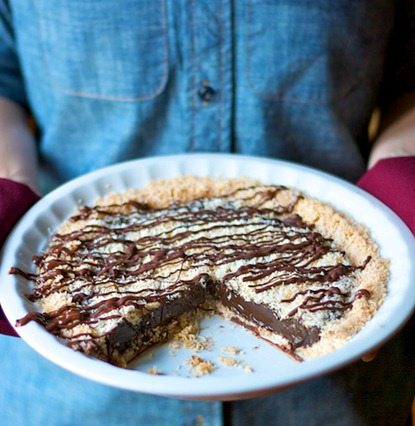 …and where I first received an email from Katie to share this guest post with you today. Having followed her blog and been a fan for years, I think I probably had that same look of surprise on my email as my Editor did all those many years ago. I'm honored that she asked and equally as thrilled to be able to share the recipe with you.
I sincerely hope you enjoy this chocolate pie!
Have you ever tried avocado in a dessert recipe?
Avocado key lime pie? Avocado Chocolate Mousse? Avocado shamrock shakes? Avocado chocolate pies? If you still haven't tried this heart-healthy fruit in a sweet recipe, Regan's chocolate avocado Girl Scout Cookie Pie might be the perfect opportunity!


Samoas Girl Scout Cookie Pie
2 cups unsweetened coconut
4 tablespoons coconut oil, melted
1/2 cup white whole wheat flour (for gluten-free, use coconut flour)
1 tablespoon honey (K note: strict vegans can use agave)
flesh from 2 ripe avocados
4 – 5 tablespoons honey, to taste (K note: strict vegans can use agave)
1/4 cup dark cocoa powder
1 tablespoon Kahlua or strong brewed coffee
2 tablespoons coconut milk
pinch of Kosher salt
Garnish: melted chocolate chips
Toast coconut in a large skillet over medium heat 5 minutes or until golden; reserve 1/2 cup and set aside.  Combine 1 1/2 cups toasted coconut, melted coconut oil, flour and 1 tablespoon honey in a large bowl; press into and up sides of pie plate. Set aside.  Add avocado, remaining honey, cocoa, Kahlua, coconut milk and salt to bowl of a food processor. Process until completely smooth. Spoon into pie shell and sprinkle with reserved toasted coconut. Freeze at least 4 hours or until firm. Just before serving, drizzle with melted chocolate.
Link of the Day: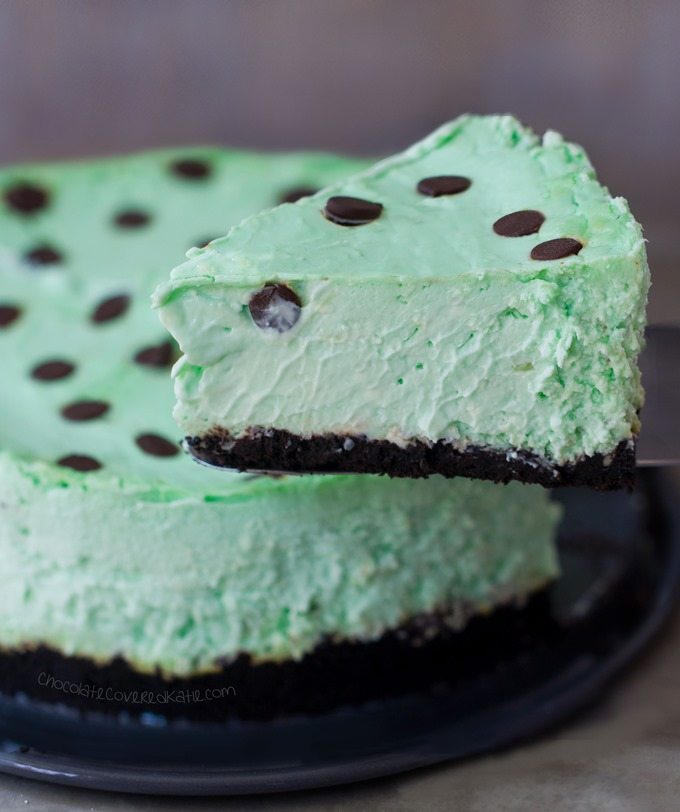 Thin Mint Girl Scout Cookie Cheesecake