This luxuriously creamy vegan Alfredo recipe is soy-free, nut-free, egg-free, & dairy-free!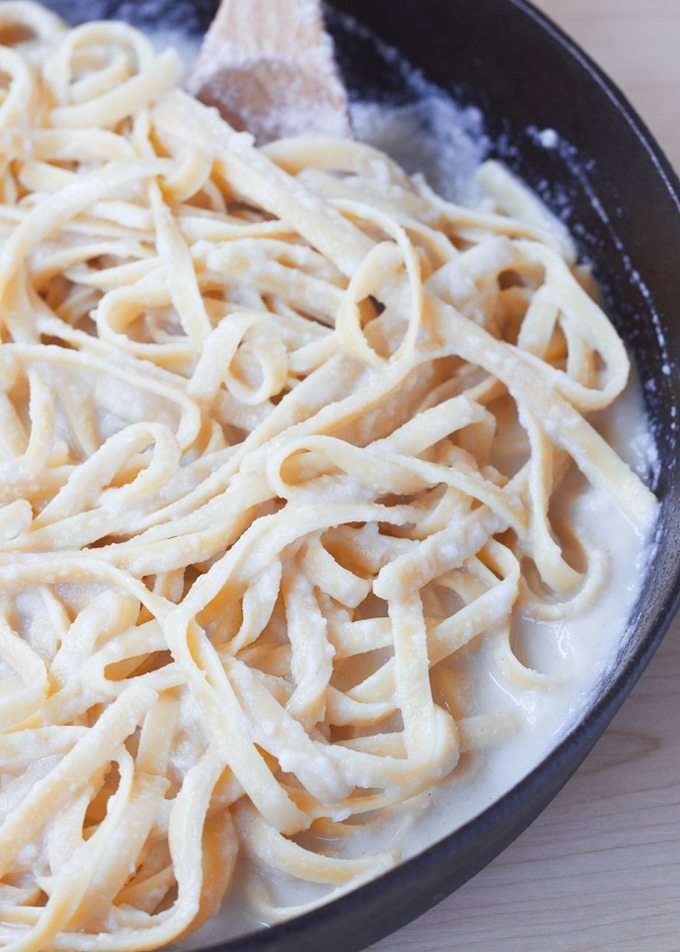 You definitely don't need to be a vegan to enjoy this lightened-up alfredo sauce.
It's shockingly rich and creamy, without any heavy cream in the recipe. While most vegan Alfredo recipes call for either cashews or tofu to replace heavy cream, this sauce can also be made without either ingredient. Instead, it gets its creaminess from the media's favorite vegetable of the moment: cauliflower!
If you haven't tried thickening a sauce with the versatile cauliflower, I can't recommend it highly enough. It lends a delicious creaminess without all the extra fat and calories, and it sneaks in a healthy vegetable serving you won't even know you're eating!
If you're not a vegan and are wondering about how it might taste, I can tell you I've served this recipe—and my even easier  Cauliflower Alfredo Sauce recipe—to many non-vegans, always with positive reviews and requests for the recipe.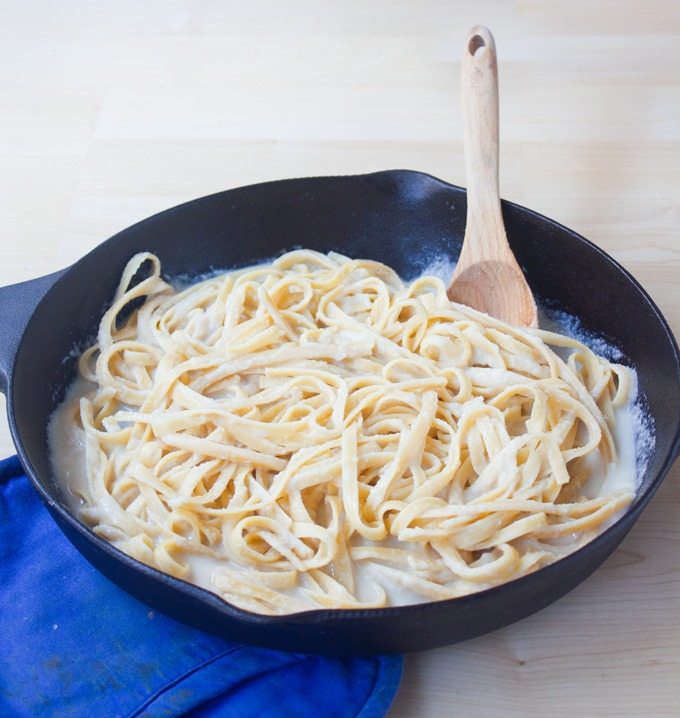 This healthy alfredo recipe is deceptively easy to make, and the entire thing can come together in under 20 minutes, making it an excellent weeknight meal.
I wanted something a little fancier than my regular cauliflower pasta sauce recipe this time, and we turned the meal even fancier by finding a quiet park in which to eat alfresco. I served the meal with a simple strawberry salad. And thankfully I remembered to bring silverware, because forgetting things is my specialty.
I love how the sun stays out so late in the summer months. You'd never guess that this photo was taken at 7 in the evening:
Side note: To everyone who's been asking about how I curled my hair in the picture, it was incredibly easy to do. I used the NuMe Curling Wand, which conditions hair while it curls by disbursing negative ions through the barrel, resulting in super shiny hair with less damage than you'd get from a regular curling iron.
If you've been reading this blog for a while, you know I almost never promote products that aren't food-related; I love this curling wand so much and have been asked so many times about how I curl my hair that I wanted to make an exception. My sister originally turned me on to the idea last year, and I never looked back.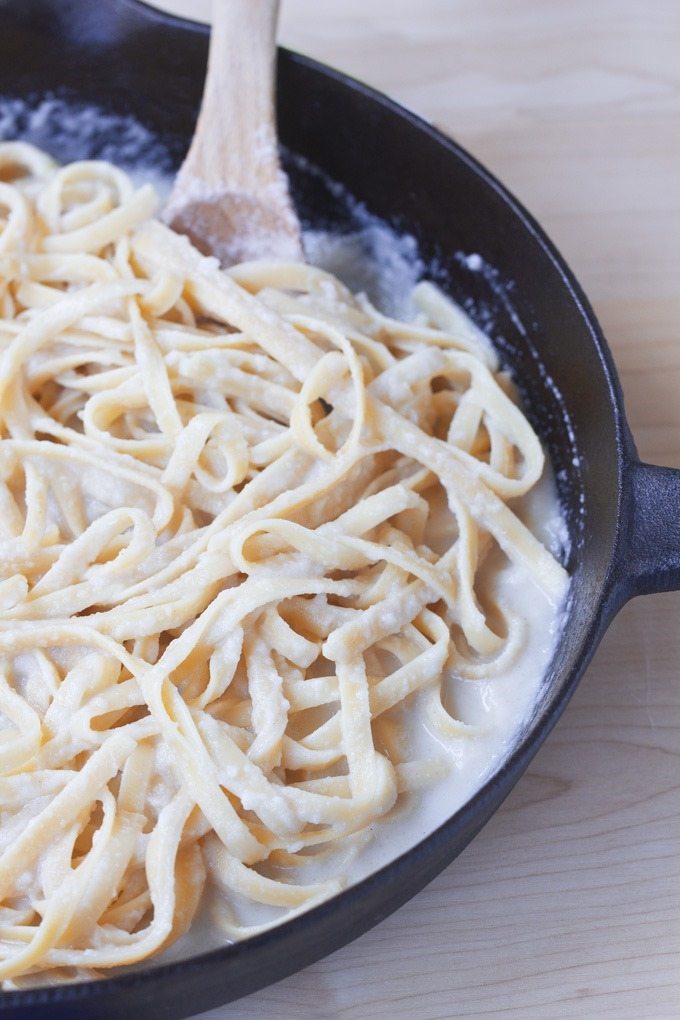 To make the recipe:
Start by sautéing a shallot until it begins to brown. Add all sauce ingredients to a medium pot, and bring it to a boil. Cover the pot and cook it on a low flame for 15 minutes, then pour it over pasta or spaghetti squash or even roasted vegetables if you'd prefer.
It also makes a delicious soup, and the cauliflower is so mild that anyone who doesn't already know it's in there will never be able to guess!


Vegan Alfredo
Vegan Alfredo – Ready In 20 Minutes!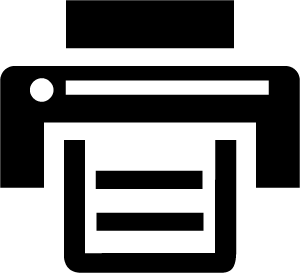 Print This Recipe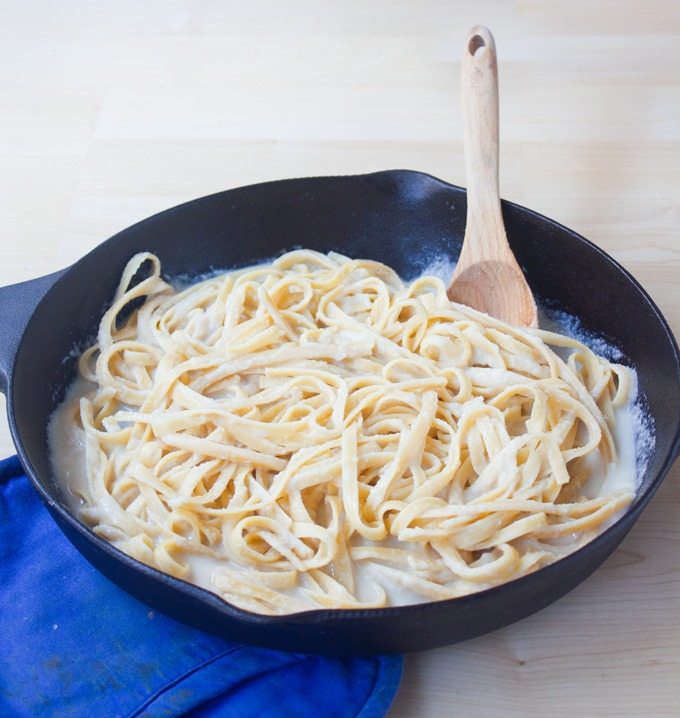 Ingredients
1 shallot, diced
1 3/4 cups raw cauliflower florets (190g)
2 tsp garlic, or 1/4 tsp garlic powder
1/2 tsp salt
2 tbsp buttery spread (or sub 2 tbsp olive oil and add a little extra salt if needed)
1 cup milk of choice
1/4 - 1/2 cup nutritional yeast or Parmesan (such as vegan Parma)
1/2 lb uncooked fettuccine, or noodles of choice (8 oz)
Instructions
Sauté the shallot and half of the buttery spread in a medium pot until shallot begins to brown. Add all remaining ingredients (except pasta), and bring to a boil. Cover and turn to low. Cook 15 minutes or until cauliflower is fall-apart soft. Meanwhile, cook pasta according to package directions in salted water. Drain, but do not rinse. When cauliflower is soft, pulverize completely with an immersion or regular blender. Pour over pasta and stir well.
Link Of The Day: