These super quick and easy vegan peanut butter cups will give Reese's a run for their money!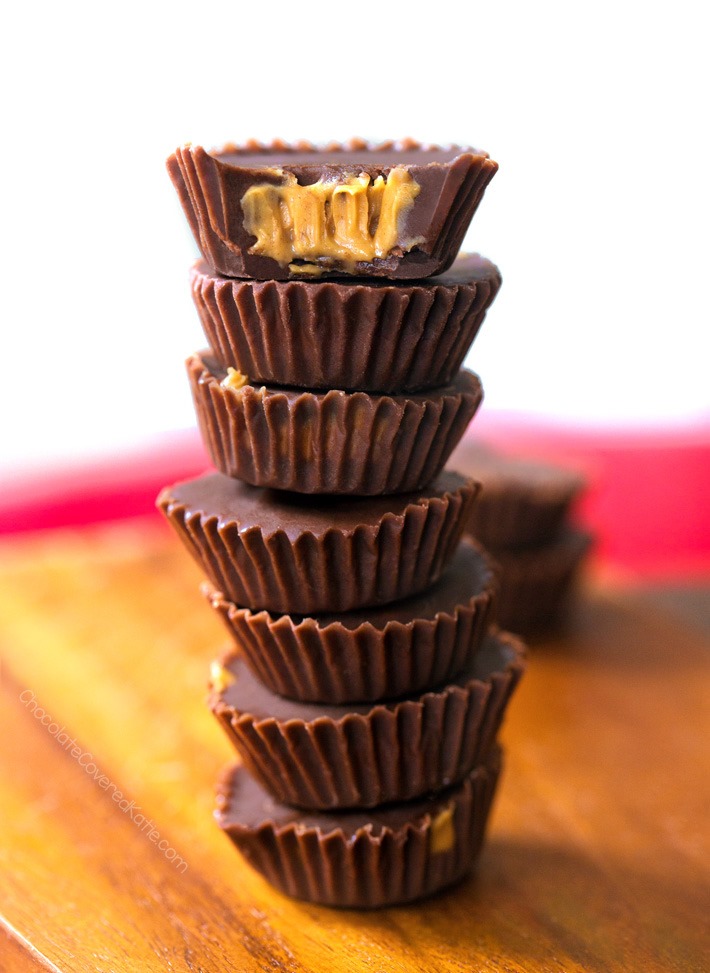 5 Ingredient Peanut Butter Cups
I've had a Reeses Peanut Butter Cup obsession for as long as I can remember.
They were my movie-theater snack of choice, my favorite lunchbox addition, and every year on Halloween when my sister and I would get back from trick-or-treating, we'd go through our candy and trade all of her peanut butter cups for my Sour Patch Kids, Starbursts, Nerds, Skittles, and other offending items that have absolutely no place in a true chocoholic's stash of Halloween candy.
150 Healthy Peanut Butter Recipes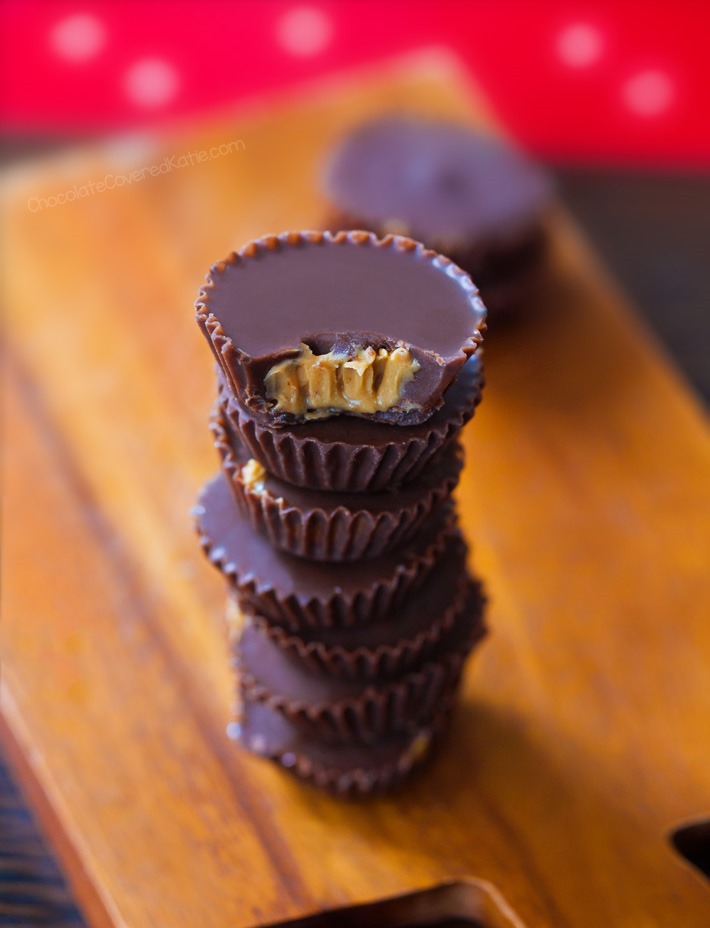 These Peanut Butter Cups Can Be:
Egg Free
Dairy Free
Keto
Vegan
Paleo
Soy Free
Sugar Free
Gluten Free
Also if you stack them really high, you can play Peanut Butter Jenga.
And if you're wondering what Peanut Butter Jenga is… well, it's like regular Jenga, except you eat the pieces instead of putting them back 😉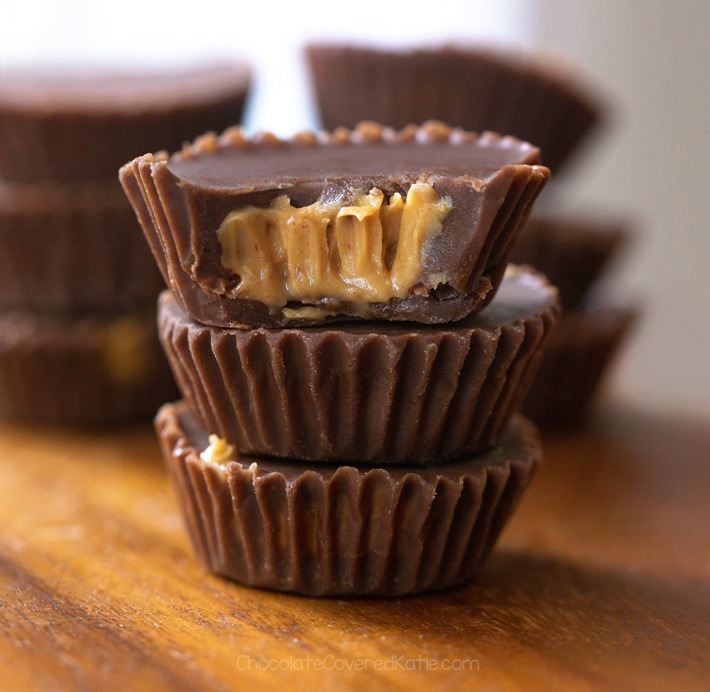 Peanut Butter Cup Filling Ideas
Mashed Banana
Almond Butter
Strawberry Jam
Mashed Blueberries
So if you need a nut free option, or are not a fan of peanut butter or simply want to try something different, you still have so many possibilities for the filling! What would be your dream peanut butter cup flavor… Can you think of any flavors I've left out?


Vegan Peanut Butter Cups
Adapted from Ice Cube Tray Peanut Butter Cups
Vegan Peanut Butter Cups
Yield:
10-15 peanut butter cups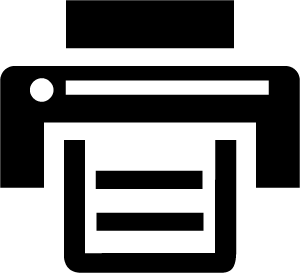 Print This Recipe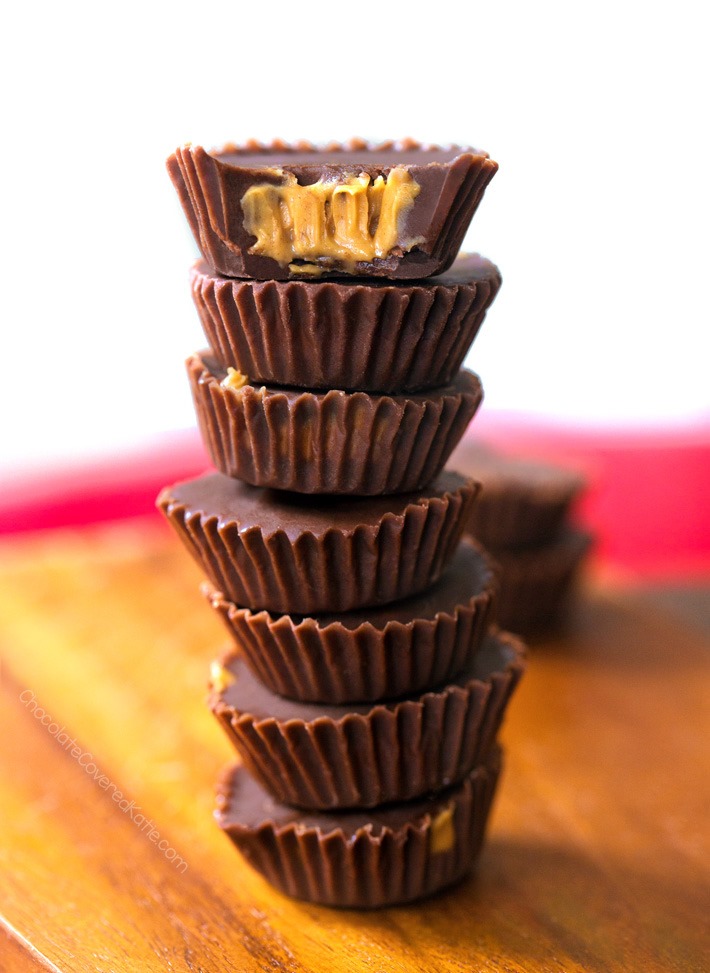 Ingredients
1/4 cup peanut butter, or allergy-friendly sub
optional 1 1/2 tbsp sweetener of choice
optional 1/8 tsp salt
optional rice crispies, cacao nibs, chia seeds, etc.
chocolate coating recipe below
Instructions
*For the chocolate, you can either melt 1/2 cup chocolate chips (with recommended-but-optional 2 tsp vegetable or coconut oil for a smoother sauce), OR stir together 1/4 cup cacao or cocoa powder, 2 tbsp melted coconut oil or cacao butter, and 1/4 cup pure maple syrup or agave to form a thin sauce.
For the recipe: Stir peanut butter together with all optional ingredients. (I included the optional sweetener in there because most peanut butter cup recipes do include a sweetener in the filling. But if you're used to healthy desserts that aren't super-sweet, it's also fine to omit.) Spread about 1 tsp chocolate sauce up the sides of either mini cupcake liners or candy molds. Freeze. Add about a tsp of the peanut butter (or one of the alternative fillings listed earlier in this post). Cover with another tsp more chocolate. Freeze to set. If using the chocolate chip option, these don't need refrigeration; the coconut-oil version should stay chilled.
Popular Recipes This Week: