With just 6 ingredients, this easy vegan rugelach recipe is a classic holiday favorite.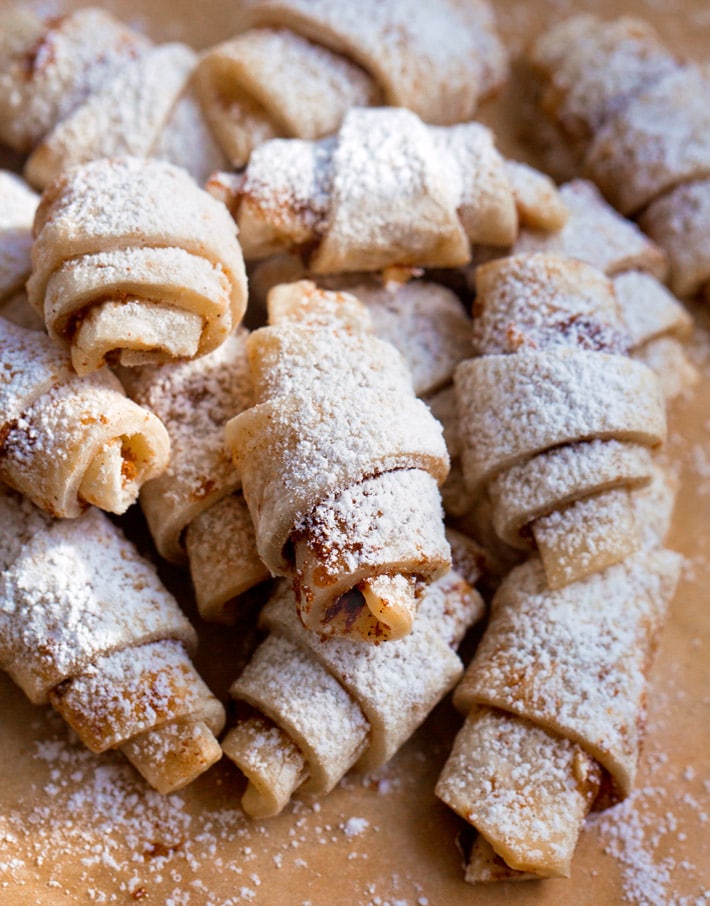 All of your guests will be asking you for the recipe!
The super popular crescent shaped treats may look fancy, but they're surprisingly so much easier to prepare than you might think.
Delicious flaky pastry crust is rolled around a sweet cinnamon filling then baked until the vegan rugelach are buttery and golden. It's everything you could possibly wish for in a vegan holiday cookie recipe.
I like to make a double batch, because these babies go quickly.
Trending now: Vegan Chocolate Mousse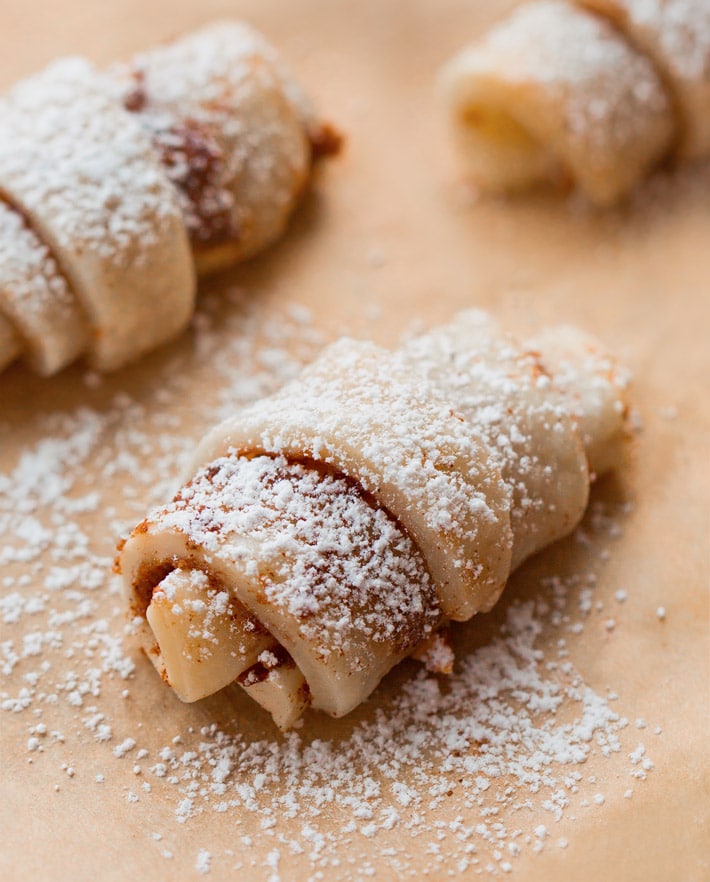 What is rugelach?
Pronounced ruhg-uh-luhkh, they are small pastries in the shape of crescents.
Rugelach are traditionally filled with ingredients such as cinnamon, walnuts, brown sugar, poppy seeds, apricot jam or other fruit preserves.
The dough is rolled out into a circle and sprinkled with filling ingredients before being cut into thin triangles and rolled up into a horn or croissant shape.
Origins of the cookie can be traced back to the Jewish communities of Poland, and they are also a popular recipe for Hanukkah.
As a child, I grew up knowing them as a Christmas cookie my Polish grandmother would bake for us every year. So rugelach will always remind me of her.
While some versions call for sour cream and eggs or yeast, my grandmother made her classic rugelach with cream cheese and butter.
After going vegan, I adapted her recipe to make a dairy free cookie, and you honestly cannot tell the difference at all!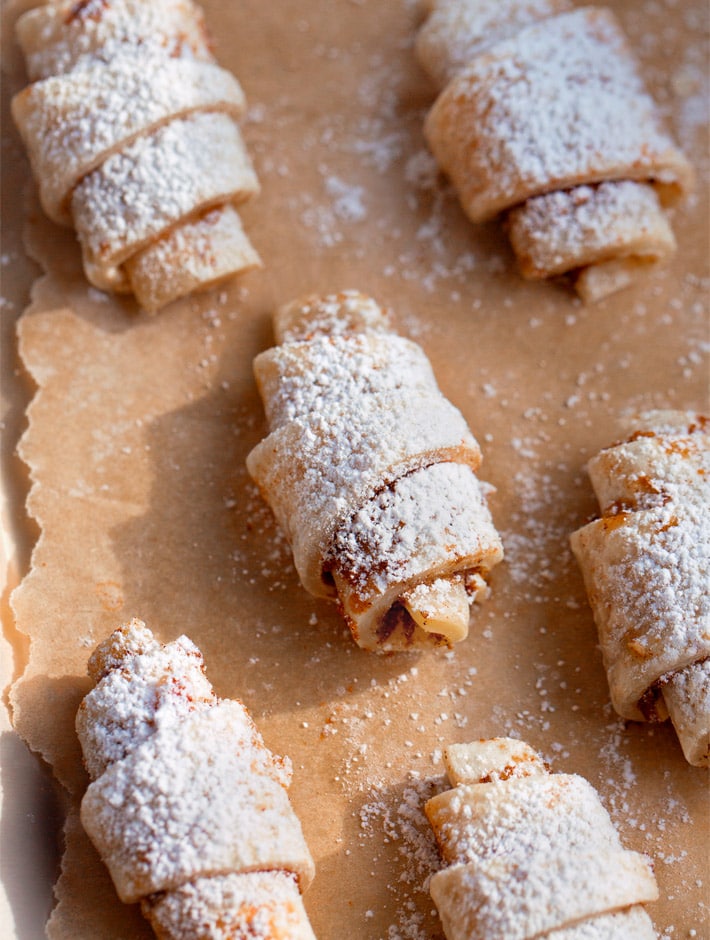 What do you fill them with?
Cinnamon Sugar Filling: Sprinkle 3 tablespoons of sweetener (brown, white, coconut, or granulated erythritol all work), 1 teaspoon of cinnamon, and an optional handful of very finely crushed pecans or walnuts onto the rolled-out dough.
Fruit Filling: Instead of the cinnamon filling, spread 1/4 cup apricot jam on top of the rolled-out dough, and sprinkle on a handful of nuts if desired. Or use other flavors of jelly, such as raspberry, grape, or strawberry.
Chocolate Rugelach: Spread melted chocolate chips or 1/4 cup of your favorite chocolate spread or this Nutella recipe onto the dough. This one isn't exactly traditional… it's the Chocolate Covered Katie version!
Savory Rugelach: As a fun twist (no pun intended), try serving these pastries as an appetizer instead of dessert. Fill them with savory ingredients like homemade pesto, grated vegan cheddar cheese or mozzarella, finely chopped sundried tomatoes, minced garlic and herbs, onion jam, spinach and vegan feta, etc.
Other Filling Options: add peanut butter and jelly, apple butter or pumpkin pie spice, chopped raisins, fig spread or date paste, marzipan and crushed almonds, or whatever else your heart desires to your dairy free rugelach.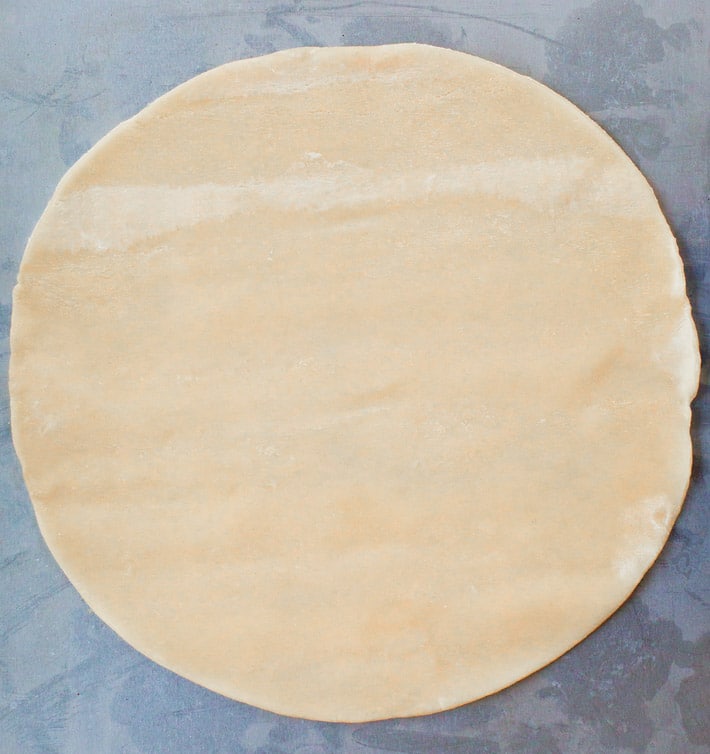 Vegan rugelach ingredients
The recipe calls for just five or six basic ingredients. My vegan version is similar to traditional cream cheese rugelach, just substituting plant based options for the usual cream cheese and butter.
Especially with dairy free brands, taste and texture can vary greatly depending on the brand. I've had good results with Miyokos, Earth Balance, Tofutti cream cheese, Country Crock, and Melt butter sticks.
Most vegan butter options are salted, so you might want to add a pinch of salt to the dough if using unsalted vegan butter.
I've tried the recipe successfully with spelt or all purpose flour, as well as Bob's all purpose gluten free flours. While other flours might work, I can't recommend them because I haven't tried.
Easy pie dough option
As an alternative to the cookie dough below, you can use the dough of a 9-inch pie crust for the base instead of the flour, cream cheese, and butter.
This quick rugelach with pie crust also lets you skip the stand mixer and rolling out the dough. The resulting pastries are a bit crispier than the softer cream cheese version.
How to make vegan rugelach
If you have an electric stand mixer or a hand mixer, cream the butter and cream cheese together until smooth (about 2-3 minutes).
Or if you don't have a mixer, the dough can technically be combined in a mixing bowl using a lot of arm strength, patience, and a pastry cutter or a fork. Another option is to use the pie dough base above, which does not require a mixer.
Blend in the flour to achieve a cookie dough texture, then place the dough in plastic wrap or a large bag. Form it into a ball.
If time permits, refrigerate the dough for a few hours or overnight to chill. This will yield a softer cookie. Or freeze the dough to defrost and use at a later date.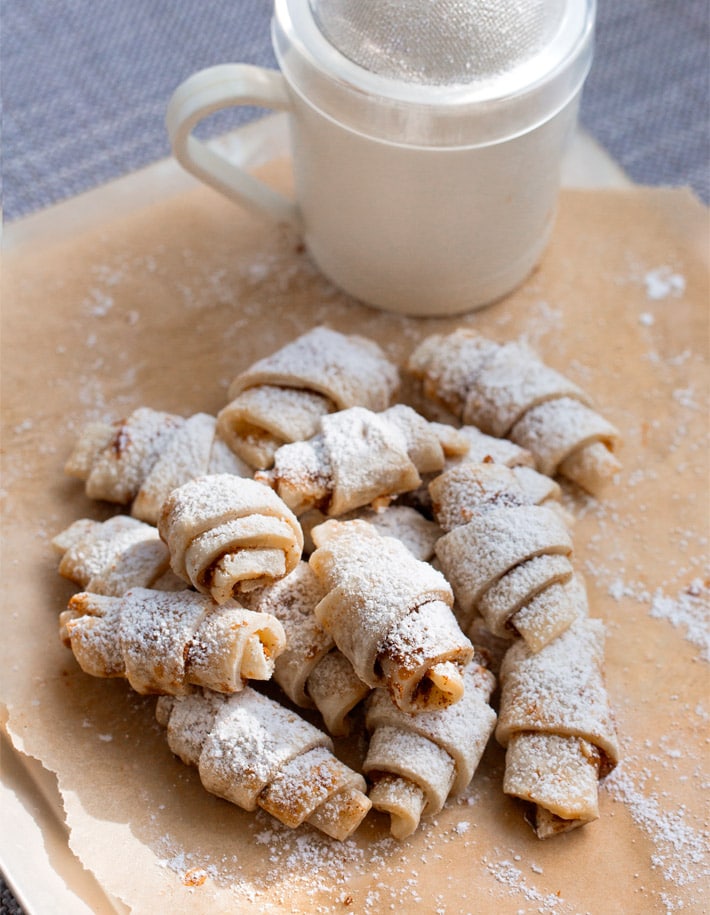 Baking the cookies
Preheat your oven to 350 degrees Fahrenheit, and line a baking sheet with parchment paper. Divide the ball into two smaller balls, and return one of them to the fridge.
Roll the second ball out on a floured surface until it turns into a 9-inch circle. Mix together your fillings of choice.
Sprinkle or spread the filling ingredients evenly over the circle, going all the way to the edges. Press gently to adhere any loose fillings (finely crushed nuts or chopped dried fruit, sugar, etc.) into the dough.
Use a knife or pizza cutter to slice the circle into each of 16 equal pie shaped pieces. Going from the wider outside edge, roll each slice up tightly. Place the filled crescents on the prepared baking sheet.
I like to brush each cookie with a little nondairy milk. This acts like a vegan egg wash and gives the finished cookies more of a shiny appearance. This is not required and the cookies will still taste just as good without it.
Bake on the oven's center rack for 15-20 minutes or until lightly golden. Time can vary based on how gooey specific fillings are or specific brands of ingredients.
Let the rugelach cool, then cover in powdered sugar if desired, or drizzle some melted chocolate over top.
Once cool, store leftovers in an airtight container or refrigerate. The cookies can also be frozen for a month or two.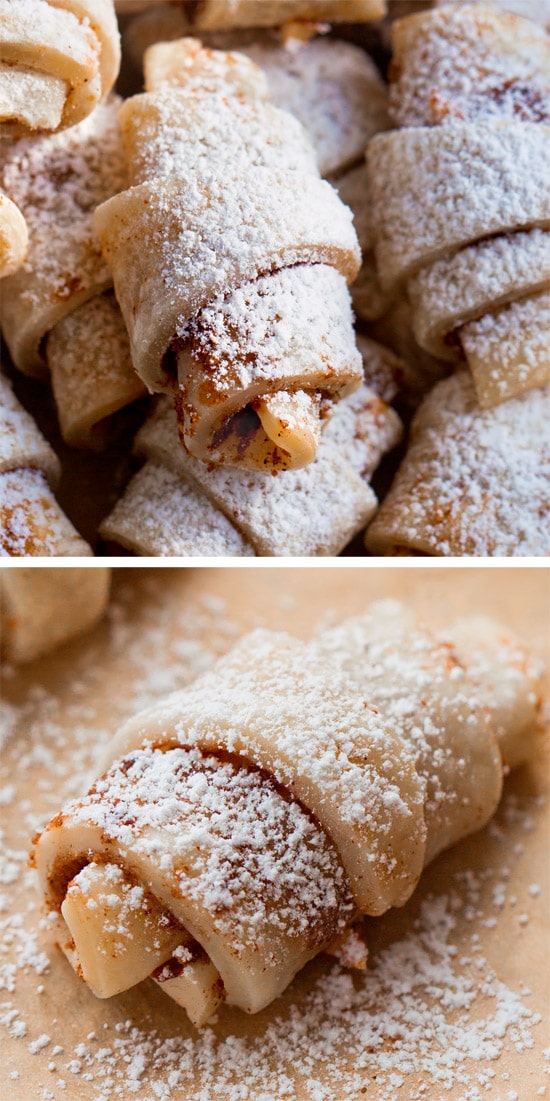 Vegan Rugelach
This easy vegan rugelach recipe is a classic holiday cookie.
Ingredients
1

cup

white, spelt, or gf ap flour

(or try these Keto Cookies)

1/2

cup

vegan butter

4

oz

vegan cream cheese

(a cream-cheese-free option is listed above)

optional milk of choice

(this acts like egg wash and adds shine)
Filling
(Or try one of the filling ideas above!)

3

tbsp

dry sweetener, such as brown sugar, coconut sugar, or granulated erythritol

1

tsp

cinnamon

optional 1/4 cup finely crushed nuts
Instructions
Start by creaming the vegan cream cheese and butter together in an electric stand mixer or with a hand mixer. (If you don't have either machine, the dough can be mixed in a medium bowl using a lot of strength, patience, and a pastry cutter or fork. Or use the pie dough option mentioned earlier in the post.) Add the flour and mix until a cookie dough texture is achieved. Place the dough in plastic wrap or a bag and press it into a ball. Refrigerate a few hours or overnight (this step can be skipped – the cookies just won't be as soft). Preheat the oven to 350 F. Line a baking sheet with parchment paper. Divide the dough into two balls, and roll one of them into a 9-inch circle on a floured surface. (Refrigerate the second ball for another time.) Cover the circle with fillings of choice. Gently press any loose filling ingredients into dough. With a knife or pizza cutter, cut the circle into 16 equal pie shaped slices. Starting with the outside edge, tightly roll each slice into the center, forming a crescent shape. If using, brush each cookie with milk. Bake on the lined cookie sheet for 15-20 minutes or until lightly golden (some fillings take longer than others). Let cool. Cover with powdered sugar if desired.

View Nutrition Facts
Easy Vegan Holiday Desserts