Make these completely addictive peanut butter fudge bars, for a super easy dessert or snack – with JUST TWO ingredients required!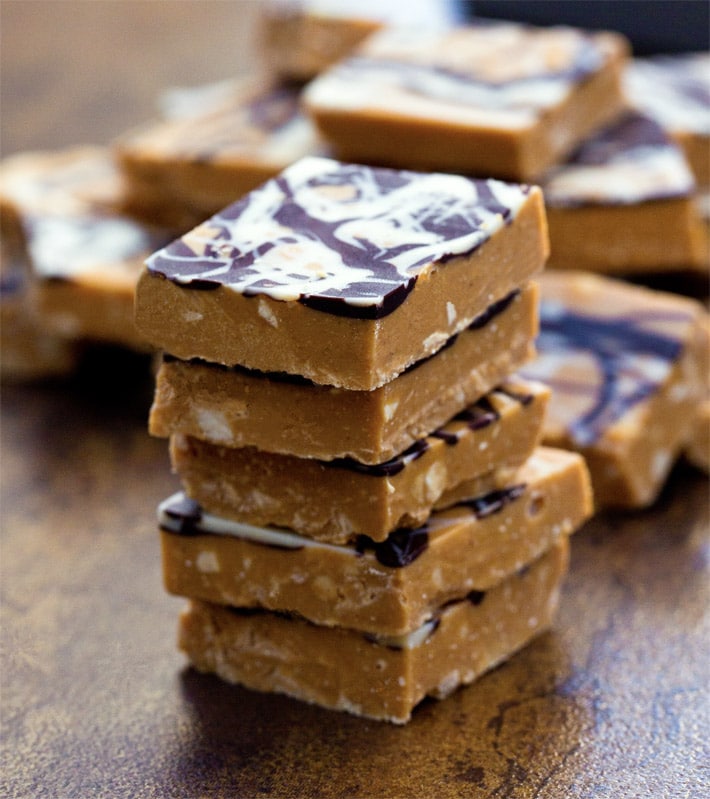 Searching for an easy recipe to make for a party or event?
The peanut butter fudge bars are a perfect option – quick to make, simple ingredients, and you can easily keep everything on hand ahead of time, so there's no need to rush to a grocery store at the last minute.
They tastes so rich and peanut buttery that if you decide to skip the event and keep the fudge bars all to yourself, it would be completely understandable!
Also be sure to try these Vegan Brownies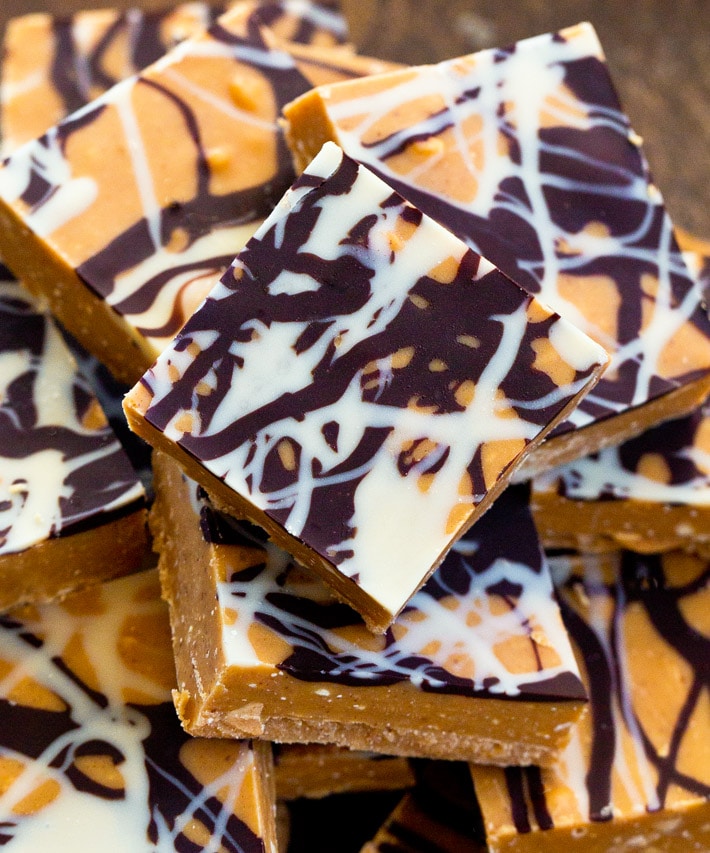 Peanut Butter Fudge Bar Flavors
The best part about this recipe is that you can turn it into any flavor you choose.
Simple Peanut Butter: Make the two-ingredient recipe below exactly as written, skipping all optional ingredients.
Peanut Butter Nutella: After spreading the recipe into a pan, gently heat up your favorite chocolate hazelnut butter or this Nutella recipe and use a spoon to swirl it into the peanut butter for a marbled effect.
PB&J: Stir 1/4 cup strawberry jam into the mixture before transferring it to the pan. Or stir in a handful of freeze dried raspberries or chopped dates.
Chocolate Chip Peanut Butter: Add some regular or mini chocolate chips, either stirred in or sprinkled on top. Gently press into the fudge before chilling.
Peanut Butter Crunch Bars: Stir in a handful of rice crispy cereal or finely chopped unsalted or salted peanuts, hemp hearts or chia seeds, or other nuts of choice.
White Chocolate Marble: Drizzle melted white chocolate (from melted chips or a bar) on top of the peanut butter layer. I went with this version for the fudge in the photos and also added melted dark chocolate chips.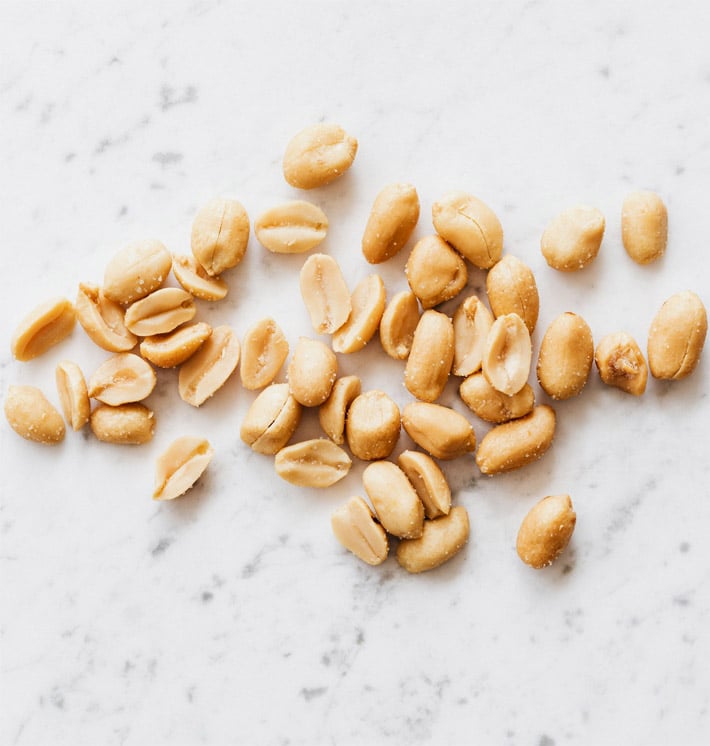 How to make the recipe
Gather the required ingredients and any desired optional ingredients.
Line either an 8-inch square pan or any container somewhat close to that size with parchment paper or wax paper. Or you can halve the recipe for a small container.
If the peanut butter is hard or not easily stir-able (especially common if using refrigerated or natural peanut butter), gently warm it until soft.
I like to take out the amount I'm going to use first and then heat it up for about 30 seconds in the microwave or in an oven that's cooling down after recently being used. You can warm it up on the stovetop if you prefer.
Set the nut butter aside while you carefully melt the peanut butter chips.
If using a microwave, heat the chips in a microwave safe dish for about a minute, then stir. Heat again in ten second increments until smooth, stirring after each increment to ensure they don't burn.
If using the stove, place the chips in a small saucepan on very low heat and stir constantly just until they begin to melt. Turn off the heat and continue to stir until completely smooth.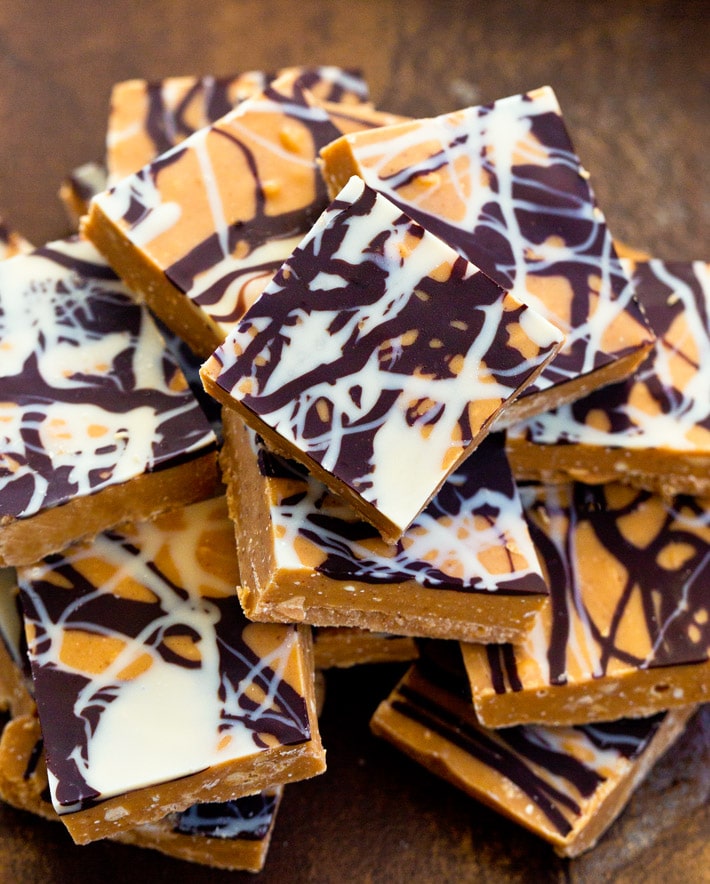 Combine the chips and peanut butter. Optional ingredients can be stirred in now or sprinkled on top later. Smooth into the prepared pan.
If you wish, swirl melted chocolate and white chocolate chips on top, using the same melting method you used for the peanut butter chips.
Either freeze or refrigerate just until firm enough to easily slice into bars or squares without cracking. If you start to cut and a crack forms, the fudge has gotten too cold – let it sit on the counter until a knife cuts through smoothly.
The recipe can be stored on the counter in a cool dry place or refrigerated or frozen.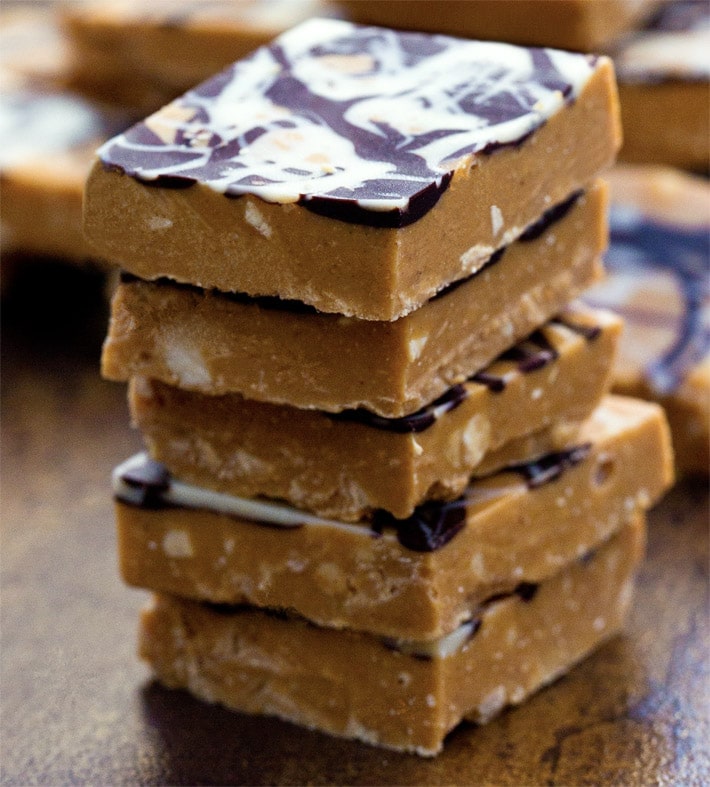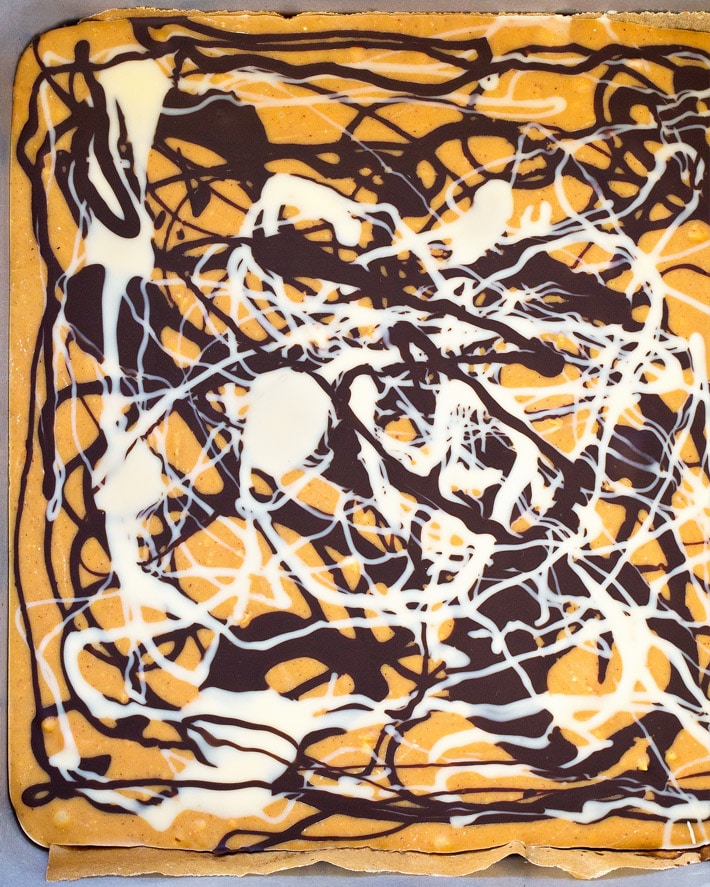 Are the snack bars keto or vegan?
While most brands of peanut butter chips contain both dairy and sugar (Reeses peanut butter chips include whey), there are a few on the market without milk and/or sugar.
Davis Chocolate peanut butter chips are vegan, and ChocZero makes keto peanut butter chips that are both sugar free and vegan.
Alternatively, there's an option below to make your own homemade chips that can easily be used in this recipe if you can't find one of the aforementioned brands.
Trending now: Keto Brownies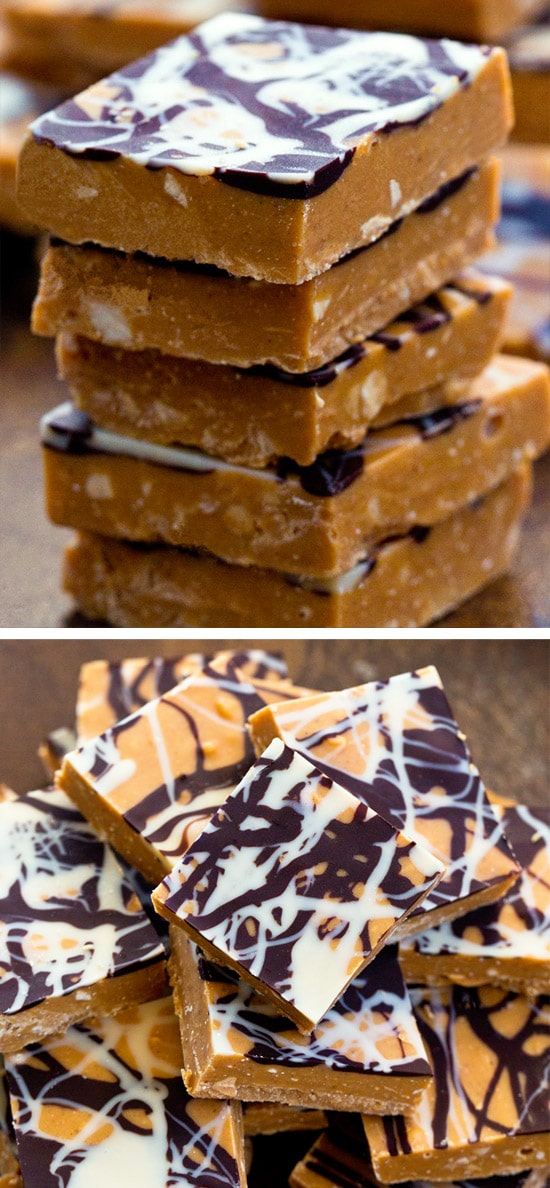 Peanut Butter Fudge Bars
These addictive peanut butter fudge bars can be made with just 2 ingredients.
Ingredients
10

oz

peanut butter chips

or vegan peanut butter chips

1/2

cup

crunchy or creamy peanut butter

optional melted white and dark chocolate chips

optional chopped peanuts, shredded coconut, mini chocolate chips, or other add-ins of choice
Instructions
*If you prefer a recipe with no peanut butter chips, try this Healthy Peanut Butter Fudge.

Line an 8-inch pan or any container of a somewhat similar size with parchment or wax paper. If nut butter is not stir-able, gently warm so it can easily be stirred. Carefully melt the chips. Stir chips and peanut butter together until smooth. (Optional add-ins can be stirred in or sprinkled on top at the end.) Smooth into the pan. If desired, swirl melted chocolate and/or white chocolate on top with a spoon. Freeze about 10 minutes or until just firm enough to easily slice without cracking. If you freeze too long, simply let the pan sit out until a knife can easily cut into bars. Store on the counter in a cool dry place, or refrigerate or freeze.

View Nutrition Facts
Healthy Peanut Butter Snacks