Jingle bells, jingle bells, jingle all the way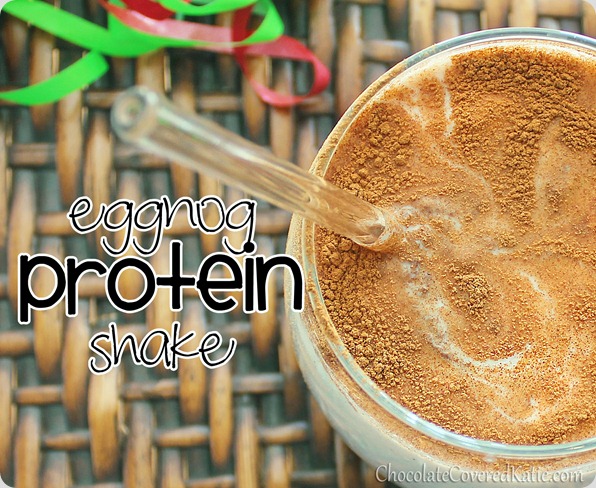 Come July, I'll still be drinking this sweet Christmas-y shake, because it is that good.
Might need a new song, though.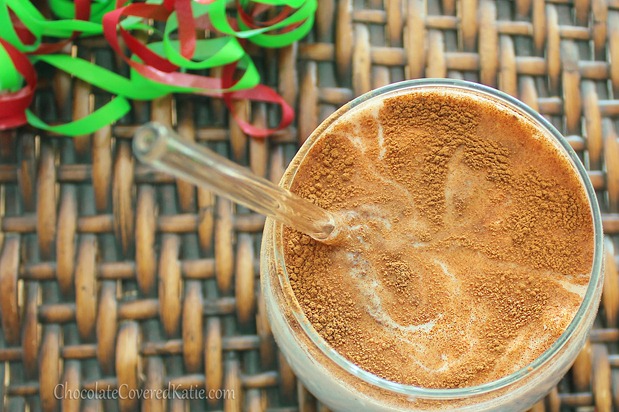 Let's go surfin now, everybody's learning how, come on and safari with meeeeeee…
Or not.
Maybe I'll just stick to the Christmas carols in July as well. Yes, drinking homemade eggless eggnog on the beach while singing Christmas carols. I can hardly wait!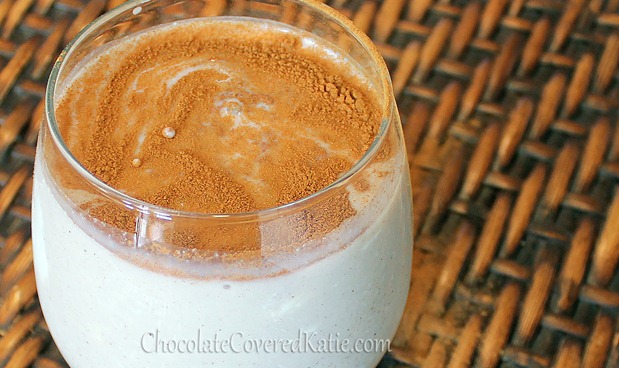 Healthy Eggnog
(Single-serving and high in protein!)
1 cup milk of choice (240g) (Use a thicker milk for best taste. Silk almondmilk works well. Coconut milk (the full-fat kind that comes in a can) works well too. Or you can do 1/2 milk and 1/2 Silk creamer for a deliciously-rich shake (240g)
1/2 cup Mori-Nu silken-firm tofu (There are a few soy-free substitutions for this recipe. See "nutrition info" link below for all options.) (120g)
1/2 tsp lemon juice (2g) (omit if desired)
1/8 tsp salt
2 tsp xylitol or sugar (8g)
1 nunaturals stevia packet, or 1 tbsp sugar (or evaporated cane juice, coconut sugar, etc.)
1/2 tsp pure vanilla extract
1/2 tsp cinnamon
1/4 tsp each nutmeg and ginger
1/16 tsp (tiny dash) cloves
optional: a little rum if desired
Combine all ingredients and blend until smooth. (I used a Magic Bullet. If you don't have a blender, perhaps you can use silken tofu and just stir by hand.) Drink cold, or heat if desired. Recipe is single-serving and can be sugar-free, dairy-free, vegan, cholesterol-free, low-fat, and gluten-free. And no raw eggs! For troubleshooting, substitutions, and nutrition facts, see link below:
View Healthy Eggnog Nutrition Facts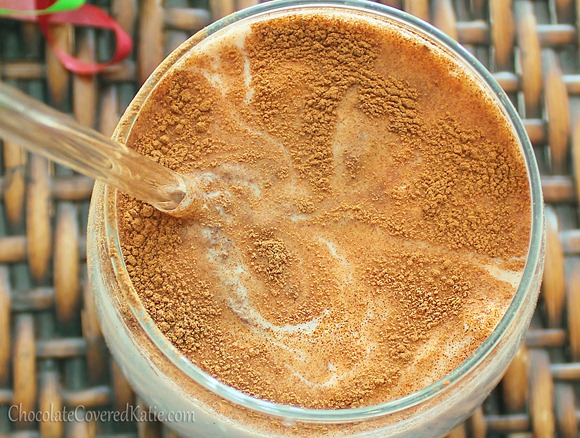 Come on baby, surfin safari…
Question of the Day: Any Oldies music fans out there?
I just read an article on Brian Wilson, so now all the Beach Boys songs are stuck in my head. Not exactly appropriate for December, but it's been so warm recently that singing Frosty the Snowman doesn't seem suitable either.
Link of the Day: