Moist & soft pumpkin banana bread –  combined with sweet cinnamon, ginger, and pumpkin pie spice for the ultimate Fall-inspired banana bread.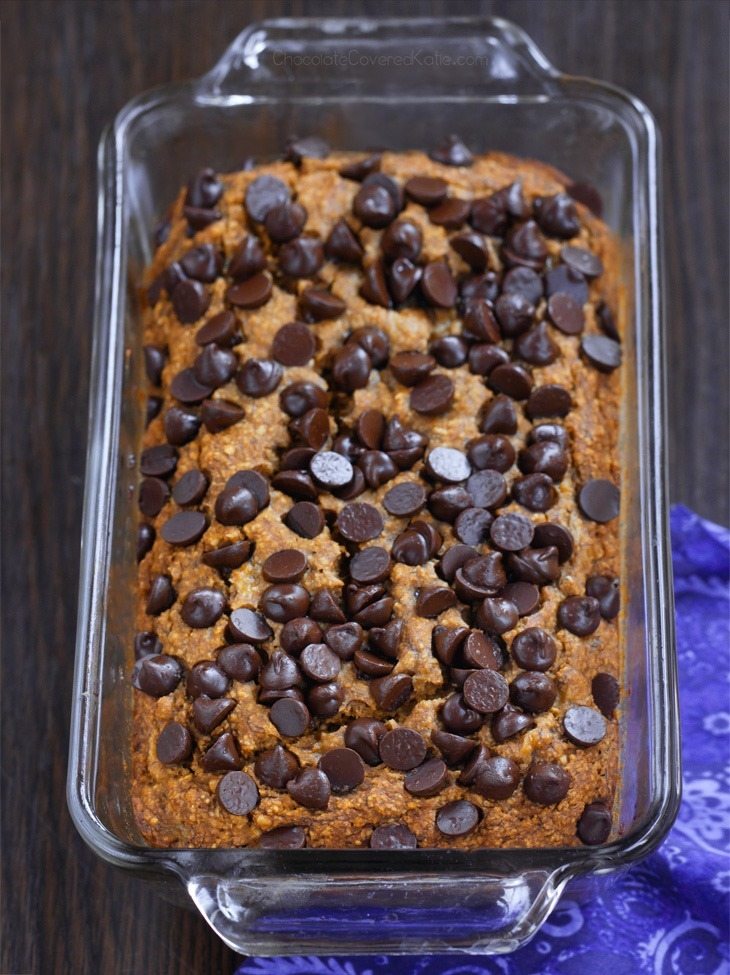 Super Healthy Pumpkin Banana Bread
Trust me, if you love pumpkin, you NEED to try this pumpkin banana bread.
The recipe is packed with two whole cups of pumpkin and banana, adding unbelievable moisture and softness, without any added fat!
If you make just one pumpkin recipe this year, you won't regret making this one. I've already made it five times and have no plans to stop any time soon. It is good for breakfast, snack, dessert, or anything in between… and it freezes well too!
You Might Also Like: Sweet Potato Brownies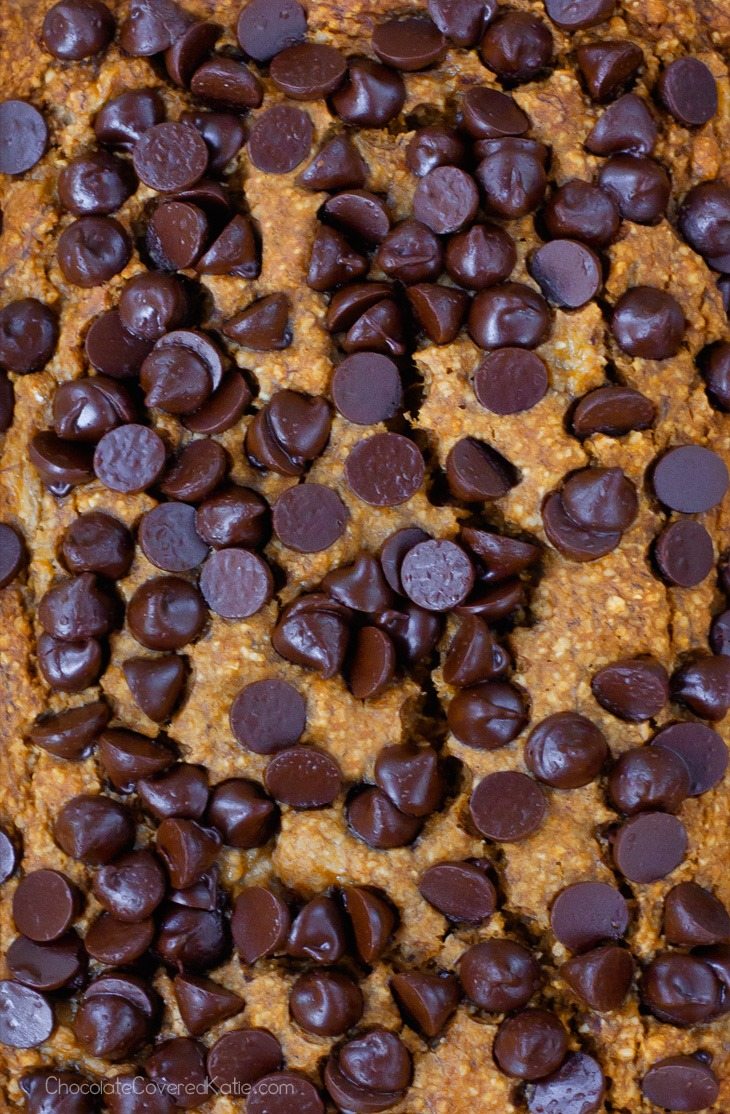 This is a great way to use up canned pumpkin and over-ripe bananas.
The recipe was inspired by two of my favorites: Flourless Banana Bread and the popular Carrot Cake Banana Bread.
Adding the extra cinnamon and pumpkin took it over the top in deliciousness, and this particular version is hands-down the best banana bread recipe on my entire website, at least in my opinion.
There's actually a batch in my oven as I'm typing this post!
*2019 edit: Be sure to also try this Chocolate Banana Bread!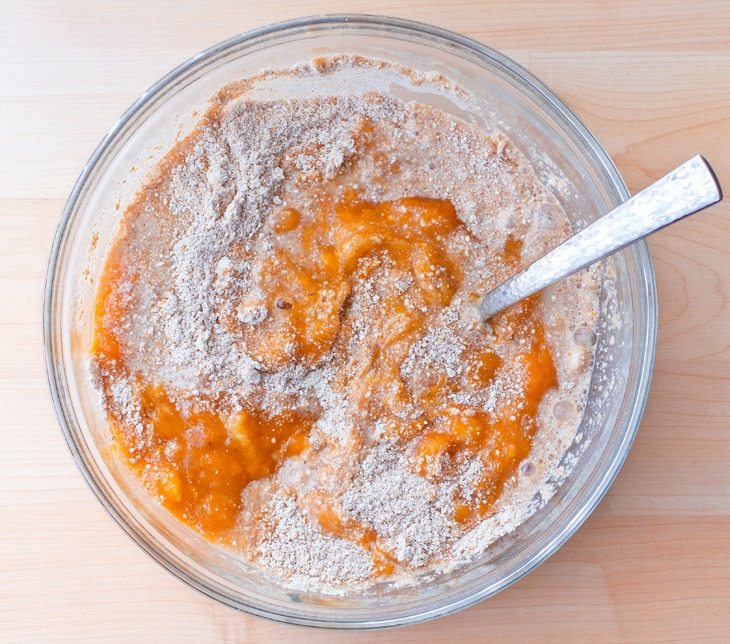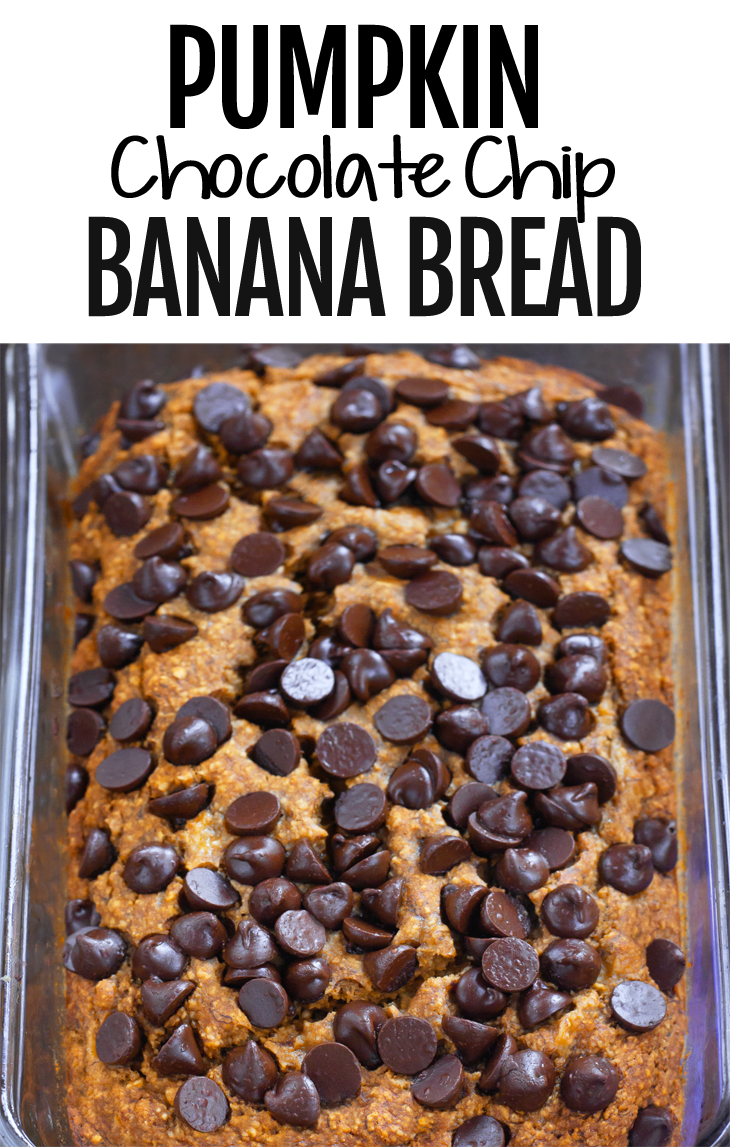 Even the bowl of batter looks like a swirled work of art.
And tastes really good, too…
Plus, no eggs in the batter, so you can eat as much as you want.
(You can serve it either plain or topped with melted almond butter or coconut butter.)
Although I would never serve it this way, I love undercooking the vegan pumpkin banana bread on purpose and eating it so gooey it's almost raw in the middle. It sounds crazy but is ridiculously good.
Trending Right Now: Chia Pudding – 5 NEW Flavors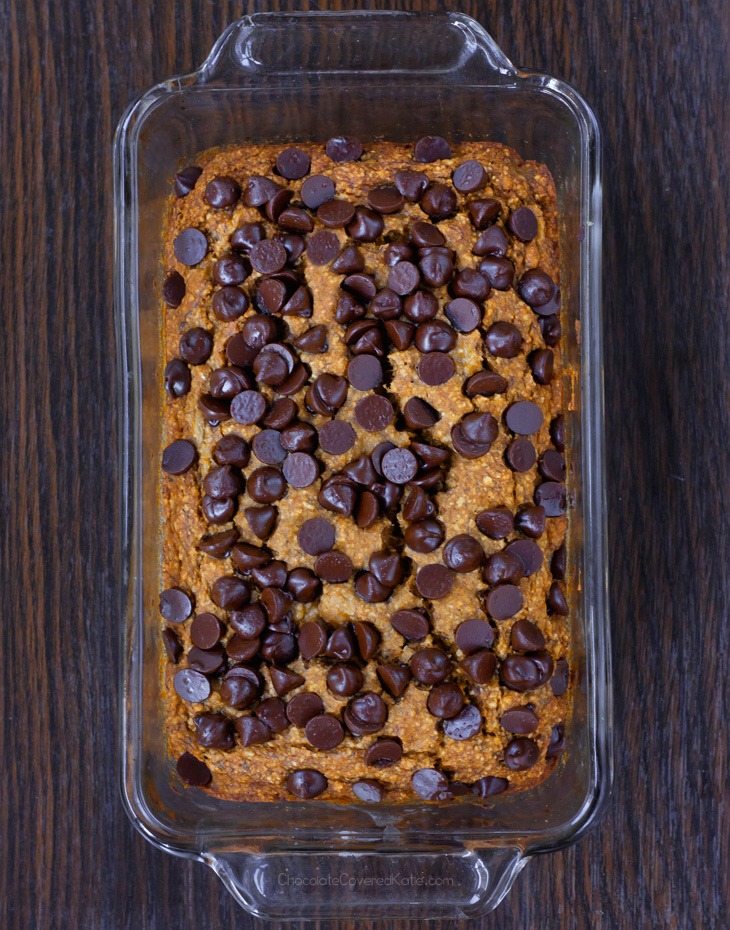 The pumpkin banana bread could not be easier to make:
Just combine all ingredients and stir to form a batter, then smooth it into a loaf pan.
Eat a copious amount of chocolate chips as you work, to make up for all of those calories you're burning.
Then sit back and relax, and try not to peek before it's done.
To cool the bread gradually so it doesn't sink in the middle, I like to turn off the heat before opening the oven and leave it in for an extra ten minutes.
Leftover pumpkin? Try these super healthy Applesauce Muffins!

Pumpkin Banana Bread
Adapted from this Healthy Banana Bread Recipe
Pumpkin Banana Bread
Print This Recipe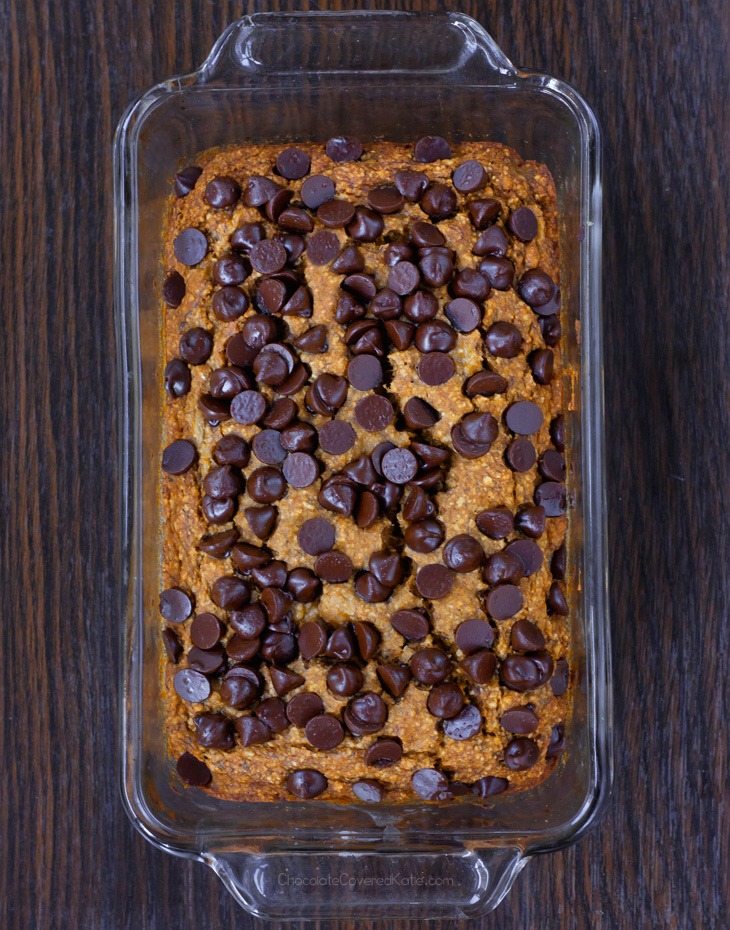 Ingredients
2 cups flour - I like oat flour
1 tsp baking soda
3/4 tsp baking powder
3/4 tsp salt
1/2 tsp each: cinnamon, ginger, pumpkin pie spice
1 1/2 cup mashed, overripe banana (360g)
1/2 cup pumpkin puree (120g)
1/2 cup pure maple syrup, honey, or agave
2 tbsp any sweetener of choice OR 1/16 tsp uncut stevia
1/3 cup oil OR milk of choice
2 tsp pure vanilla extract
optional 1/2 cup mini chocolate chips
Instructions
*I've tried the recipe successfully with spelt, white, and oat flour. Although I can't vouch for a flour I haven't tried, please feel free to experiment.
Preheat oven to 350 F. Grease a 9×5 loaf pan, and set aside. In a large mixing bowl, combine all dry ingredients. Whisk all liquid ingredients in a separate bowl, then pour wet into dry and stir to form a batter. Smooth into the prepared pan. If desired, press some extra chocolate chips into the top. Bake on the center rack 30 minutes, then do not open the oven door but turn off the heat and leave in the closed oven for 10 additional minutes. Because ovens may vary, if it's still undercooked after this time then just turn the heat back on and cook–checking every 5 minutes–until firm. Let cool completely, then cover and refrigerate overnight. Taste and texture will be much better the second day (and even better the third day as it will get sweeter). Leftovers can be sliced and frozen if desired.
More Healthy Pumpkin Recipes: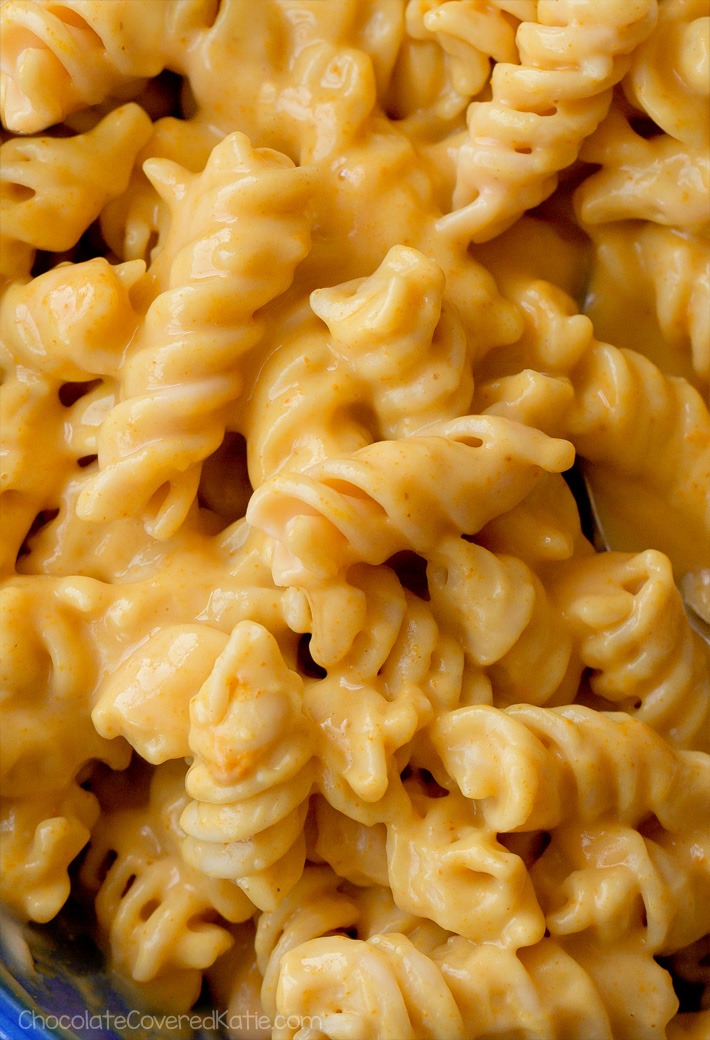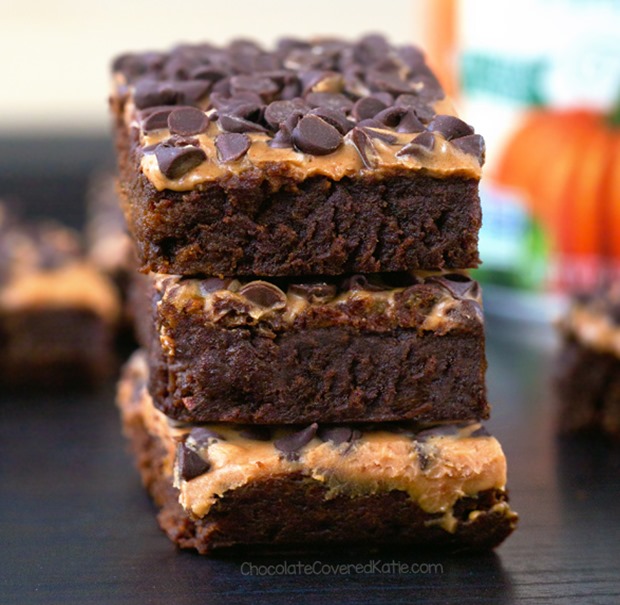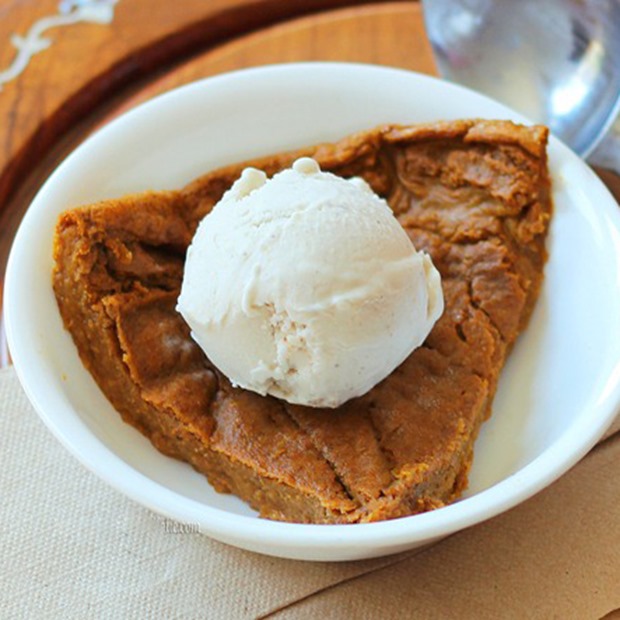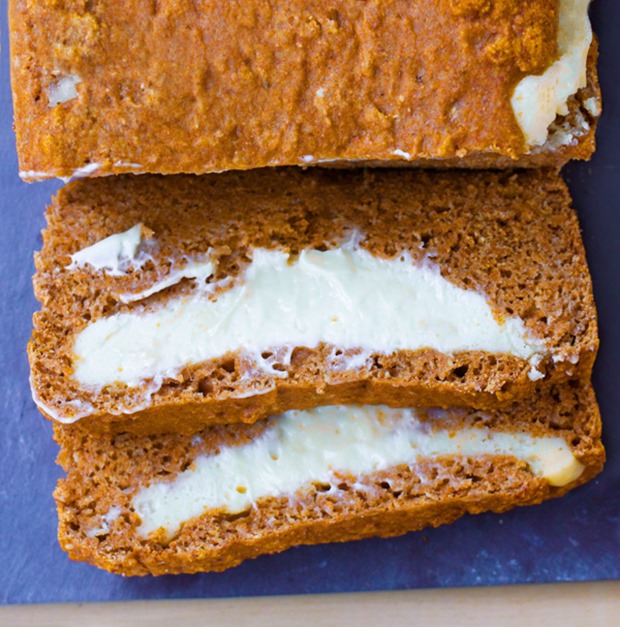 Pumpkin Swirl Cream Cheese Bread
(From the Hello Breakfast Cookbook)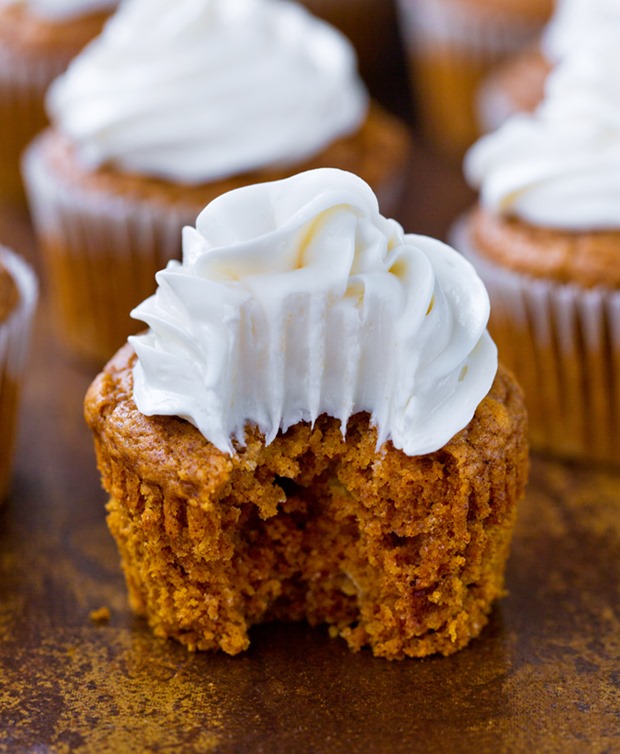 Pumpkin Cupcakes With Cream Cheese Frosting