These crispy baked bbq cauliflower wings are so crazy good… Don't be surprised if the entire pan disappears in minutes!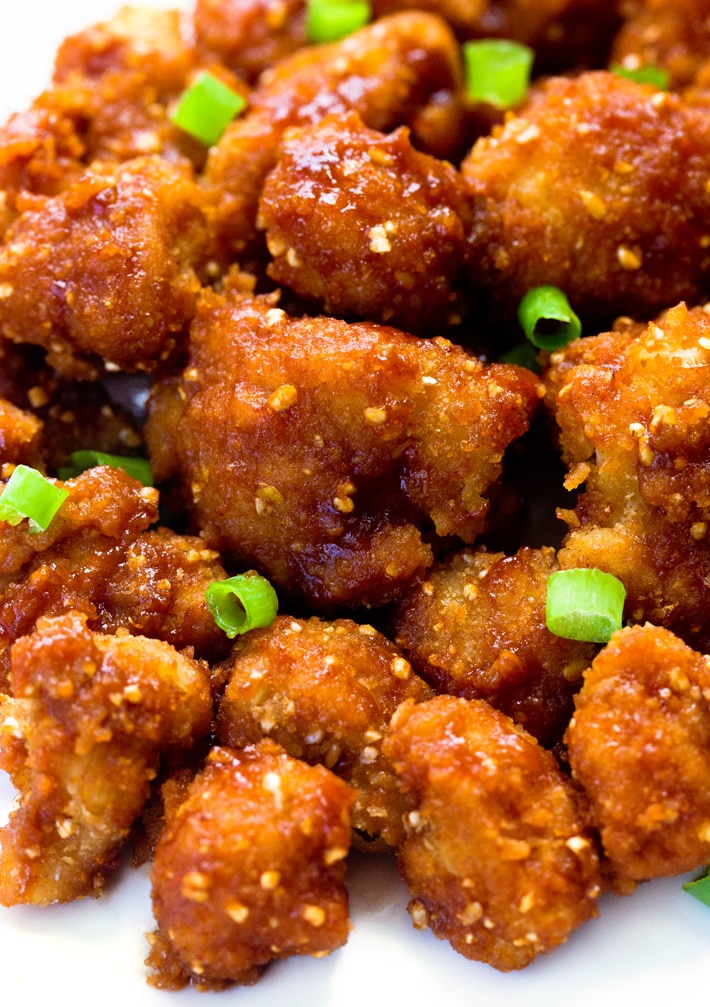 Easy Barbecue Cauliflower Wings
With a delicious crispy texture and sweet barbecue flavor, these secretly healthy wings are always a huge fan favorite.
I've tried the recipe out on both vegans and non-vegans, and even the hardcore meat eaters love them and ask for more. So you know they must be good!
Also try these Vegan Chocolate Chip Cookies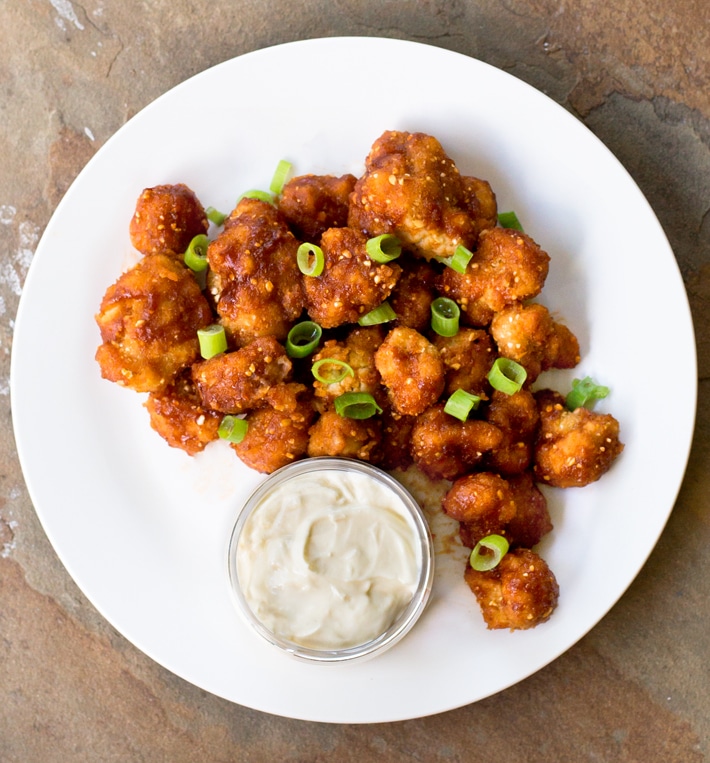 What do you serve with the recipe?
The beauty of these cauliflower bites is that they go well with so many different things.
Craving comfort food? Pair them with this Vegan Mac And Cheese.
They can be a side dish, appetizer, or a healthy snack.
Try serving the sticky bbq cauliflower wings for dinner with spaghetti squash or sweet potatoes (see how to cook sweet potatoes), or alongside Avocado Salad or Sweet Potato Salad while watching Monday Night Football.
If you want to be reaaallly healthy, cut up some raw vegetables, such as celery and carrot sticks, and call it a day. Don't forget the vegan ranch!
I like to serve the low calorie vegetarian wings instead of french fries or onion rings, with either Veggie Burgers or Black Bean Burgers.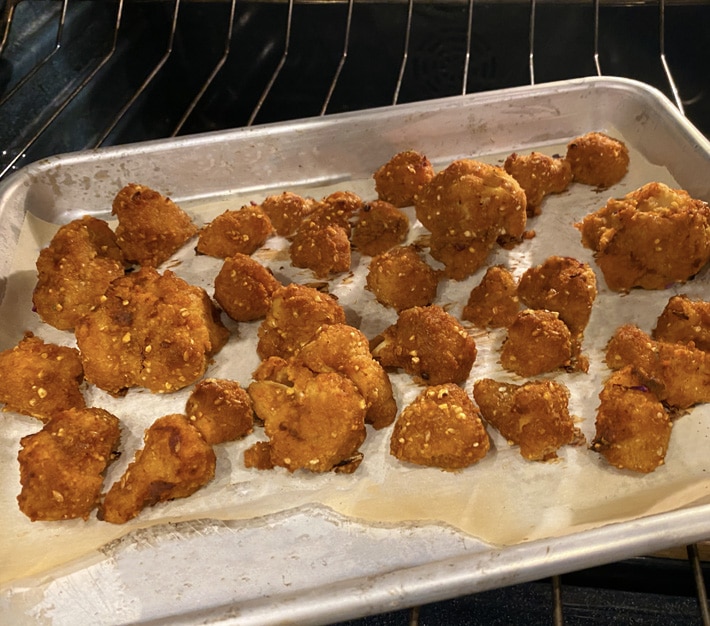 Can you make the wings in an air fryer?
While I sadly do not have an air fryer (should I get one??), a few wonderful readers have tested it out and reported that if you cook the bbq wings in an air fryer at 400 F for 17 minutes, they come out perfect and crispy.
Can you use frozen cauliflower?
This is another idea I haven't personally tried, but readers say it works. Just be sure to thaw the cauliflower fully by letting it sit out (don't microwave, which could make it mushy), and absorb excess water with a towel before baking.
BBQ cauliflower wing ingredients
The recipe can be made with just a few ingredients: cauliflower, barbecue sauce, flour (or almond flour for a keto or low carb version), oil or oil spray, onion powder, milk of choice (I like almond milk for vegan bbq cauliflower wings), and optional breadcrumbs.
Feel free to use spicy bbq sauce or add a pinch of cayenne for spicy wings. Or choose original or honey bbq sauce for a mild and kid-friendly option. You can also roast the whole cauliflower or cut it into steaks instead of florets.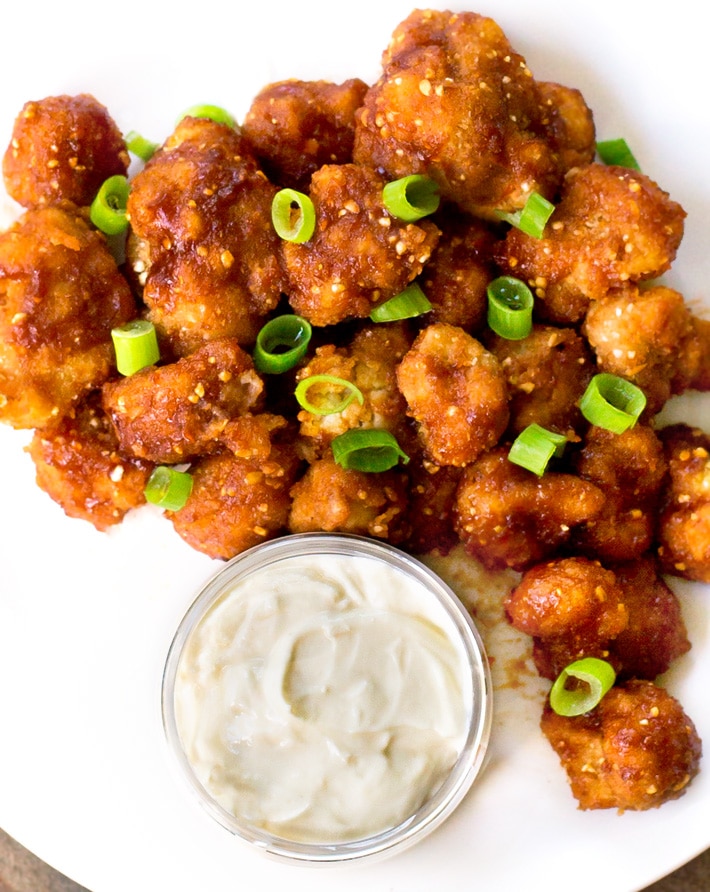 More Game Day Snacks
Black Bean Brownies (reader favorite)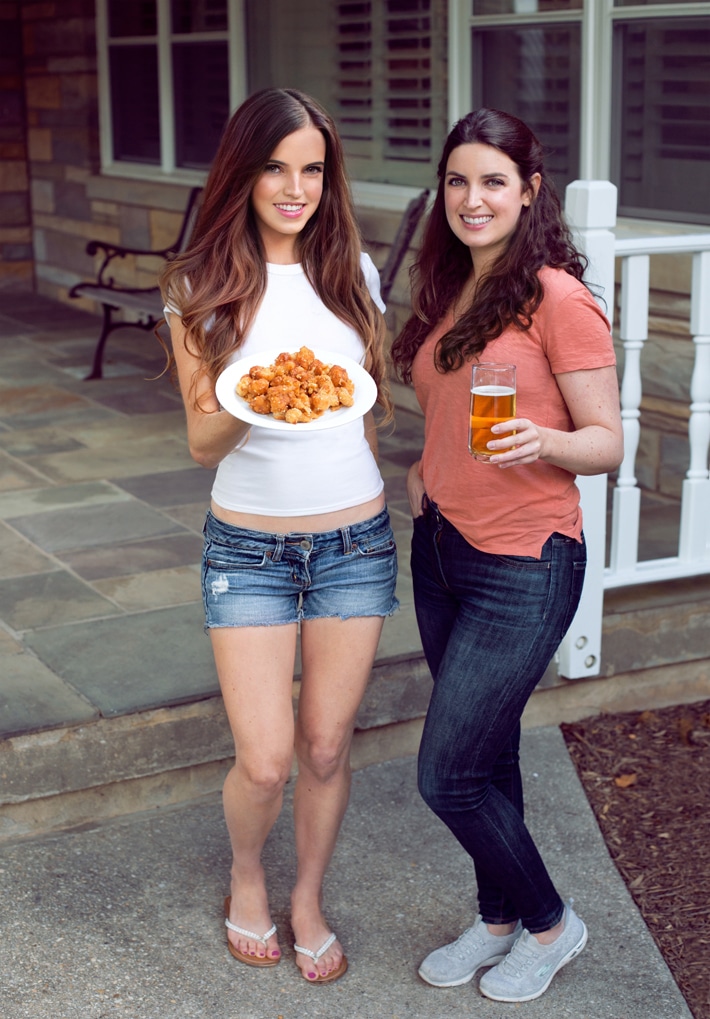 How to make bbq cauliflower bites
To make the recipe, start by preheating your oven to 425 F.
Line a baking sheet with parchment paper, and either spray the cauliflower florets with oil spray or toss with a little oil. This helps the seasonings adhere much better.
Add florets to a large bowl or ziploc bag, and toss with the onion powder and flour. Add the milk of choice – I usually use almond milk, but feel free to choose your favorite. Then add the breadcrumbs (you can also make it with no breadcrumbs if desired), and toss to coat.
Arrange in a single layer on the baking sheet, making sure to not crowd the cauliflower. Bake 25 minutes on the center rack.
Combine the barbecue sauce and the oil or butter, then dip the cauliflower in the sauce and bake another 15 minutes. After this time, I like to broil for about 5 minutes for extra crispiness. Serve hot.
Leftover Cauliflower? Make Cauliflower Alfredo Sauce

Here are 25 additional easy Cauliflower Recipes.
BBQ Cauliflower Wings
These crispy baked bbq cauliflower wings are a healthy snack that both vegetarians and meat eaters will love.
Ingredients
1/2

a large head cauliflower, cut into florets

oil or oil spray

1/4

cup

flour or almond meal

1/4

tsp

onion powder

3

tbsp

milk of choice

optional 1/2 cup breadcrumbs, finely crushed

1/2

cup

barbecue sauce

1-4

tsp

oil or butter

optional sesame seeds and scallions to garnish
Instructions
Preheat the oven to 425 F. Line a large baking pan with parchment paper. Either spray florets with oil spray or toss with a little oil. In a large bowl or ziploc, toss florets with onion powder and flour. Add the milk, then the breadcrumbs, and toss to coat evenly. Arrange on the pan in a single layer without crowding. Bake 25 minutes. Combine the bbq sauce and oil or butter (fat helps the sauce adhere to the wings). Dip cauliflower in the sauce. Bake 15 additional minutes. When time's up, I like to broil for an additional 5 minutes (watching carefully so they don't burn). Serve hot.

View Nutrition Facts
More Cauliflower Recipe Ideas