This delicious and secretly healthy cauliflower fried rice is a completely vegetarian and low carb dinner recipe that even meat eaters will love!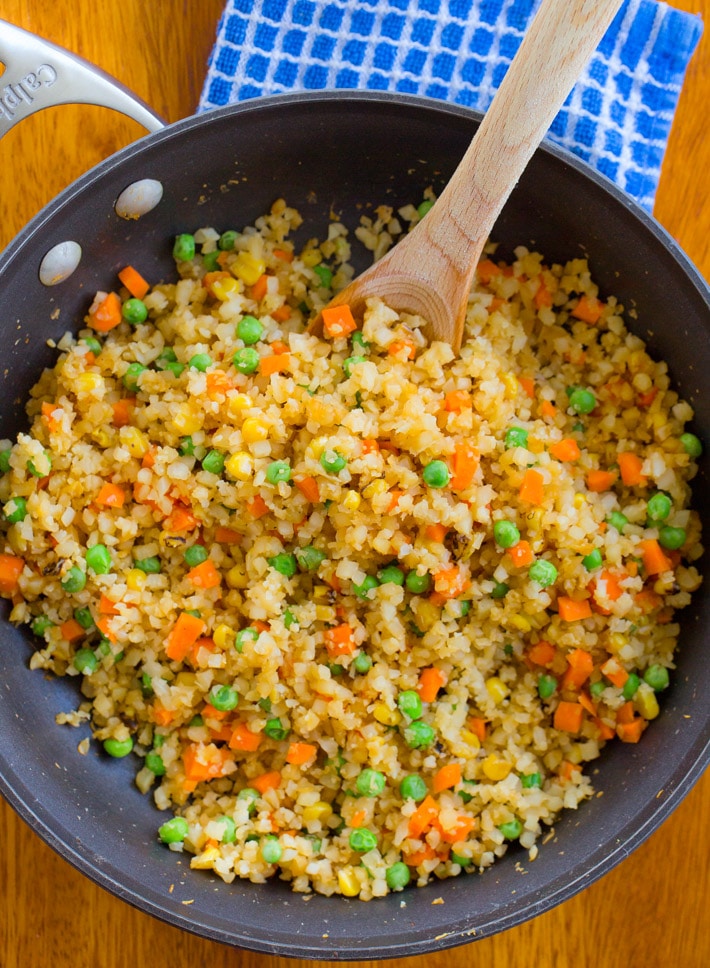 Healthy fried cauliflower rice
Whether you're cutting carbs, counting calories, or simply feel like being adventurous and trying something new, this veggie-packed healthy side dish or main meal is a wonderful choice for the entire family.
Have you tried cauliflower rice yet?
The rice sub can be low calorie, vegan, keto, paleo, gluten free, low carb, sugar free, soy free, Whole30 friendly, dairy free, egg free, plant based, nut free, and oil free.
Leftover cauliflower? Make Cauliflower Alfredo Sauce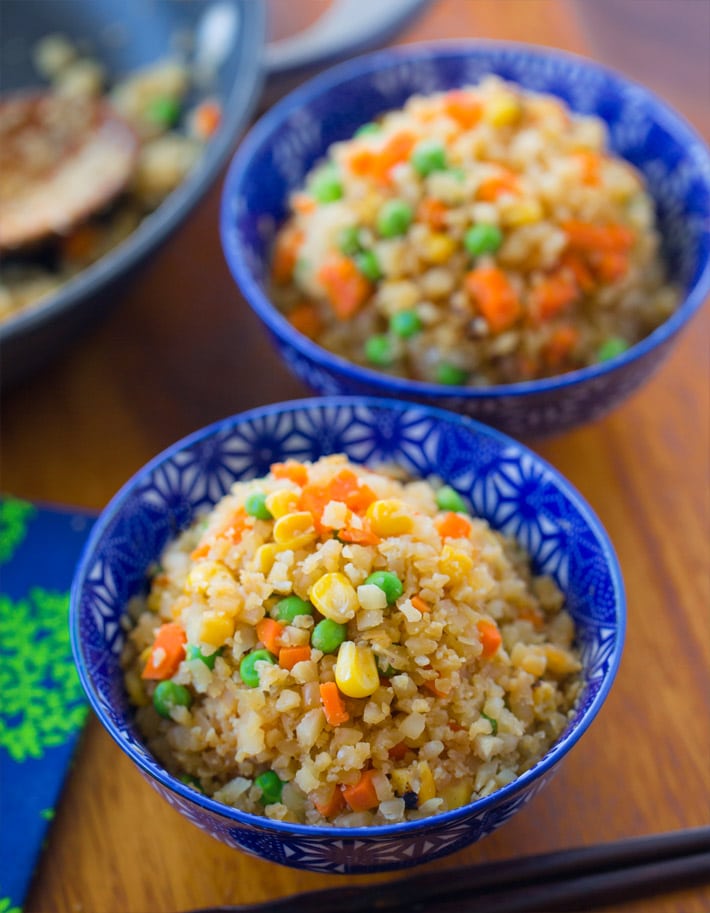 How to make cauliflower rice
Gather all of the required ingredients, and read through the recipe below.
In a wok or skillet, sauté the onions, carrots, and minced garlic in a few teaspoons of water or your go-to cooking oil over medium heat until the onion starts to brown.
Stir in all remaining ingredients except the optional oil. Cook, stirring occasionally, until the cauliflower browns and the carrots are soft. Then stir in the sesame oil.
For the best cauliflower fried rice, remove the pan from the heat at this point to prevent the cauliflower from becoming overcooked and soggy.
If you want to add cooked protein to make it a full meal, stir the protein in near the end. Many people add chicken, pork, salmon, eggs, or shrimp to fried rice. As a vegetarian, I like to go with baked tofu, black beans, or chickpeas for a completely vegan cauliflower fried rice recipe.
Season the cauliflower dinner recipe with salt and pepper if desired, and serve hot. Store leftovers in an airtight covered container for three to four days. I've never tried freezing leftover fried rice, so be sure to report back if you try.
For dessert, make these Black Bean Brownies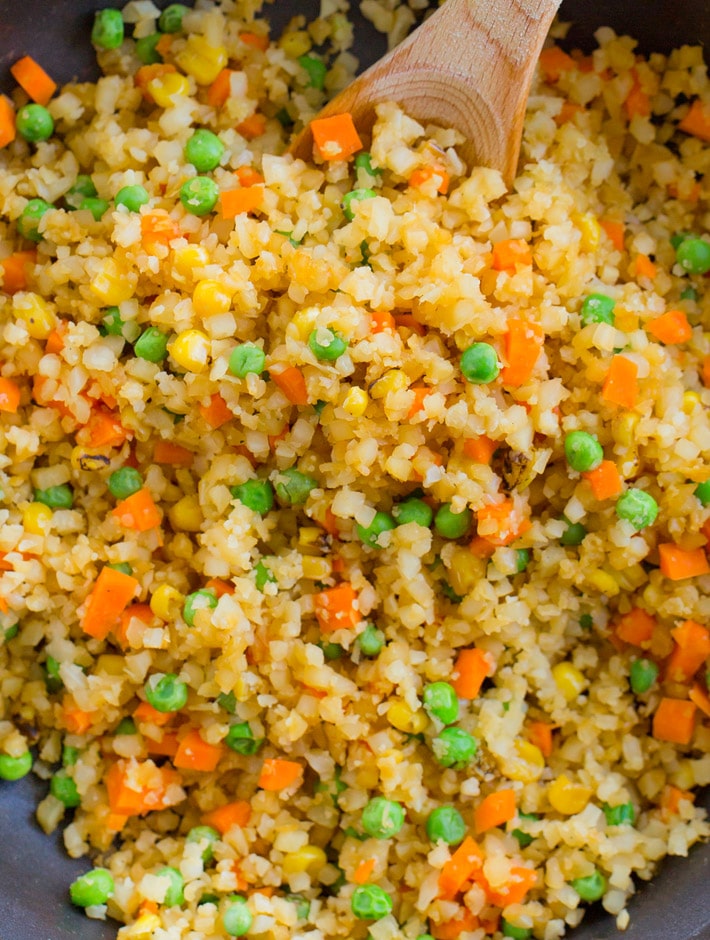 Cauliflower fried rice ingredients
The recipe calls for the following: riced cauliflower, onion, carrot, edamame or peas, garlic, soy sauce (or coconut aminos for gluten free or keto cauliflower fried rice), optional corn and toasted sesame oil.
I like to use carrots and peas or edamame. Feel free to change up the vegetables if you're looking for a low carb rice with less starchy veggies, such as bell peppers, celery, zucchini, mushrooms, asparagus, or broccoli.
If using the sesame seed oil, make sure to look for toasted sesame oil, not regular or untoasted oil. The sesame oil adds so much flavor and I always like to add it. However if you're looking to make a low fat or oil free fried rice, it can be left out.
For spicy cauliflower rice, you can add a sprinkle of red pepper flakes or a teaspoon of sriracha or hot sauce to taste.
Or for Indian cauliflower fried rice, stir in 1/4 teaspoon each of ground cumin and ground turmeric and a teaspoon of garam masala.
People also love this vegetarian Coconut Curry Recipe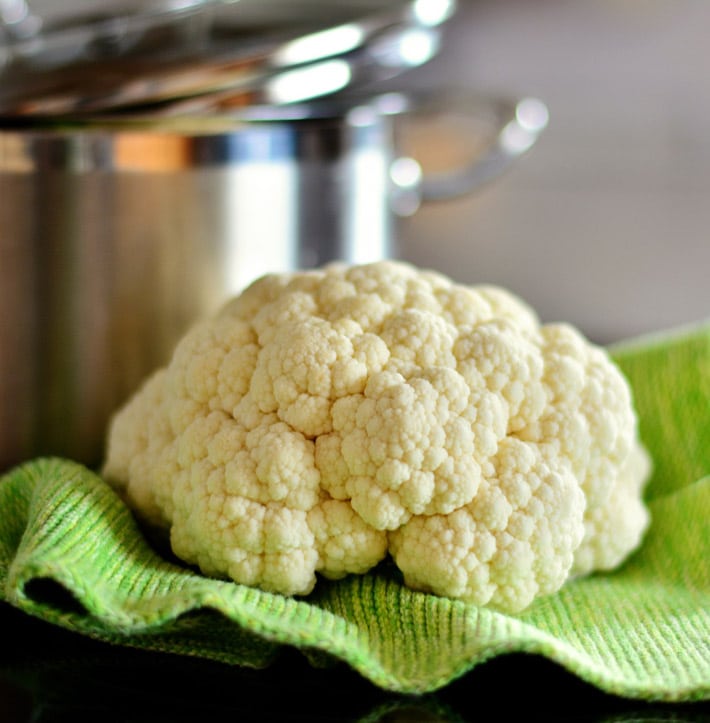 What type of cauliflower?
You can use either raw or frozen cauliflower rice. To make your own rice from a whole cauliflower, simply cut the vegetable into florets and pulse in a food processor until a rice texture is achieved.
Or for a quick and easy option, most grocery stores or health food stores sell riced cauliflower. Try brands such as Green Giant, Bird's Eye, Whole Foods, Cascadian Farm, or Trader Joe's organic cauliflower rice.
If using frozen cauliflower rice, do not defrost it before starting on the healthy fried rice recipe. This will ensure the final dish does not have a soggy texture.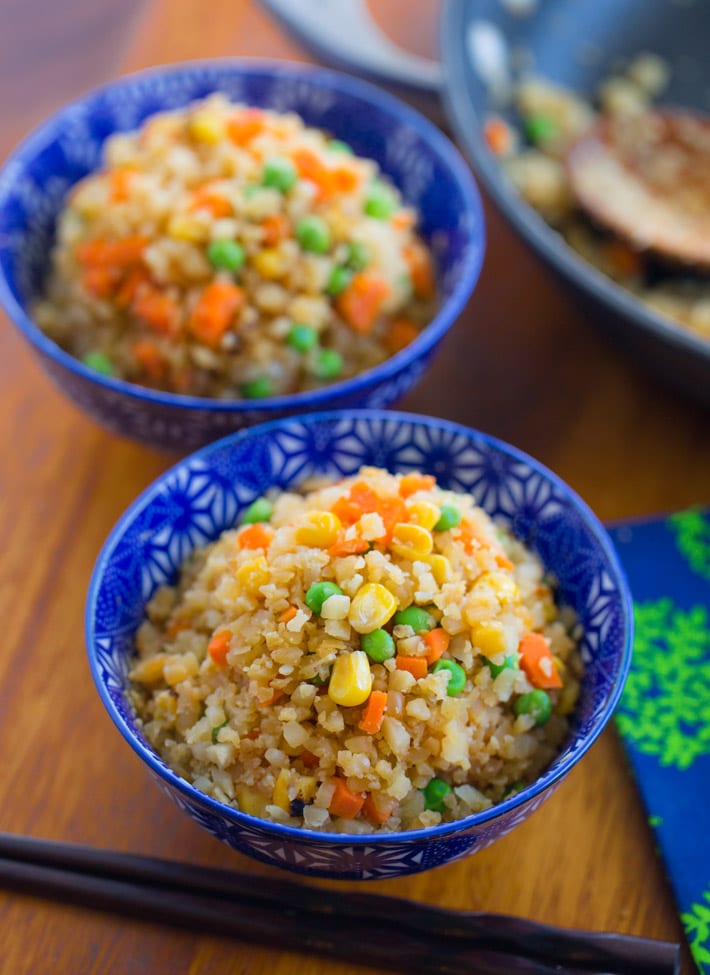 Serving suggestions
With a taste and texture similar to fried rice, this cauliflower recipe can easily be served anywhere you'd serve traditional Chinese fried rice.
Whether you're on a diet or not, it's a great way to get an extra serving of vegetables. And in my experience, even the picky eater kids in my family approve of the recipe.
Try it as a vegan side dish to compliment your favorite protein source and vegetables. Or serve alongside a salad as a healthy main dish, adding the protein to the skillet while cooking the healthy rice.
Health benefits of cauliflower
The cruciferous vegetable is packed with vitamins and nutrition.
Just one cup of cauliflower contains fiber, potassium, magnesium, phosphorus, manganese, folate, vitamin K, and more than 75% of the RDI for vitamin C.
The antioxidant rich cauliflower fried rice is also high in protein, with just 64 calories, two net carbs, no added sugar, and one Weight Watchers SmartPoint per serving.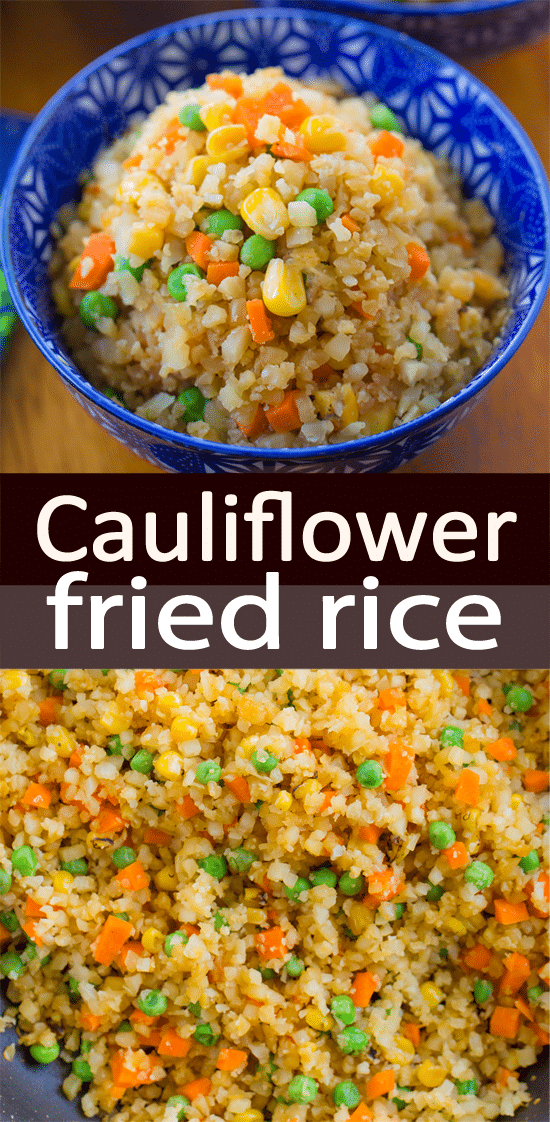 Cauliflower Fried Rice
This delicious healthy cauliflower fried rice recipe is a vegetarian and low carb dinner that even meat eaters love!
Ingredients
6

cups

cauliflower rice, fresh or frozen

2

diced carrots,

or 1/2 cup finely chopped broccoli

1

cup

peas or edamame

(can sub a different vegetable for keto)

1/2

cup

diced onion

2

tsp

minced garlic

3

tbsp

soy sauce

or coconut aminos

1

tbsp

oil or water for sautéing

optional 2 tsp toasted sesame oil

(adds a ton of flavor)

optional 1/2 cup corn

optional sriracha or hot sauce to taste

salt and pepper as desired

feel free to stir cooked protein of choice in near the end
Instructions
If using frozen cauliflower rice, do not defrost it first. In a nonstick pan, sauté the onion, carrot, and garlic in a little oil or water over medium heat until the onion begins to brown. Stir in the remaining ingredients except sesame oil, and cook until the cauliflower browns and carrots are soft. Stir in the oil, and season with salt and pepper as desired. For spicy cauliflower rice, add sriracha or hot sauce to taste. Serve hot, and enjoy. Leftovers can be stored in a covered airtight container in the refrigerator for 3-4 days.

View Nutrition Facts
Cauliflower Dinner Ideas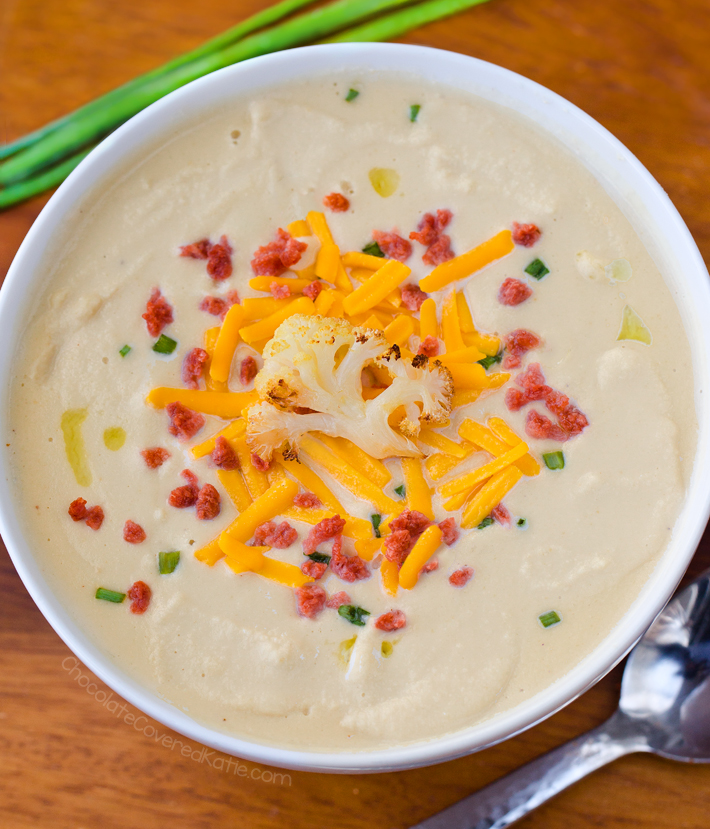 An easy cauliflower soup recipe you'll want to make over and over again, whether you're on a special diet or not. The soup is unbelievably creamy and makes a great vegetarian appetizer or side dish.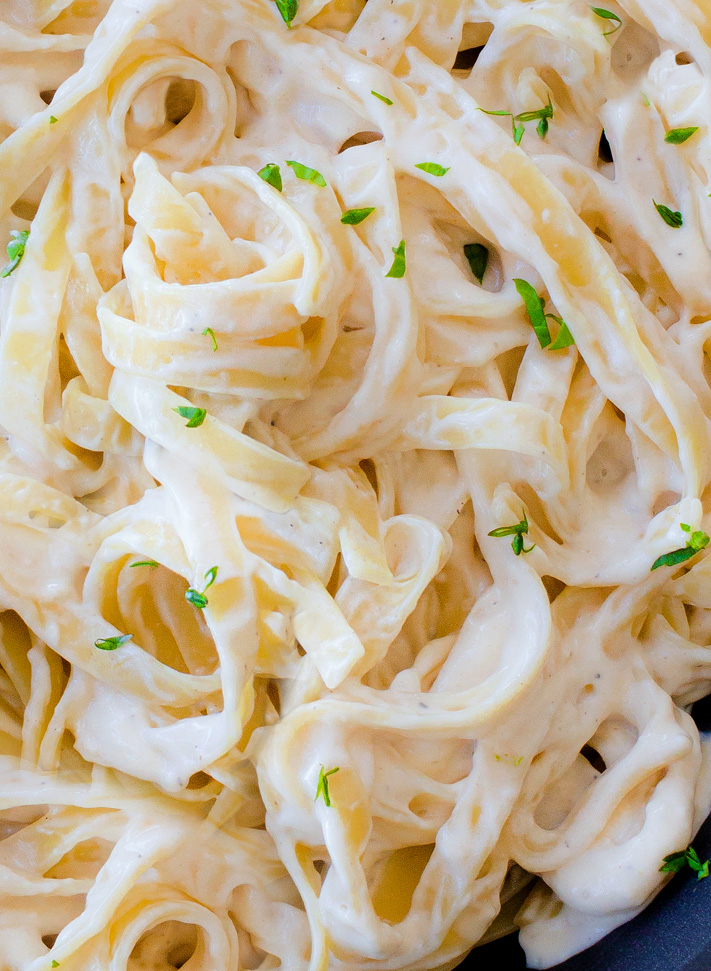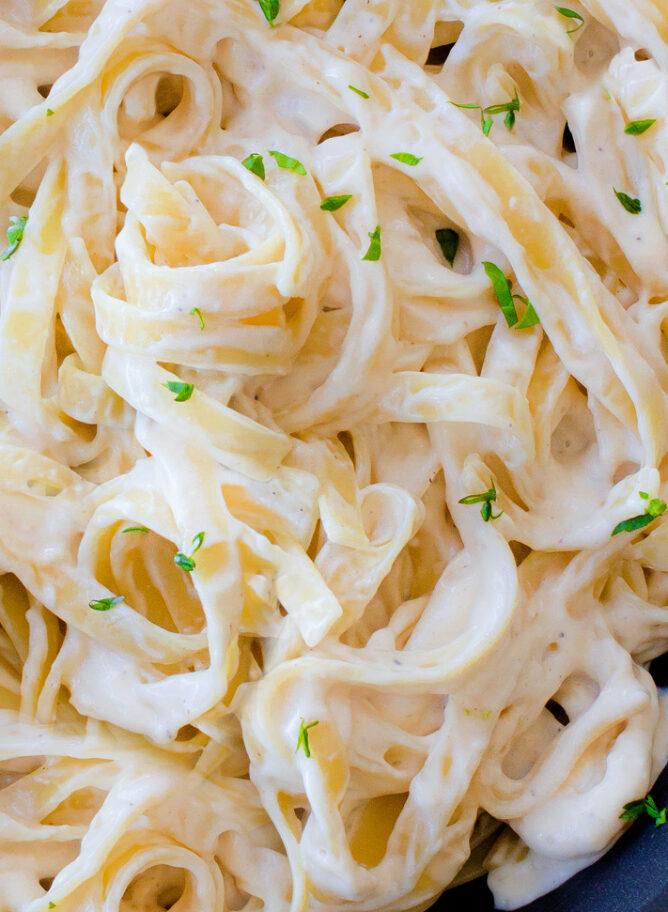 If you're looking for some fun new healthy cauliflower ideas or how to cook your favorite vegetable for lunch or dinner, here are 25 of the best cauliflower recipes.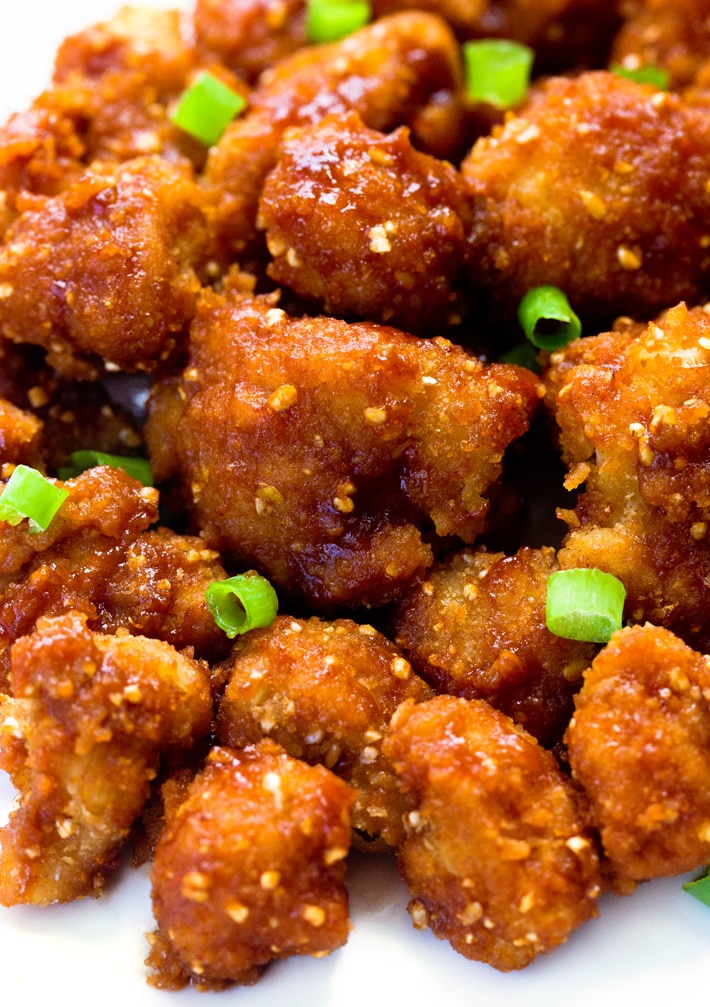 With a crispy texture and sweet barbecue flavor, these healthy wings are always a huge fan favorite with both vegans and meat eaters.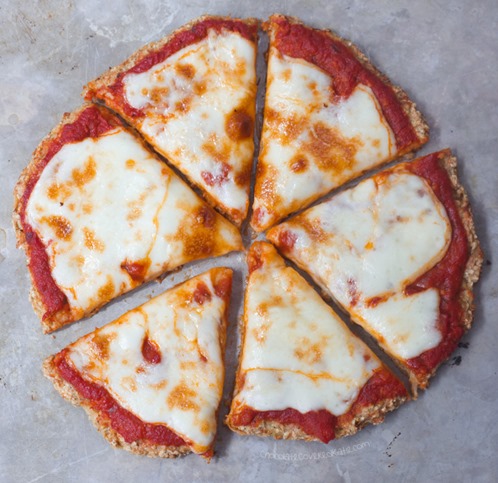 With just 10 minutes of prep work and a few basic ingredients, this low carb simple cauliflower pizza recipe is both delicious and good for you.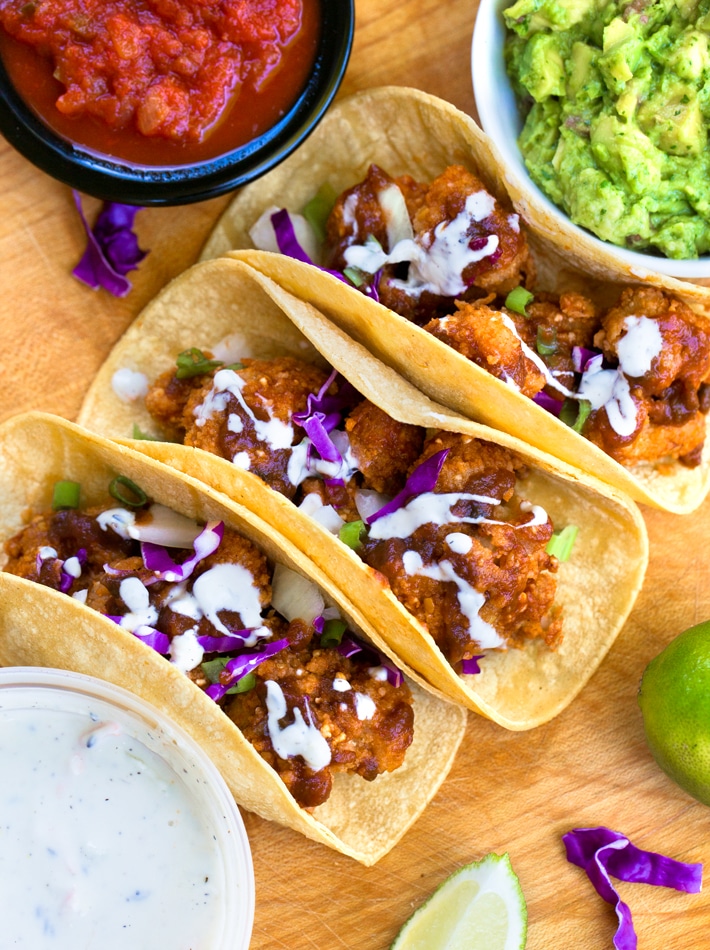 These homemade cauliflower tacos are quick to throw together for a weeknight vegan dinner. The recipe can be customized to use up whatever ingredients you have on hand.