This soft homemade strawberry bread recipe is perfect for a healthy breakfast or dessert!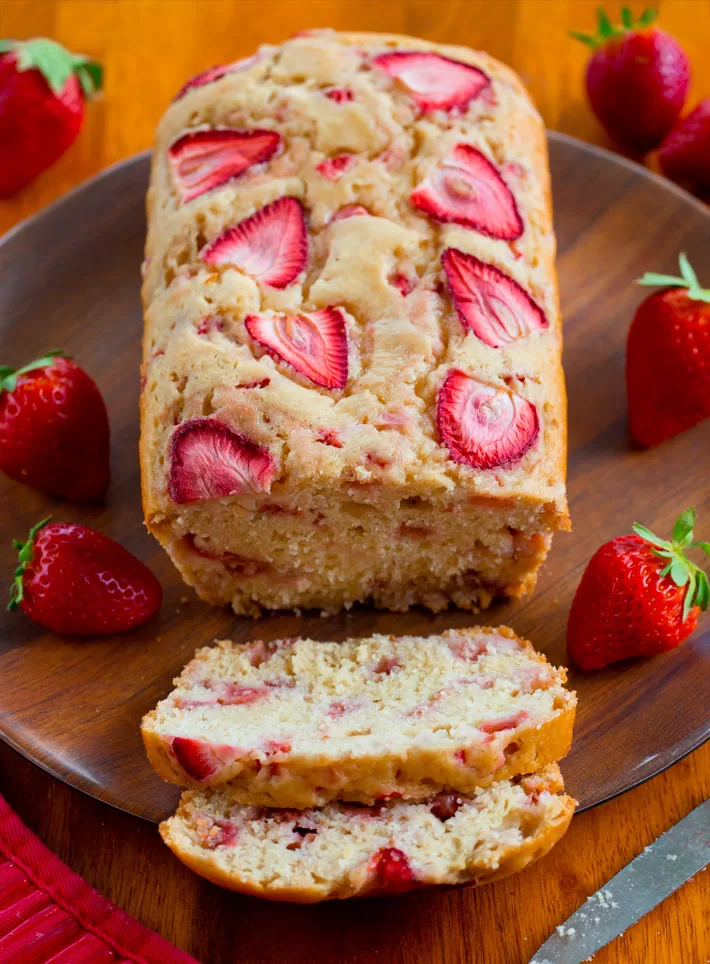 The best moist strawberry loaf cake
Light, sweet, and extra fluffy, this delicious strawberry bread is an absolute breakfast dream. And it's packed with a full two cups of fresh strawberries!
If you are a strawberry lover, the recipe is a must try.
Starting your morning with sweet strawberry bread is sure to put a smile on your face and brighten the rest of your day. Leftovers freeze well too, which means you can always have this spring or summer strawberry treat on hand.
Also make Easy Cinnamon Rolls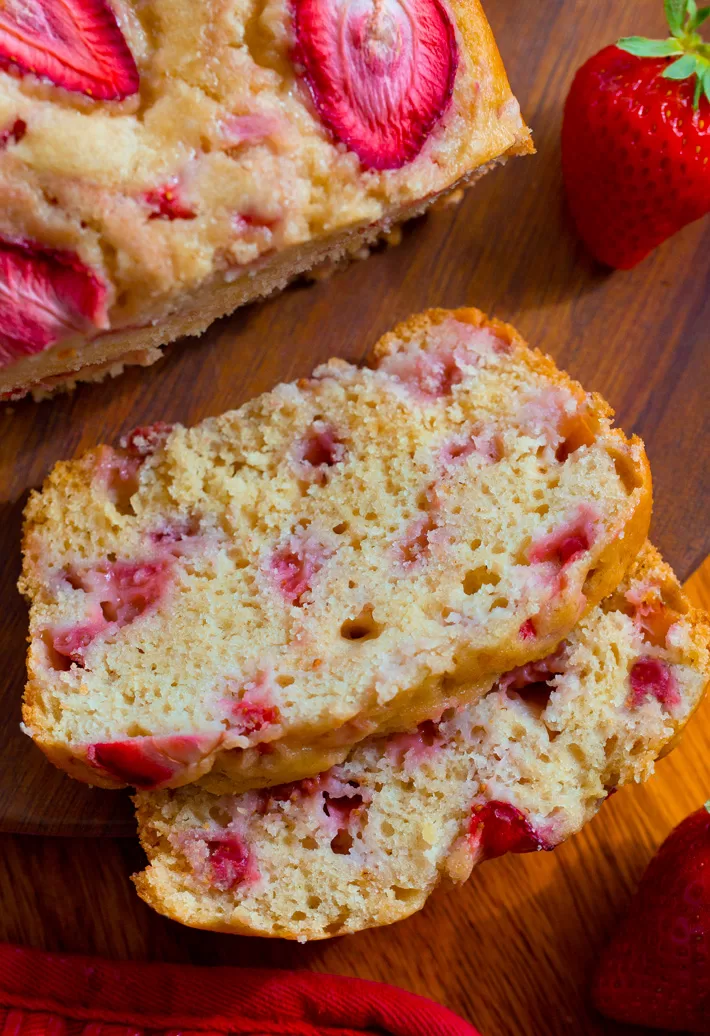 Easy strawberry bread flavors
Strawberry Lemon Bread: Replace one third cup of the water in the recipe below with lemon juice. Stir in one tablespoon of lemon zest.
Chocolate Chip Strawberry Bread: Add half a cup of mini chocolate chips or white chocolate chips to the batter, and sprinkle a few extra chocolate chips on top.
Strawberry Banana Bread: Use this recipe for Healthy Banana Bread, stirring up to two thirds cup of diced strawberries in before baking. Press a few strawberry slices on top if you wish.
Strawberry Nutella Bread: Stir half a cup of toasted chopped hazelnuts into the batter before baking the strawberry loaf. Top with Homemade Nutella.
Above, watch the strawberry bread recipe video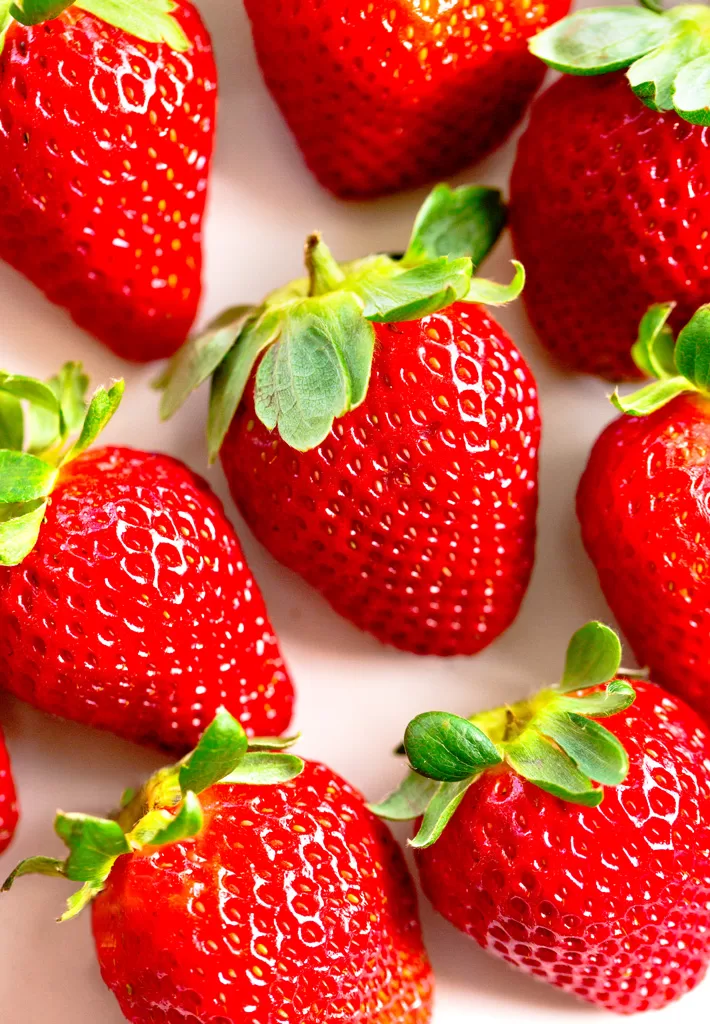 Healthy strawberry bread ingredients
You will need strawberries, water, pure vanilla extract, flour, sugar, baking powder, baking soda, salt, optional almonds or walnuts, oil or almond butter, and cinnamon.
There's no yeast, and no sour cream, sourdough, cake mix, or yogurt required for this classic strawberry quick bread recipe.
Different types of flour that work include white all purpose flour, whole grain spelt flour, or oat flour. Coconut flour is not recommended because it will yield dry results. Feel free to experiment with other flours I have not tried in this healthy loaf recipe, such as whole wheat pastry or almond flour.
The recipe is naturally dairy free. To make vegan strawberry bread with no eggs, either omit the optional egg or use a flax egg and oil or plant based butter.
For a low carb and sugar free strawberry bread, try this Keto Lemon Bread. Feel free to stir a half cup of diced strawberries into the batter before baking.
Use certified gluten free oat flour for gluten free strawberry bread. Some all purpose gluten free flour brands may also work here.
Trending this week: Healthy Blueberry Muffins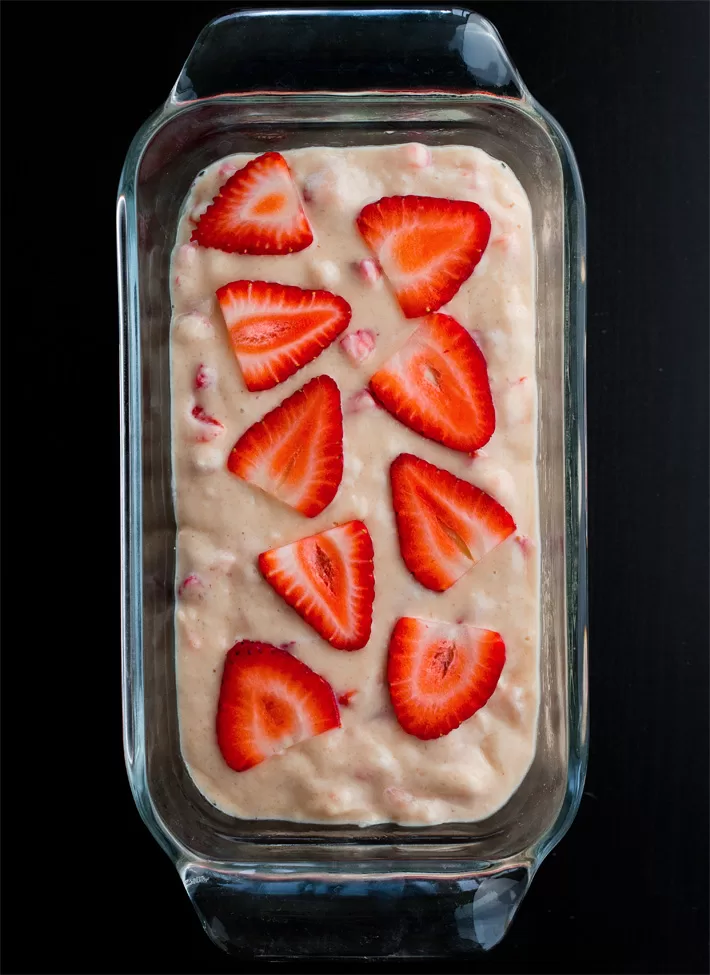 Frozen or fresh strawberries?
To avoid dense or gummy results from too much moisture, I recommend using either fresh berries or frozen strawberries that have been thawed fully. After thawing, dry off excess moisture with paper towels if using frozen berries.
You can also use chopped dried strawberries if you do not have fresh or frozen available. Slowly add more water or oil if needed.
Or for a fun flavor variation, replace some or all of the chopped strawberries with diced cherries, blackberries, or bananas.
Use leftover strawberries for Chocolate Covered Strawberries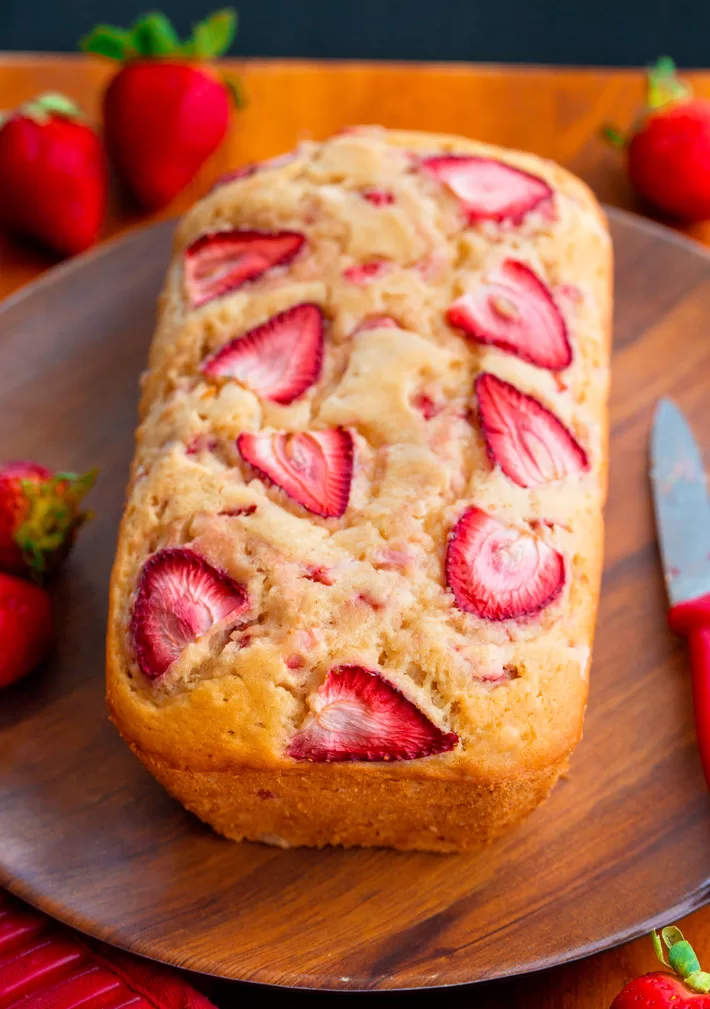 Strawberry bread glaze recipes
Make a simple strawberry glaze by combining one third cup of powdered sugar with a teaspoon of water and a tablespoon of finely diced strawberries. Add more water if needed to thin out the strawberry icing.
Or serve topped with peanut butter, Coconut Butter, or cream cheese.
This berry quick bread is so soft and sweet on its own that I often skip the glaze or frosting entirely and serve it plain instead.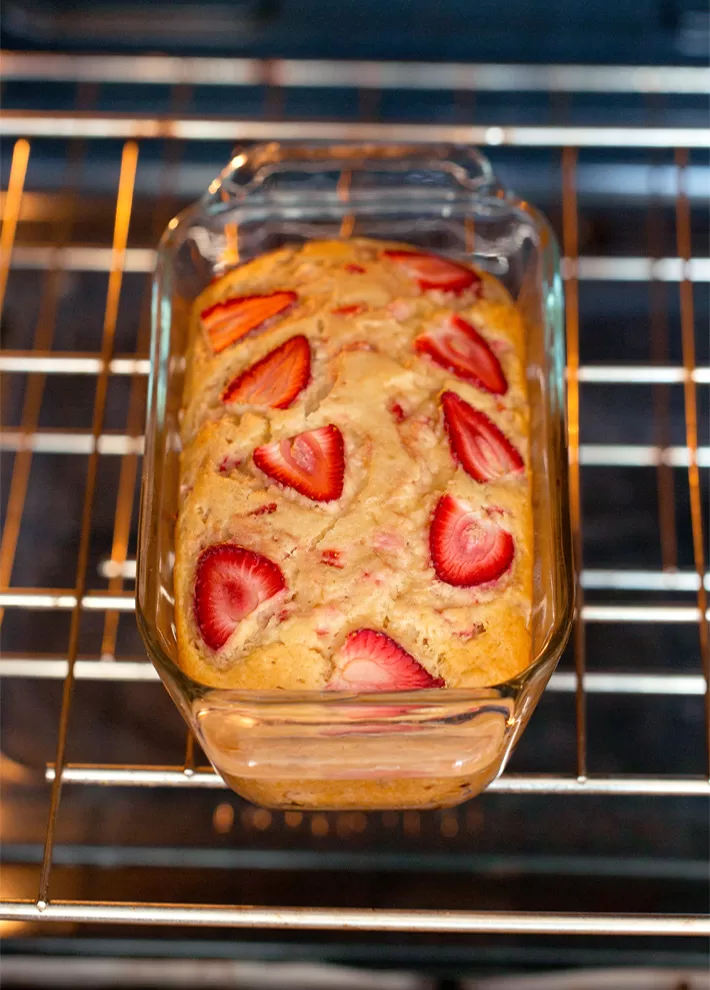 How to make strawberry bread
Begin by gathering all ingredients and chopping the strawberries.
Preheat the oven to 350 degrees Fahrenheit. Grease a 9×5 inch loaf pan, and line the bottom with parchment paper.
Stir the first five ingredients together in a large mixing bowl. Then stir in all remaining ingredients except the sliced strawberries to form a batter. Do not overmix.
Spread the bread batter into the prepared loaf pan. Press sliced berries and optional chocolate chips on the top for decoration.
Bake the strawberry loaf on the center rack of the oven for one hour or until a toothpick inserted into the center comes out mostly clean.
Let the bread cool before going around the sides with a knife and inverting the loaf cake onto a large serving plate.
If you can wait, the taste and texture are even better the next day. After some moisture evaporates, the bold strawberry flavor becomes more concentrated.
Using gram measurements
If you wish to use a food scale to make the recipe instead of cups and tablespoons, here are the amounts to use:
230 grams of diced strawberries, 240 grams each of water and flour, 150 grams of sugar, 36 grams of oil, and 10 grams of pure vanilla extract.
Also remember to add the other ingredients not measured in grams.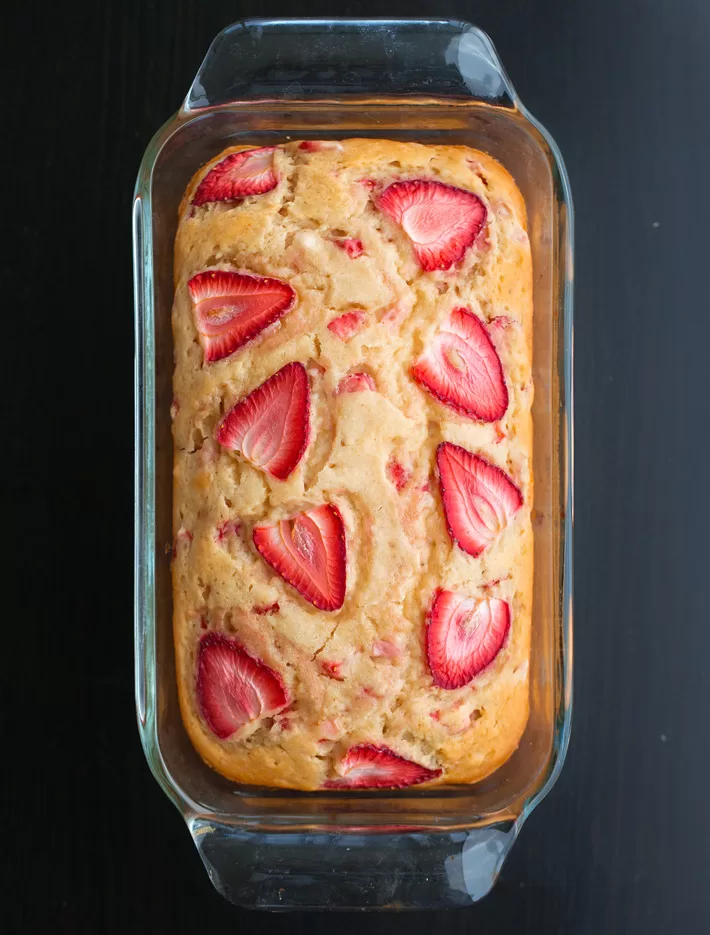 Leftover storage tips
The strawberry cake bread can be left out on the counter overnight, loosely covered with a cloth or paper towels. This will allow excess moisture to escape so the loaf stays light and fluffy.
I recommend storing leftovers after a day in the refrigerator in a covered container for optimal freshness. Leave a tiny opening at the top so moisture can get out. The strawberry recipe should stay good for up to four or five days.
Or you can slice leftovers and freeze in an airtight covered container for up to three months. Sandwich layers of wax or parchment paper in between each fresh strawberry bread slice so the slices do not stick together when thawing. Thaw frozen slices in the refrigerator overnight or in a microwave, oven, or toaster oven.
Still craving strawberries? Make Strawberry Oatmeal Bars or a Strawberry Smoothie.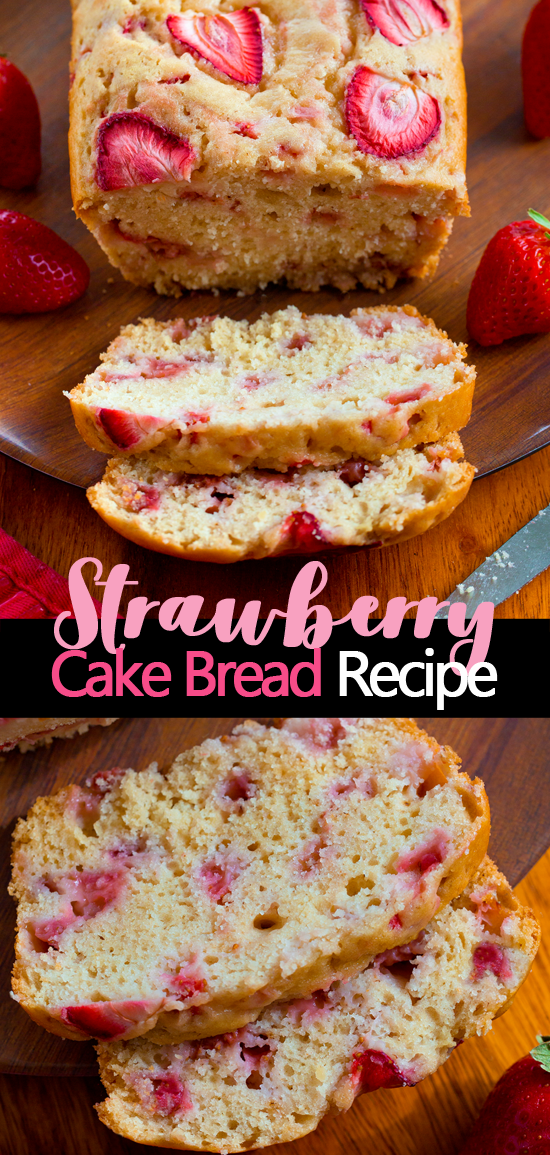 Strawberry Bread
This fresh homemade strawberry bread recipe is perfect for a healthy breakfast or dessert.
Ingredients
2

cups

spelt

or white all purpose flour (gluten free and keto options are listed above)

3/4

cup

sugar,

unrefined if desired

2

tsp

baking powder

3/4

tsp

salt

1/2

tsp

baking soda

1

2/3 cup

fresh or frozen strawberries,

diced

1

cup

water

3

tbsp

oil, butter, or almond butter

(or see note below about fat free option)

2

tsp

pure vanilla extract

1

egg or flax egg,

or 2 tbsp additional water

1/3

cup

sliced strawberries, for the top

optional 1/2 tsp cinnamon

optional 1/2 cup slivered almonds or chopped walnuts
Instructions
Preheat the oven to 350 F. Grease a 9×5 loaf pan. Line the bottom with parchment paper. Stir first five ingredients in a large bowl. Stir in remaining ingredients except topping to form a batter. Spread into the pan. Press sliced strawberries on top (see video above). Bake 60 minutes, or until a toothpick comes out mostly clean. Let cool. If you can wait, the taste and texture are much better the next day! Leftovers can be sliced and frozen.

*A few readers have said they liked the results of subbing applesauce for the oil, but I have not tried. Feel free to experiment.

View Nutrition Facts
Breakfast quick bread recipes