This easy cheesy cauliflower rice recipe is so rich, creamy, and delicious, it is definitely one recipe that you need to try to believe!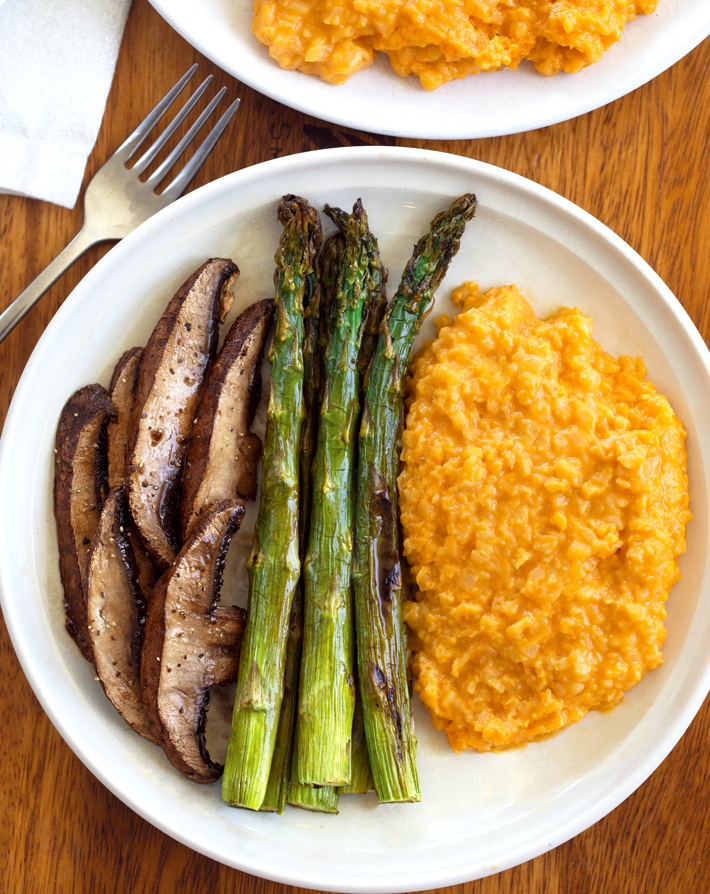 I made the cheesy cauliflower rice for five different friends, and we all thought exactly the same thing as soon as we tasted it:
None of us could get over how much this recipe somehow tastes shockingly similar to actual macaroni and cheese!
With just 5 ingredients, the cheesy cauliflower makes a great low carb and healthy side dish that's super quick to prepare, and leftovers reheat well too.
For dessert, make this Brownie in a Mug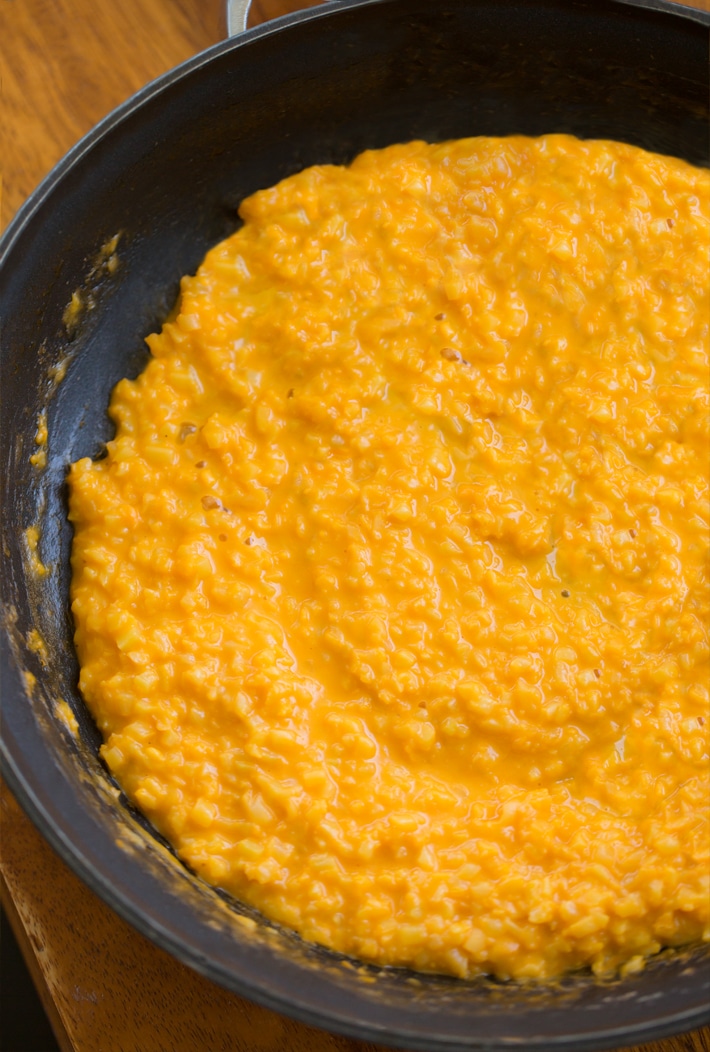 How to make cheesy cauliflower
Gather all ingredients, and take out a medium sauté pan.
If using butter, melt it on low-medium heat. (If using oil, just add it in the next step.)
Add the cauliflower rice and salt to the pan, and continue to cook – stirring occasionally – until the rice is completely soft and tender.
Turn the heat down to low, and add the milk of choice and shredded cheese. Stir constantly until the cheese has melted and the rice thickens. Serve and enjoy.
Leftovers can be refrigerated in a covered container for 3-4 days and reheated.
Trending now: Keto Pancakes – no flour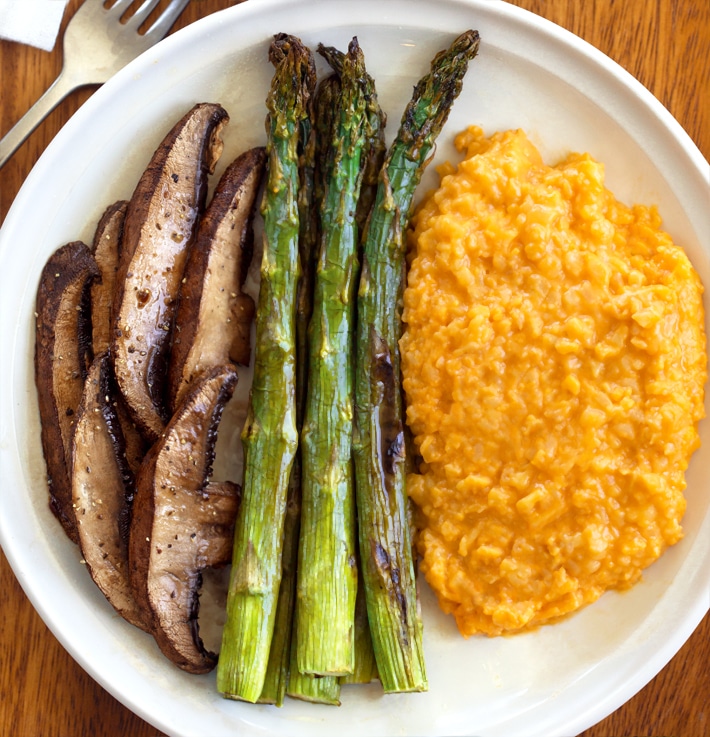 Keto cauliflower rice
The recipe can be customized to fit many different diets, including keto, sugar free, gluten free, egg free, dairy free, paleo, and vegan.
It reminded us of mac and cheese, with a creamy tetxure somewhat similar to risotto.
Serve the riced cauliflower in the same way you would rice – as a side dish to compliment your favorite protein source and vegetables, or as a main dish with the protein and vegetables stirred in, adding a side salad if desired.
You may also like: Chia Pudding Recipe (5 flavors)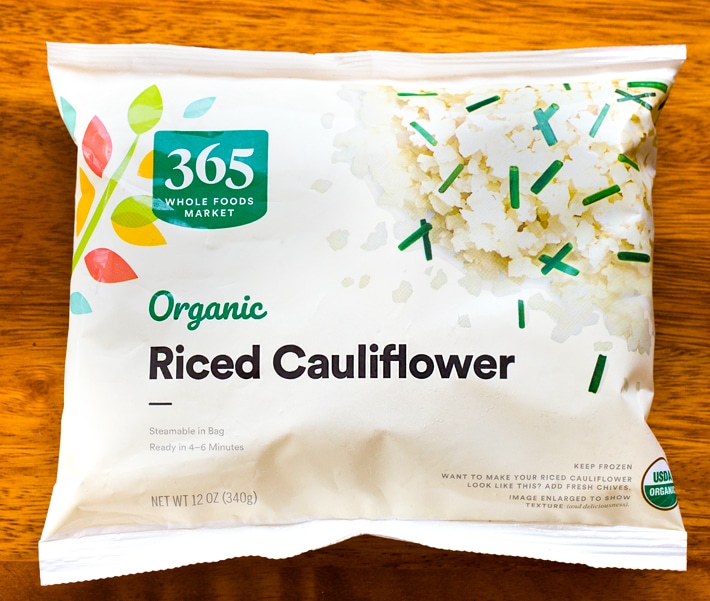 Cauliflower rice ingredients
For the milk: You can use your favorite milk, cream, coconut milk, or nondairy creamer for the recipe. I recommend using an unsweetened variety since the recipe is savory.
For the cauliflower rice: Most regular grocery stores and health food shops should have frozen cauliflower rice from brands such as Bird's Eye, Green Giant, Trader Joe's, or Cascadian Farm. I used one full package of Whole Foods brand, which is 12 oz.
For the cheese: I used shredded cheddar (Follow Your Heart brand) for the rice shown in the video and photos, but I don't see why mozzarella or Italian or Mexican blend wouldn't also work if you want to change up the flavor. For vegan cauliflower rice, just choose one of the many brands of plant based cheese on the market, such as Violife or Miyokos.
For the butter: The recipe works with olive oil or butter (such as Earth Balance, Melt Organic, or Smart Balance Light for a low calorie option). If you try subbing tahini or cashew butter, be sure to report back! I wouldn't recommend omitting the fat completely, because it helps to add richness and mask the cauliflower flavor.
Add-in ideas: Feel free to stir in a handful of fresh or frozen peas, roasted broccoli or corn, or even some bacon bits (many brands are actually vegetarian). Or add your favorite protein source, such as baked tofu or black beans.
*Here are 25 more healthy and delicious Cauliflower Recipes.
Above, watch the cheesy cauliflower recipe video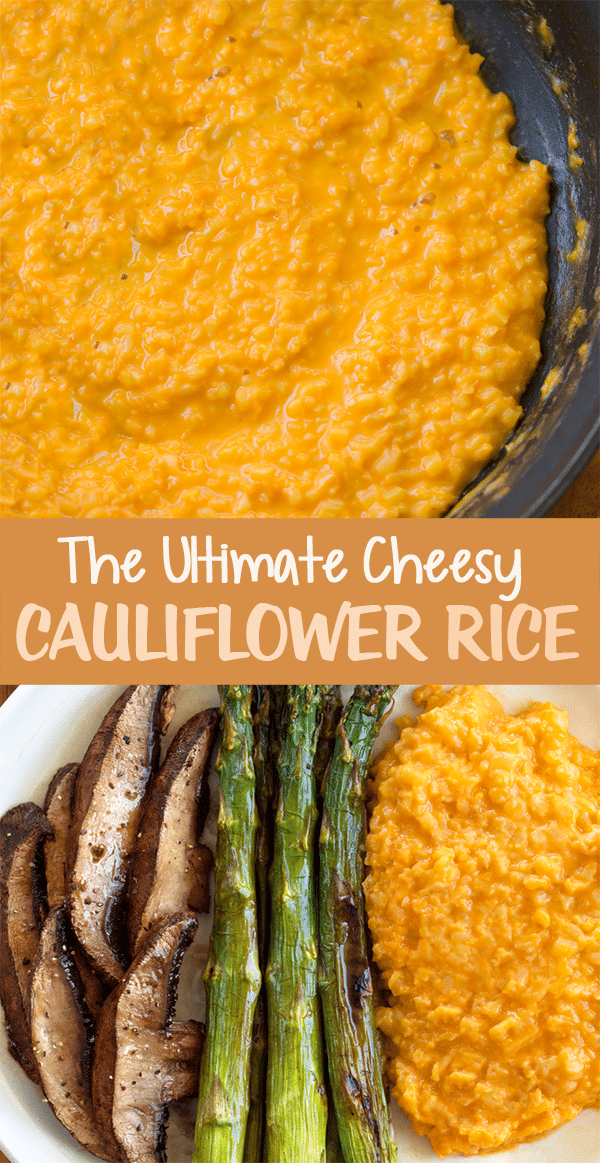 The recipe was inspired by my Vegan Cheese Sauce, Vegan Mac And Cheese, and this Cauliflower Mac And Cheese.

Cheesy Cauliflower Rice
This easy and low carb cheesy cauliflower rice recipe is a delicious and secretly healthy side dish.
Ingredients
3

cups

cauliflower rice

(12 oz)

1

tbsp

oil or butter spread

1/2

tsp

salt

1/4

cup

milk of choice

1

cup

shredded cheddar cheese

(for vegan, I list some brands above)
Instructions
*Be sure to watch the recipe video above if you're a visual person. I used frozen cauliflower rice but think fresh would also work.

In a medium pan, melt the butter or oil on low-medium heat, then add the cauliflower rice and salt. Continue to cook, stirring occasionally, until cauliflower is completely soft and tender. Turn heat to low, add the milk and cheese, and stir constantly until cheese melts and rice thickens to desired texture. Serve hot.

View Nutrition Facts
More Healthy Cauliflower Ideas