Someone take this bottle of chocolate syrup away from me.
It's getting out of control.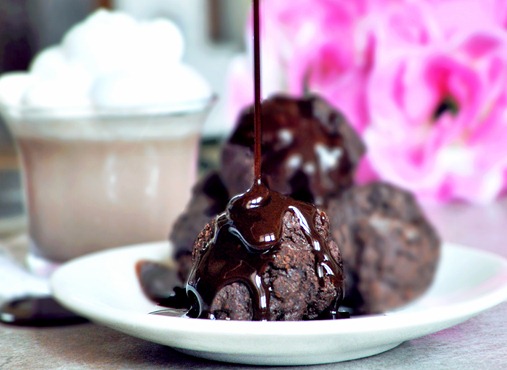 Really out of control.
Imagine: Cookies that taste like hot chocolate!
Melting slowly in your mouth like a truffle.
Like a rich, chocolatey truffle. And yet these hot chocolate cookies are healthier than you could ever imagine, with absolutely no added sugars. I think my dreams are made of these chocolate cookies.
Is it bedtime yet?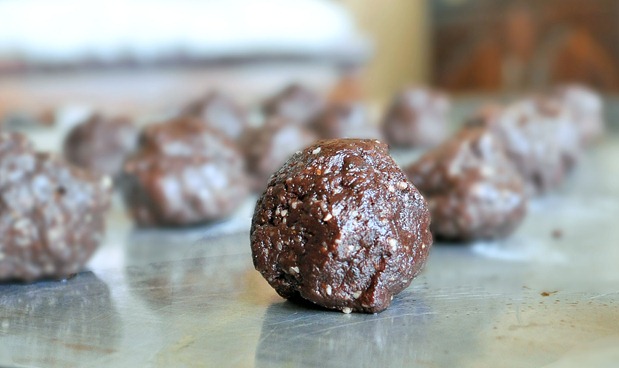 (Above, little balls of hot chocolate, waiting to jump into the oven… and then into my mouth!!)
Hot Chocolate Cookies
Loosely inspired by this popular recipe.
1 cup spelt flour or all-purpose (120g) (See below link for gluten-free option)
2 T cocoa powder (or hot cocoa mix)
packed 1/4 cup pitted dates (45g)
scant 1/4 tsp salt
1/2 tsp baking soda 
1 cup chocolate chips (170g)
1 tsp pure vanilla extract
3-4 T unrefined coconut oil
In a food processor, blend first five ingredients until dates are finely pulverized. In a separate bowl, combine vanilla, oil, and 3/4 c of the chocolate chips. Melt (I microwaved 1 minute, then stirred). Pour the dry ingredients, as well as the remaining 1/4 cup of chocolate chips, into the wet. Stir until evenly mixed, making sure to break up any big clumps. It'll seem dry at first, but keep stirring until it all looks dark and shiny. Bake at 355 F for 7-8 minutes. (Take out when still undercooked, as these continue to cook as they cool.)  Note: I like Sunmaid dates, because they're softer and less dry than traditional dates you find in health food stores. Your dough might be a little drier if you use other dates. It's ok: just add a tiny bit more oil to compensate.
See the following link for a Gluten-Free Option.
How to store the leftovers: Leftovers? You're funny!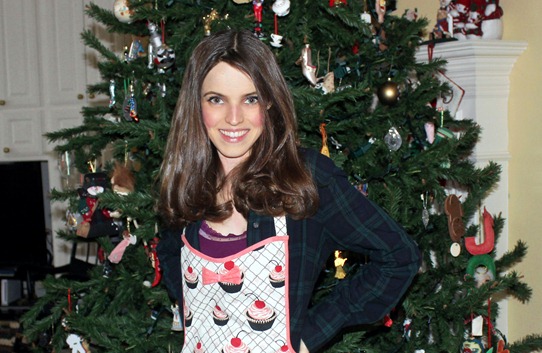 I broke in my new apron for making these cookies, a surprise gift from my host (Servint) after I won the Foodbuzz "Best Baking Blog" award.
By the way, if you ever find that your blog traffic has outgrown shared hosting, I highly recommend Servint for dedicated servers. The people there are knowledgeable and friendly—and they're very patient with technologically-challenged bloggers like me! (Servint managers, if you're reading this, Renzo and Russ deserve a raise. They're the best!)
Full-size view: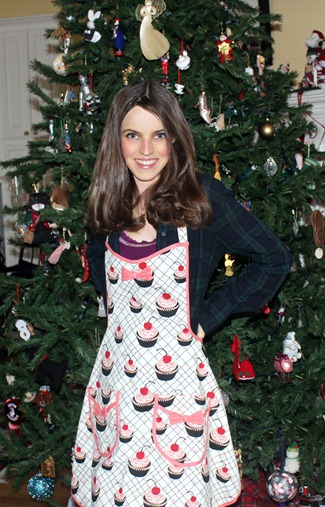 P.S. I love how my hair looks when it's curled, but I hate doing it. Can someone please invent a perm that gives you waves instead of frizz? (I got a perm once… yuck.)
Question of the Day:
Do you remember your dreams?
If I try to remember one as soon as I wake up, I usually can. But if someone asks me during the day what I dreamed about, I'll usually have no clue. However, if I dreamed about these cookies, I bet I'd remember that! Mmmm hot chocolate dreams…
Want even more chocolate? Try my Frozen Hot Chocolate.