Make these deliciously chewy chocolate chip tahini cookies, and you may never go back to plain chocolate chip cookies again!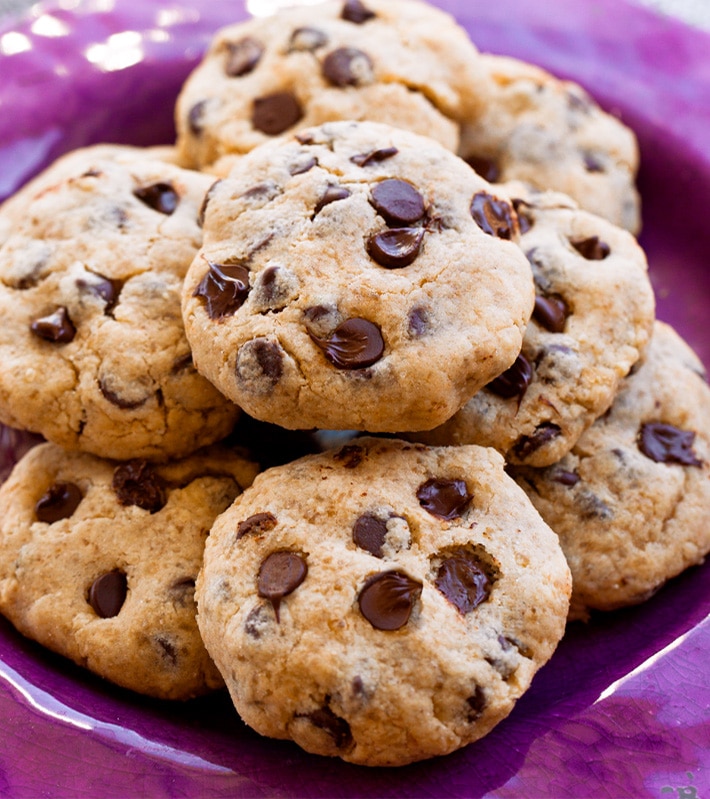 Tahini chocolate chip cookies
If you have a jar of tahini sitting in your pantry with no ideas how to use it up, these fancy homemade cookies are the perfect excuse.
They are super soft and pillow-like, with absolutely NO butter or oil.
The cookies are naturally egg free and dairy free, and the recipe can be both vegan and gluten free as well. If you like soft and chewy chocolate chip cookies, definitely give these tahini cookies a try!
Also make these Vegan Chocolate Chip Cookies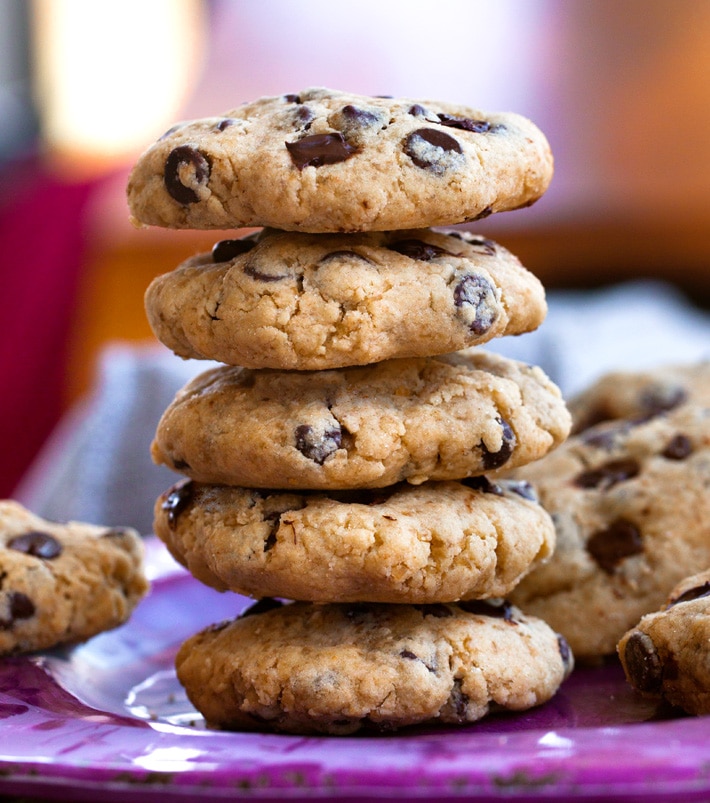 What is tahini?
Tahini, or tahina, is a Middle Eastern condiment made from ground hulled toasted sesame seeds. People describe it as tasting earthy, slightly bitter, and nutty.
It is often used to make salad dressings, dips, or recipes such as hummus, halva, and baba ghanoush. But tahini is also wonderful in cookies!
Sesame has a strong flavor that people usually either love or hate. If you fall into the latter category, do not make these cookies, because the bold sesame flavor absolutely does come through. These are chocolate chip cookies for sesame lovers.
One tablespoon of this healthy sesame spread contains 90 calories and 3 grams of protein, as well as antioxidants and vitamins like calcium, iron, fiber, selenium, manganese, copper, zinc, phosphorus, thiamine, and vitamin B6.
Try adding tahini to these Sweet Potato Brownies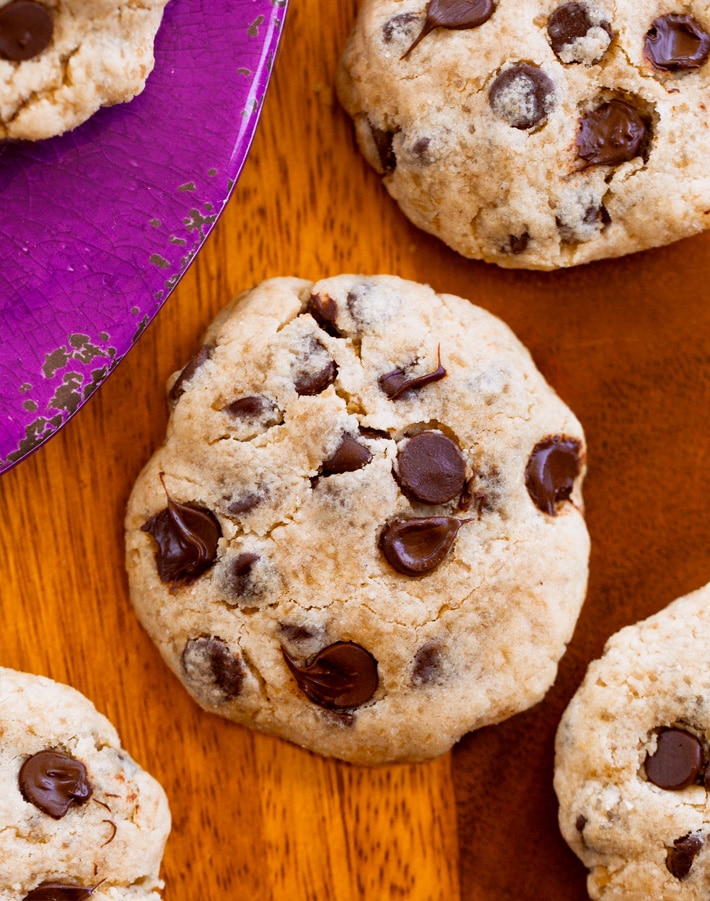 Tahini cookie ingredients
This healthy cookie recipe calls for seven ingredients: flour, sugar, baking soda, salt, chocolate chips, milk of choice, and sesame seed paste.
For the flour: You can use spelt flour, white all purpose flour, or oat flour for the cookie recipe. We have not tried the tahini cookies with gluten free flour, whole wheat flour, or rice flour, so feel free to experiment, and be sure to report back if you do.
To make paleo and keto tahini cookies with almond flour, follow the chocolate chip keto cookie option mentioned below. Substitute three tablespoons of tahini for the two tablespoons of coconut oil.
For the sweetener: This can be white sugar, brown sugar, coconut sugar, or evaporated cane juice. We cannot vouch for substituting a liquid sweetener, such as honey or maple syrup, or erythritol since we have not baked the cookie recipe using any of these options. As with the flour substitutions, report back if you experiment.
Peanut butter variation: Turn them into peanut butter cookies by substituting an equal amount of peanut butter for the tahini. Especially if using natural nut butter from the refrigerator, gently heat the peanut butter until it is runny and easy to stir.
Readers also love these Snowball Cookies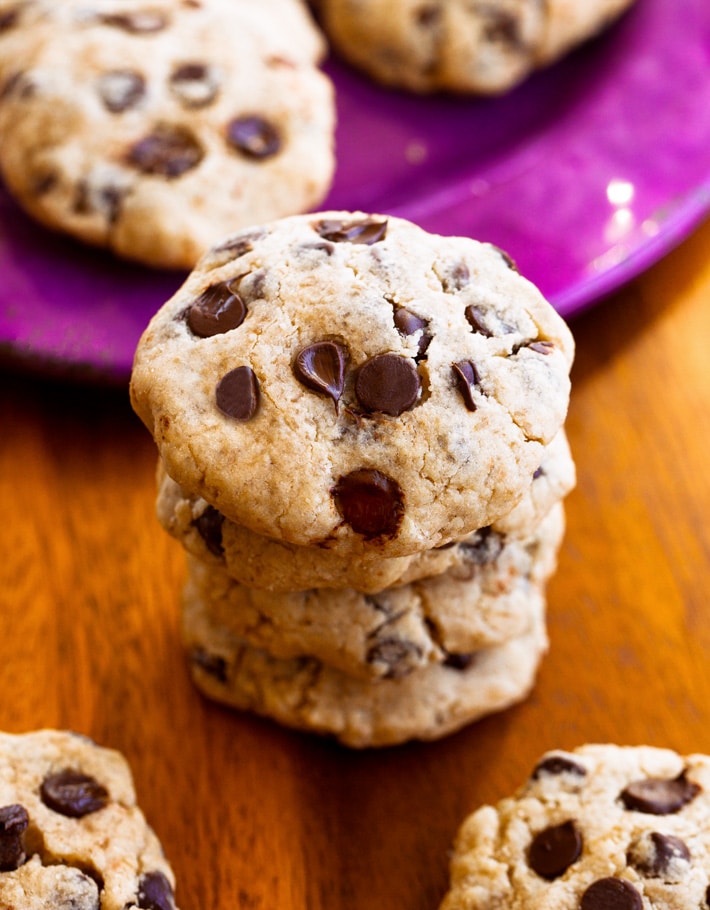 How do you thin out tahini that is too thick?
If you've ever bought tahini before, you may have noticed it's usually pretty thin when you first open the jar or bottle.
Get down closer to the bottom, and the remaining tahini is much thicker. Sometimes it is not spreadable at all.
Many cookbooks will tell you to thin out tahini with water, but that will not work for this cookie recipe because water dilutes the richness and the bold sesame flavor.
Instead, you can thin it out with a neutral oil. My preference is untoasted sesame oil. If you prefer not to use oil, stick to using the tahini at the top of the jar for these tahini cookies and use up the thicker tahini for another purpose.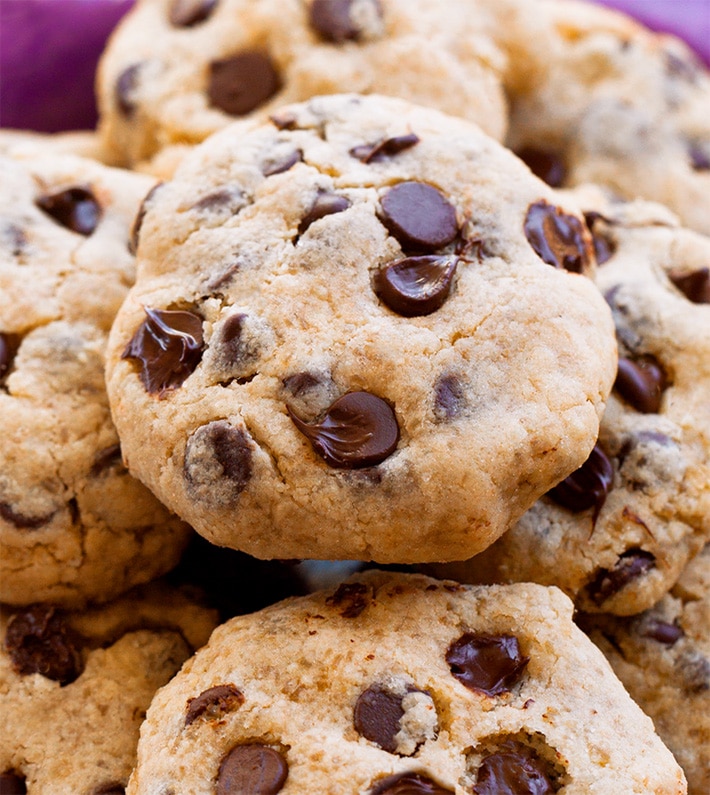 How to make tahini cookies
Start by preheating your oven to 325 degrees Fahrenheit.
Grease a baking tray, or line it with parchment paper. Set this tray aside.
In a large mixing bowl, combine all dry ingredients. Add the wet ingredients, and stir to form a chocolate chip cookie dough texture.
Press the dough into one large ball, then break off cookie sized pieces. Roll the small pieces of tahini cookie dough into tight balls with your hands or a cookie scoop.
You can press in a few extra chips or roll the balls in sesame seeds if you wish.
Place the balls on the prepared cookie tray, and press them down into cookie shapes if desired, because they do not spread much on their own.
Bake on the oven's center rack for eleven minutes, then remove the tray from the oven when the cookies still look under-baked.
Let the tray cool for at least ten minutes, during which time the tahini cookies will firm up considerably.
I like to transfer leftover cookies to a lidded container. Or place leftovers on a plate and enclose the entire plate in a large ziploc bag. The chocolate chip tahini cookies are soft and chewy the next day.
Watch the tahini cookie recipe video above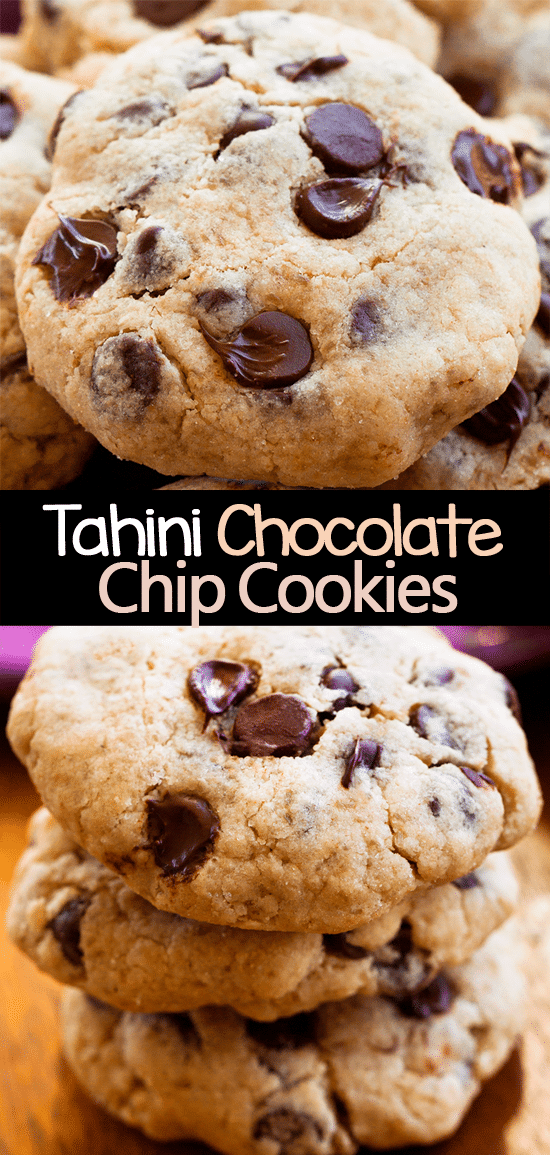 Tahini Cookies
A delicious recipe for homemade chewy chocolate chip tahini cookies, with no butter or oil.
Ingredients
1

cup

white,

spelt, or oat flour (for low carb, make these Keto Cookies)

1/2

tsp

baking soda

1/4

tsp

salt

1/2

cup

sugar,

unrefined if desired

1/2

cup

chocolate chips

1/3

cup

tahini

2

1/2 tbsp

milk of choice
Instructions
*Flour should be very loosely packed. Measure one cup, then remove and discard one tablespoon. (If you have a food scale, use 110 grams.) If your tahini is not liquidy, see above for how to soften it.

Preheat oven to 325 F. Combine dry ingredients in a bowl. Stir in remaining ingredients to form a cookie dough – it will be dry at first, so keep stirring for at least a minute or two, when it will suddenly turn into a cookie dough texture. Form one big ball, then break off smaller pieces and roll into smaller balls. Place on a greased or lined baking tray, and press into cookie shapes. Bake 11 minutes. Let cool 10 minutes before handling, as they will firm up considerably while cooling. Once the cookies are fully cooled, I like to put them on a plate and enclose the entire plate inside a large ziploc. The cookies are super soft and chewy the next day!

View Nutrition Facts
More Favorite Cookie Recipes