This deliciously soft and moist frosted carrot cake is the only keto carrot cake recipe you will ever need.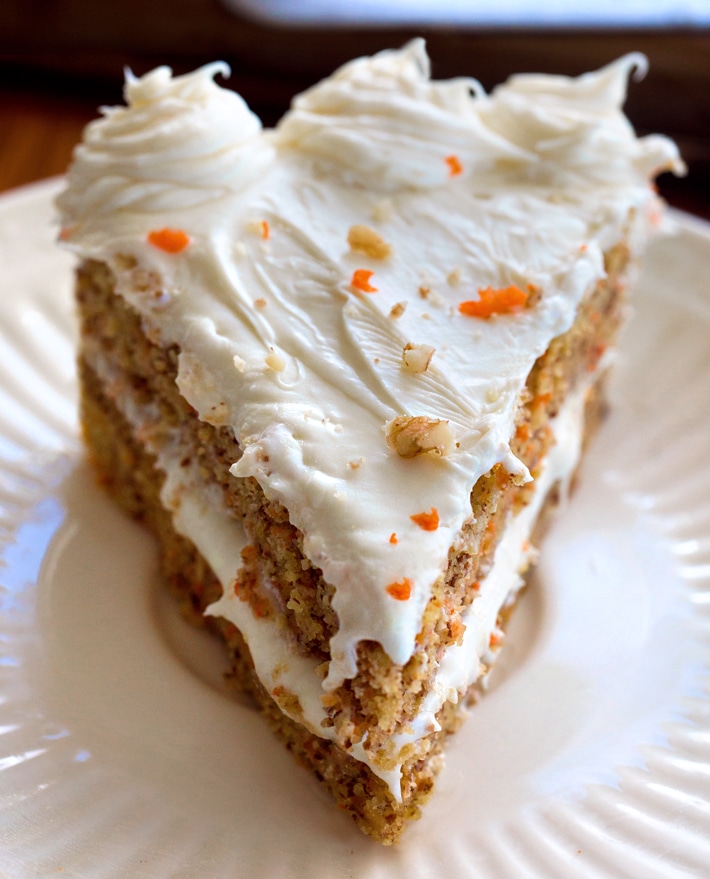 I've been getting a ton of reader requests to come up with an easy and secretly keto carrot cake recipe that's perfect for Easter or any time you're craving carrot cake.
If you try today's ultimate flourless two layer carrot cake, topped with a thick and creamy homemade cream cheese frosting, hopefully you will agree with everyone who's tried it so far: this recipe was absolutely worth the wait!
Also be sure to try these Keto Cookies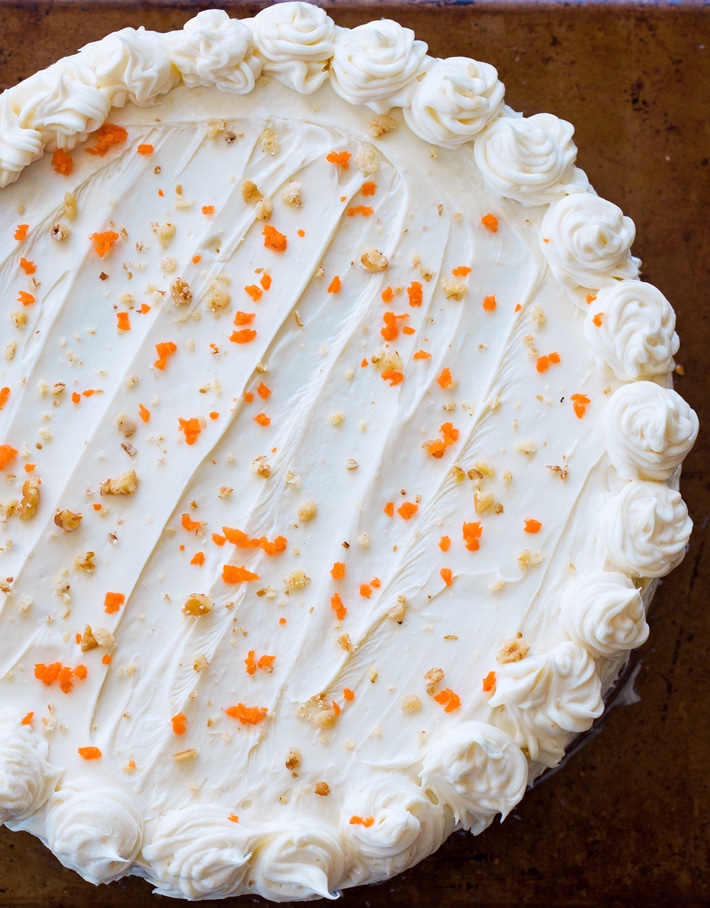 Sugar Free Carrot Cake Ingredients
What sweetener to use?
For the cake in the photos, I used Lakanto Classic Monkfruit.
If you're serious about wanting your keto baked goods to turn out well, I highly recommend using this as your sugar replacement, because it's measured the same way as sugar and will give you very similar results in most recipes, without sacrificing any of the delicious taste or texture.
The zero calorie sweetener contains no net carbs, no artificial flavorings, and no sucralose or maltodextrin, with a zero rating on the glycemic index. It can work with ketogenic, low carb, diabetic, candida, paleo, vegan, low sugar, non-GMO, and all-natural diets.
*The monkfruit sweetener is 15% off this week only if you use the discount code katie15.
---
What flour to use?
The recipe calls for finely ground almond flour, which isn't really flour at all. It's simply almonds that have been blended into a flour-like consistency.
For a cake made with regular flour, try this Vegan Carrot Cake.
I have not tried the keto recipe below with any flour other than almond and do not recommend subbing coconut flour unless you want to experiment by playing around with the other ingredients. (Coconut flour cannot usually be substituted 1-for-1 in a recipe calling for almond flour, because it soaks up liquid like a sponge.)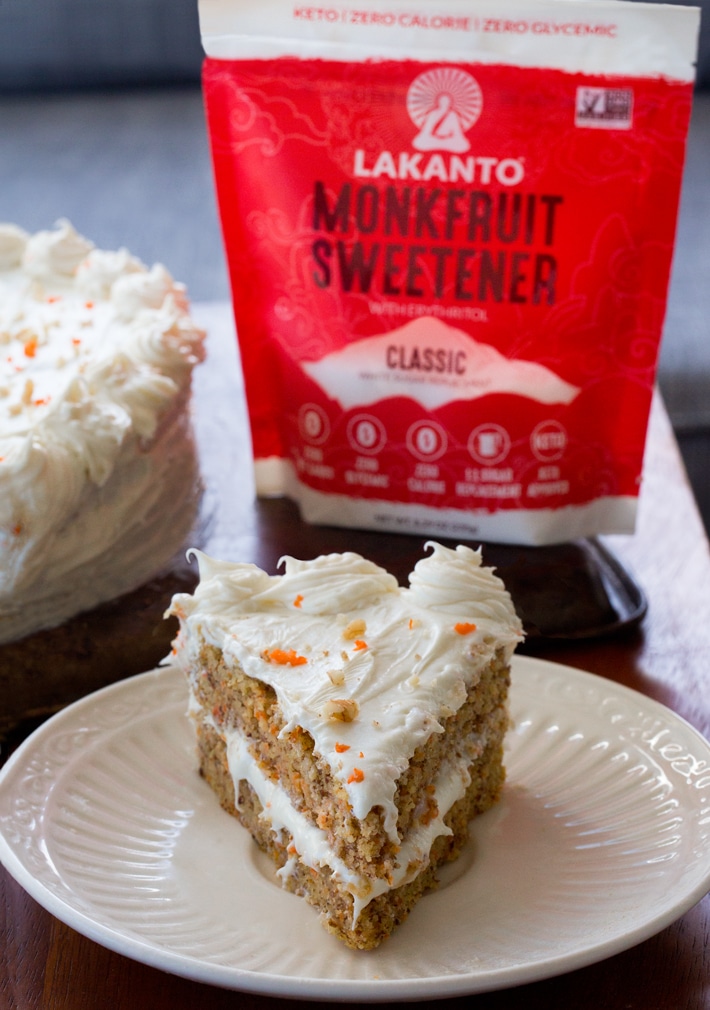 Keto Cream Cheese Frosting
Feel free to frost the carrot cake with your favorite vanilla or cream cheese frosting or with melted coconut butter. I used the following homemade frosting recipe:
8 oz cream cheese or vegan cream cheese
4 oz butter or vegan butter
1 tsp pure vanilla extract
Bring the cream cheese and butter to room temperature. Beat all ingredients until smooth, slowly adding a little milk of choice as needed.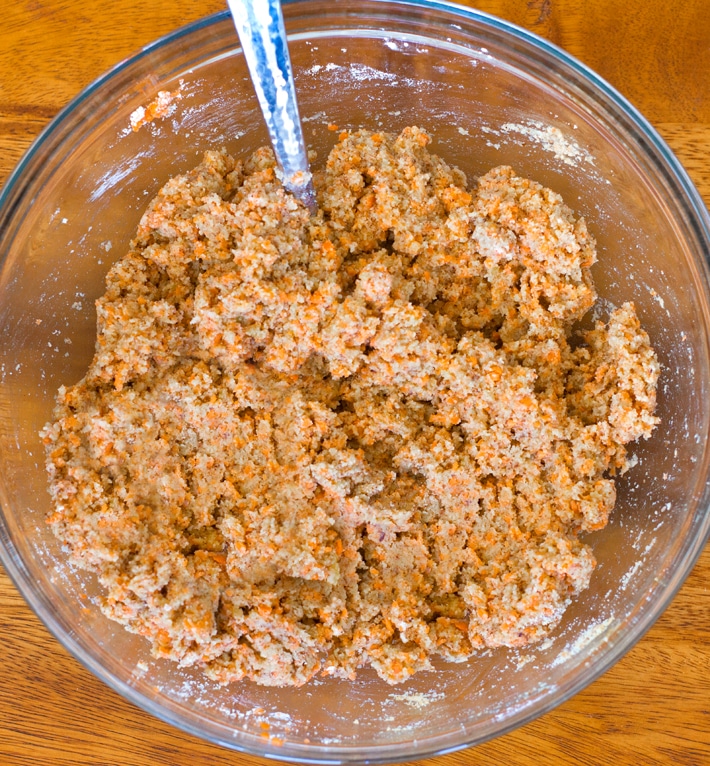 Keto Carrot Cake Cupcakes
If you want to make cupcakes instead of cake, simply halve the recipe below and bake in a lined muffin tin, or two mini muffin tins, at 350 degrees Fahrenheit.
It will take 10 minutes for mini carrot cake muffins or 15 minutes for regular ones. I prefer the mini ones because they have a lighter fluffy texture… and you can eat more of them!
For nut-free cupcakes, try these Healthy Carrot Cake Cupcakes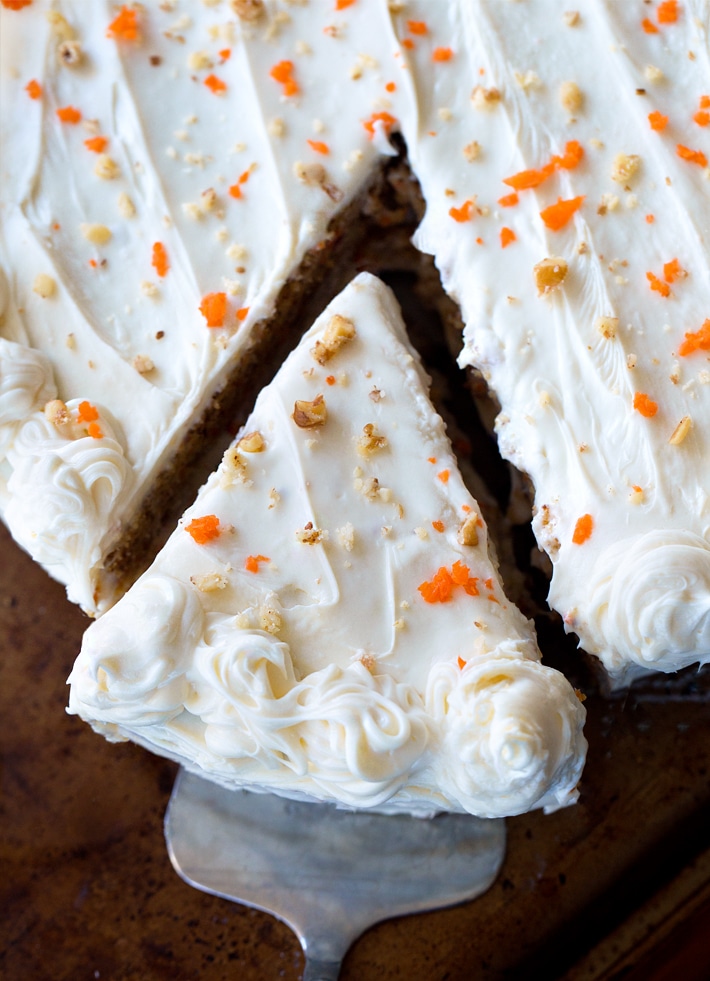 Above, watch the keto carrot cake recipe video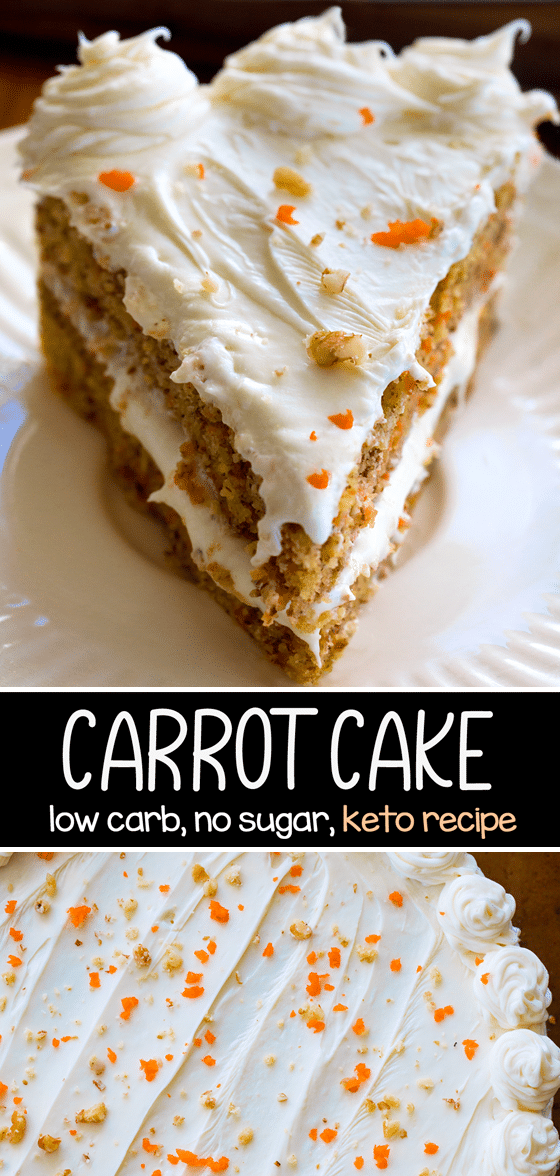 Keto Carrot Cake
This easy sugar free keto carrot cake recipe is soft, moist, and completely delicious.
Ingredients
4

cups

fine almond flour

(a nut-free version is linked above)

1/2

cup

granulated sweetener – we used and recommend Lakanto Classic Monkfruit for best results

1

cup

shredded carrot, packed

4

large eggs or flax eggs

2

tbsp

baking powder

1

tsp

salt

optional 1 tsp pure vanilla extract, handful crushed walnuts, pinch cinnamon, etc.
Instructions
Preheat the oven to 350 F. Grease two 8-inch pans and line with parchment. Stir all ingredients very well, then spread into the pans. (Watch the step-by-step recipe video above.) I've found that pressing down with a second sheet of parchment helps to get the batter evenly into the pans. Bake 20 minutes on the oven center rack. Make sure to let cool completely so the cakes don't break when you go around the sides with a knife and then pop out. Frost with your favorite icing or with the cream cheese frosting recipe I've included above.   

View Nutrition Facts
More Keto Cake Ideas