How to make oat milk, where to find it, and everything else you've ever wondered about the new plant based milk that's currently taking the grocery aisle by storm!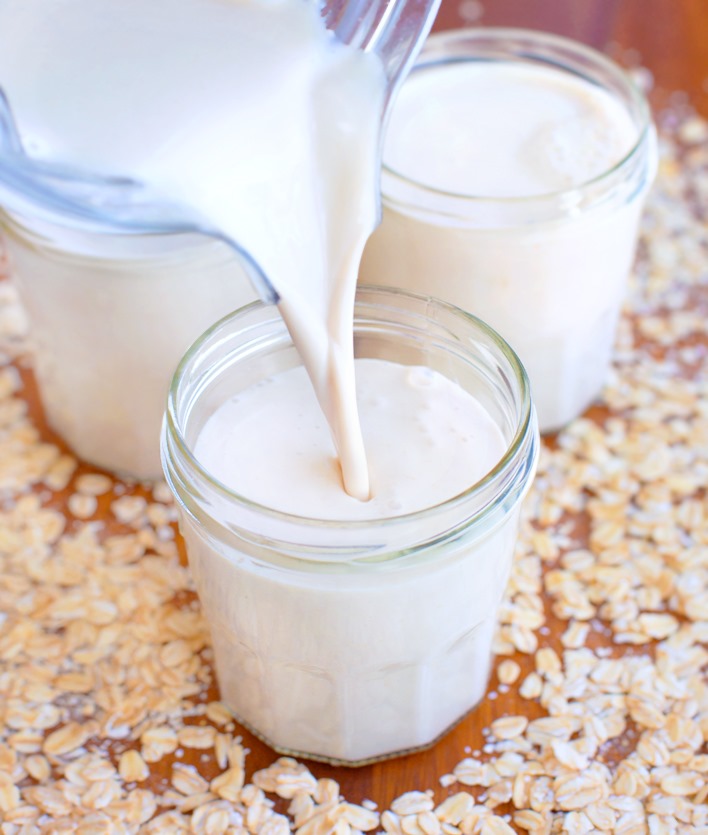 Have you tried oat milk yet?
The popular beverage is suddenly all over the place – and for good reason!
With just two ingredients (seriously, just two!), it's a soy free, dairy free, and low calorie plant-based milk that's even creamier than almondmilk, with NO added thickeners or stabilizers required!
In other words, this might very well become your new favorite nondairy milk…
Trending Right Now: The Ultimate Veggie Burger Recipe – 6 Ingredients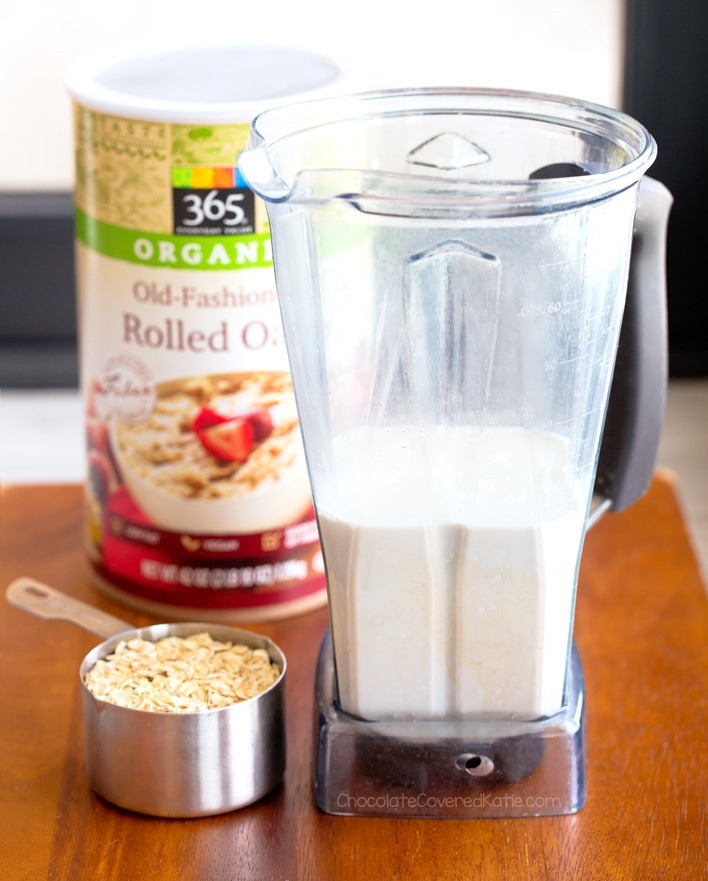 What does it taste like?
Oat milk has a smooth and creamy texture, and many people say its naturally sweet flavor makes it the most similar to dairy milk of all the plant based options on the market.
How do you use oat milk?
Plain unsweetened oat milk is perfect for using in savory recipes—such as this Vegan Mac And Cheese—and it's a fantastic option for thickening soups and stews.
It's also great for smoothies or protein shakes, pouring over cereal, adding to Vegan Pancakes or baking cakes or muffins, or just drinking straight up.
Stirring in a little sunflower or coconut oil will increase the fat content and mimic the texture of heavy cream, making it perfect for coffee.
You can keep it unsweetened or add your favorite sweetener of choice, such as pure maple syrup, brown sugar, dates, stevia, etc.
I've included an easy recipe for oat milk below, along with a few different flavors: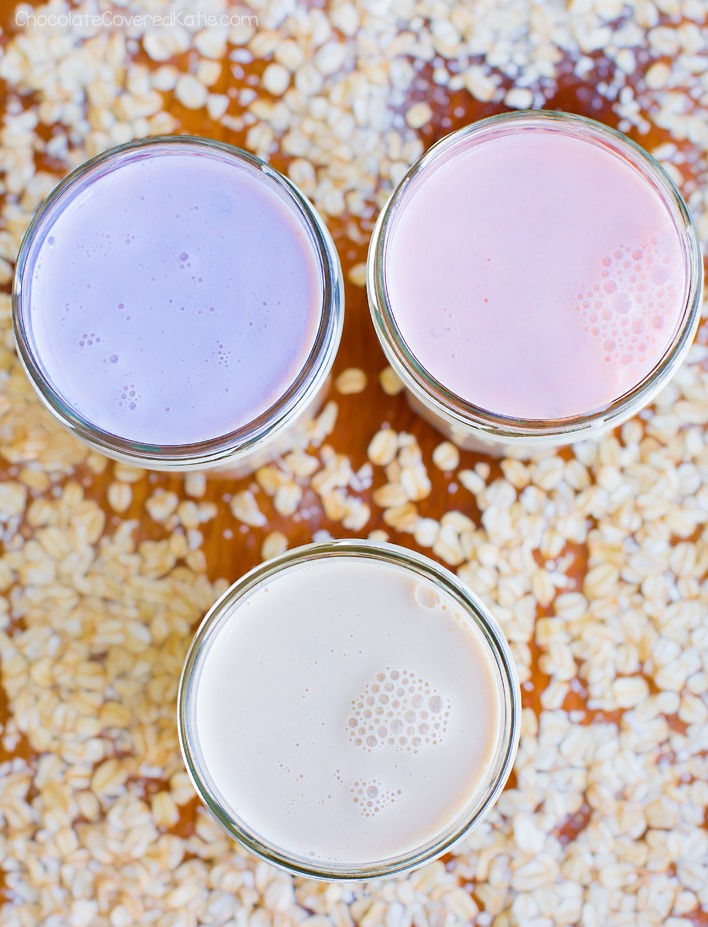 Oat Milk Flavors
Vanilla: Add 1/4 tsp pure vanilla extract or 1 tsp vanilla bean paste to the base recipe
Chocolate: Add 2 tbsp cacao or cocoa powder and 1/4 tsp pure vanilla extract
Thin Mint: Use the add-ins for the chocolate flavor above, then also add 1/8 tsp pure peppermint extract, or more if desired
Pumpkin Spice: Add 1/2 tsp pumpkin pie spice and 1/4 tsp pure vanilla extract. Or do the same thing with cinnamon or apple pie spice
Mocha: Use coffee instead of water in the base recipe. Add 2 tbsp cocoa or cacao powder and 1/4 tsp pure vanilla extract
Strawberry Or Blueberry: Add 1 cup fresh or frozen berries and 1/4 tsp pure vanilla extract
Peanut Butter Or Nutella: Blend in 2 tbsp chocolate hazelnut spread or Healthy Nutella, or almond or peanut butter
What other flavors can you think of?
Other flavors I've brainstormed but not yet tried include coconut, caramel, apple, chai, dutch cocoa, cherry, green tea, turmeric golden milk, maple, pineapple, mango… honestly the flavor possibilities are endless!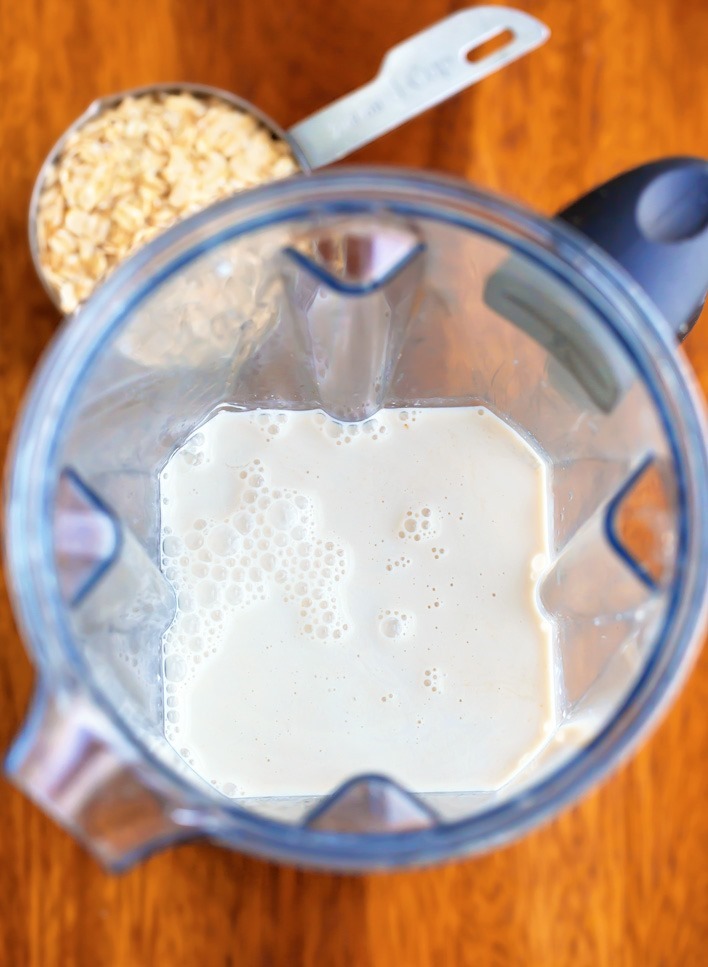 OAT MILK FAQ
What are the health benefits of oat milk?
Low Calorie
Cholesterol Free
Quick & Easy To Make
Soy, Dairy, Nut, & Coconut Free
And it's naturally thick with no emulsifiers or other additives – No xanthan gum, no guar gum, no carrageenan!
(Some commercial brands do include these ingredients, as well as added sugar; and not all brands source oats that are organic or certified glyphosate-free, so make your own if you want full control over what goes into your finished product.)
Where can you buy it?
Especially in the past year, oatmilk has become increasingly available at both health food stores and major chains such as Target, Whole Foods, Kroger, Walmart, Safeway, Giant, and Wegmans, as well as both large and small coffee shops around the US, Canada, and the world.
Brands include Quaker Oat Beverage, Elmhurst, Califa Oat Barista Blend, Pacific, Planet Oat, Mooala, Oat Dream, Coffee mate oat milk creamer, Silk, and Oatly (the forerunner, which has been popular in Sweden for over two decades).
Starbucks now offers it it in select UK and US locations, and So Delicious has even come out with oatmilk ice cream and oatmilk yogurt!
Can you make homemade oat milk?
You can definitely make your own, and it only takes about 5 minutes!
Simply combine the ingredients in a blender, strain out the oats (or you actually don't even have to), and enjoy! It's cheaper than store-bought, and it's also both cheaper and faster to make than almondmilk or soymilk.
Homemade oat milk will last for up to 5 days stored in a covered container in the refrigerator. If it separates, simply shake the container.
What kind of oats do I use? Will steel cut work?
I like to use old fashioned rolled, quick oats, or Irish oats, because they don't require an extra soaking step, but steel-cut are also fine.
For steel-cut oats, start by soaking the raw oats in a bowl of water for at least 1 hour (or you can soak overnight).
Rinse extremely well to remove any sliminess. Then proceed with the recipe the same way as if you were using rolled.
Is oat milk gluten free and vegan? Does it have any vitamins?
Oats are naturally gluten free, but it's always a good idea to check before serving a recipe to someone with allergies or following a special diet.
Many with Celiac disease avoid oats or only buy brands that say "certified gluten free" on the package to ensure no cross-contamination with wheat products.
Oat milk is low in fat and both lactose free and vegan. Most commercial brands are fortified so you're getting vitamins and minerals as you would with cow's milk.
Silk's Oat Yeah Oatmilk, for example, is an excellent source of bone building calcium, vitamin D, vitamin B12, and riboflavin – it actually has more calcium than the same amount of skim milk.
Some brands also include added protein or fiber, but the homemade version doesn't use filler ingredients like chicory root.
So if you're making your own and want the extra heart healthy fiber, protein, iron, magnesium, and B vitamins from the nutrition powerhouse oats, I'd recommend either going with the unstrained option or consuming the leftover oat pulp instead of discarding it. (See directly below.)
Can I use the leftover oat pulp?
Yes, you can use it to thicken smoothies or sauces, add a spoonful to muffin or bread batter for extra nutrition, stir in fruit and sweetener to eat on its own, or even use it as a nourishing face mask!
It can also be frozen for another time.
Can you heat up oatmilk? Or cook the oats first?
Most commercial brands of oatmeal milk can be heated just like any other nondairy milk.
The homemade version will thicken when heated, but I've found that adding the optional oil prevents it from thickening too much to use as a creamer or in an oat milk latte.
Because it gets thicker when heated, this is a great vegan milk choice for sauces, gravies, or any recipe that you want to thicken naturally.
As for cooking the oats first, you absolutely can.
Years ago, one of my favorite breakfasts was cooked oatmeal that I'd blend after cooking for added creaminess. You can still find these recipes on my site if you search (as well as a recipe for how to make oatmilk I originally posted back in 2010!)
As another fun idea, you can also toast the oats before turning them into milk.


Oatmeal Recipes – 50 Healthy Ideas
How To Make Oat Milk
Here's everything you need to know about how to make oat milk at home!
Ingredients
1

cup

rolled oats

water

optional 1/8 tsp salt

sweetener of choice,

such as maple syrup, dates, stevia, sugar, raisins, banana, etc.

ingredients for flavor of choice if desired
Instructions
*Use 2 1/2 to 4 cups water, depending on desired thickness. Be sure to scroll up in this post to find recipes for 10 different flavors. The recipe is similar to skim milk; if a richer milk or cream is desired, simply add 1-3 tbsp oil (such as sunflower or non-gmo canola) before blending.

To make the oat milk, simply combine all ingredients in a blender until completely smooth. You can stop here if you prefer some texture and extra thickness. Otherwise, pour mixture into a fine mesh strainer, cheesecloth, coffee filter, or nut bag set over a large bowl. Squeeze out the liquid. (Discard pulp or save for a different use.) If needed, strain a second time. Store leftover milk sealed in the fridge up to five days, or it can be frozen for a later date.

View Nutrition Facts
Recipes With Oat Milk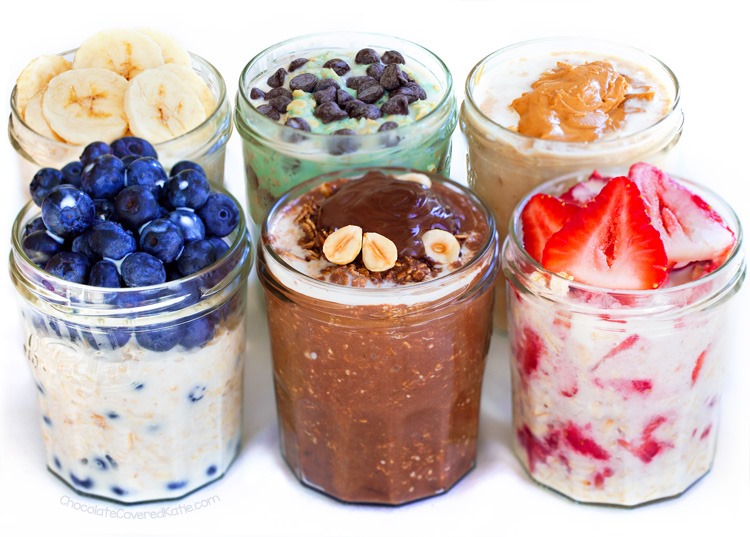 (15 NEW Recipes!)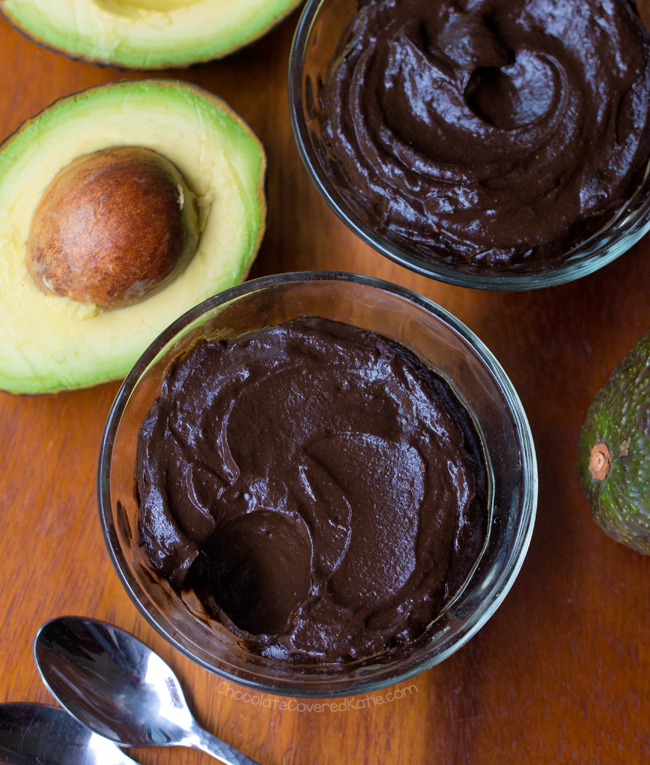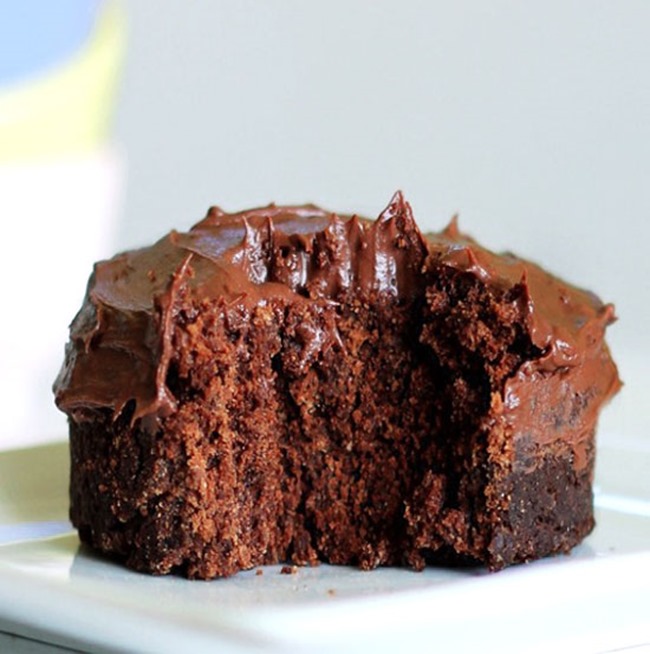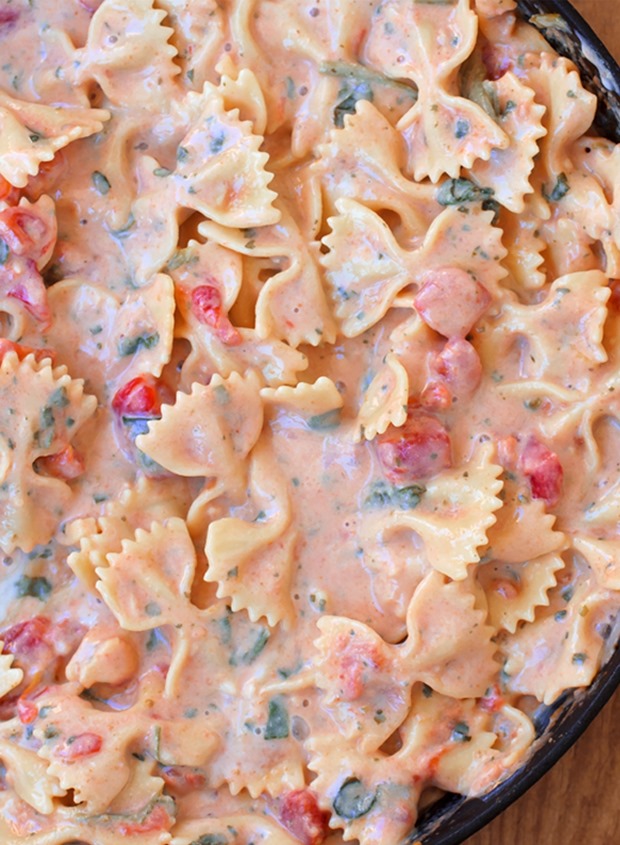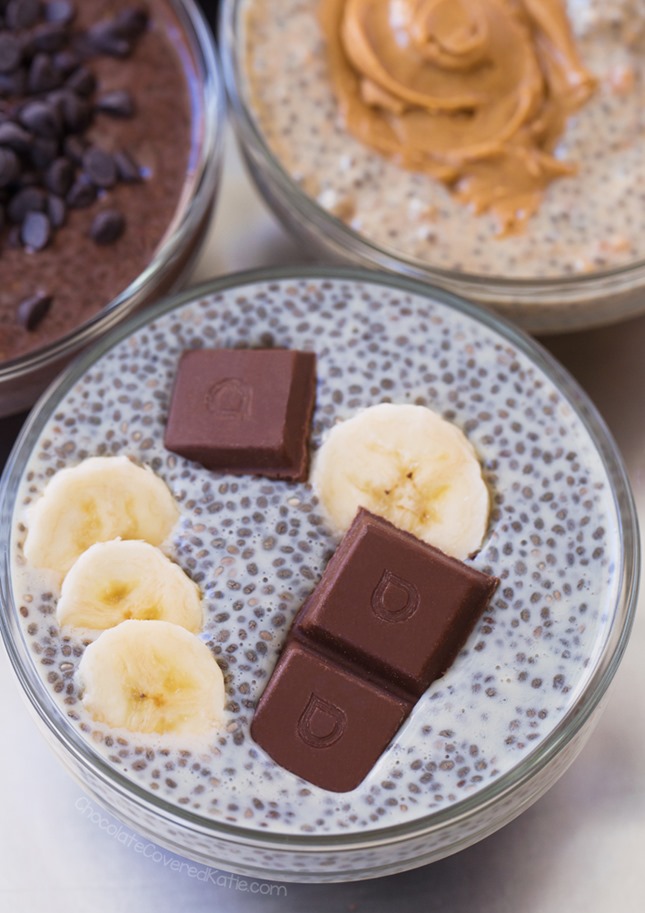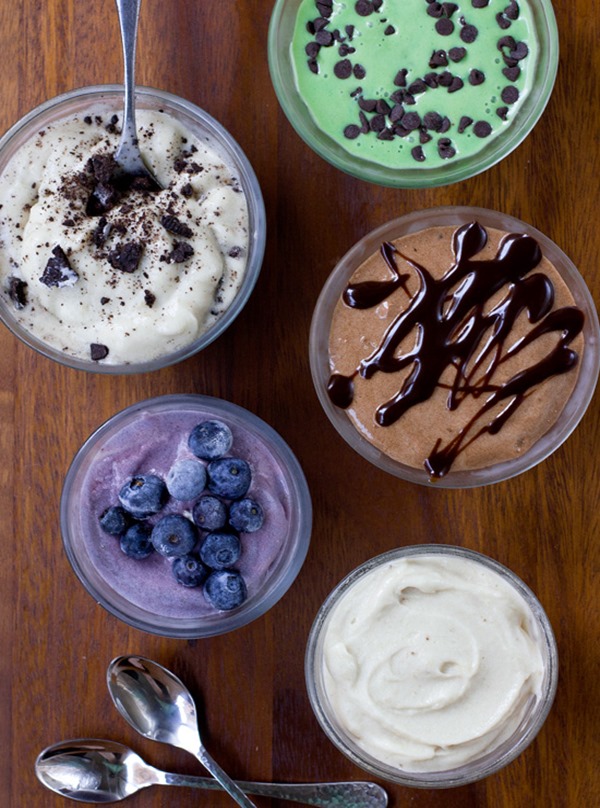 Banana Ice Cream – 10 Flavors