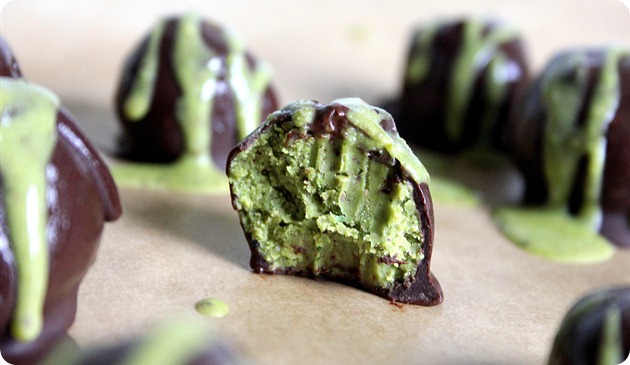 Thank you for all of the well-wishes on my What's happening in my life post.
I know my posts were a bit sporadic while I was in the process of moving, but starting next week I have BIG PLANS for the blog. (You'll hear more about these big plans soon!) Meanwhile, one of my goals for this year had been to give more opportunities to other bloggers to showcase their talents. There's some incredible talent out there… I found one such gem of a blog a few weeks ago, I am pretty certain you all will adore her recipes and photos as much as I do: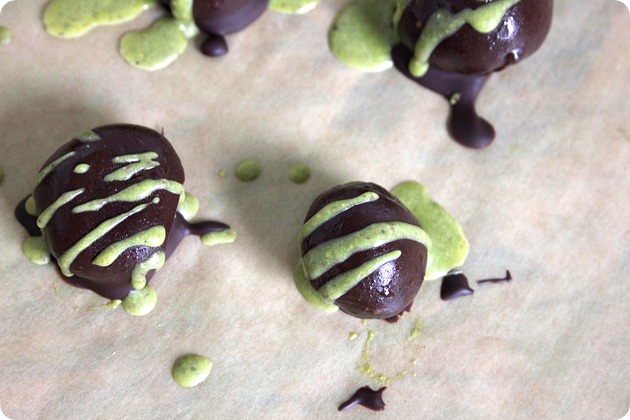 So today please welcome Clémence, author of The Vegan Cookie Fairy.
I'm delighted and honoured to be guest blogging for Katie today. Chocolate-Covered Katie was one of the very first blogs I found when I made the choice to eat a fully plant-based diet, and I have made many successful desserts from her recipes. It's with great pleasure that I now share with you one of my favourite creations – pistachio chocolate truffles.
You won't be able to resist biting into these delicate truffles to discover their gorgeous vibrant green inside. Eating a pistachio chocolate truffle is like coming downstairs to a mountain of presents on Christmas morning. These truffles may look sophisticated, but you'll feel giddy eating them.
They are stupidly easy to make but require a little time and care. Read the instructions entirely before you set to work, as it's crucial to follow the steps correctly. If you do so, the experience of making chocolate is not just easy, but positively delightful.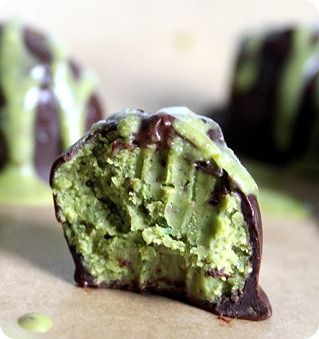 Pistachio Chocolate Emerald Truffles
Pistachio Filling
6.34 oz (180g) raw pistachios, shells removed
1 tbsp coconut oil, melted
3/4 tsp powdered stevia
Place pistachios in a high-speed blender. Pulse until the pistachios turn to a fine powdery consistency. The longer you blend, the smoother paste they will turn into. Add the coconut oil and stevia. Blitz until all ingredients are smooth, with just a few grains left. If you don't own a powerful blender or food processor, you might want to do this in batches to spare the machine too much effort at once. Pour blended mixture into a small bowl and freeze for about 20 minutes while making the chocolate coating. Line a freezer-safe dish or platter with parchment paper. Remove the filling from the freezer. Using a teaspoon (or a melon scooper might work) scrape a walnut-sized amount of filling. Roll the filling into a small ball in your hands, and place on the parchment. Repeat the process to make 9 truffles. Freeze truffles for five more minutes.
Chocolate Coating
8 oz (225g) dark, dark chocolate, roughly chopped or broken
1/2 tbsp coconut oil, melted
1/4 to 1/3 tsp powdered stevia
Place a saucepan over low heat. Gently warm the oil, turn the heat really low, add the chopped chocolate, and slowly let it melt. Stir this mixture occasionally to prevent burning. When the chocolate has become silky, stir in the stevia, then remove from the heat. Let cool. Stir briefly, just to keep it manageably liquid, before coating the pistachio balls in the chocolate. Dip each pistachio ball into the chocolate, coating well, then place back onto the parchment paper. Repeat this process for the remaining truffles. Freeze truffles 10 more minutes. NOTE: This recipe makes a lot of chocolate, but you need that to fully dip in your truffles. You'll have leftovers to make hot chocolate, perhaps to go with your pistachio truffles, if that's not chocolate overdose for you.
Pistachio Drizzle (optional)
Reserve a tsp of the wet pistachio filling. Place in a small saucepan with a tsp of coconut oil. Melt the two together. Set aside to cool. When the pistachio truffles are coated with chocolate and have set, drizzle the melted liquid over the truffles and freeze again. Serve these truffles cold, preferably from the freezer. They will keep in the freezer up to a month, if you can resist them for that long. They're very nice with a cup of rooibos tea. Makes 9 truffles.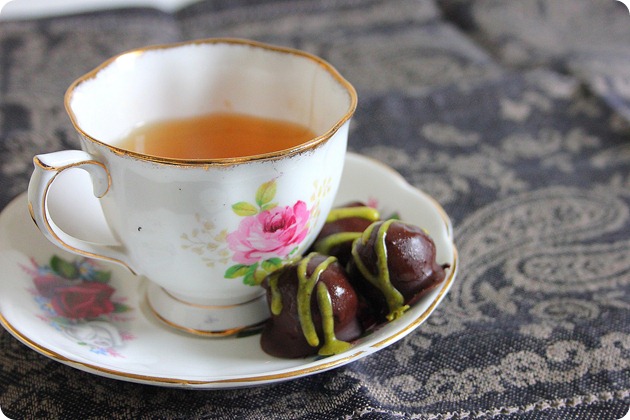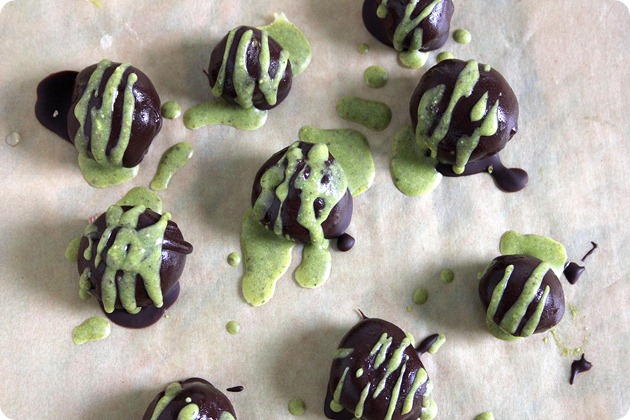 Link of the Day: