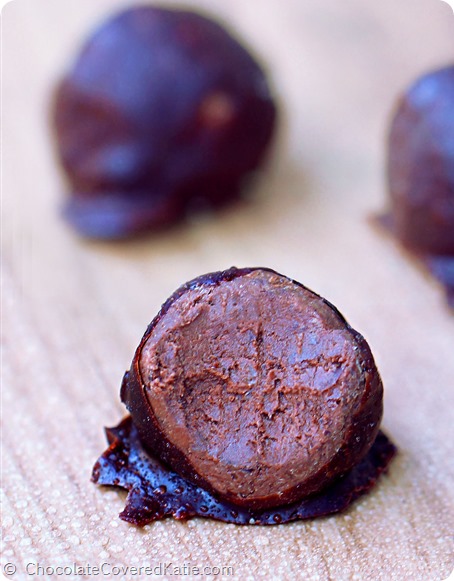 These little chocolate fudge balls are so fudgy it's unreal! And NO butter, corn syrup, or heavy cream are needed to achieve the rich and fudgy texture.
Can you guess the secret healthy ingredient?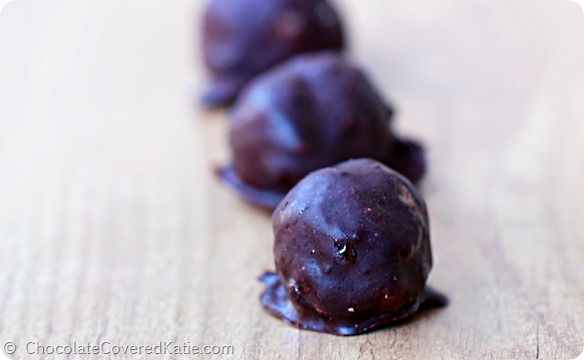 If you've tried and enjoyed the recipe for Black Bean Brownies posted on my site almost 2 years ago, there's a good chance you will love this recipe too. I know beans in desserts might still weird some people out… but keep in mind they've been making bean-based desserts in Asia for centuries!
And with that, I guess I gave the secret ingredient away. I really am lousy at keeping secrets. 😕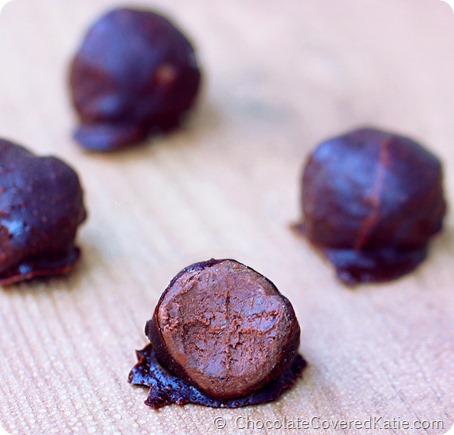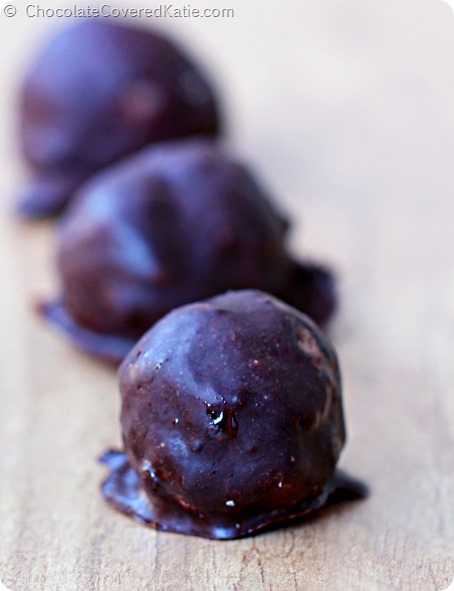 Black Bean Chocolate Fudge Balls
(Makes 10-12… feel free to double the recipe!)
Adapted from my Healthy Chocolate Chip Cookie Dough Truffles
2/3 cup cooked or canned black beans (120g)
2 1/2 tsp virgin coconut oil (See below for a substitution)
2 tbsp cacao or cocoa powder
1/2 tbsp pure maple syrup
1/16 tsp salt
1/4 tsp pure vanilla extract
pinch pure stevia, or 2 tbsp granulated sugar
chocolate coating (recipe below)
Drain beans and rinse VERY well. This is important! Then combine all ingredients in a food processor or blender and blend until completely smooth. Refrigerate so the coconut oil hardens and the mixture is firm enough to roll into balls with your hands. Once rolled, return to the fridge. (See chocolate coating recipe below.) Store in a covered container for up to a week. Or freeze, being sure to fully thaw before eating.
Chocolate Coating: Either carefully melt chocolate chips with a tiny bit of oil to make a sauce OR combine equal parts pure maple syrup, cocoa powder, and virgin coconut oil to form a thin sauce (about 2 tbsp of each). If the sauce is too thick, very gently heat until it thins out. Line a plate with parchment, dip chilled balls into the chocolate, then place on the parchment and immediately return to the refrigerator to allow the coating to set.
—> View Black Bean Chocolate Fudge Balls Nutrition Facts <—
*I've not tried the following substitution, but two commenters reported success in substituting peanut butter (or an allergy-friendly alternative to peanut butter) for the coconut oil.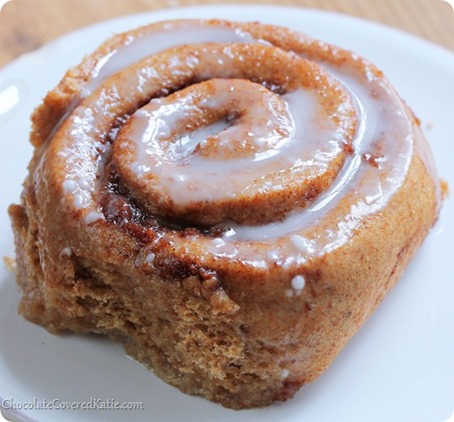 Link of the Day: Homemade Pumpkin Cinnamon Rolls