Here's a super quick and easy recipe for vegan waffles that turn out soft, fluffy, crispy, and absolutely delicious every single time!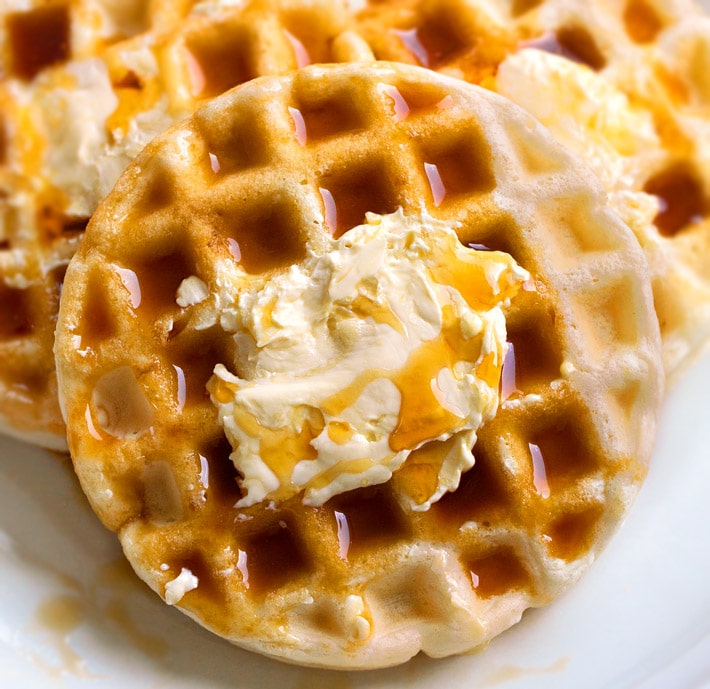 No eggs
Dairy free
Oil free option
Low calorie
Just 7 ingredients!
The homemade healthy waffles come together in just a few minutes, with little work required… and they honestly taste so much better than store bought Eggos!
Also try this Chocolate Banana Bread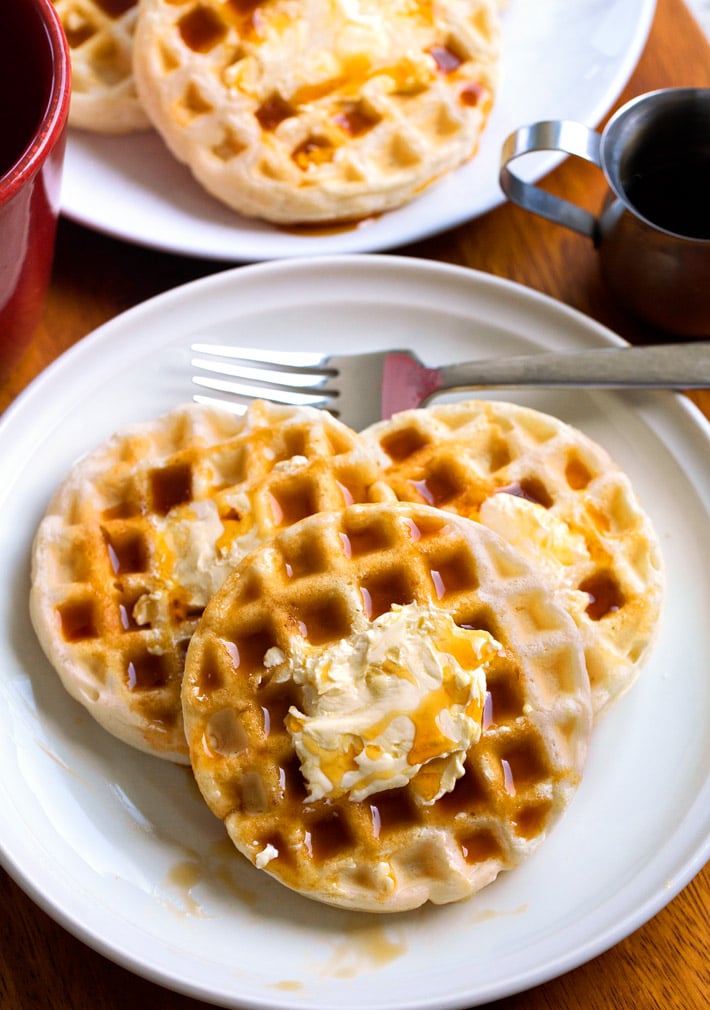 The best vegan waffle recipe
As a kid, Eggo waffles were one of my favorite weekday breakfasts.
I'd pile each waffle with a mountain of strawberries and whipped cream or slather on the butter and pancake syrup, easily devouring three or four waffles in a sitting.
After going vegan, I switched over to brands such as Kashi, Vans, Whole Foods, or Nature's Path, because they offered whole grain plant based options.
But once I discovered how easy it is to make waffles at home (if you can make pancakes, you can make waffles), the frozen waffles became a thing of the past.
Trending this week: Vegan Cinnamon Rolls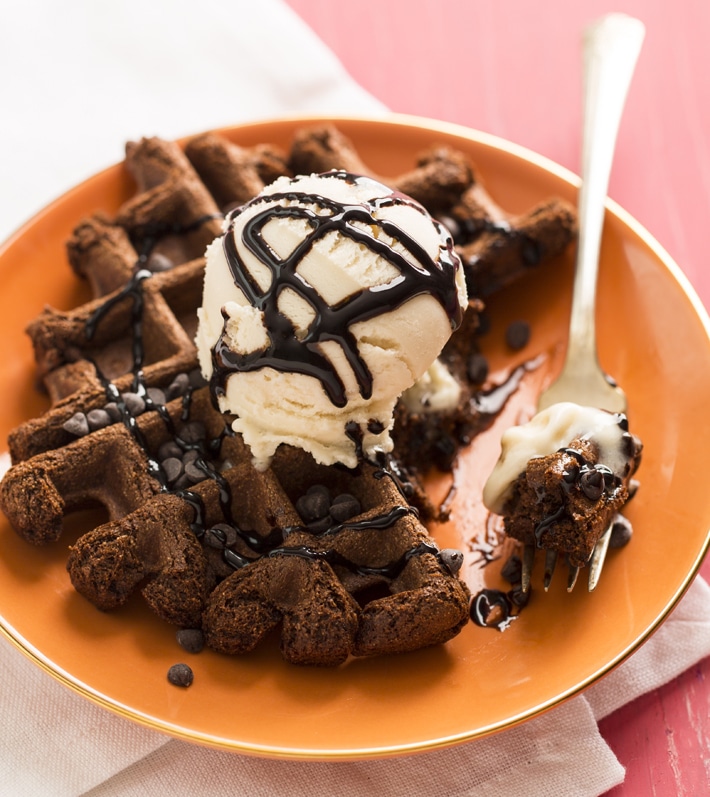 Waffle Flavors:
Banana Bread Waffles: Decrease the water or milk of choice to 1/2 cup, and stir 1/4 cup of mashed banana into the batter.
Chocolate Waffles: Replace 1/4 cup of the flour with cocoa powder. Add 2-3 tbsp mini chocolate chips to the batter.
Strawberry Shortcake Waffles: Add 1/4 cup diced strawberries to the batter. Or top the baked waffles with sliced berries and Coconut Whipped Cream.
Vegan Blueberry Waffles: After stirring the batter, gently stir in 3 tbsp blueberries. Be careful to stir only enough to evenly disperse the berries.
Savory Vegan Waffles: Decrease the sweetener to 2 tsp, and add 2 tbsp vegan cheese or 2 tsp nutritional yeast. Play around with different spices, such as garlic or chives. The savory waffles are a great alternative to toast alongside this Scrambled Tofu.
How to make vegan waffles from scratch
Start by whisking your dry ingredients together.
Stir in wet ingredients to form a batter. Especially if you're using all purpose flour, adding some additional liquid may be needed to achieve a semi-thick (but easily stir-able) waffle batter.
Grease a waffle iron, whether it's a classic, mini, or Belgian waffle iron. It's important to grease the machine first with a little oil or spray to prevent sticking, especially if making fat free waffles or if your machine isn't nonstick.
Preheat the waffle iron according to specific manufacturer's instructions. Once hot, pour batter into the center of the iron (amount will depend on your machine – watch the video below to see the batter thickness).
Close the iron and cook according to the instructions for your machine. Mine took about 2-3 minutes per waffle until they were light and crispy and made 7-8 Eggo sized wafffles.
The recipe can easily be halved or doubled to feed a family, and leftover waffles can be refrigerated or frozen in an airtight container.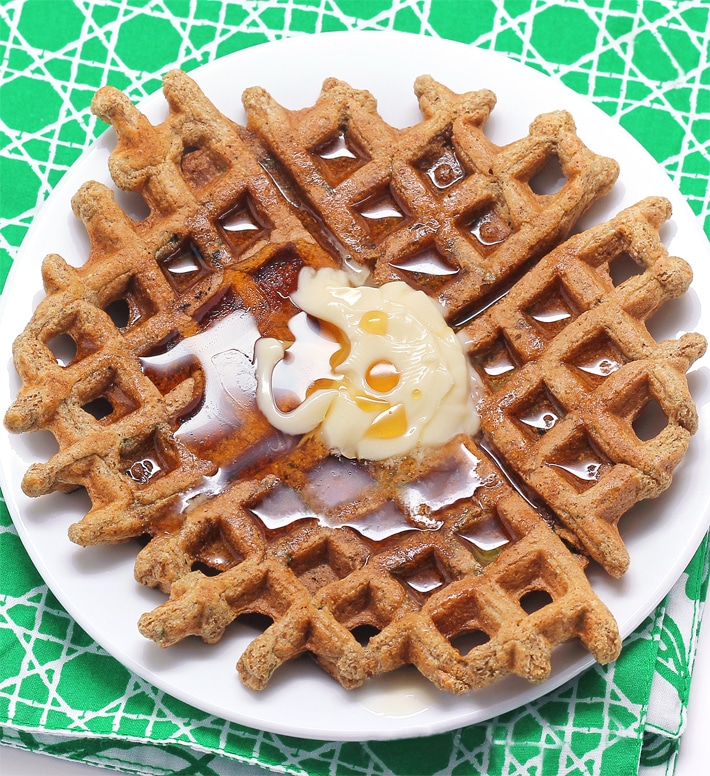 Homemade waffle ingredients
For the flour: I've tried the recipe successfully with white flour or with spelt flour for whole grain waffles.
If you experiment with whole wheat flour, oat flour, self raising flour, almond flour or coconut flour (these last two would almost certainly need other modifications to work), be sure to report back with results.
Or you can use this recipe for Gluten Free Waffles, which uses a combination of brown rice flour, arrowroot starch, and buckwheat flour, instead of the recipe below.
For the oil: The waffles can be made with vegetable or melted coconut oil.
Or to lower the calories, applesauce, mashed banana, water, canned pumpkin, or nondairy yogurt can be subbed in an equal amount. If you want to make peanut butter waffles, use 1-2 tablespoons of softened peanut butter instead of the oil.
The milk of choice: Use your favorite dairy free milk, such as almond milk, soymilk, or coconut milk. If you prefer no milk at all, the waffles are just as good with water in the mix instead.
Above, watch the vegan recipe video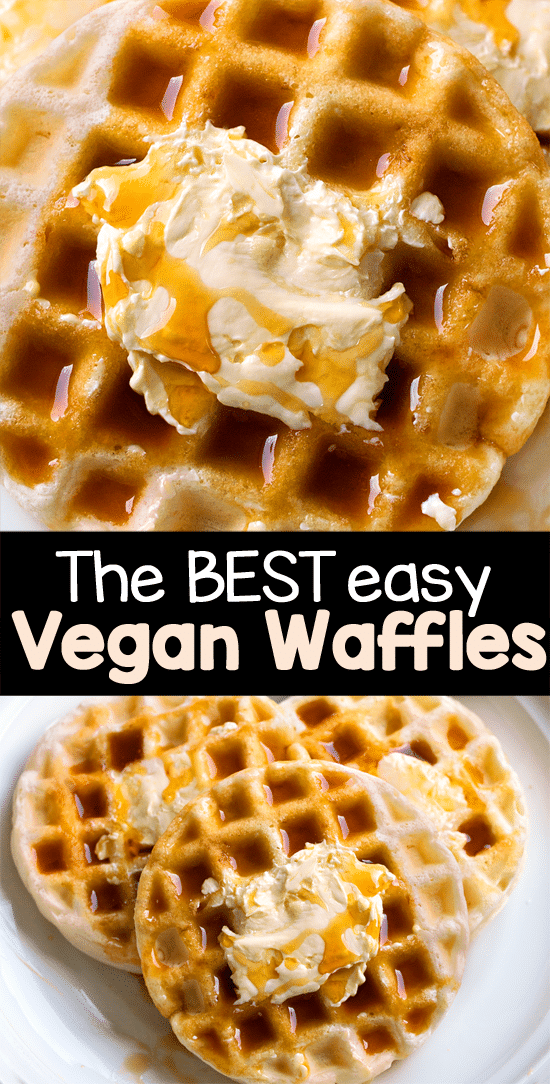 Vegan Waffles
This easy recipe for vegan waffles turns out soft, fluffy, crispy, and delicious every single time!
Ingredients
1 1/4

cup

spelt or white flour

(for gluten free, see above)

2 1/2

tsp

baking powder

scant 1/2 tsp salt

1/8

tsp

baking soda

3/4

cup

milk of choice or water

2

tsp

white or cider vinegar

1

tbsp

oil,

or water for fat free waffles

1-2

tbsp

sweetener of choice
Instructions
*See above for five different waffle flavors!

To make waffles, whisk dry ingredients, then stir in wet to form a batter. Especially if using white flour, add more liquid if needed to achieve a batter. Grease a waffle iron (especially important for the fat-free version or if not using a nonstick machine). I used this waffle iron. Preheat according to specific instructions for your waffle maker. Once iron is hot, pour batter into the center of the iron (watch the video to see batter thickness, because the amount will depend on the size of your machine). Close, and cook according to your machine's directions until light and crispy.View Nutrition Facts
Also try these vegan breakfasts: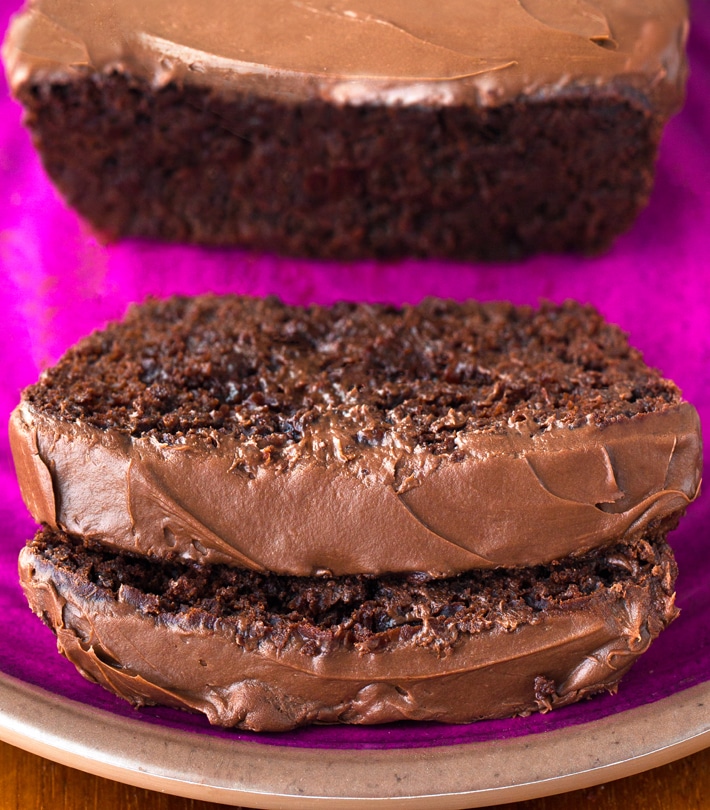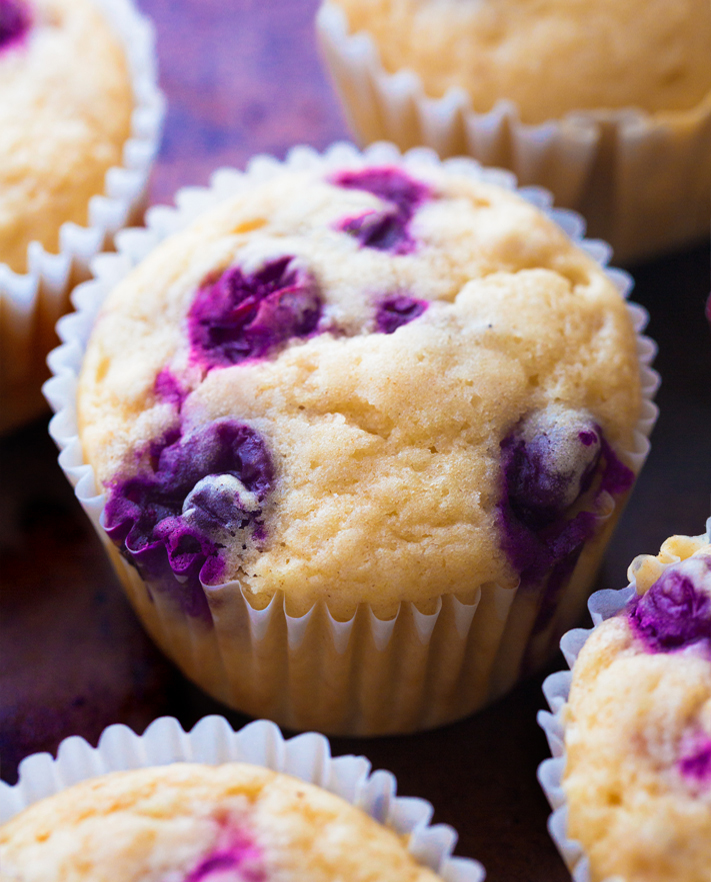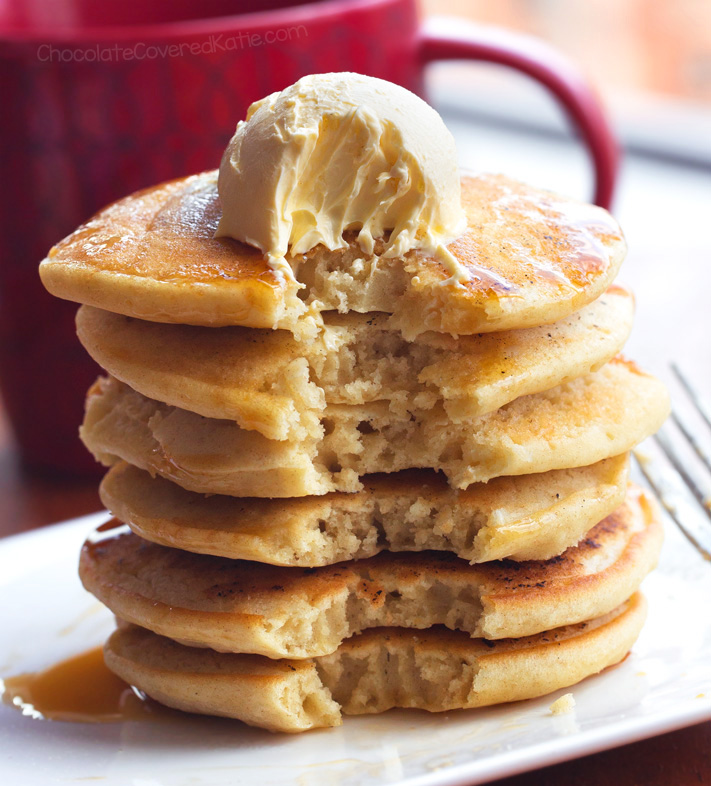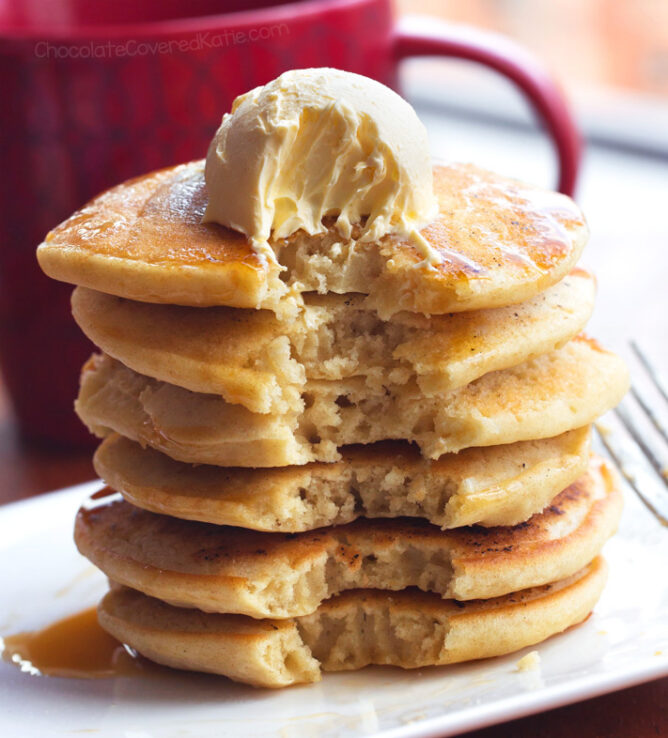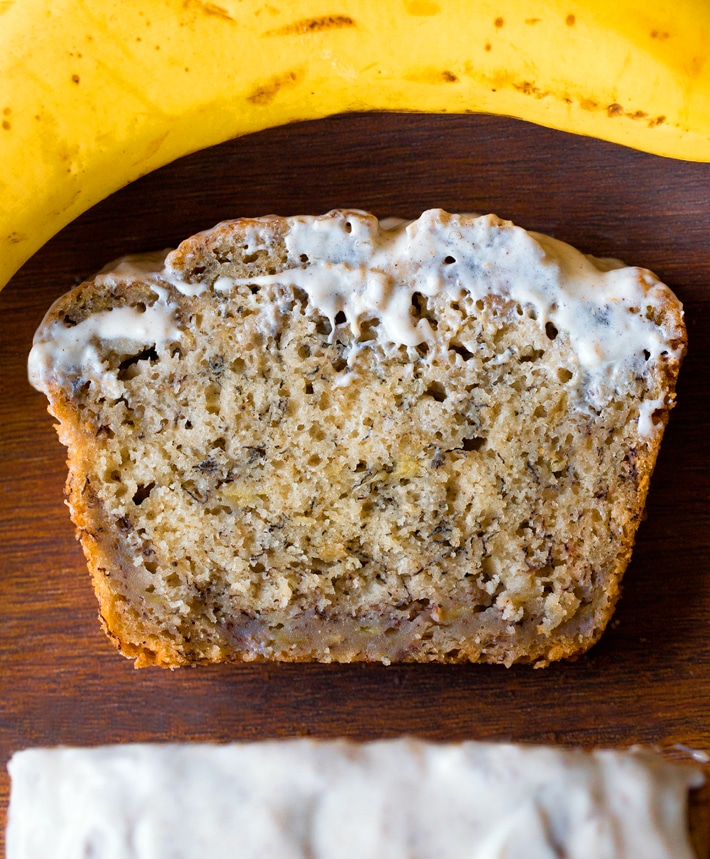 Or this Healthy Banana Bread
Or this Strawberry Smoothie (3 ingredients)