If you like thick and ultra creamy rice pudding, this is without question the best vegan rice pudding recipe you will ever find.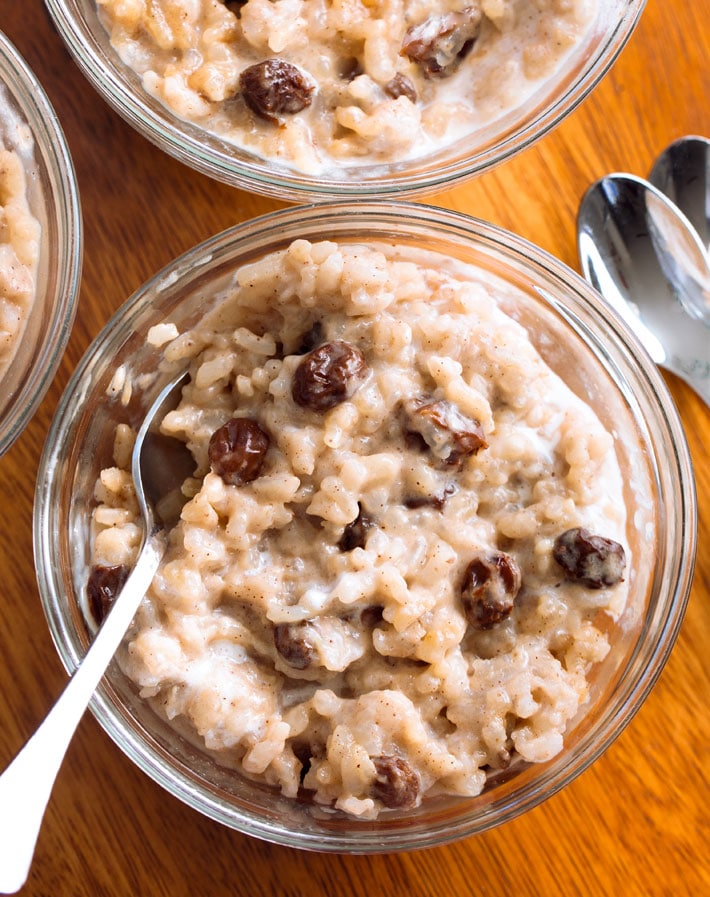 So what makes this recipe better than other rice pudding recipes?
It's thanks to one special trick I learned over many years of making vegan rice pudding: If you use more milk and cook the rice longer, the mixture will thicken more and more as it soaks up all of the liquid.
Sounds so simple, and it works like magic. The result is a delicious and remarkably creamy custard-like rice pudding that's full of flavor, with no eggs or heavy cream.
Also try these Vegan Cinnamon Rolls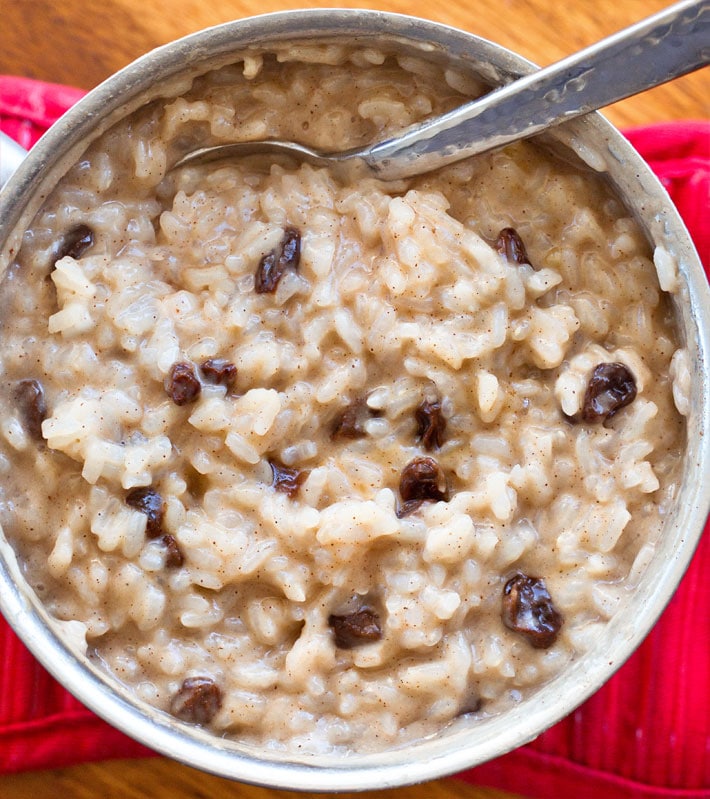 5 Vegan Rice Pudding Flavors
Chocolate Rice Pudding: Add three tablespoons of cocoa powder to the recipe below when you add the extra milk. Stir in a generous handful of dairy free regular or mini chocolate chips at the end so they melt into the pudding.
Peanut Butter Rice Pudding: Stir in up to half a cup of peanut butter or almond butter when you add the sugar. Top with crushed peanuts if desired.
Banana Rice Pudding: Replace one cup of the plant based milk in the recipe with mashed banana, and stir it in at the time when instructed to add the extra milk. You can also double the cinnamon and top with sliced bananas and walnuts.
Strawberry Rice Pudding: Just before serving, top each individual portion of rice pudding with fresh strawberries and Coconut Whipped Cream. Or substitute chopped peaches, blackberries, blueberries, cherries, mango, or raspberries.
Coconut Rice Pudding: Use canned or refrigerated coconut milk as your milk of choice. Stir in half a cup of shredded coconut at the end.
You can also top the vegan rice pudding with Coconut Caramel or layer it into parfait glasses between layers of berries and crumbled Healthy Blueberry Muffins.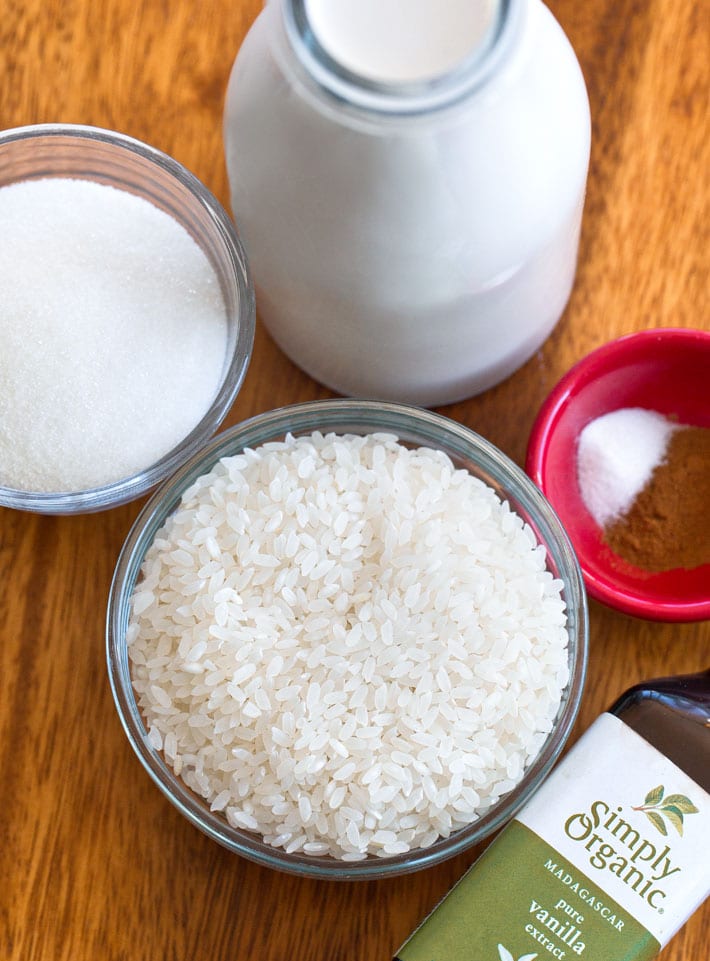 Dairy Free Rice Pudding Ingredients
This easy vegan dessert calls for the following: uncooked rice, nondairy milk, sweetener of choice, salt, ground cinnamon, vanilla extract, and optional raisins.
For the milk of choice: Almost any milk is fine here, so use your favorite. Almond milk, soymilk, coconutmilk, rice milk, oat milk, macadamia milk, flax milk, or cashew milk all work as nondairy milk options for the recipe.
The vanilla extract: Look for pure vanilla extract at the grocery store, not imitation vanilla extract or flavoring, which can leave recipes with an artificial aftertaste. The word pure should be on the label.
Optional ingredients: Feel free to add any of the options above for different flavors of old fashioned rice pudding. You can also add a dash of cinnamon and handful of raisins for a cinnamon raisin pudding that tastes like Kozy Shack rice pudding. Or stir in some orange peel or lemon zest for Spanish or Mexican Arroz con leche.
Leftover almond milk? Make Vegan Alfredo Sauce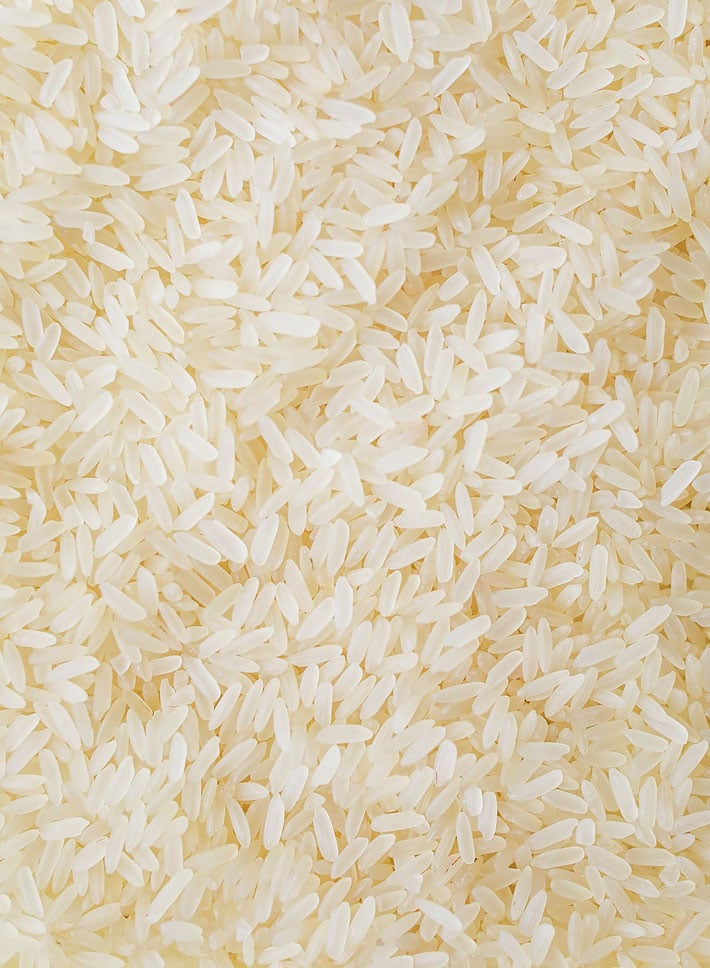 What type of rice do you use?
You can use either white rice or brown rice to make rice pudding.
Long grain rice, such as jasmine or basmati, work well, as does medium grain rice, such as Calrose. Italian short grain rice like Arborio, Japanese sushi rice, or British pudding rice are also fine choices.
I have never tried them but believe red rice or black rice should also work.
Wild rice is not actually rice (it is an aquatic grass) and does not soak up liquid in the same way as rice does, so I would not recommend using wild rice for rice pudding.
Instant rice and parboiled rice are also not recommended for the recipe.
Readers also really love this Vegan Chocolate Cake
How to make Rice Pudding without Eggs
The following vegan rice pudding recipe is made without eggs and with no condensed milk or heavy cream. It can be gluten free, soy free, nut free, and sugar free.
You start by heating the rice and vegan milk over medium heat in a saucepan. Once the mixture begins to boil, cover the pot and lower the heat to a simmer. Cook until the liquid soaks into the rice and the mixture is thick and fluffy.
(If your stovetop doesn't offer a simmer option, heat the saucepan on the lowest setting and leave the lid open a crack so the milk does not boil over.)
Stir in the remaining milk, along with the salt, cinnamon, sweetener, and all optional ingredients. Bring the pudding back to a full boil.
Cover the saucepan and turn off the heat completely. Let the rice sit, covered, for twenty minutes. Remove the lid and stir in the pure vanilla extract.
The dairy free rice pudding should be thick and creamy, with a rich custard flavor. Add a little more milk of choice if it is too dry. Serve hot. Leftovers can be refrigerated in an airtight container for four or five days and served either hot or cold.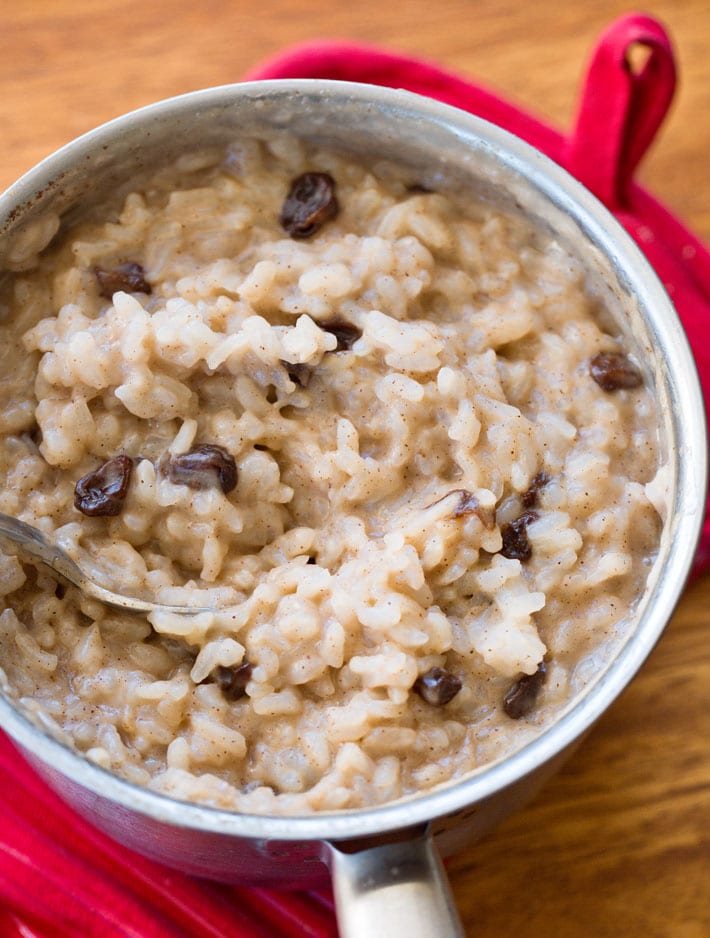 Slow Cooker or Baked Rice Pudding
If you want to make vegan rice pudding in a slow cooker, simply combine all ingredients except the vanilla extract in the crock pot, and turn it on to low.
Let it cook for four hours or until the liquid is absorbed and the rice is soft and fluffy. Stir in the vanilla, and serve hot or cold.
I have not tried baking the recipe yet. If you experiment before I do, be sure to report back with results! Baked vegan rice pudding will most likely require extra liquid.
Above, watch the step-by-step vegan rice pudding recipe video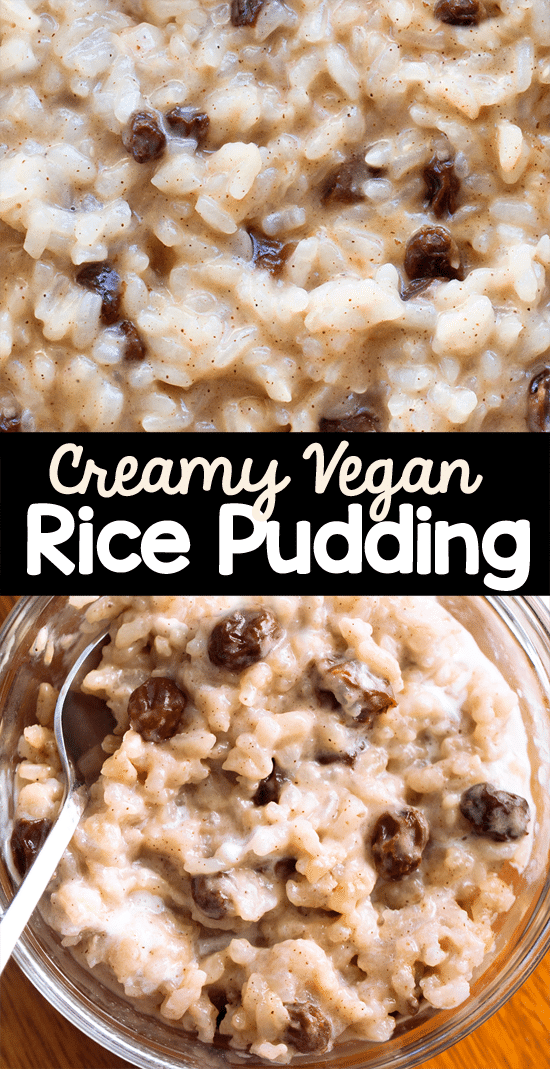 Vegan Rice Pudding
This thick and creamy vegan rice pudding recipe is a great vegan dessert for both kids and adults.
Ingredients
1

cup

uncooked white or brown rice

2

1/2 cups

milk of choice

1

cup

additional milk of choice

1/2

cup

sweetener of choice

1/2

tsp

each: cinnamon and salt

1

1/2 tsp

pure vanilla extract

optional 1/2 cup raisins
Instructions
Heat the rice and 2 1/2 cups milk over medium heat in a saucepan. Once boiling, cover and lower to a simmer until the liquid soaks into the rice and turns it thick and fluffy. The time this takes will depend greatly on the type of rice used (anywhere between 20-50 minutes), and brown rice takes longer than white, so check on it and stir a few times. (If your stove doesn't have a simmer option, heat on the lowest setting and leave the lid slightly open so the mixture doesn't boil over.) Add the remaining milk and all other ingredients except the vanilla, and bring back to a full boil. Cover the pan, turn off the heat completely, and let sit covered for 20 minutes. Then stir in the vanilla. It should be thick and creamy. If it's too dry, stir in more liquid. Serve hot, or refrigerate in an airtight container and serve leftovers hot or cold.

View Nutrition Facts
Dairy Free Dessert Recipes