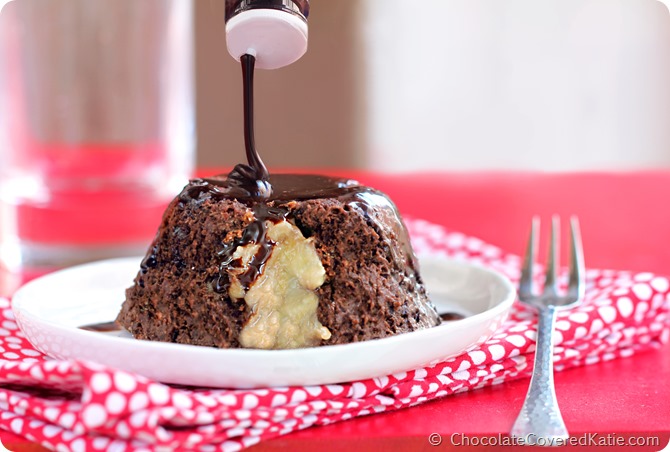 I remember two things from my family's trip to Singapore when I was five.
First is that it was very hot, very humid, and very clean. (Stores aren't even allowed to sell chewing gum in the country!) The second thing I remember about our vacation is that, one night while dining at a fancy restaurant along the water, I saw something on the dessert menu I had never seen before:
Molten Chocolate Lava Cake.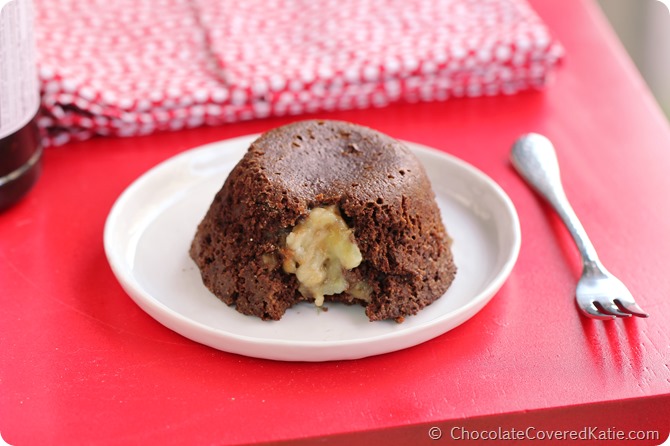 Chocoholic that I am, I obviously ordered it.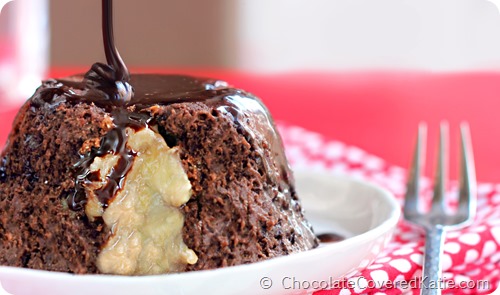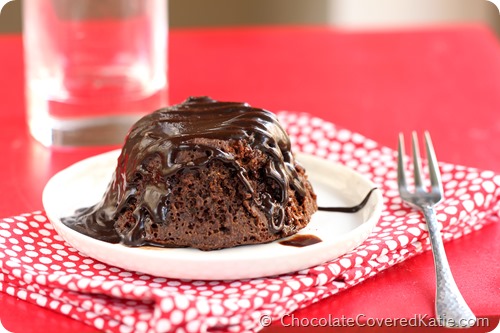 *Life changed*
From the outside, this single-serving chocolate mug cake may look like an ordinary dessert. But break into the center and you'll discover a hidden banana cream filling! Some of the recipe testers didn't think the chocolate mug cake even needed frosting; however it is completely delicious topped with my homemade chocolate sauce or any of my 25 Healthy Frosting Recipes.
You can make the entire thing in under 5 minutes!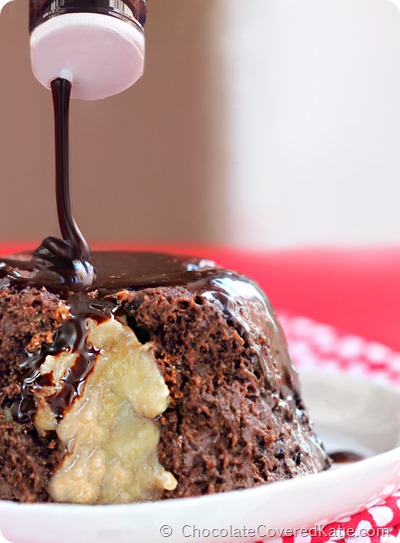 1 Minute Chocolate Banana Mug Cake
3 tbsp flour (oat, spelt, white all work) (24g)
1 tbsp plus 1 tsp cocoa powder (7g)
1 tbsp mini chocolate chips, optional
1/8 tsp salt
1/4 tsp baking powder
2 tsp sugar OR xylitol (8g)
pinch uncut stevia OR 1 extra tbsp sugar
3 tbsp milk of choice
2 1/2 tsp oil (or mashed banana if you like the texture of fat-free baked goods)
1/2 tsp pure vanilla extract
3 tbsp mashed banana (Banana-Free Version here)
Chocolate Mug Cake Recipe: Grease a mug or 1-cup ramekin and set aside. (If using the oven, preheat to 350 F.) In a cereal bowl, stir all dry ingredients together fully. Add all remaining ingredients except the 3 tbsp banana and stir. Pour half the batter into the greased mug, then make a well in the middle with your spoon. Fill the well with the 3 tbsp banana, then smooth the rest of the batter on top. Either microwave 50-70 seconds (depending on microwave wattage) OR bake in the oven for 13-14 minutes. If you don't want to eat the cake straight from the dish, be sure to wait for it to cool completely before trying to remove from the dish.
View Banana Mug Cake Nutrition Facts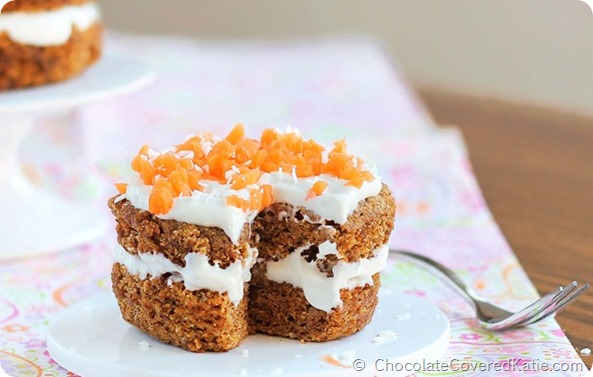 Link of the Day: Single Serving Microwave Carrot Cake – {in under 5 minutes}