Deliciously light and fluffy, this whipped strawberry mousse recipe is the perfect dessert for almost any occasion!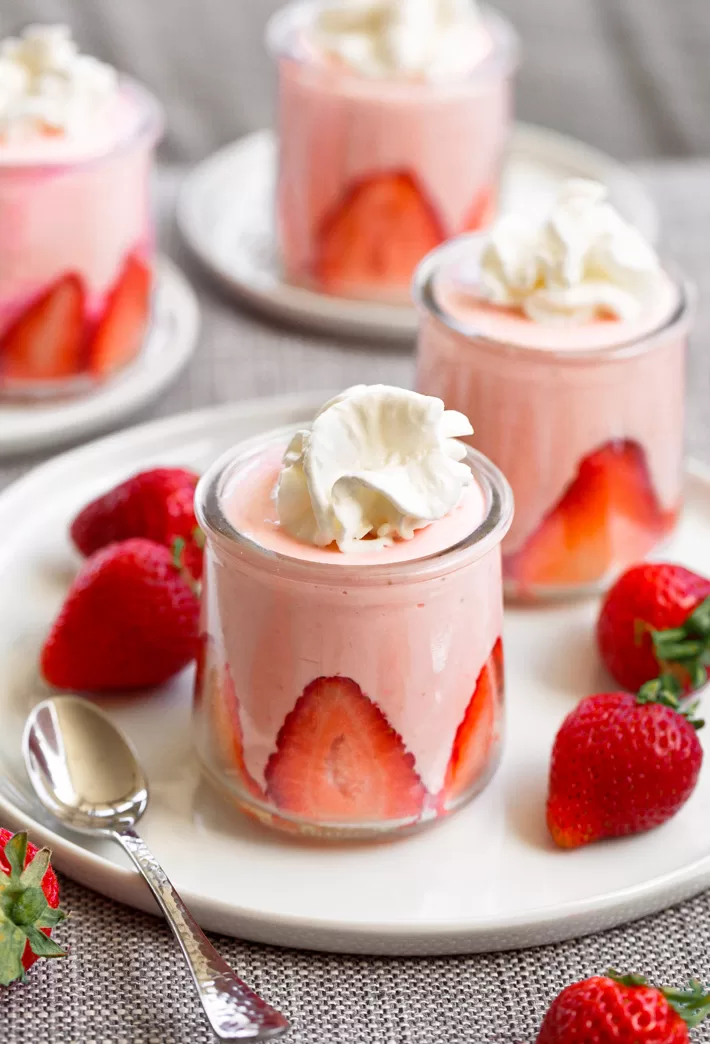 Easy strawberry mousse recipe
Whip this simple dessert up in minutes, with just three ingredients!
Guests will fall in love with the impossibly smooth and creamy texture, and it's a wonderful way to use up a bounty of fresh summer strawberries.
Serve the thick strawberry mousse at parties, summer barbecues, romantic date nights, or any time you're craving a quick dessert that's sure to impress everyone who tries it.
Use leftover strawberries in this Strawberry Bread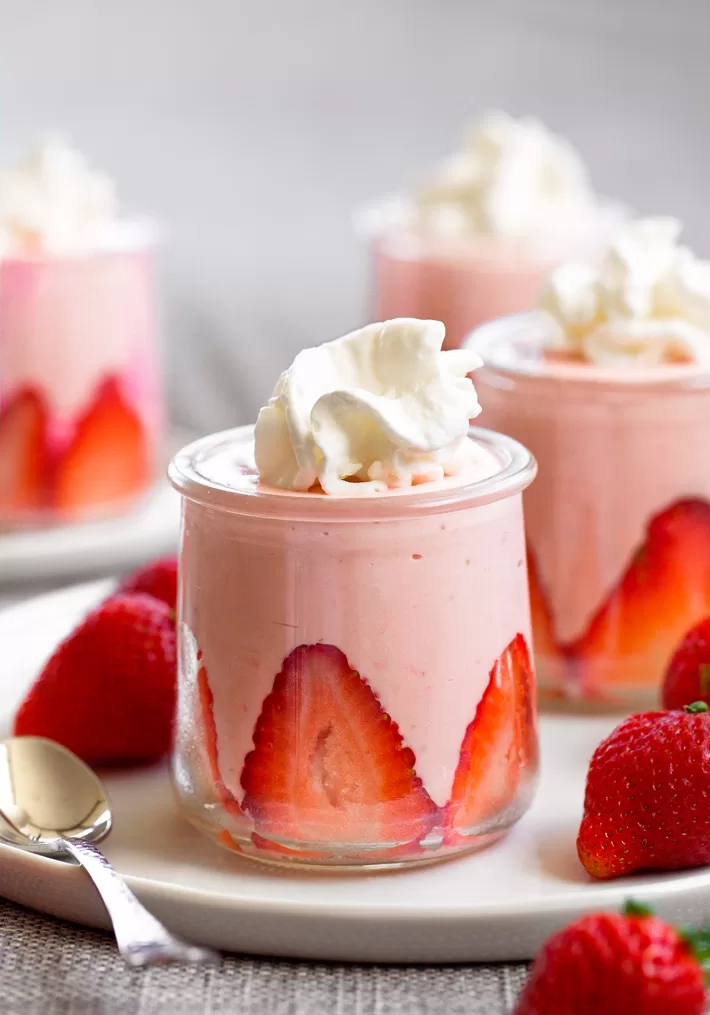 Strawberry cheesecake mousse FAQs
Fresh or frozen strawberries
The recipe can be enjoyed all year long, not just when strawberries are in season.
If you opt for frozen strawberries, be sure to fully thaw the berries. Pat off any ice crystals and excess moisture before beginning, to avoid runny or watery mousse.
Can you use other berries?
Absolutely, this strawberry treat will also work with fresh or frozen raspberries, blackberries, blueberries, or pitted cherries.
Substitute the two large strawberries for three cherries, four raspberries or blackberries, or seven blueberries. To achieve a smoother texture, you can strain raspberry or blackberry puree to remove the seeds.
If you experiment with other fruits, such as orange, banana, mango, pineapple, or fresh figs, be sure to report back with your results.
Vegan strawberry mousse
For dairy free mousse, choose the coconut cream option or a plant based cream cheese, such as Tofutti or Trader Joe's vegan.
The recipe is already vegetarian (without gelatin) and egg free. It can be made with no refined sugar if you blend coconut sugar or date sugar until it reaches a powdered sugar texture.
Can the recipe be made ahead of time?
Yes, this is a great make-ahead dessert. I actually recommend making it ahead of time, because the classic strawberry mousse will thicken as it sits.
The dessert will keep for up to four or five days if properly stored in an airtight container in the refrigerator.
Once in the container, the berry mousse is portable and non messy, making it a great option to bring to baby showers, brunch or tea parties, book clubs, or other events.
Still craving strawberries? Try a Strawberry Smoothie
Above, watch the simple strawberry mousse recipe video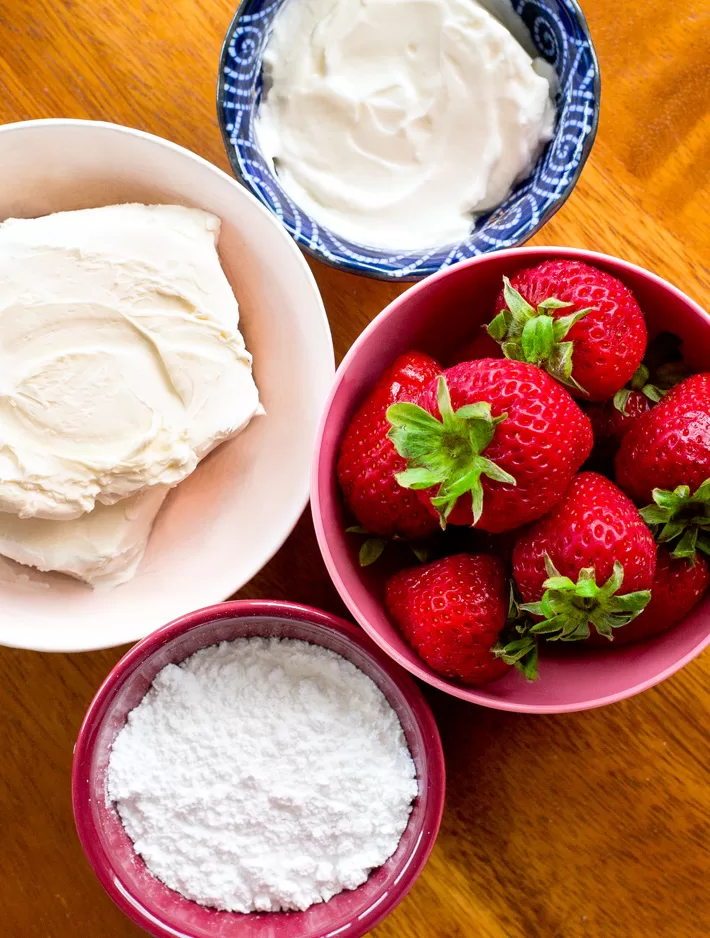 Ingredients for the strawberry mousse dessert
The recipe calls for cream cheese or coconut cream, powdered sugar or a similar sugar free alternative, optional plain regular or Greek yogurt, and optional vanilla bean paste.
Unlike many other strawberry mousse recipes, this one is naturally eggless and dairy free, with no gelatin, Cool Whip, condensed milk, heavy cream or whipping cream, mascarpone, agar agar, or strawberry Jell-O.
The strawberry recipe can be vegan, gluten free, paleo, keto, and added sugar free.
For a keto strawberry mousse with no sugar added, you can use a powdered monk fruit or allulose blend, erythritol, or powdered xylitol. I have not tried stevia and believe using such a small amount would result in a runnier, thinner texture.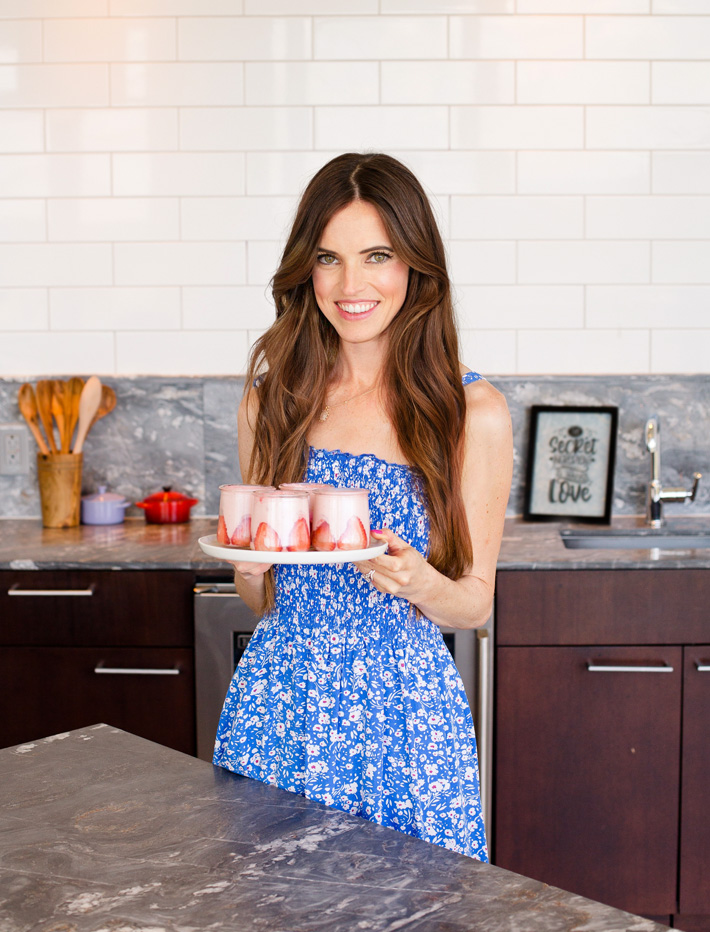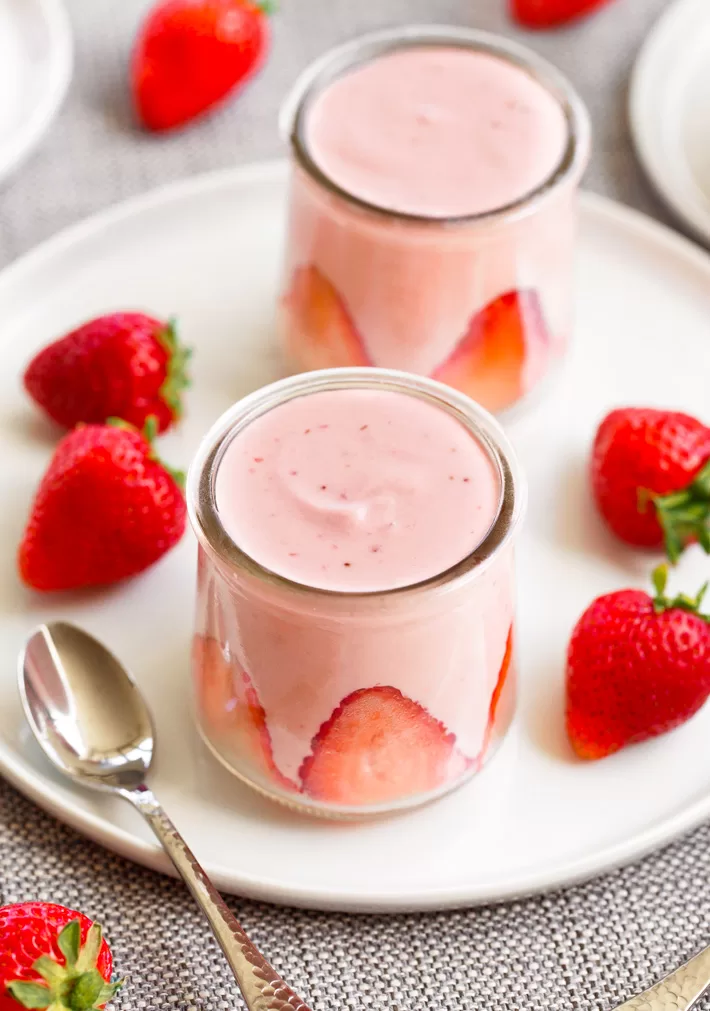 How to make strawberry mousse
Read through the recipe instructions, and gather your ingredients.
If using the cream cheese option, let this ingredient come to room temperature so it will be easier to blend and will yield a smoother final result.
If using the coconut cream option, open the can to make sure its contents are thick and creamy, not rock solid. Every now and then, you may encounter a can with hard or flakey cream. Unfortunately, such cans will not work well to make mousse.
To make the recipe, first cut the stems off of the strawberries. Blend or mash the berries until they are fully pureed.
Add all remaining ingredients, and blend until smooth. If you are making mousse with hand beaters, look for stiff peaks to form.
A food processor, hand mixer, or a good blender will give you the fluffiest, airy strawberry mousse, because they whip air into the recipe. If you only have a fork, it can work as long as you do not mind that the texture will not be nearly as light and fluffy.
After blending the no bake recipe, transfer the strawberry cream to glasses, bowls, or cups. The mousse dessert will thicken considerably as it chills.
More serving suggestions are listed below.
Refrigerate any leftovers in an airtight covered container for up to four days. While you technically can freeze the dessert, it will no longer have the best creamy texture.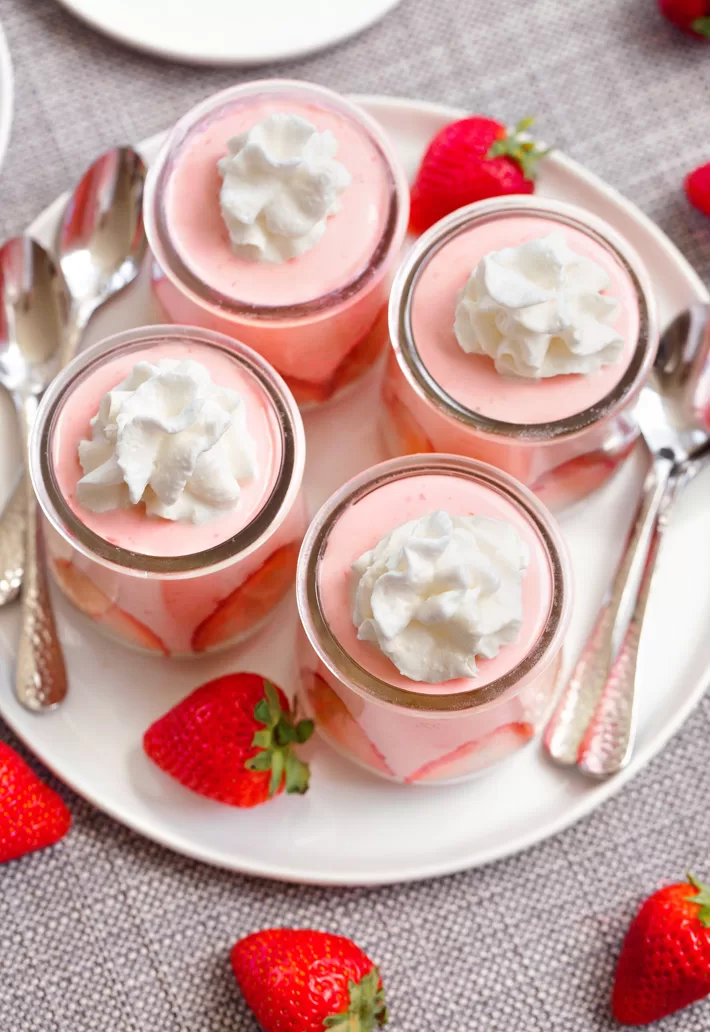 Serving suggestions
This fancy homemade strawberry dessert can be served so many ways.
Layer it into parfait glasses with Coconut Whipped Cream, diced strawberries, and sponge cake, turning it into beautiful pink strawberry shortcake parfaits.
Or use a star piping tip to pipe the recipe into cups or glasses and make individual mini strawberry mousse cups, garnished with sliced strawberries and graham crackers, mini chocolate chips, or crushed Oreo cookie crumbs.
Add thick and creamy strawberry mousse filling to the centers of Oreo Cupcakes or traditional Healthy Blueberry Muffins. Or eat it right out of the bowl with a spoon.
The whipped mousse is also a wonderful frosting for brownies or a decoration on top of cakes, pies, tarts, or cheesecakes instead of vanilla ice cream or whipped cream.
Try layering it with Homemade Nutella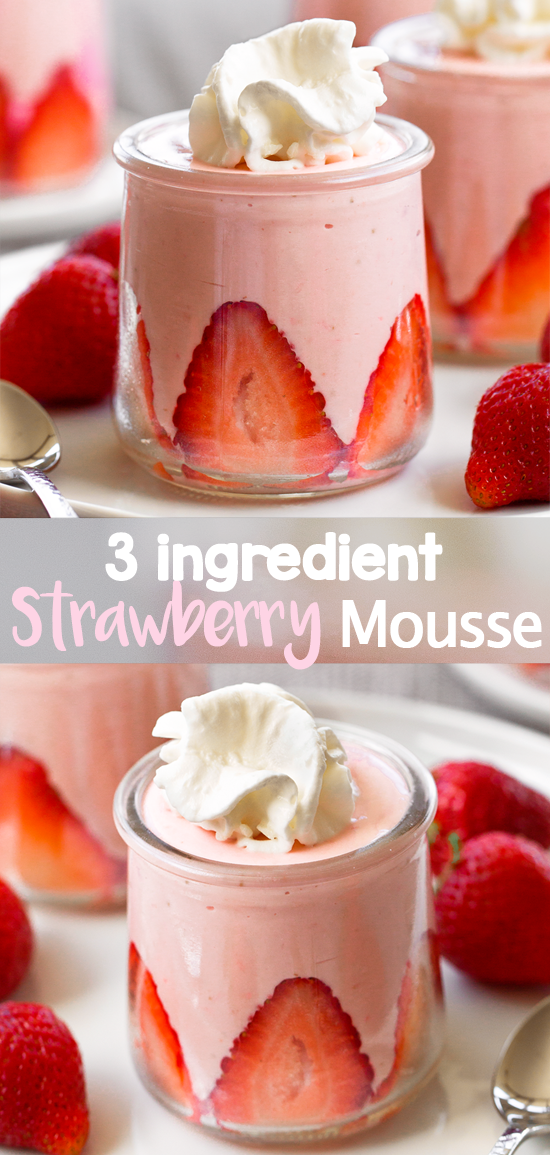 Strawberry Mousse
This light and fluffy whipped strawberry mousse recipe is a perfect dessert for almost any occasion.
Ingredients
8

oz

cream cheese or coconut cream

4

oz

yogurt

or additional cream cheese or coconut cream

1

cup

powdered sugar

or sugar free alternative

5

medium size strawberries

optional 1/4 tsp vanilla bean paste
Instructions
If using cream cheese, let it come to room temperature. Or if using coconut cream, open the can to make sure its contents are thick and creamy. (On the rare occasion you encounter a can of coconut cream that is hard and flakey, unfortunately these cans will not work well for mousse.) Remove stems from the berries and blend or mash until pureed. Add all remaining ingredients, and blend until completely smooth, using a food processor or blender, or a hand mixer. Transfer to serving dishes, and refrigerate. The mousse will thicken considerably as it chills.

View Nutrition Facts
More Easy Mousse Recipes