These super healthy bran muffins are extra soft, moist, and perfect for breakfast!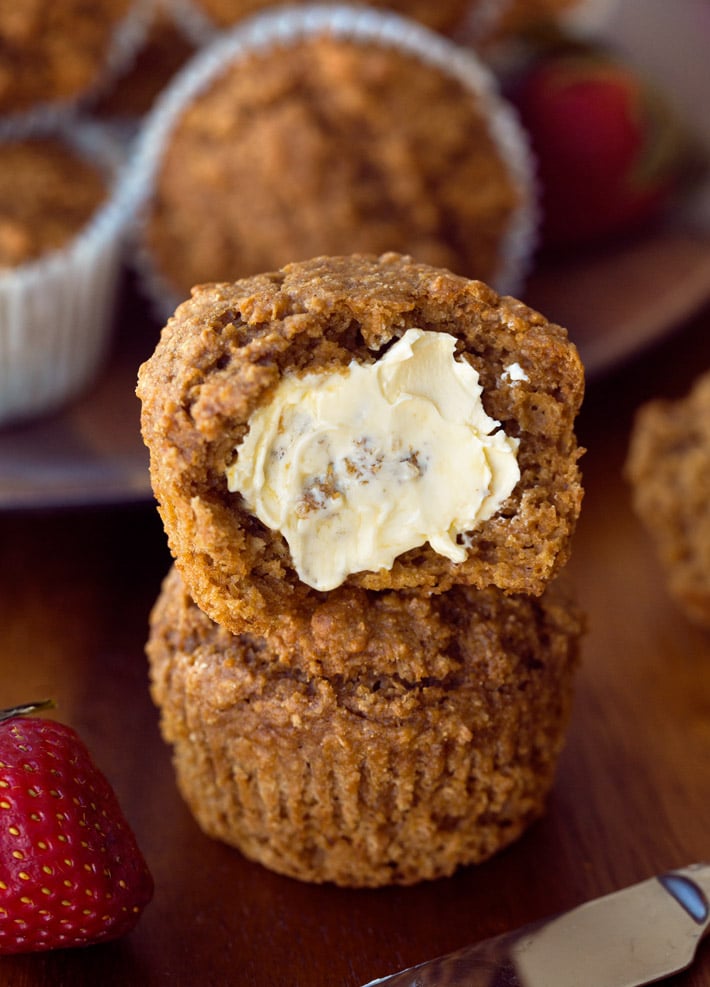 Homemade bran muffins are so delicious and easy to make from scratch, you'll never need to spend money buying a box mix again.
The wholesome recipe is packed with fiber and nutrition!
And you can freeze leftovers for later, which means the healthy muffins are also a really great option for breakfast meal prep.
Also try these Black Bean Brownies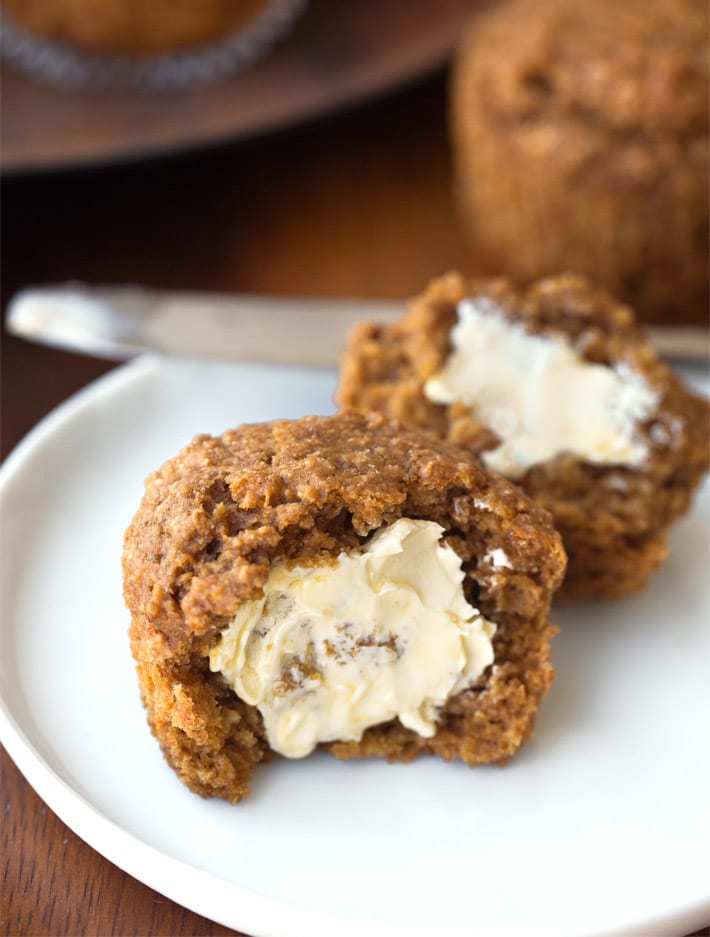 The best bran muffin recipe
Fluffy good-for-you bran muffins, with no buttermilk required!
The easy classic muffin recipe can be low fat, oil free, vegan, gluten free, soy free, cholesterol free, nut free, high in fiber, and dairy free.
Plus, they use up pantry staple ingredients that you can always keep on hand, no eggs needed. Serve them for breakfast, pack into a lunch box, or prepare the muffins as a kid friendly healthy snack.
Serve them plain or topped with almond butter or peanut butter and strawberry jam, mashed banana, vegan cream cheese, apple butter, or your favorite butter spread.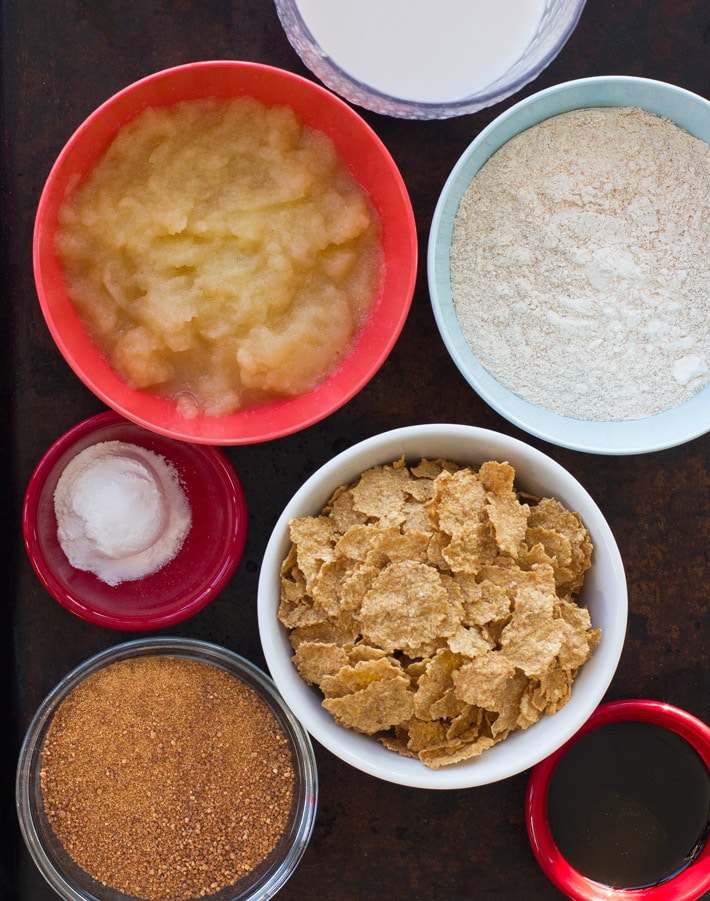 Healthy bran muffin ingredients
The flour: The recipe works with spelt flour, white flour, or oat flour. If you'd prefer flourless muffins made with almond meal, try these Keto Muffins.
The bran flakes: Pretty much any bran flake cereal will work here. I buy Whole Foods brand, because it's free of high fructose corn syrup. All-Bran flakes or Trader Joe's Organic Bran Flakes are also fine to use.
For gluten free muffins, corn flakes work instead of bran cereals. I haven't tried buckwheat flakes yet. Oat bran flakes can be used for wheat free muffins.
The sweetener: You can use your favorite granulated sweetener here, including regular sugar, coconut sugar or date sugar, or granulated erythritol for sugar free muffins.
To add nutrition and flavor, I use blackstrap molasses as the liquid sweetener, which is high in iron and calcium. However, you can sub pure maple syrup, agave, honey, or keto syrup if desired.
The yogurt: This actually doesn't need to be yogurt. I've made them with applesauce, roasted mashed sweet potato, vegan yogurt, or mashed banana (really good!).
Or turn them into carrot bran muffins by substituting an equal amount of cooked and then mashed carrot, or make pumpkin bran muffins with canned pumpkin.
The add-ins: The most popular choice is to add half a cup of raisins for raisin bran muffins. Or throw in a handful of shredded coconut, 1-2 tbsp flax or chia seeds, or press a few blueberries into the top of each muffin before baking.
Trending right now: Vegan Banana Bread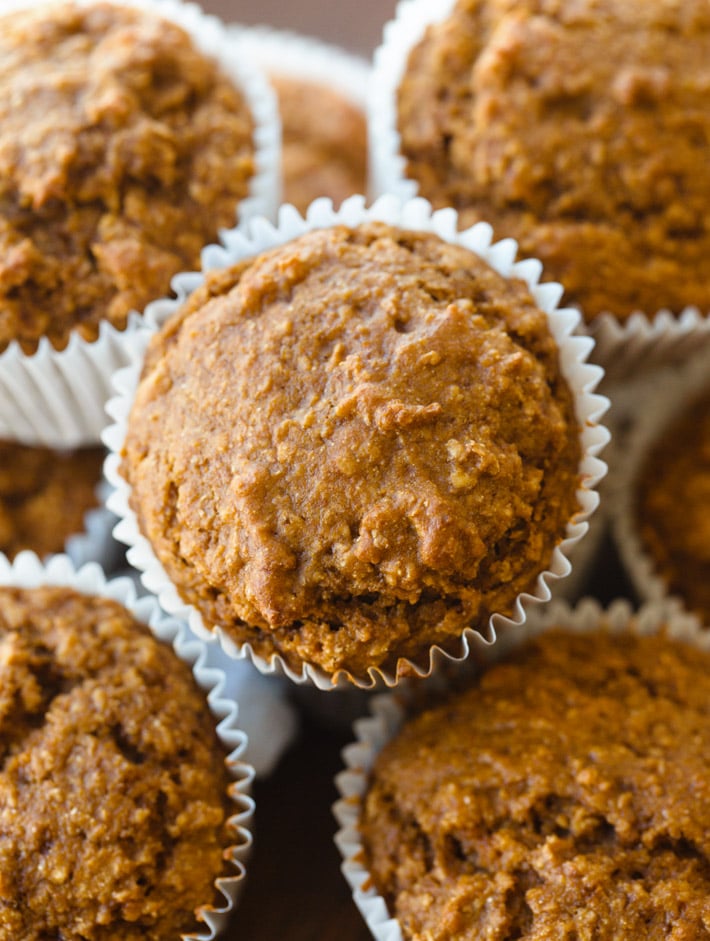 How to make bran muffins
Start by gathering all of the ingredients.
In a large mixing bowl, cover the bran flakes with the milk of choice, and let it sit for half an hour. This softens the flakes so your finished muffins will be nice and soft.
Line a muffin tin, and preheat your oven to 400 degrees Fahrenheit.
Add all remaining ingredients to the large bowl with the bran flakes and milk, and stir to form a muffin batter.
Portion the batter evenly into the lined muffin tin, and bake on the oven's center rack for 20 minutes or until the muffins have risen and a toothpick inserted into the center of a muffin comes out mostly clean.
Let cool. If you cover them loosely overnight, the muffins are sweeter and have a better texture the next day. Thanks to some of the moisture evaporating, the liners peel off easily the next day too (even in the low fat and oil free version).
Many people believe bran muffins are a good choice to help with weight loss or promoting good digestion and preventing constipation, thanks to the insoluble and soluble fiber.
I just like them because they are delicious and their neutral flavor goes well with sweet or savory breakfast options, from scrambles to smoothies (like this Peanut Butter Banana Smoothie).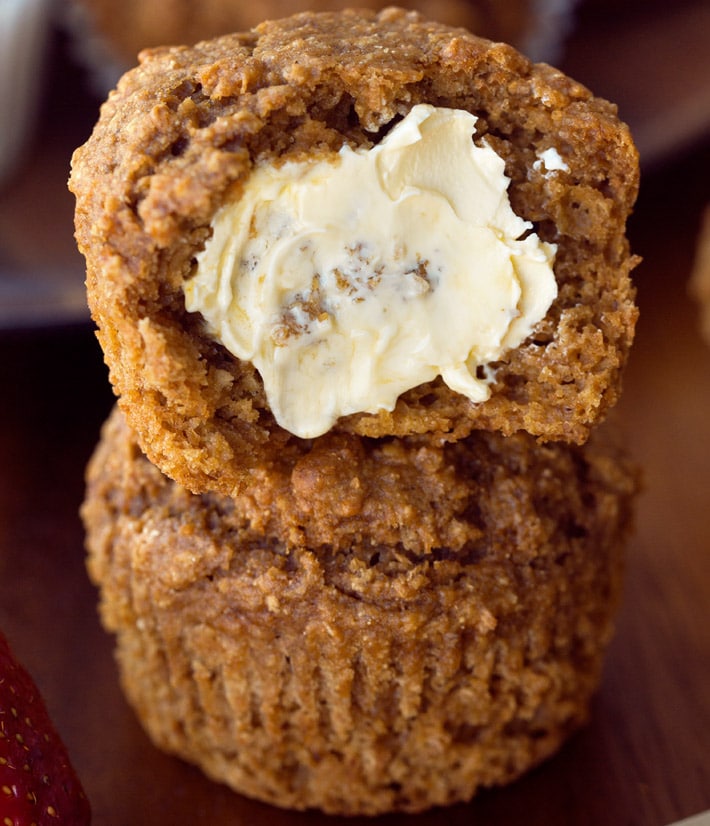 Muffin Storage Tips
The bakery style muffins can be left out for a day, loosely covered so extra moisture has a way to escape, ensuring the baked goods won't get soggy.
For optimum freshness after a day, I like to store the muffins in the refrigerator, in a single layer in an airtight container lined with paper towels. They usually last for three to four days this way.
For longer storage, leftovers can also be stored in an airtight container in the freezer for a month or two. Store in a single layer, or put a layer of parchment in between layers so the bran muffins don't stick together.
Thaw frozen muffins before eating, either by defrosting overnight or by warming in the microwave or oven.
This yummy eggless muffin recipe will remind you of the old fashioned bran muffin recipe your grandmother used to make!
Above, watch the bran muffin recipe video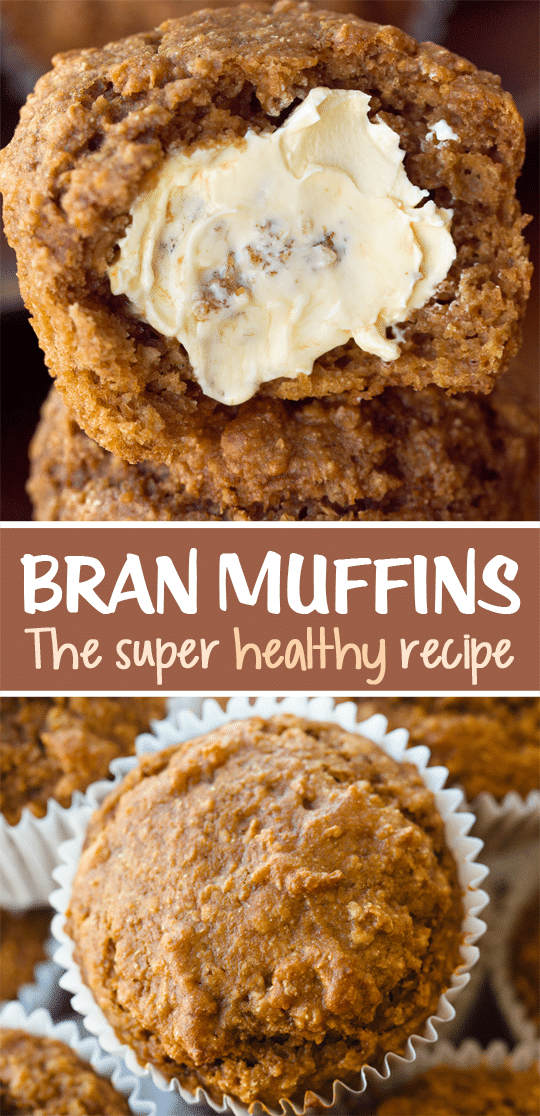 The recipe was adapted from my Banana Muffins and Oatmeal Muffins.
Bran Muffins
These super healthy bran muffins are extra soft, moist, and perfect for a wholesome breakfast!
Ingredients
2

cups

bran flakes

(for gluten free option, see note above)

3/4

cup

milk of choice

1/2

cup

yogurt, applesauce, pumpkin, or mashed banana

2

tbsp

oil or additional milk of choice

2

tbsp

molasses

(or sub pure maple syrup, honey, or agave)

optional 1 tbsp ground flax, for added nutrition

1 1/4

cup

spelt, white, or oat flour

1/2

cup

sugar

(see note above for sugar free)

1

tbsp

baking powder

1/4

tsp

salt

optional 1/2 cup raisins
Instructions
In a large bowl, soak bran flakes in the milk for half an hour. Then preheat the oven to 400 F. Whisk all remaining ingredients into the bowl to form a batter. Portion into lined muffin tins, and bake on the center rack for 20 minutes. The muffins taste even better the next day, and liners peel off easily after a day as well.

View Nutrition Facts
More High Fiber Breakfast Recipes: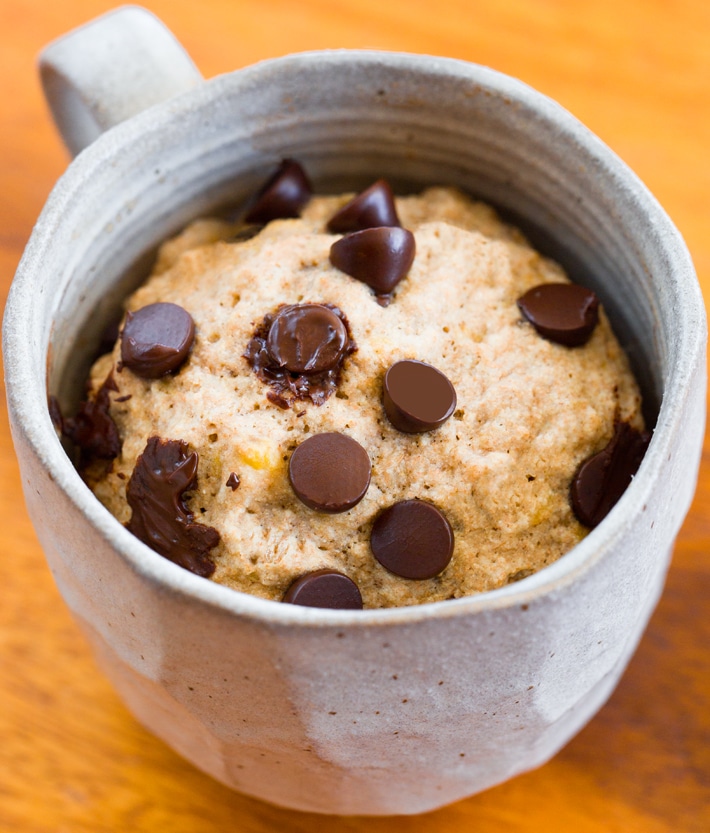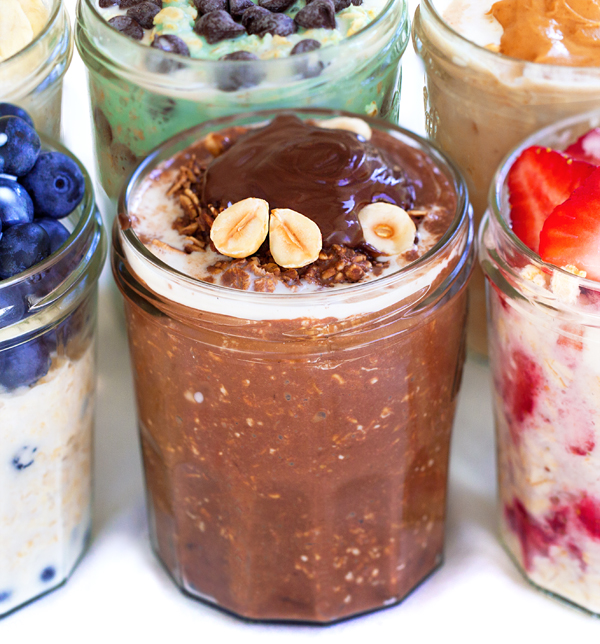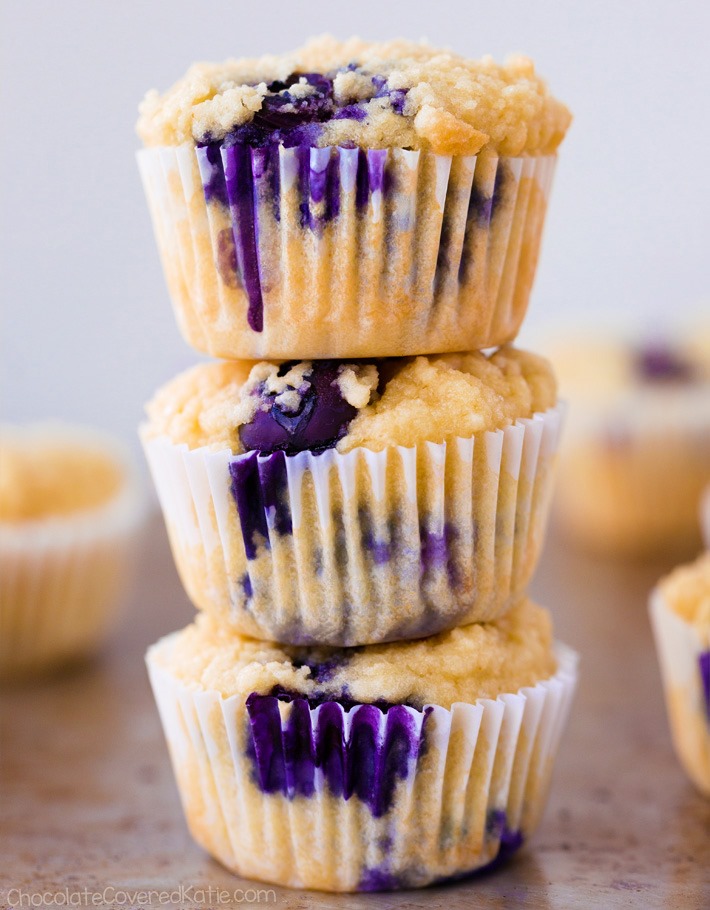 Or these Healthy Blueberry Muffins