Homemade bite-sized coconut balls that can be raw, paleo, vegan, and keto friendly.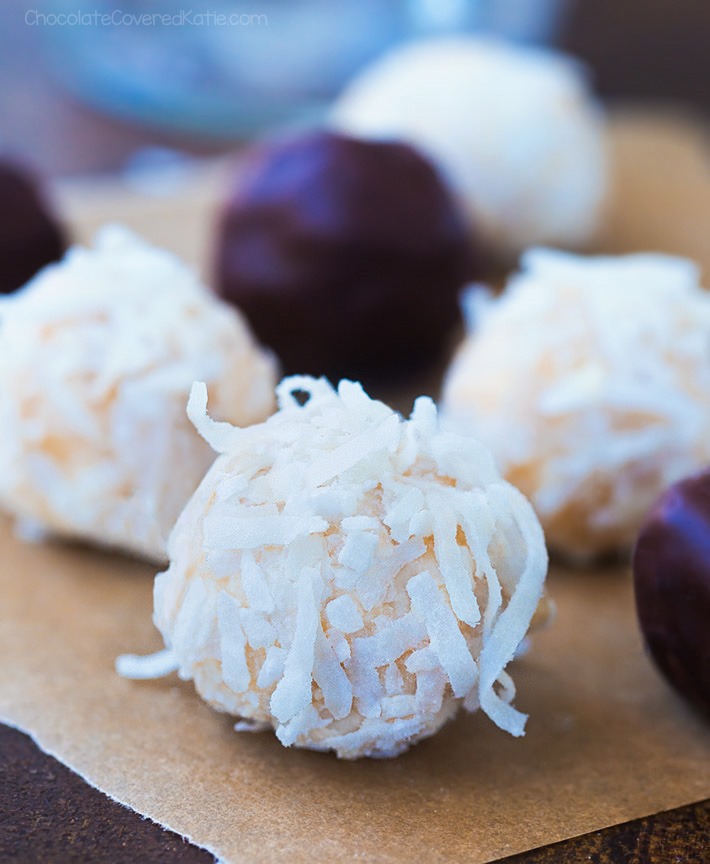 Raw Coconut Balls – Just FIVE Ingredients!
These easy-to-make raw & vegan coconut treats are the perfect option any time you're craving a Mounds bar.
The clean eating ingredient list is simple: pure vanilla extract, shredded coconut, coconut oil, sweetener of choice, and a pinch of salt – None of the artificial flavors, corn syrup, refined sugar, and hydrolyzed milk protein that make up packaged Mounds bars.
You Might Also Like: Overnight Oats – 15 NEW Recipes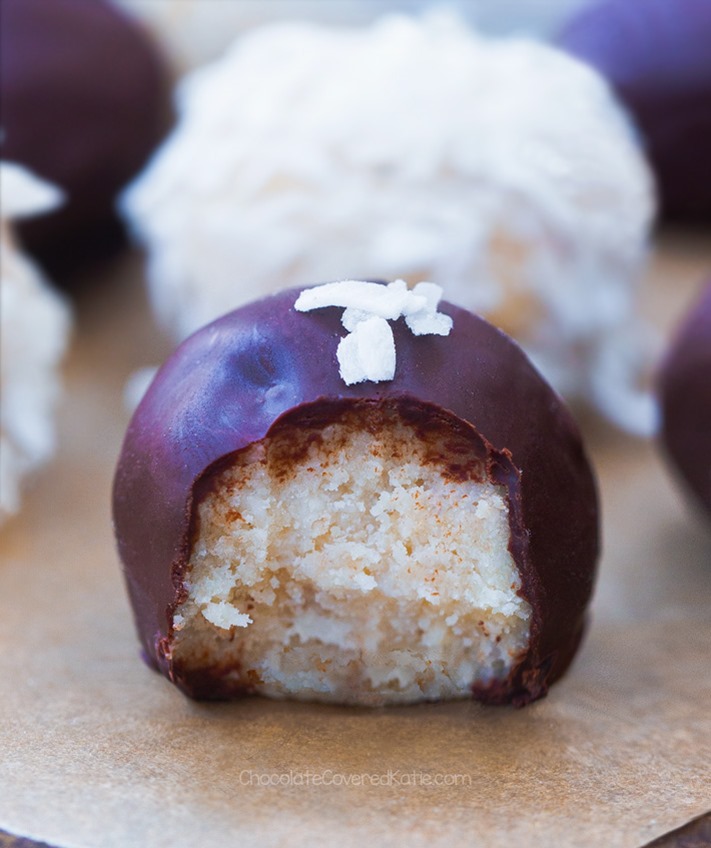 The coconut balls are similar to the Homemade Coconut Bounty Bars shown in the video above.
However, the biggest difference is that I worked on the recipe so that they now have even less sugar, and you can't even tell that the extra sugar is missing. For keto coconut balls, use the stevia option listed below instead of the maple syrup or agave.
Coconut oil has moisturizing properties, which is why it's found in so many skincare products, so embrace the oil as you roll these healthy coconut balls. Think of all the money you can save on skincare!
Traditional coconut ball recipes–also called Raffaello Balls after the popular coconut candy product made by Ferrero–often include condensed milk, and the packaged version contains soy, wheat flour, and artificial flavors.
This is a healthier take on the classic that can be suitable for gluten free, soy free, and vegan diets.
If you want to be really authentic and make them like real Ferrero Raffaello, feel free to pop an almond or hazelnut into the center of each ball.
Eat them plain, or rolled in shredded coconut, or dip them in melted chocolate. Although I love them all three ways, obviously I'm partial to the chocolate!
*For a baked version, be sure to try these popular Snowball Cookies – as featured by People Magazine.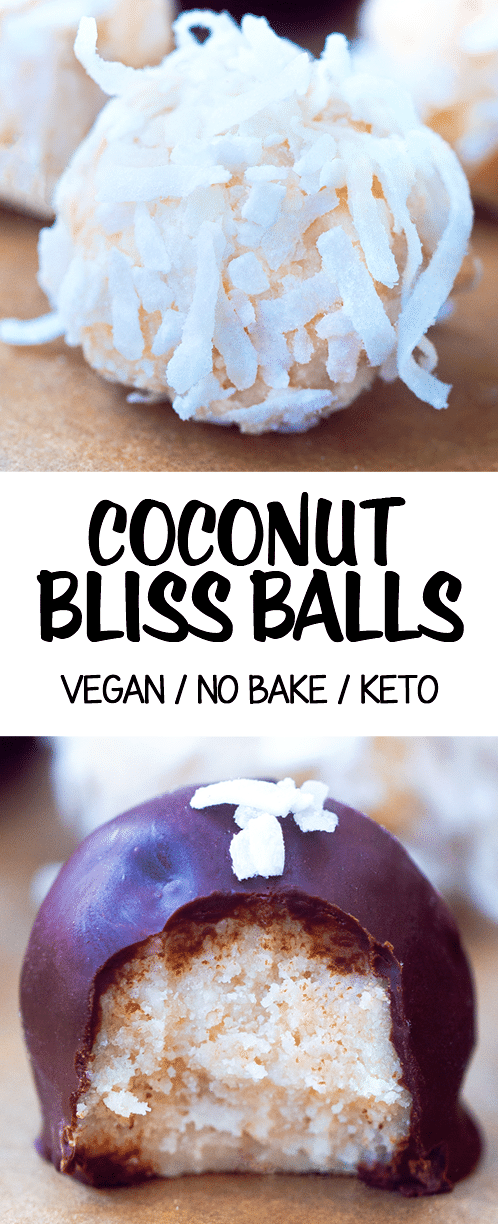 Coconut Balls
This no bake coconut balls recipe is the perfect soft, sweet, and delicious easy dessert for any true coconut lover.
Ingredients
1

1/2 cups

unsweetened shredded coconut

3

tbsp

pure maple syrup

or honey or agave (or 2 tbsp water and stevia to taste)

3

tbsp

coconut oil

1/4

tsp

pure vanilla extract

(optional)

1/8

tsp

salt

(optional)
Instructions
Blend all ingredients in a blender or food processor (not by hand or they'll fall apart). Roll into balls. Coconut oil has been proven to be good for soft skin, which is why it's in so many beauty products, so embrace the oil that gets on your hands! Roll in shredded coconut if desired. Set on a parchment or wax-lined plate, and refrigerate or freeze until hard. Once hardened, dip in melted chocolate if you wish. Refrigerate or freeze leftovers.

View Nutrition Facts
Popular Coconut Recipes: