This healthy frozen yogurt bark recipe is super easy and fun to make. Top it with fresh summer berries and granola, or peanut butter and mini chocolate chips!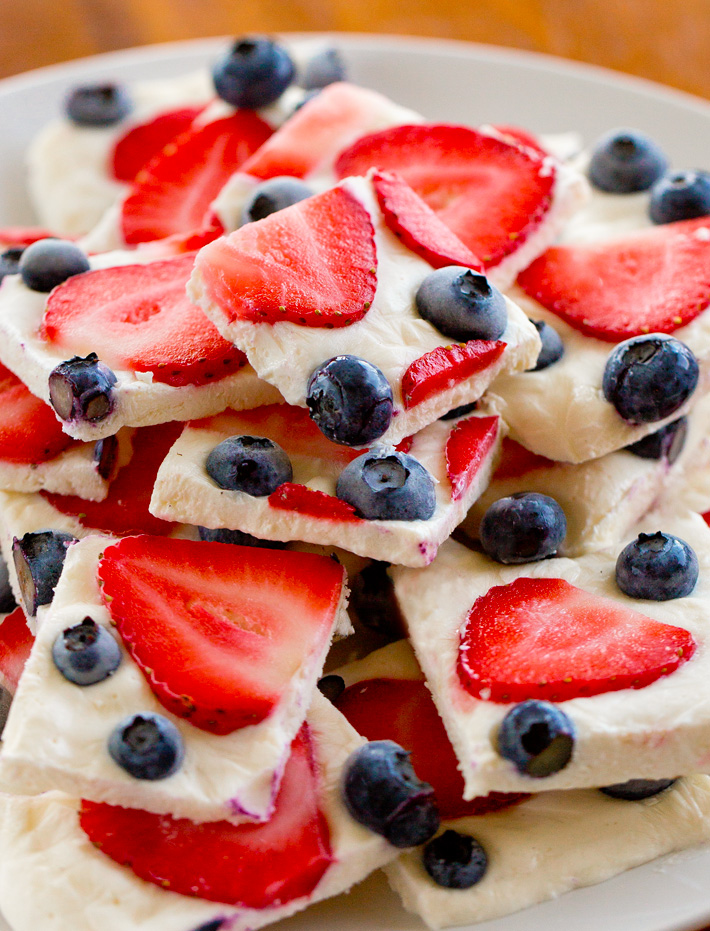 A healthy snack with protein
With just two ingredients, homemade frozen yogurt bark is one of the easiest healthy snack or desserts you will ever taste.
And the super simple recipe gives you unlimited flavor options!
If you are a frozen yogurt fan looking for a great way to cool off on a hot summer day, absolutely be sure to give this yummy frozen dessert a try.
Also try this refreshing Dole Whip Recipe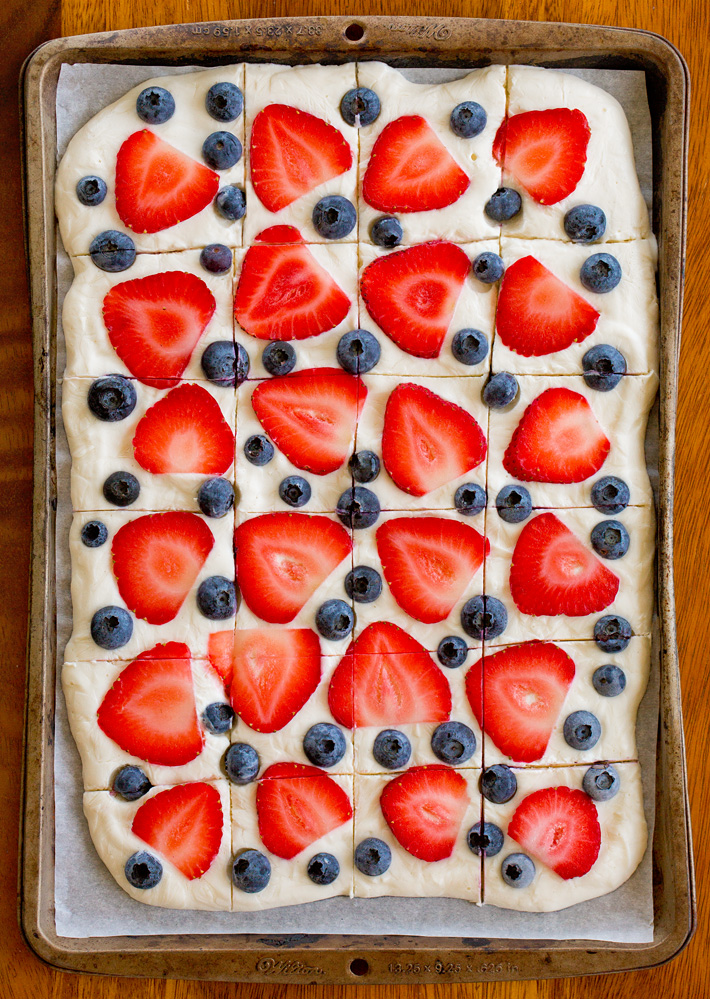 Frozen yogurt bark nutrition benefits
If you slice the recipe into twenty four pieces, each one will have just fourteen calories and an impressive two and a half grams of protein.
You could eat more than seven pieces of frozen yogurt bark for under 100 calories, with an incredible seventeen and a half grams of protein!
Besides being a low calorie and high protein snack, the wholesome yogurt bark also offers probiotics and calcium.
Add heart healthy fresh blueberries and nutritious strawberries, and you get vitamin C, potassium, folate, niacin, antioxidants, and fiber.
If you use vegan yogurt, the recipe will also be cholesterol free.
You may like these healthy Sweet Potato Brownies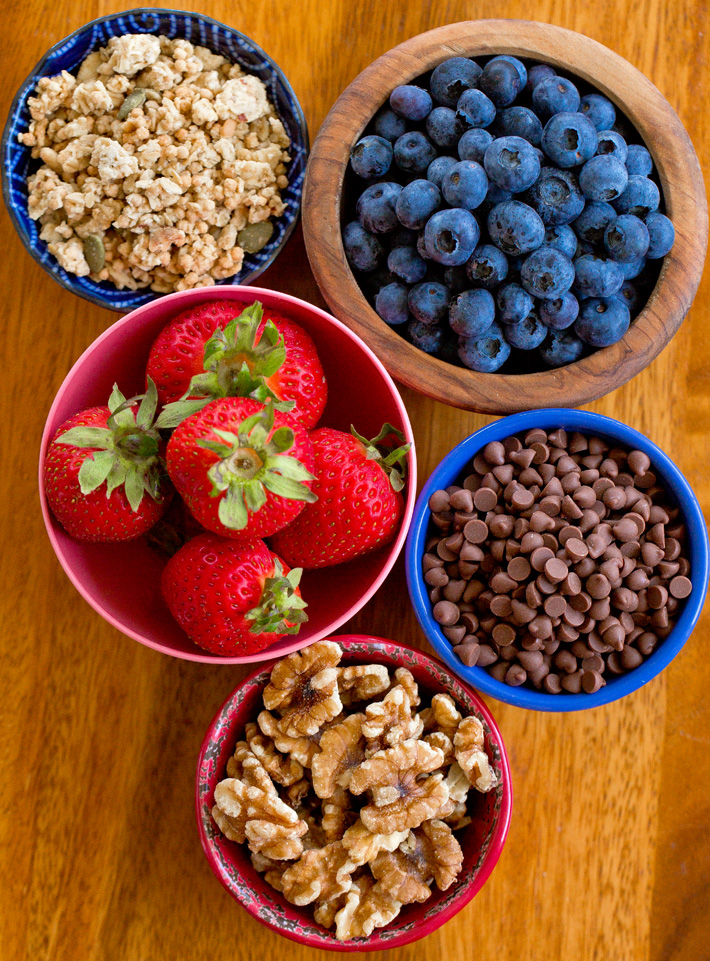 Easy frozen yogurt bark toppings
Have fun customizing the healthy kid friendly snack to make as many different Greek yogurt bark flavors as you can imagine.
Swirl in a spoonful of peanut butter or almond butter and top with sliced bananas.
Or add roasted crushed hazelnuts and Homemade Nutella.
Sprinkle on a handful of chopped pistachios, walnuts, pecans, almonds, chia seeds, matcha powder, hemp seeds, mini chocolate chips, or shredded coconut.
Sliced strawberries, raspberries, and blueberries make for a patriotic Fourth of July idea.
Or transform the yogurt bark into a healthy breakfast option by topping it with your favorite granola or cereal and fresh fruit such as mango, apple, or cherries.
You can even divide the bark into sections and let kids add different toppings to each section in the same pan. This way, everyone in the family is happy!
Step by step frozen yogurt bar recipe video
Above, watch the video for a visual on how to make the bars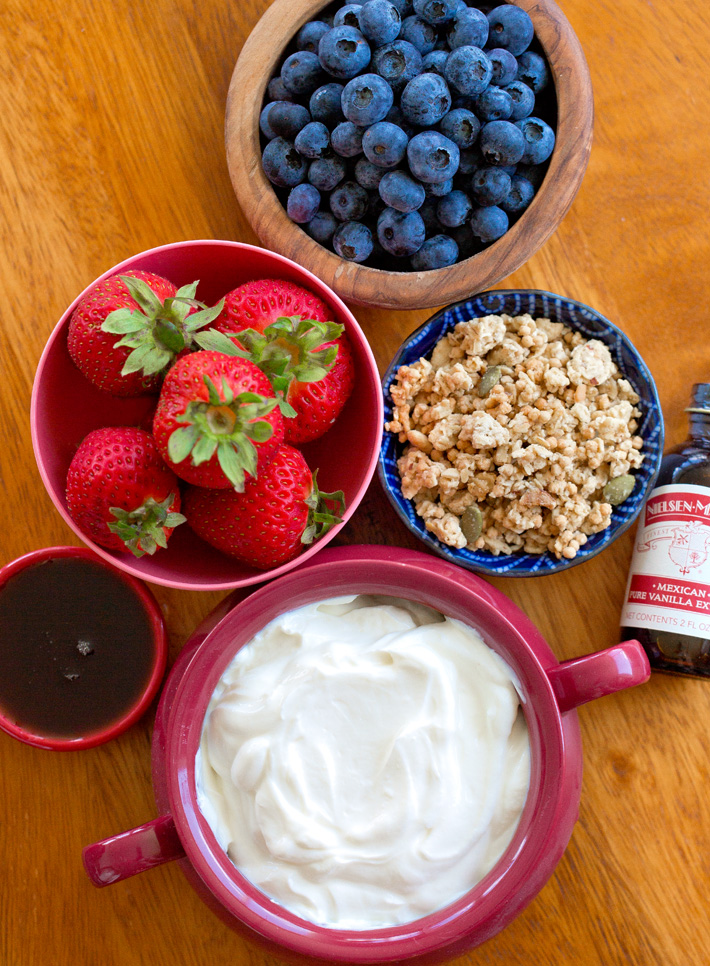 Healthy frozen yogurt bark ingredients
The recipe calls for just two or three ingredients.
And if you use sweetened vanilla yogurt, the base of the homemade froyo bark could technically be made with just one ingredient!
All you need is full fat Greek yogurt or dairy free coconut yogurt, sweetener of choice, and optional pure vanilla extract.
For vegan frozen yogurt bark, look for nondairy Greek yogurt or plant based coconut yogurt. The recipe works best with full fat yogurts.
Sweetener options include pure maple syrup, honey, agave, regular sugar or coconut sugar. Or choose erythritol or xylitol for sugar free bark.
To make keto yogurt bark, simply use your favorite no sugar sweetener and low carb yogurt. Add chocolate chips without sugar if desired.
Now comes the fun part. Turn the plain yogurt bark into cookies and cream, mixed berry, chocolate, coconut butter, coffee, or even rainbow unicorn yogurt bark.
Customize it for Halloween, Christmas, or any regular weekday where you are craving a no bake and healthy snack or dessert with protein.
This easy recipe can be keto, sugar free, gluten free, and vegan.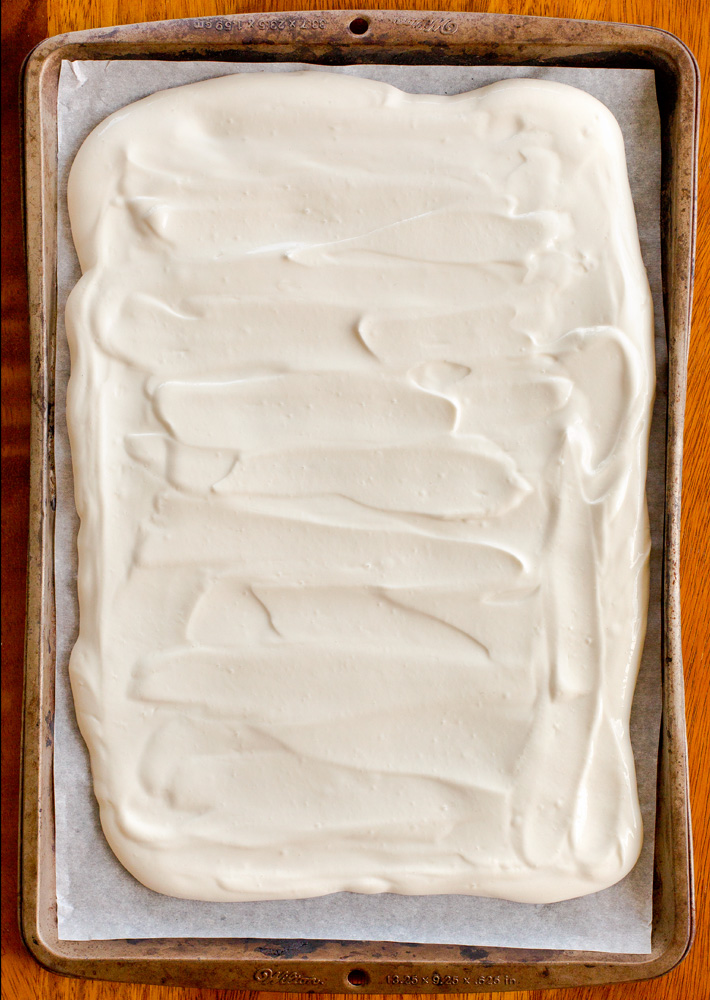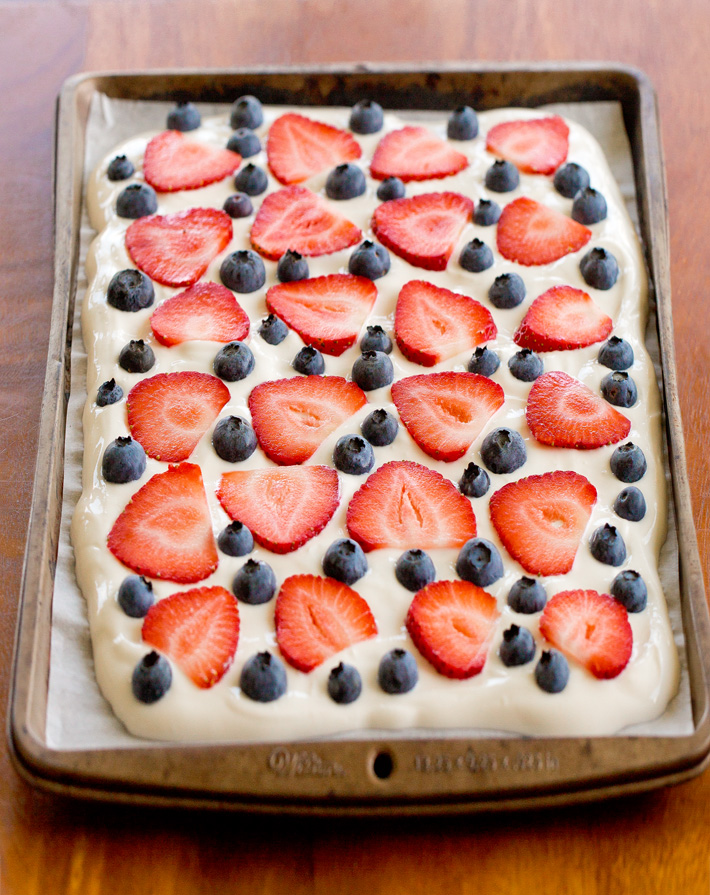 How to make Greek yogurt bark
Gather all of your ingredients and equipment. Line a baking sheet with either parchment paper or wax paper, then set this pan aside.
In a large mixing bowl, combine the Greek yogurt, sweetener, and pure vanilla extract. Whip it up with a spoon or fork. There's no blender required.
Spread the yogurt mixture onto the prepared baking pan in an even layer.
Sprinkle any toppings you wish on top.
Place the tray in the freezer for at least four hours or overnight to get cold.
Once it is fully chilled, transfer the frozen bark to a cutting board and use a knife to slice it into frozen yogurt bars.
If you prefer, you can cut bars directly in the pan instead of on a cutting board. Or simply break the bark into pieces with your hands.
Healthy bark storage tips
Store any leftover Greek yogurt bark in either a sealed bag or airtight container.
Add a layer of wax paper or parchment paper in between layers of bark to prevent the pieces from sticking together.
Stored in the freezer, leftovers should keep for up to about two or three months. Of course, this is only if you don't eat it all first!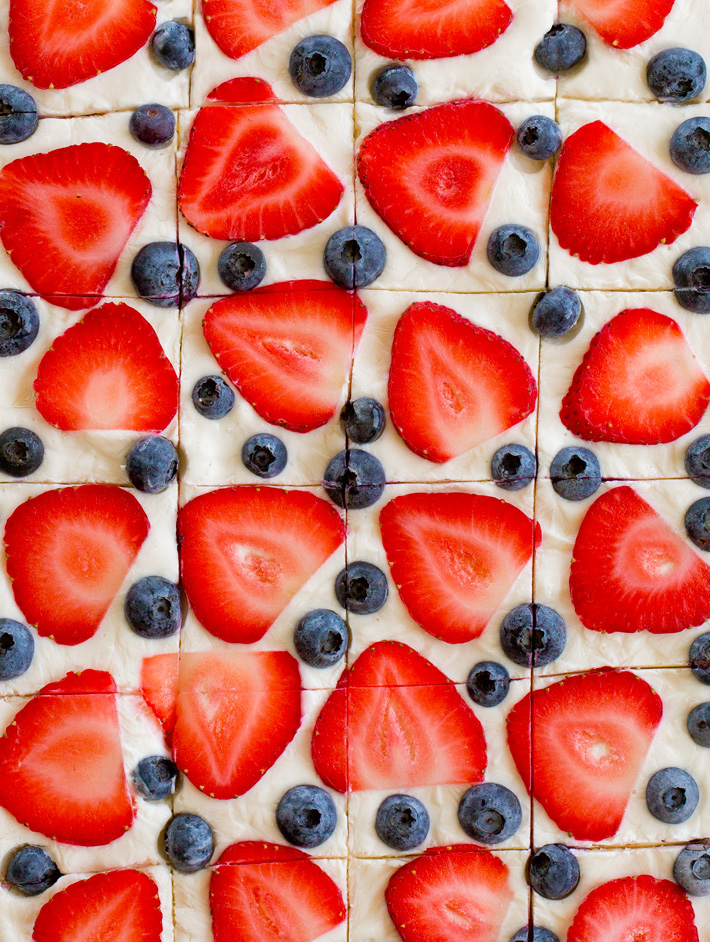 Measuring the recipe in grams
If you wish to use a food scale instead of the cups and tablespoons listed below, measure out 480 grams of yogurt, 30 grams sweetener of choice, and 2 grams of pure vanilla extract.
The toppings do not need to be measured out exactly. Use as many as you'd like.
For a single serving or smaller batch recipe instead of a family size option, feel free to cut the recipe in half and fill up only half of the baking tray.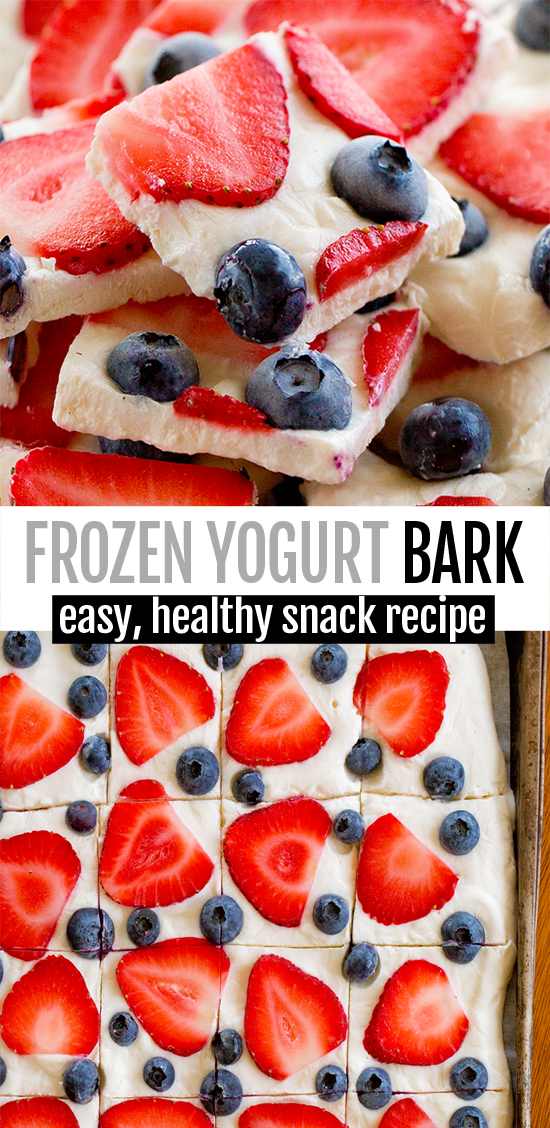 Frozen Yogurt Bark
This healthy frozen yogurt bark recipe is easy and fun to make for snack or dessert. Top it with berries and granola, or with mini chocolate chips.
Ingredients
2

cups

full fat Greek yogurt

or coconut yogurt

2

tbsp

sweetener of choice

1

tsp

pure vanilla extract

(optional)

strawberries, blueberries, chocolate chips, or toppings of choice
Instructions
Whisk the yogurt, sweetener, and vanilla in a bowl. Spread onto a parchment lined baking sheet. Sprinkle on toppings as desired. Freeze for four hours or until fully chilled. Break apart with your hands, or slice into bars with a knife. Store leftovers in the freezer. Enjoy!

View Nutrition Facts
Ways to use yogurt