These super creamy vegan ramen noodles can be made in just 15 minutes, and the easy recipe tastes like the ramen you'd order from a Japanese restaurant!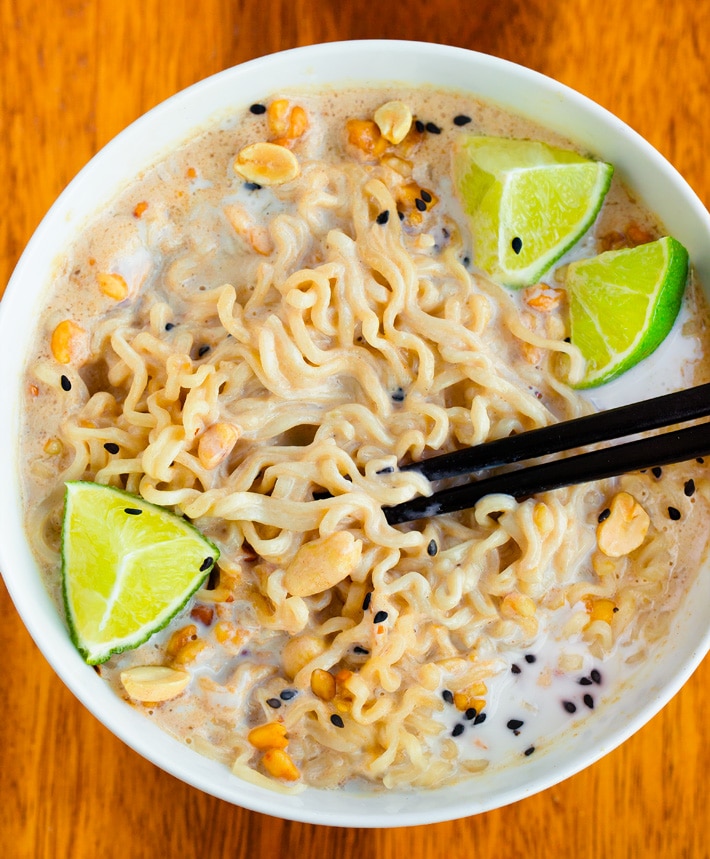 With a thick and flavorful broth, this homemade vegan ramen is a perfect plant based dinner recipe for those nights when you're craving comfort food in a hurry.
Just cook the noodles, combine them with the creamy ramen broth and any veggies or protein of choice, then garnish as desired.
This is one of my favorite quick vegan dinners, and hopefully it will soon become one of your family's favorites too!
Readers also love this Vegan Carrot Cake
Above, watch the vegan ramen recipe video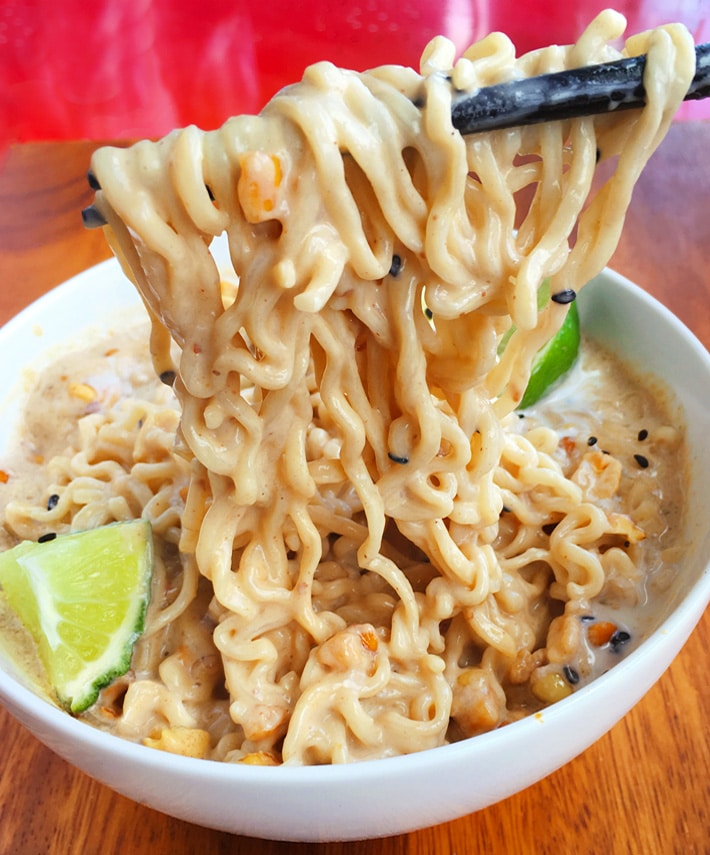 Creamy vegan ramen noodles
Ramen played an important role in my culinary adventures as a child growing up in Tokyo, Japan. At least a few times each month, we would go to the local ramen shop for lunch or dinner, and this was also my first introduction to tofu!
Years later, after going vegan as a teenager, I was happy to discover both small and large Japanese restaurants offering veggie ramen on their menus.
Jinya Ramen Bar, which has multiple locations around the United States and Canada, even offers two vegan options, as well as a gluten free ramen that can also be vegan.
Be sure to also try this creamy Coconut Curry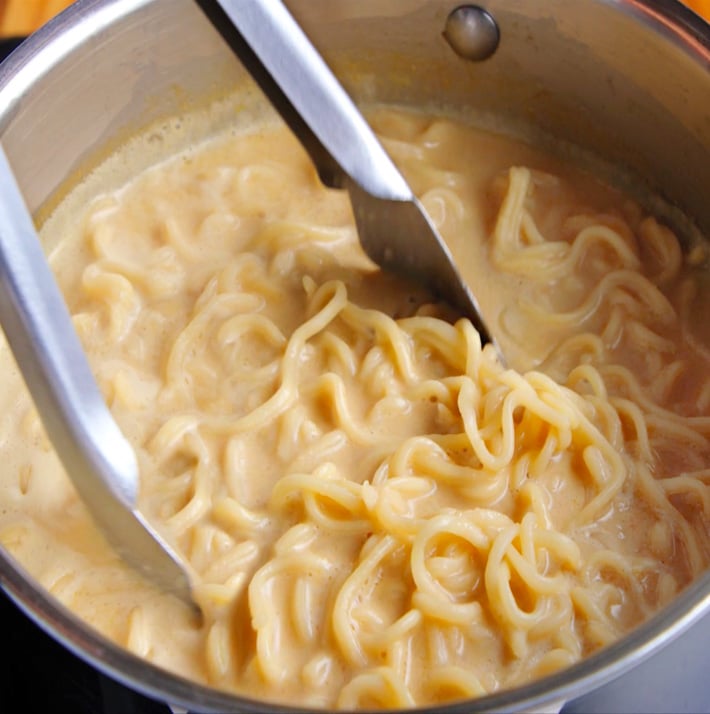 What is ramen?
Ramen is a Japanese noodle soup introduced by the Chinese, most likely in the 19th or 20th century. The original non vegetarian version is often flavored with soy sauce or miso and is traditionally a meat based broth (chicken, pork, beef, or fish) with Chinese style wheat noodles.
There are four main types of ramen: shio (seasoned with salt), shoyu (seasoned with soy sauce), miso (flavored with miso paste), and kare (curry ramen).
Tonkotsu ramen is another popular type of ramen, made with pork bone broth. This one is definitely not vegan friendly!
The recipe below is for Japanese style ramen. Korean ramyeon is usually spicier and made with curly, chewy Korean instant noodles. Popular brands of Korean ramen include Nongshim, Ottogi, and Samyang.
Still craving noodles? Make Vegan Mac And Cheese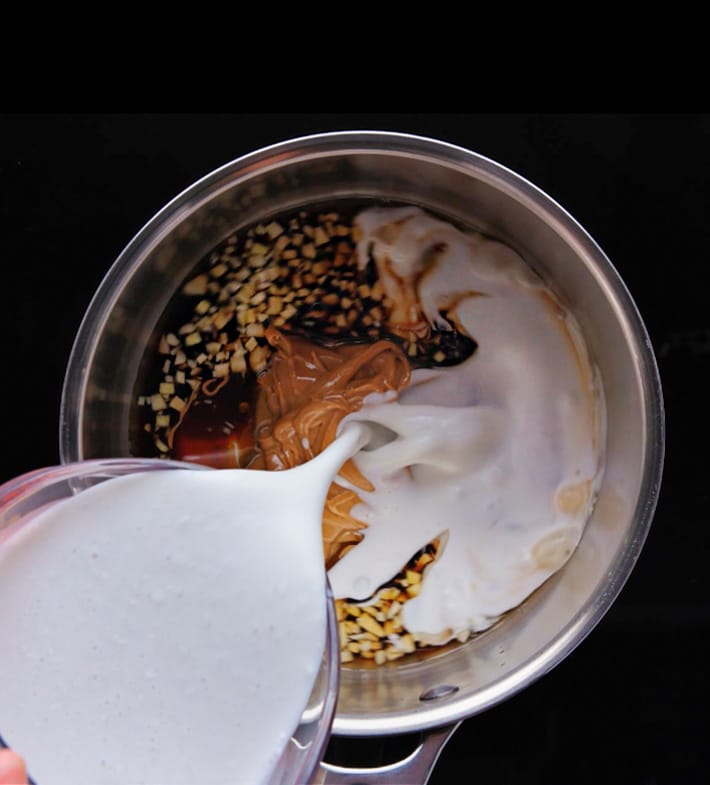 Vegan ramen ingredients
Here's what you need: uncooked ramen noodles, white vinegar or rice vinegar, soy sauce or coconut aminos, vegetable or sesame oil, vegetable broth, sweetener of choice, minced garlic, peanut butter or almond butter (or an allergy friendly substitute), and nondairy milk.
For spicy vegan ramen soup, add a few drops of sriracha or hot sauce to the broth until it reaches your preferred spiciness. If only one person wants theirs spicy, add the hot sauce to their individual ramen bowl just before serving.
My favorite dairy free milk of choice to achieve the most authentic creamy veggie ramen is full fat canned coconut milk. Almond milk and soy milk also work.
If you do not want a peanut butter flavor, choose a more neutral nut butter such as almond butter or cashew butter. If using canned coconut milk, you can omit the nut butter completely if you prefer.
Try one of these Cauliflower Recipes on the side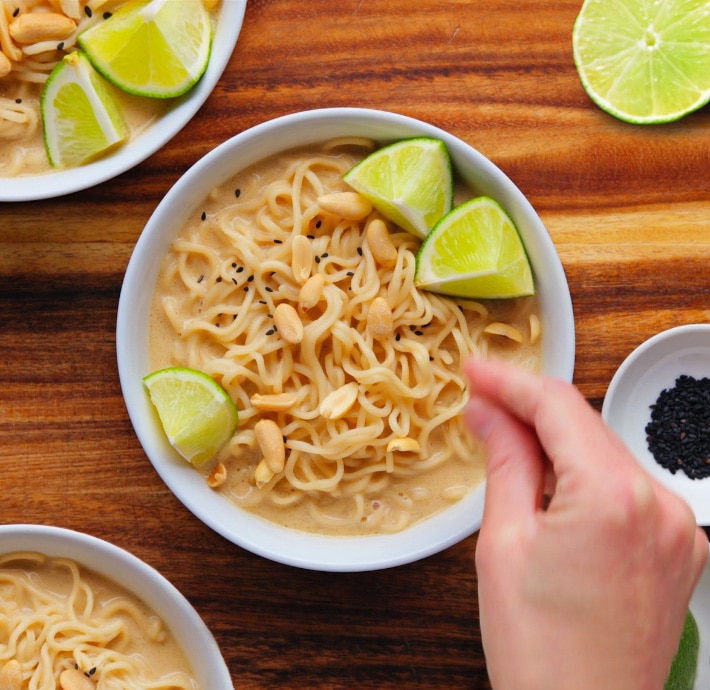 Ramen soup toppings
Have fun garnishing your ramen bowls. I like to add chopped scallions, sesame seeds, peanuts, and slices of lime to mine for both presentation and taste.
Other healthy ramen topping ideas include green or fried onions, bean sprouts, wood ear mushrooms, wakame or nori seaweed, corn, vegan egg, fermented bamboo shoots, garlic oil or sesame oil, pickled ginger or plum (umeboshi), vegan butter, sliced radishes, white or red miso, kimchi, cilantro, avocado, or matchstick carrots.
The vegetables and protein
Turn the vegan ramen recipe into a filling one bowl meal by bulking up the soup with meatless protein and veggies.
I like either silken firm tofu or pan fried or baked extra firm tofu. Or try edamame, seitan, packaged vegan chicken or beef crumbles, or even Vegan Meatballs.
For the vegetables, pretty much anything goes. Steamed broccoli, roasted sweet potato, sautéed cabbage or mushrooms, or baby bok choy are always good choices.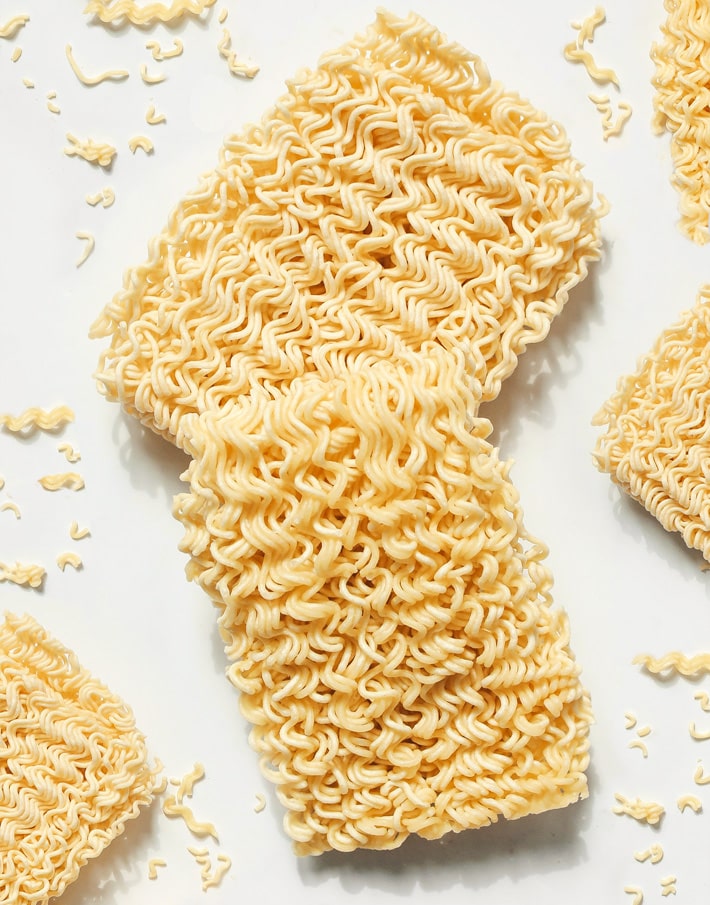 Vegan ramen noodle brands
Look for any of the following brands, and check the ingredient list to make sure the actual noodles are still vegan at the time of purchase: Koyo, Lotus Foods rice ramen, Wegmans, Ocean's Halo, Simply Asia, or Nona Lim fresh ramen noodles.
If you cannot locate plain dried ramen noodles at your local grocery store, you can use frozen ramen or the vegan noodles from a package of instant ramen noodle soup.
Soba, lo mein, udon noodles, rice noodles for gluten free ramen, or even regular spaghetti can also be substituted for ramen noodles.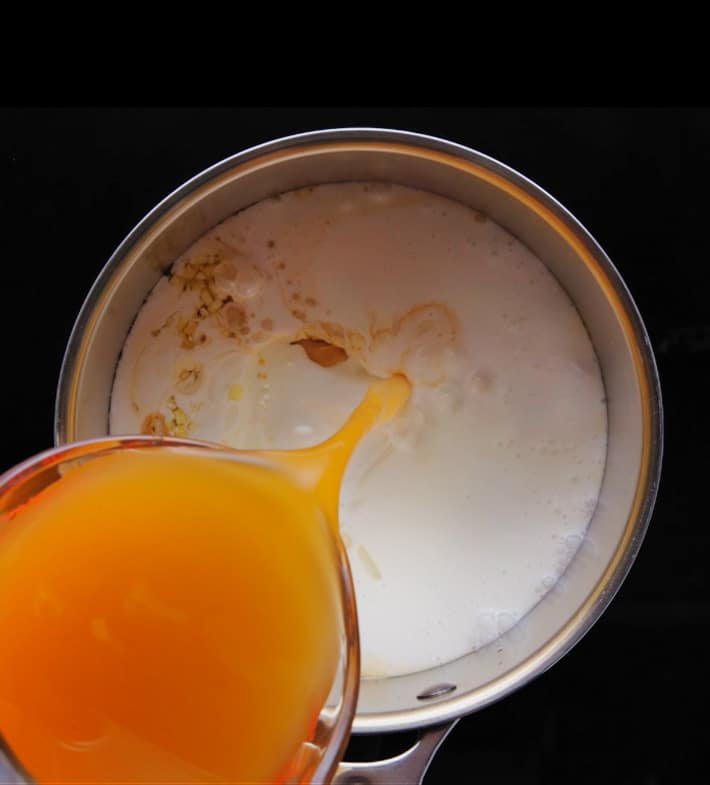 How to make the recipe
Start by gathering all ingredients and reading through the instructions.
Bring a medium pot of water to a boil. Once boiling, add the ramen and cook uncovered for two minutes. (If using another type of noodle, cook until al dente.)
While the ramen noodles cook, whisk the soy sauce, vinegar, oil, sweetener, garlic, nut butter, broth, and milk over medium heat in a separate pot. Also add the optional ginger, veggies, tofu, or plant based protein, and hot sauce, if using.
Drain the ramen (do not rinse), then combine it with the creamy broth. Add the greens if using, and heat just until wilted. Ladle the vegan ramen soup into bowls, and add your favorite garnishes. Serve and enjoy.
Refrigerate leftover ramen in a covered pot for three or four days. Reheat on the stovetop (recommended) or in the microwave before eating.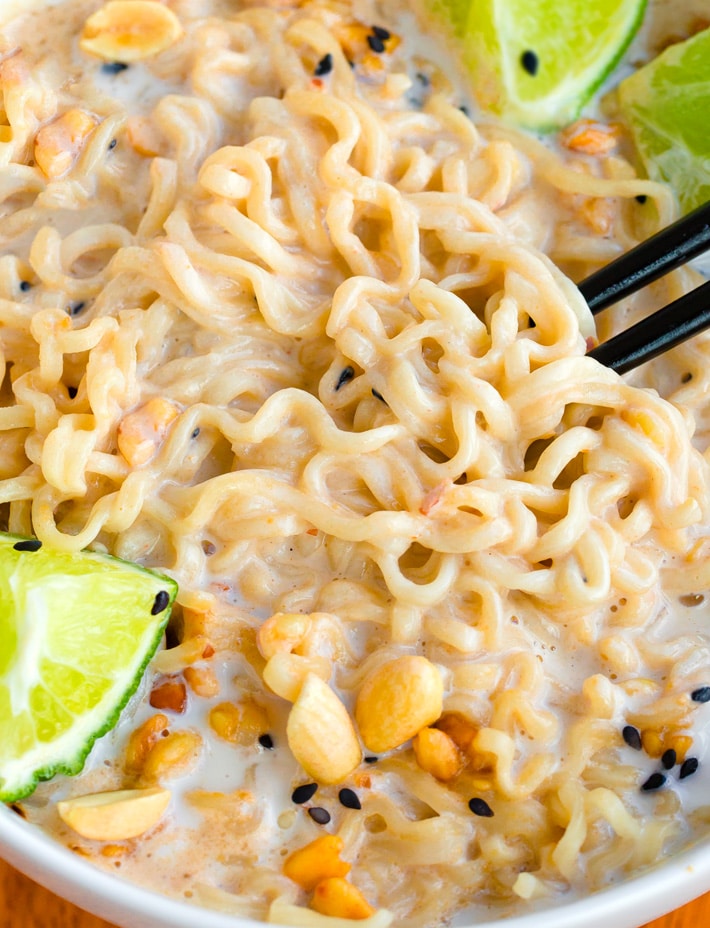 Best ramen tips and tricks
As with any recipe, it's a good idea to make the ramen exactly as written the first time, not omitting, subbing, or cutting back on any ingredients. Then you can experiment with changing the amounts of garlic, oil, vinegar, and soy sauce if you wish.
Cook the vegan ramen broth first, before adding the noodles. This will help prevent overcooked and mushy or gummy noodles in your finished soup.
Store leftover ramen soup in an airtight covered container in the refrigerator for two or three days. Or freeze for up to two months, thawing and reheating in a pot on the stove before serving.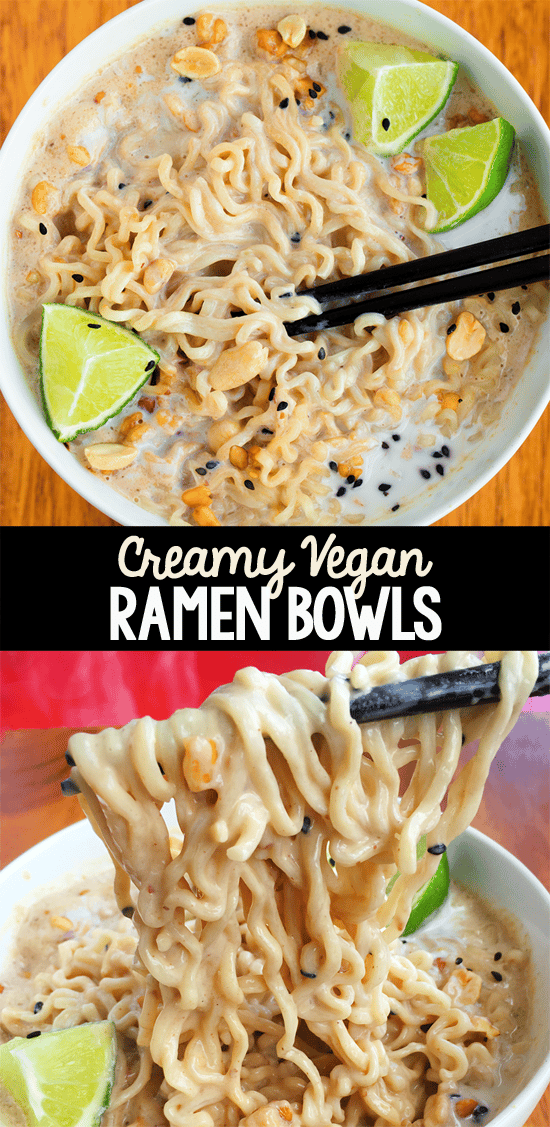 Vegan Ramen Recipe
These thick and creamy vegan ramen noodle bowls can be made in just 15 minutes and are perfect for dinner.
Ingredients
8

oz

uncooked ramen or noodles of choice

2

tbsp

white or rice vinegar

2

tbsp

soy sauce, or coconut aminos

1

tbsp

vegetable or sesame oil

1

1/2 tbsp

sweetener of choice

1

tbsp

minced garlic

2

cups

vegetable broth

2

cups

milk of choice or coconut milk

1/4

cup

almond or peanut butter

(can omit if using coconut milk)

optional 1/4 tsp ground ginger

optional sriracha or hot sauce to taste

optional cooked diced vegetables, tofu, or protein of choice

garnish with sliced scallions, limes, and sesame seeds

if desired

optional handful baby bok choy or spinach
Instructions
Boil water in a medium pot. Add ramen and cook uncovered for two minutes or until soft. Drain. Meanwhile, whisk together all remaining ingredients except garnishes and greens in a separate pot, and heat over medium. Once ramen is drained, combine it with the creamy broth. Add greens if using, and heat just until they wilt. Portion into bowls. Garnish as you wish, and serve. Leftovers may be served hot or cold.

View Nutrition Facts
Healthy Vegan Dinner Recipes