These secretly healthy protein brownies are rich, chewy, fudgy, and absolutely melt-in-your-mouth amazing, with up to fifteen grams of protein each!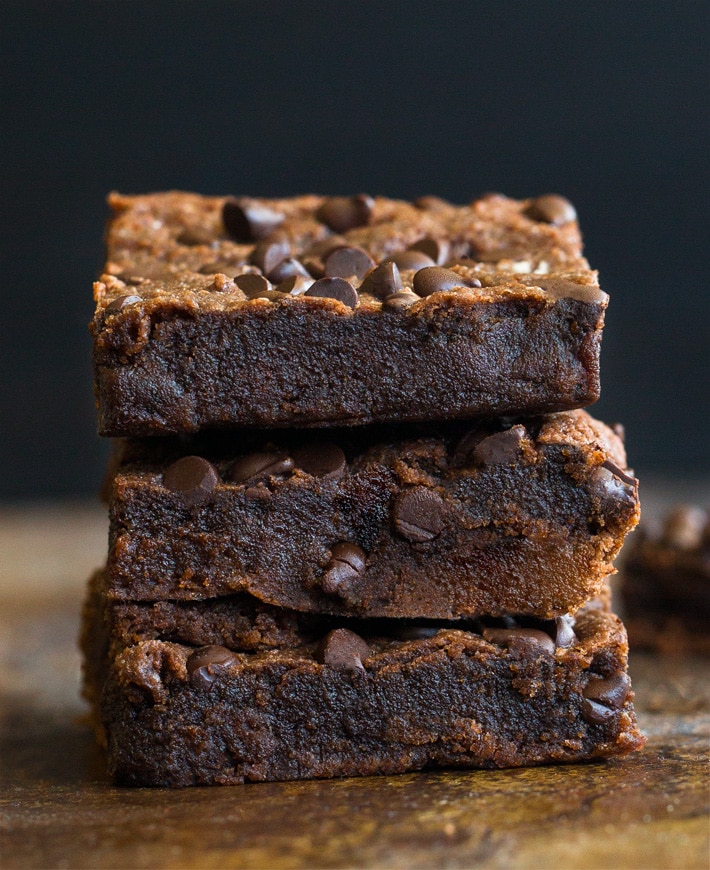 The best protein brownies recipe
The most unbelievable thing about these dark chocolate protein brownies is that they do not taste healthy at all!
This recipe gives you the best of both worlds, which means there's no need to sacrifice taste or enjoyment because you're trying to be healthy. You can have your chocolate cake (or, in this case, brownies) and eat it too.
The high protein brownies can be vegan, gluten free, low calorie, low carb, paleo, sugar free, and flourless, with no banana and no avocado or other hidden ingredients.
Also be sure to try these Black Bean Brownies
Watch the protein brownie recipe video, above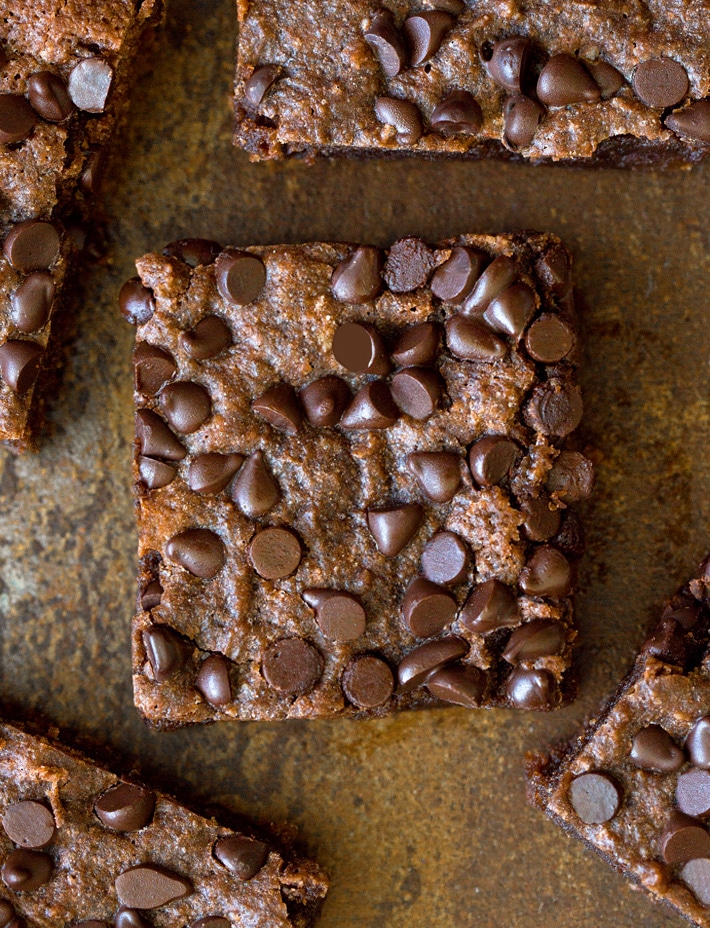 Brownie frosting options
You have many options for these protein chocolate brownies!
The first option is to sprinkle them with mini chocolate chips right before baking. Once they come out of the oven, there's no icing needed.
Or you can turn it into an even higher protein recipe by letting the brownies cool and then frosting them with the peanut butter filling from these Peanut Butter Brownies.
If using the easy peanut butter frosting, as shown in the video above, each frosted bodybuilding brownie will have an additional three grams protein, for a total of fifteen grams of protein per brownie. Talk about a healthy snack or dessert!
They are also great topped with my Chocolate Cream Cheese Frosting, or spread with almond butter or Homemade Nutella, or eaten plain without any frosting at all.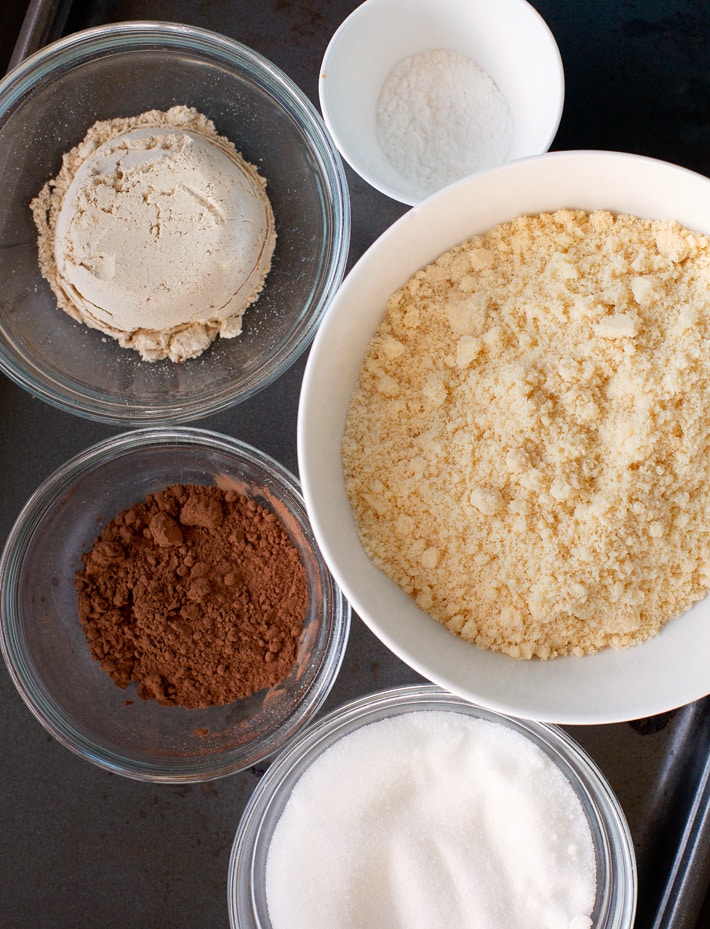 Chocolate protein brownie ingredients
Gather the following ingredients: protein powder, cocoa powder, almond flour, sweetener, baking powder, salt, eggs or flax eggs, oil or butter, and pure vanilla extract.
For vegan protein brownies, use the flax eggs instead of chicken eggs.
The recipe calls for almond flour or almond meal. I have not tried substituting whole wheat flour, coconut flour, spelt flour, or white or gluten free all purpose flour so cannot recommend those. However, there is a nut free option listed in the recipe box.
These are a wonderful alternative to packaged protein brownies from brands like Fiber One, Kodiak, Muscle Gain, Quest, or MyProtein.
Leftover protein powder? Make these Protein Cookies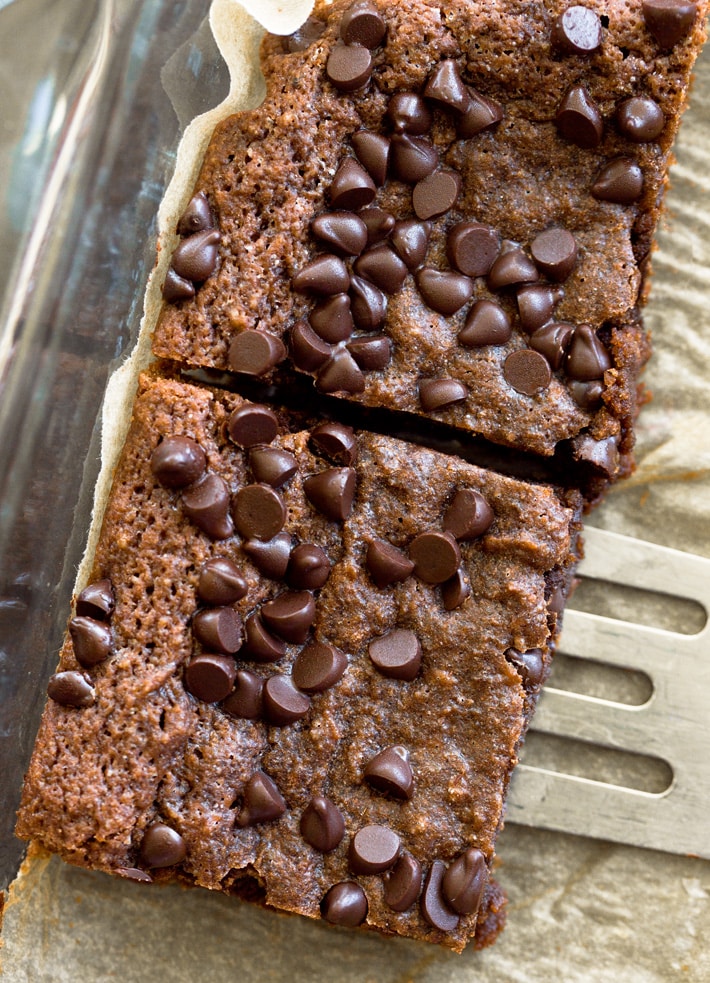 What kind of protein powder?
Grocery stores, health food stores, or even places like Target offer so many options these days. There's hemp protein, whey protein, collagen, pea, casein, brown rice, or egg white protein, or pumpkin seed or soy protein.
For this simple recipe, I like to use either unsweetened or vanilla protein powder, but you can experiment with different flavors. Be sure to use a protein powder that you already know you like, because some brands can have a strong artificial aftertaste.
If you want to make the recipe exactly like I did, use Laird Superfood Protein Powder.
I have not yet tried the fudge brownies with chocolate protein powder instead of plain. If you go that route, be sure to report back with results.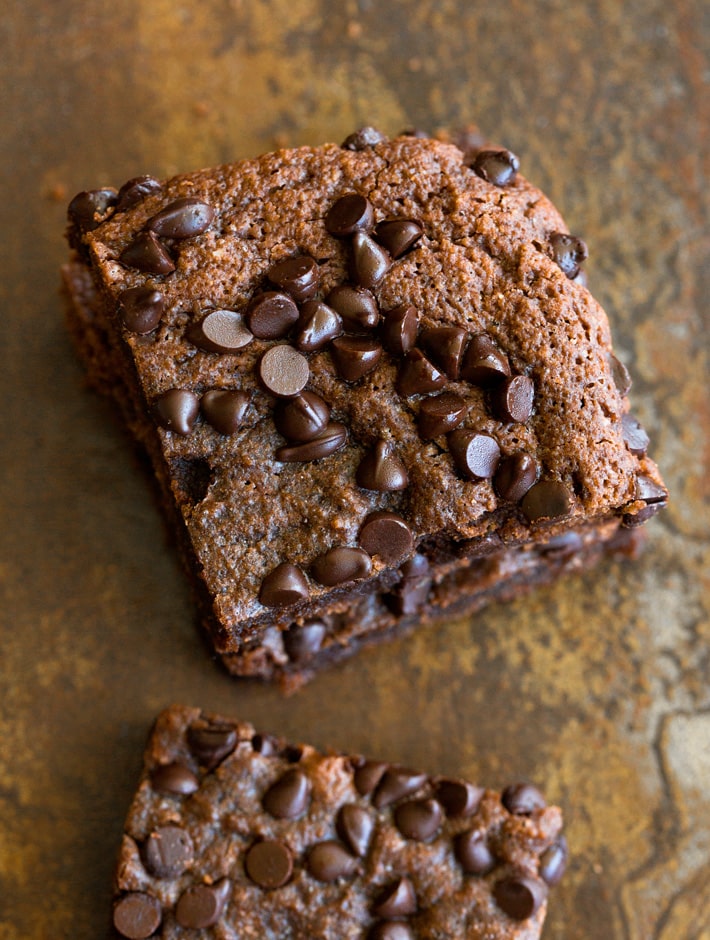 How to make protein brownies
Preheat the oven to 350 degrees Fahrenheit. Grease an eight inch pan or line the bottom of the pan with parchment paper, then set it aside.
In a large mixing bowl, stir all of the brownie ingredients well. Spread the chocolate brownie batter into the pan. I like to add a second sheet of parchment paper over the top because it helps with evenly smoothing the mix into the pan. Remove this second sheet of parchment before cooking.
Bake the brownies on the oven's middle rack for twenty minutes, then remove from the oven. Let the brownie pan cool on the counter.
They will firm up as they cool and continue to firm up if you loosely cover the pan with a towel and refrigerate overnight.
It is fine to leave the brownies out for a few hours on the counter if serving at a party or transporting to an event. For freshness, I recommend refrigerating leftovers in a covered container for up to five days.
The chocolate protein brownies can also be slices and frozen in an airtight container for about two to three months. Thaw before eating.
Readers also love this Healthy Banana Bread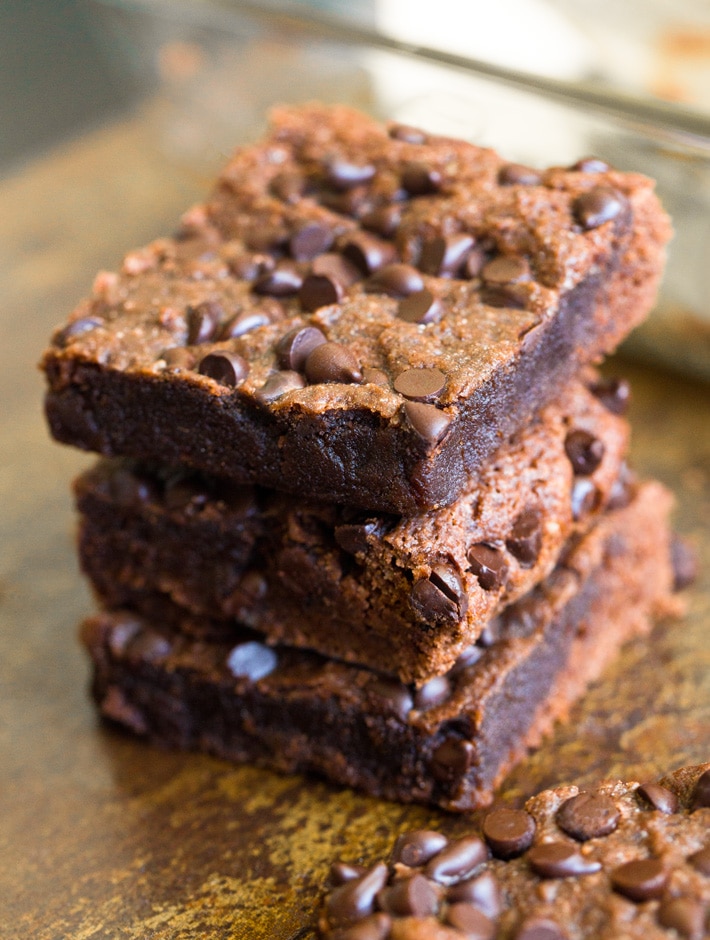 Different flavor protein brownies
Mocha fudge – Stir half a teaspoon of instant coffee granules or espresso powder in with the dry ingredients while making the brownies.
Mint chocolate – Add one fourth teaspoon of pure peppermint extract. Taste the unbaked brownie batter, and add more extract if a stronger mint flavor is desired.
Chocolate orange – Add the zest of one orange to the protein brownie batter before transferring it to the pan and baking.
You can also stir in a handful of chopped walnuts or pecans, shredded coconut, chia seeds, flax seeds, raisins, dates, other dried fruit, diced almonds, or chocolate chips.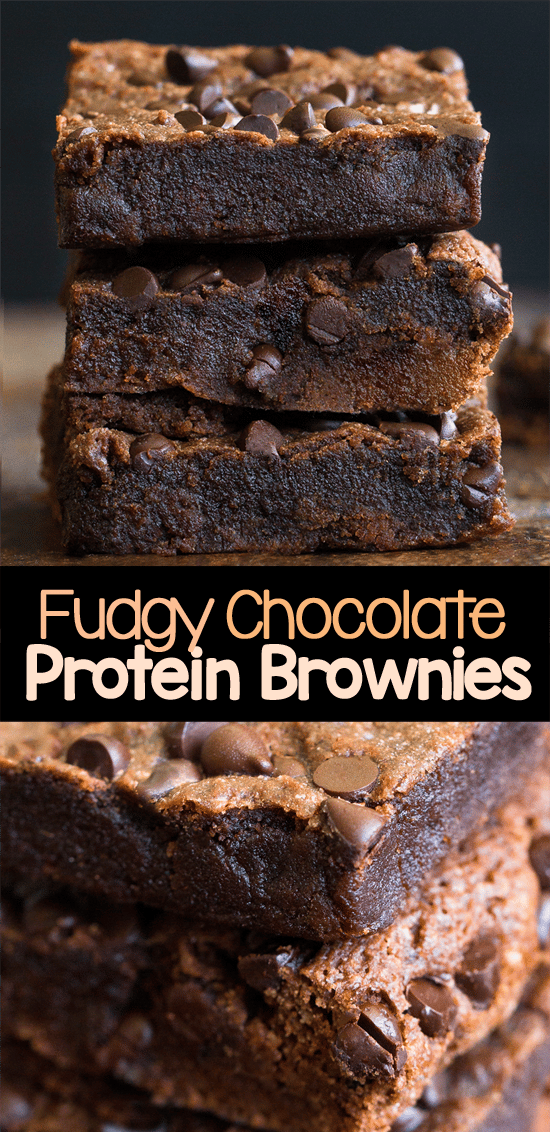 Protein Brownies
These healthy protein brownies are ultra rich and fudgy, with up to 15 grams of protein each.
Ingredients
1

cup

almond flour

(for nut free, try these Healthy Brownies)

1/3

cup

protein powder

2

tbsp

cocoa powder

(I like Dutch)

1

tsp

baking powder

1/2

tsp

salt

1/3

cup

melted coconut oil or butter

2

eggs, or 2 flax eggs

2/3

cup

sugar or granulated erythritol

1

tsp

pure vanilla extract

1/2

cup

mini chocolate chips,

optional
Instructions
Preheat oven to 350 F. Grease an 8-inch pan, or line it with parchment. Stir all ingredients well. Spread into the pan, using a second sheet of parchment if needed to press down evenly. Bake 20 minutes, then let cool. They continue to firm up as they cool and also firm up even more if you very loosely cover and refrigerate overnight. Frosting ideas are listed above.View Nutrition Facts
High Protein Dessert Recipes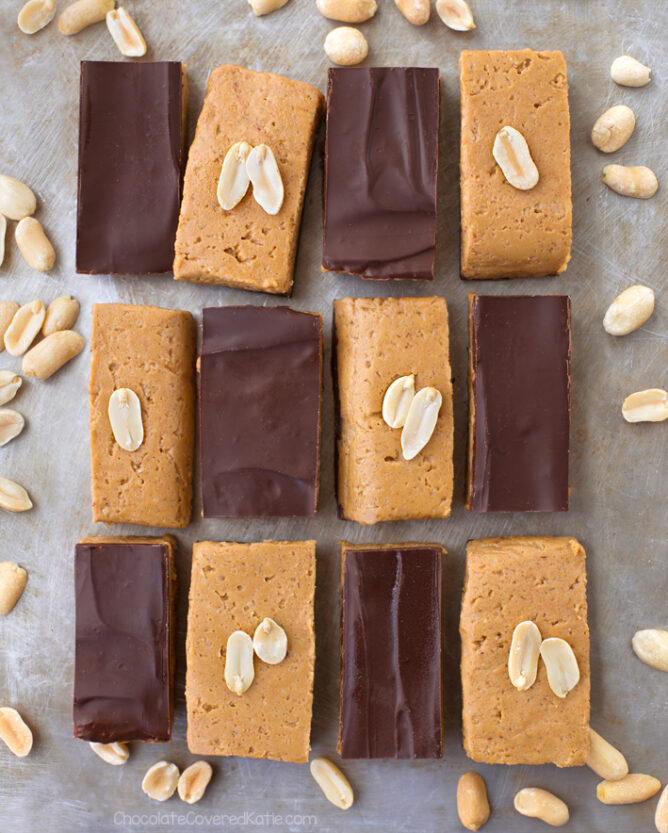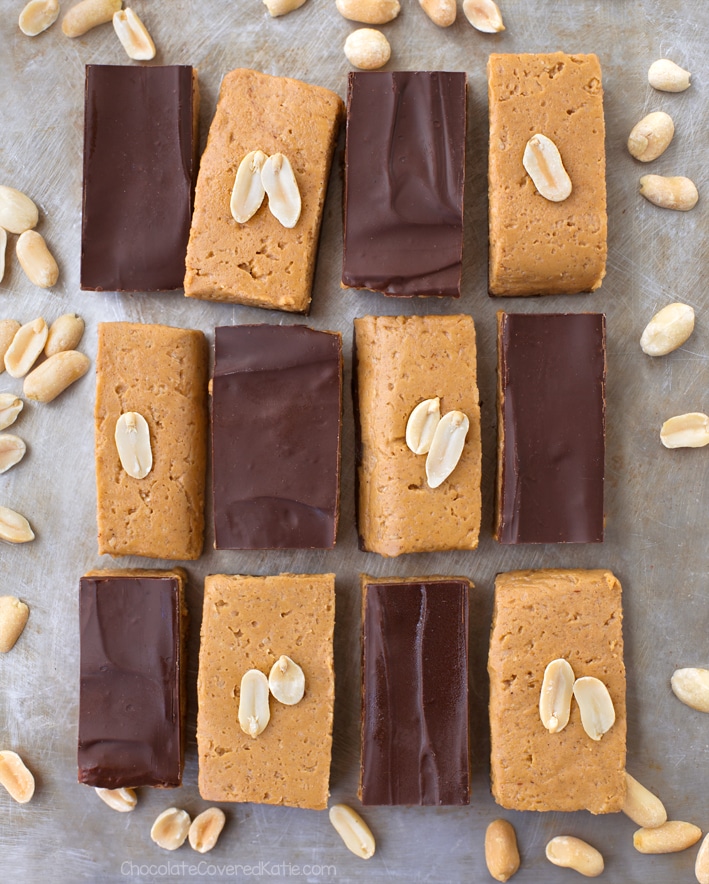 Protein Bars – No Bake, 4 Ingredients, 5 Flavors