This super easy vegan onion dip recipe is the perfect snack or appetizer for game day!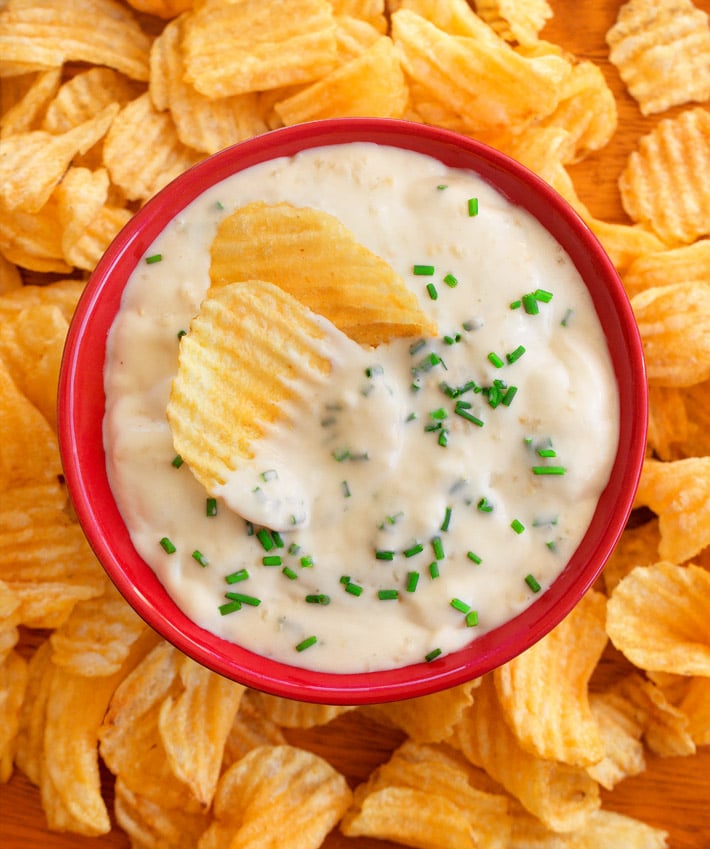 Vegan French onion dip
Move over, store bought onion dip.
In just one minute, this fan favorite vegan onion dip recipe can be all yours.
It's great for football watching or Super Bowl Sunday, potlucks and summer barbecues, or for adding excitement to the dinner table on a regular weekday evening. Guests are almost guaranteed to ask for the recipe, and no one ever believes it's vegan!
Also try these Vegan Chocolate Chip Cookies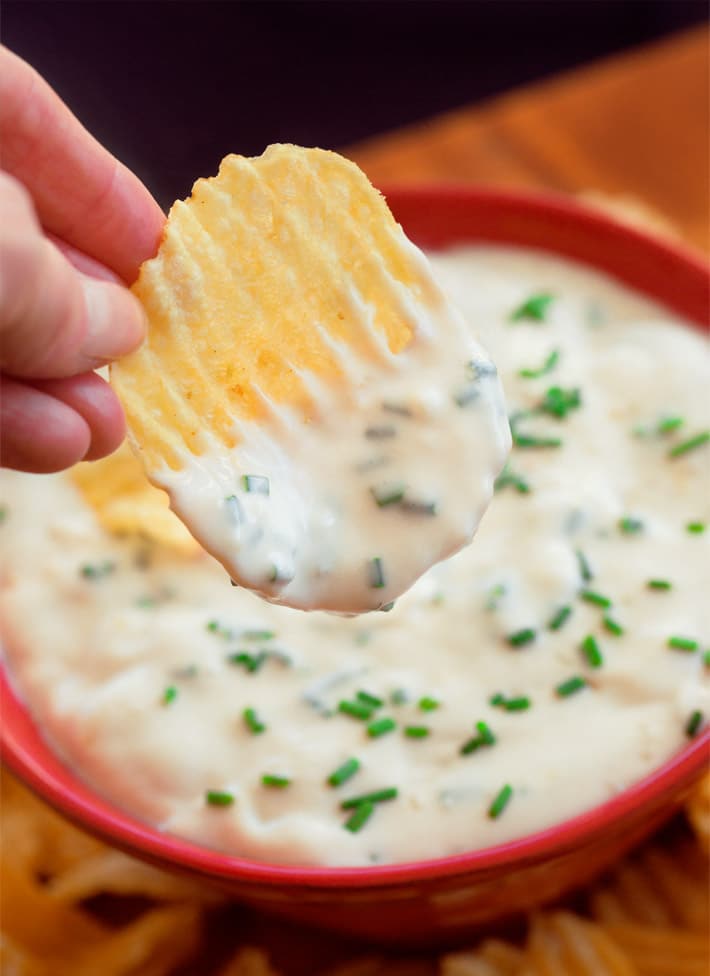 Unlike many classic French onion dip recipes, this one contains no cream cheese, no beef bouillon cubes, and there's no mayonnaise required.
There's also no need to fry up your own onions from scratch. The entire recipe comes together in just about 30 seconds and is easy to double or triple to feed a crowd.
Readers also really love this Vegan Cheesecake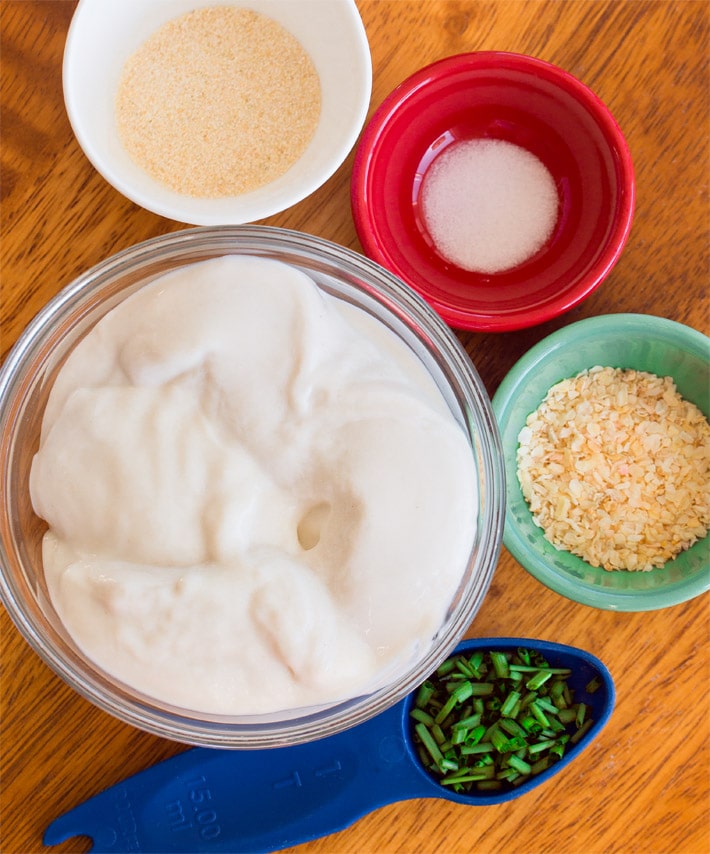 Ingredients for the vegan appetizer
The onion flakes: These are essential to the recipe, so do be sure to include them. Onion flakes should be available in regular grocery stores in the spice section or online.
Look for brands such as Badia, Frontier, Simply Organic, or McCormick. They are sometimes called minced onions, chopped onions, or dried onions.
While you can technically substitute one teaspoon of onion powder for a tablespoon of onion flakes, it doesn't give you that same added texture. So I do not recommend it unless you can't find onion flakes anywhere.
Or make your own onion flakes in a dehydrator or oven at a low temperature.
The fresh chives: Good substitutes for fresh chives include chopped scallions, leeks, shallots, or green onions. Or stir in one teaspoon of dried chives instead of the one tablespoon of fresh chives.
The sour cream or yogurt: You can usually find multiple brands of vegan sour cream at regular grocery stores and health food stores these days, as well as at shops like Target and Walmart.
In the United States, look for store bought plant based options such as Follow Your Heart, Tofutti, Wayfare, Kite Hill, Simple Truth Organic, Good Karma, or Forager. Or you can make your own homemade tofu or cashew sour cream.
Some types of Greek yogurt or plain vegan yogurt, especially those high in fat, can also be used in place of the sour cream.
With nondairy yogurt, taste and texture vary greatly by brand, so experiment and feel free to leave a comment for other curious readers if you find one you like in this recipe.
If using a low fat vegan yogurt, include the mayo for richness and depth of flavor. Or if using an unsweetened yogurt, add a pinch of your favorite sweetener if needed to balance the tanginess of the yogurt.
Leftover vegan sour cream? Use it in this Chocolate Banana Bread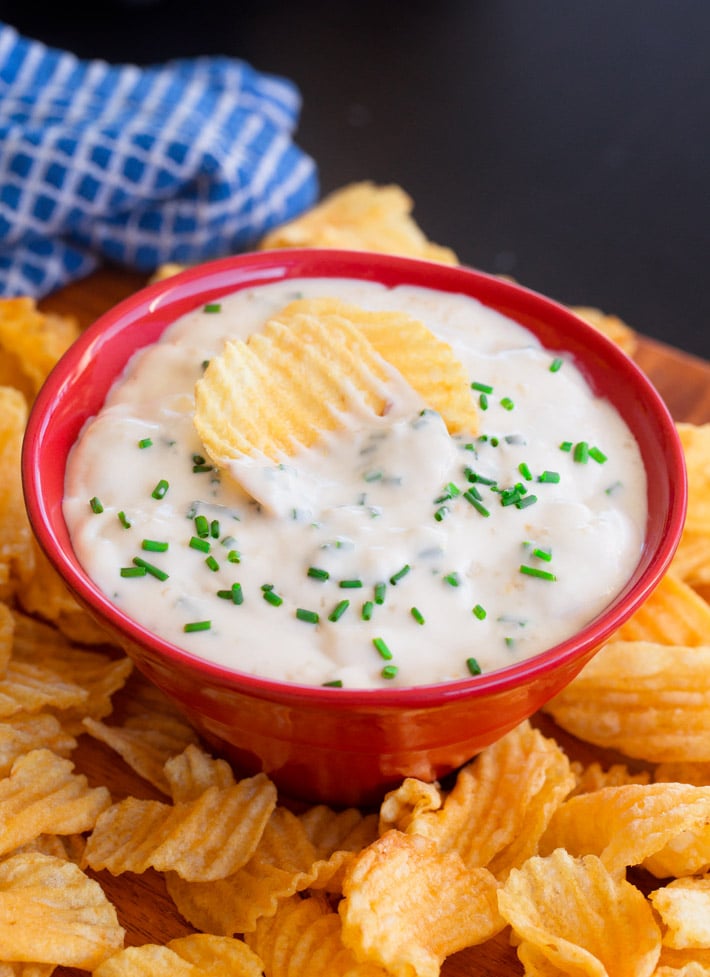 The easiest onion soup dip
In a time crunch or don't want to buy a bunch of spices?
Instead of the recipe further down, you can make vegan French onion dip in a pinch with just two ingredients:
An envelope of Lipton Recipe Secrets Onion Soup & Dip Mix combined with a 16 ounce container of vegan sour cream or full fat plain vegan yogurt. This instant onion dip yields about 2 cups.
Lipton's onion soup powder is vegan, although it does contain added sugar, cornstarch, soy sauce, caramel color, and corn syrup. Similarly, Knorr's onion soup mix is vegan but contains msg. So if you want to avoid those ingredients, see below for a homemade recipe that's almost just as fast!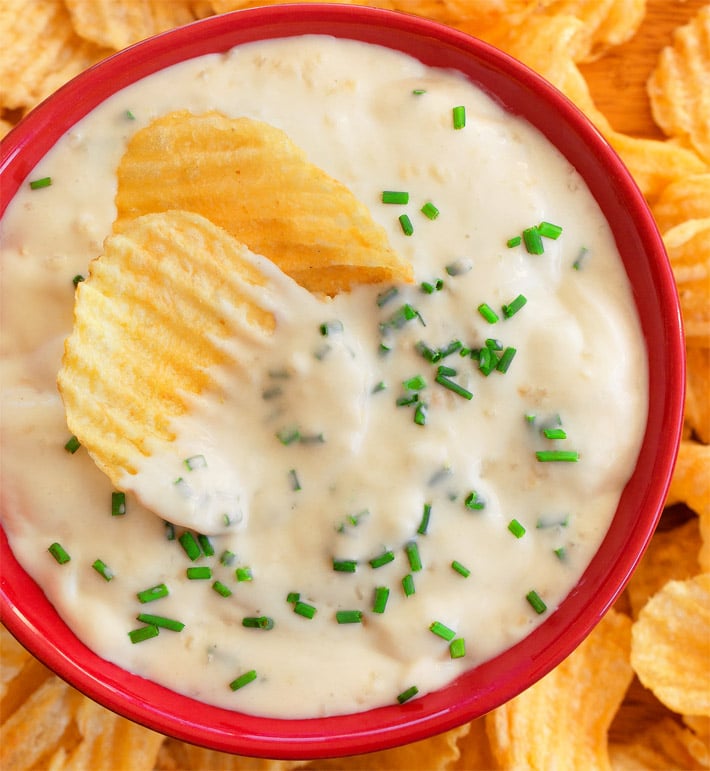 How to make onion dip
Gather the ingredients, a serving bowl, and a spoon.
Add the sour cream to the bowl, then stir in all of the spices and salt until they are evenly mixed into the dip.
Sprinkle some chopped chives on top for presentation if desired. Some people like to add a sprinkle of fresh parsley or thyme instead.
Serve the vegan onion dip with potato chips or raw vegetables. The dip can be left out for a few hours at a party or event.
Leftovers should be refrigerated in an airtight covered container for freshness. Once refrigerated, the onion dip will last around 4-5 days.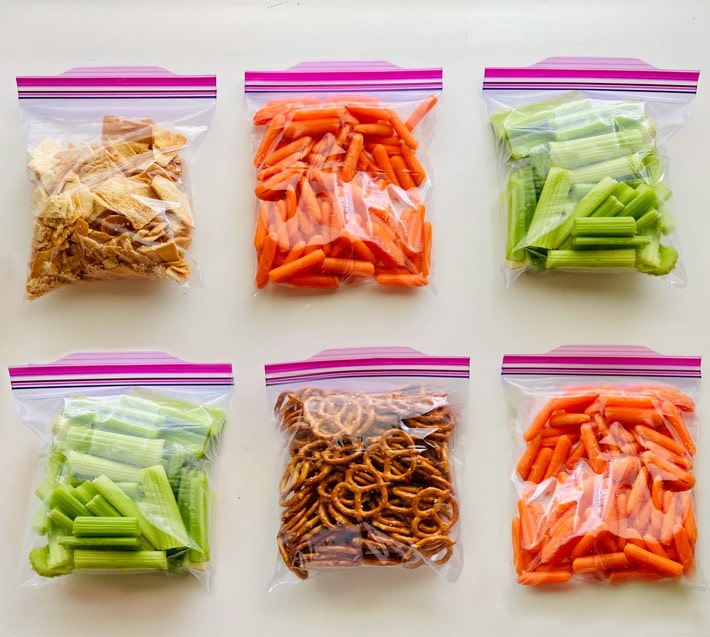 Vegan dip serving suggestions
Wavy potato chips are the most popular option for serving alongside onion dip.
If you want to offer a healthier option, try carrot sticks, celery sticks, or other crunchy raw veggies such as sliced red peppers, broccoli, or cauliflower florets.
Pita bread, bagel chips, whole grain crackers, and tortilla chips are all great for dipping.
I've even done apple slices before and they are surprisingly delicious!
Watch the onion dip recipe video above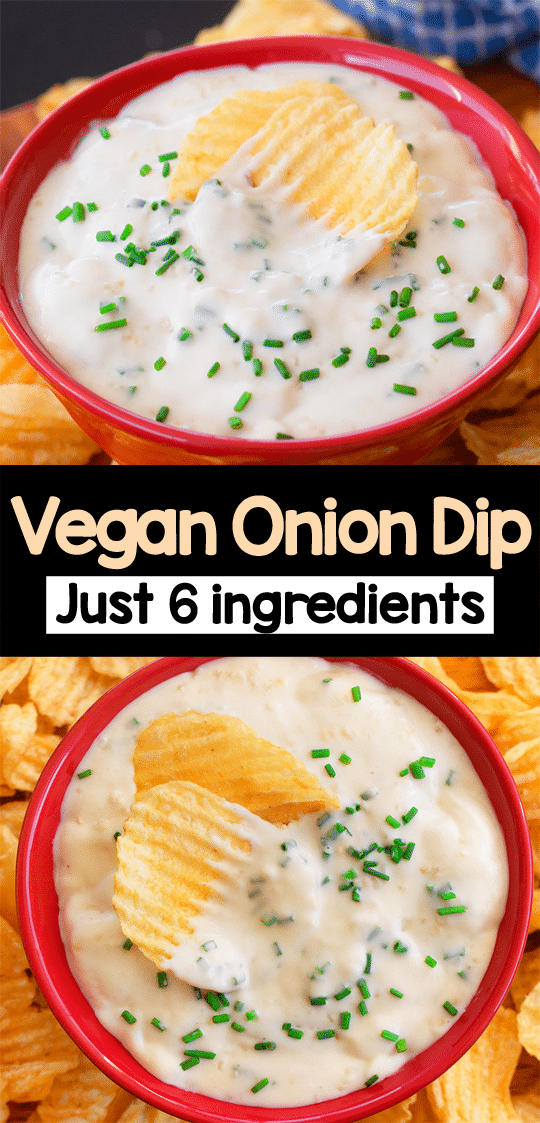 Vegan Onion Dip Recipe
This super easy vegan onion dip recipe is a perfect appetizer for game day. Feel free to double the recipe to serve a larger crowd.
Ingredients
1

cup

vegan yogurt or sour cream

(see above for substitutions)

1

tbsp

dried onion flakes

1

tsp

onion powder

1/4

tsp

each: garlic powder and salt

1

tbsp

chopped fresh chives

optional 2 tbsp vegan mayo
Instructions
Combine all ingredients in a bowl, and stir together until the spices are evenly mixed into the sour cream. If desired, sprinkle a few more chopped chives on top. Serve with chips or raw vegetables, and enjoy. Refrigerate leftover vegan onion dip in a covered container for 4-5 days.

View Nutrition Facts
Vegan Game Day Snacks